Accidental data deletion is one of the main causes of data loss from various electronic devices. Many people come with a question – how to recover deleted photos from iPad? Well, data recovery on iPad depends on the type and duration of data loss. It's easy to recover photos and various other files on iPad if you created a backup. However, it becomes a bit difficult to retrieve the permanently deleted pictures.
Multiple methods can help you to recover your lost data from your iPad. Read this guide to know about various tested methods of iPad deleted photos recovery in detail.
Where Do Deleted Photos Go on iPad?
There's a good chance of iPad photo recovery in iOS 9 and other later versions. You can easily find your recently deleted pictures in the "recently deleted photos" folder of your device. The "recently deleted photos" folder is available in the albums section of your device and contains the deleted photos for 30 days. Open the Photos app > Albums > Recently Deleted Photos to restore your recently deleted photos from the device.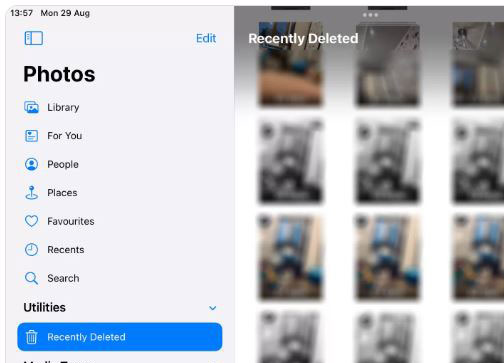 But how about the deleted photos after 30 days? Read further to know about the ways.