In the digital age, messages are a treasure trove of memories and information. Whether you've lost your messages due to accidental deletion, a new device, or any other reason, knowing how to restore messages from iCloud is invaluable. In this comprehensive guide for 2023, we'll walk you through the step-by-step process to effortlessly retrieve your precious messages, ensuring you never lose those important conversations again. Whether you're an iOS user or just curious about iCloud, this guide will equip you with the knowledge to safeguard your digital conversations. Let's dive in!
Are My Text Messages Saved in My iCloud?
Yes, if you have enabled iCloud Messages, all your text messages will be stored in iCloud and synchronized across your devices. However, it's important to note that they will not be included in your regular iCloud backups. This means that even if you restore your device from an iCloud backup, your messages will still be available through iCloud Messages, ensuring you have access to your conversations across all your Apple devices. For more detailed information, you can refer to Apple's support page on this topic.
How to Restore Messages from iCloud when iCloud Messages is ON
If you're wondering how to retrieve iMessages from iCloud, the process is straightforward, especially when iCloud Messages is activated. With this feature, your messages are securely stored in iCloud, ensuring seamless synchronization across your devices. To retrieve them, follow these steps:
Method 1: Recover form iCloud Directly
Wondering how to view deleted text messages on iCloud? It's a common concern for those seeking to retrieve lost conversations. While iCloud offers a seamless backup solution, accessing deleted messages isn't straightforward. In this guide, we'll walk you through a reliable method using RecoverGo (iOS) to recover these messages directly from your iCloud account. This tool not only simplifies the process but also allows for selective recovery, ensuring you retrieve only the messages you need. With step-by-step instructions and a user-friendly interface, this method ensures your important conversations are never permanently lost. Keep reading to regain access to your cherished text messages.
✨ Comprehensive Recovery: Retrieve a wide range of data including messages, photos, contacts, and more.
✨ Preview Function: View recoverable files before restoring them to ensure you're retrieving the right data.
✨ Selective Recovery: Choose specific data types to recover, saving time and storage space.
✨ User-Friendly Interface: Intuitive design makes the process hassle-free, even for beginners.
Step-by-Step Guide
Step 1 Launch RecoverGo (iOS) and select "Recover Data from iCloud".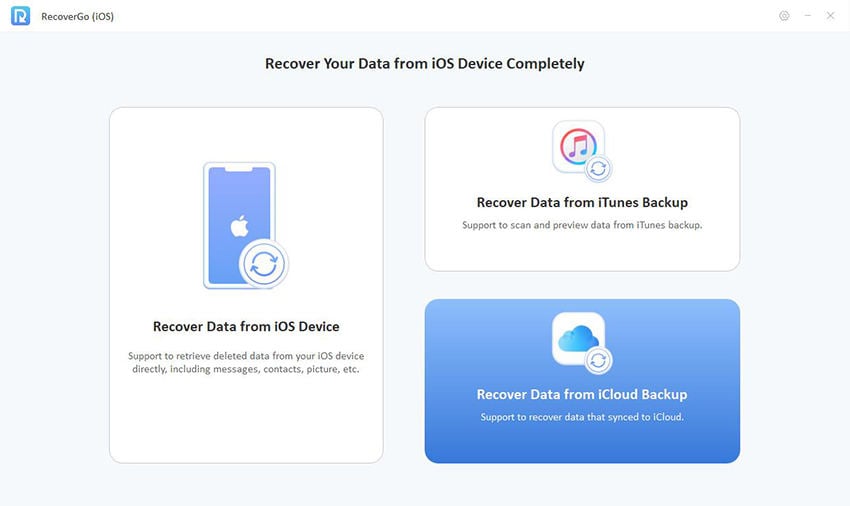 Step 2 Log in to your iCloud account with your account details.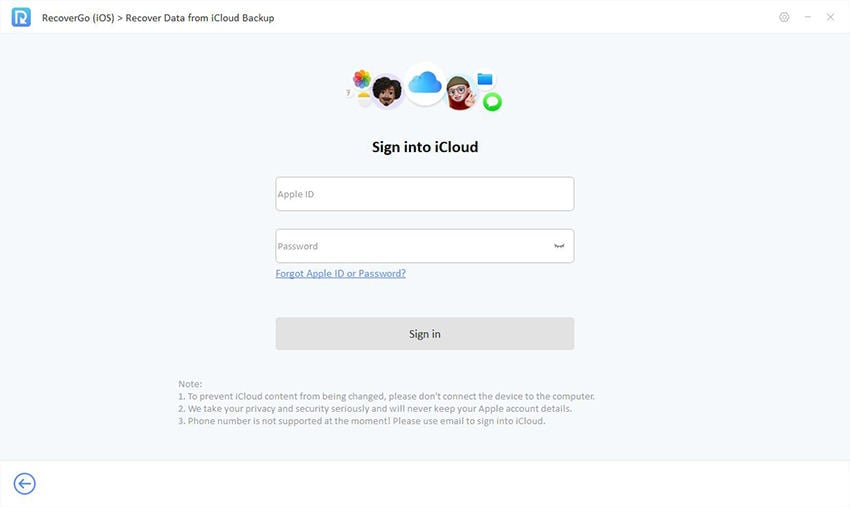 Step 3 Choose the desired data types.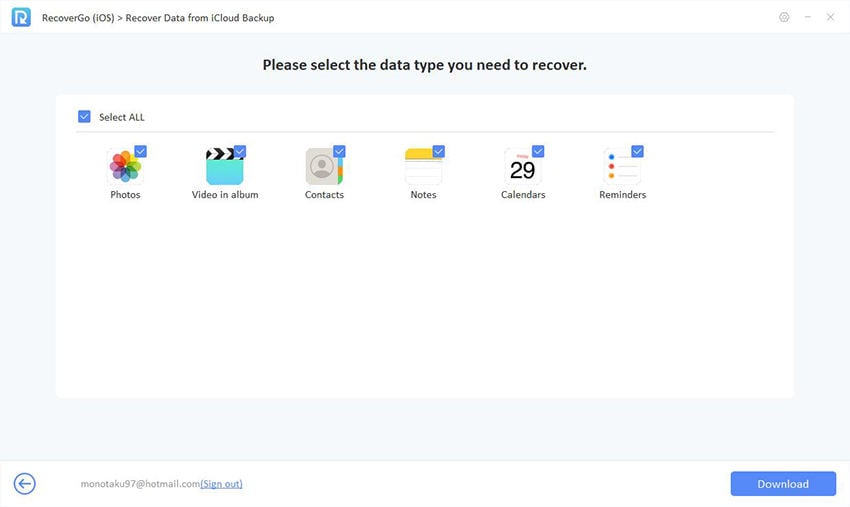 Step 4 Preview the recoverable messages to confirm.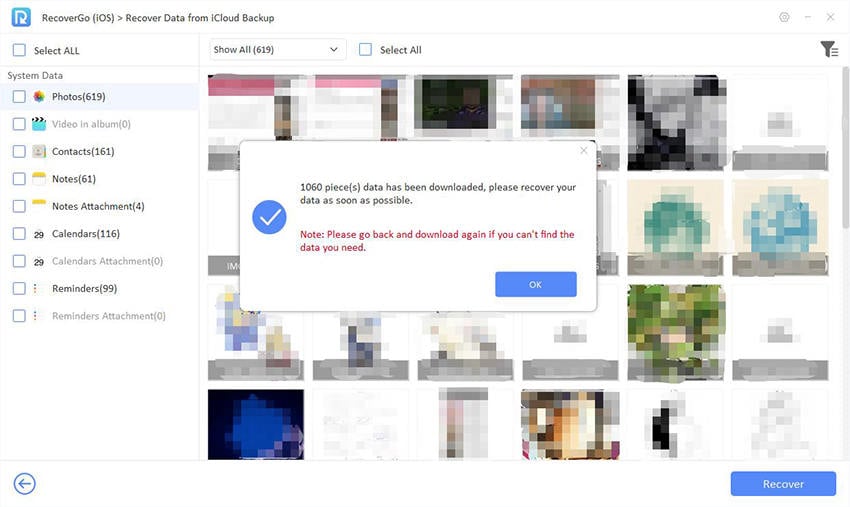 Step 5 Click "Recover" to restore the selected messages to your device.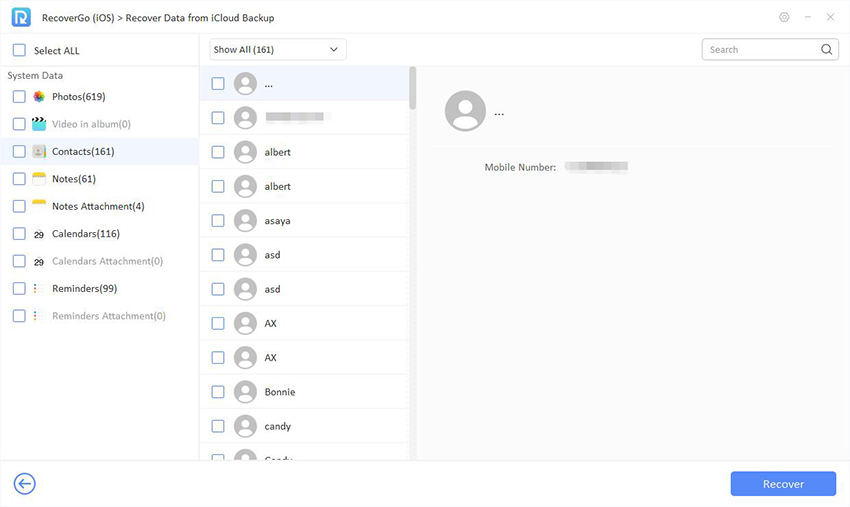 Method 2: Re-Sync iCloud Messages
If you're looking to recover iMessages from iCloud, re-syncing iCloud messages is a straightforward method. Sometimes, the deletion of messages may not synchronize across all devices. By re-syncing, you can potentially retrieve these messages.
On Your Device: Open Settings and navigate to [[Your name]] > iCloud.
Turn off iCloud Messages and wait a few moments.
Turn it back on. Your device will re-sync with iCloud, potentially restoring the deleted messages.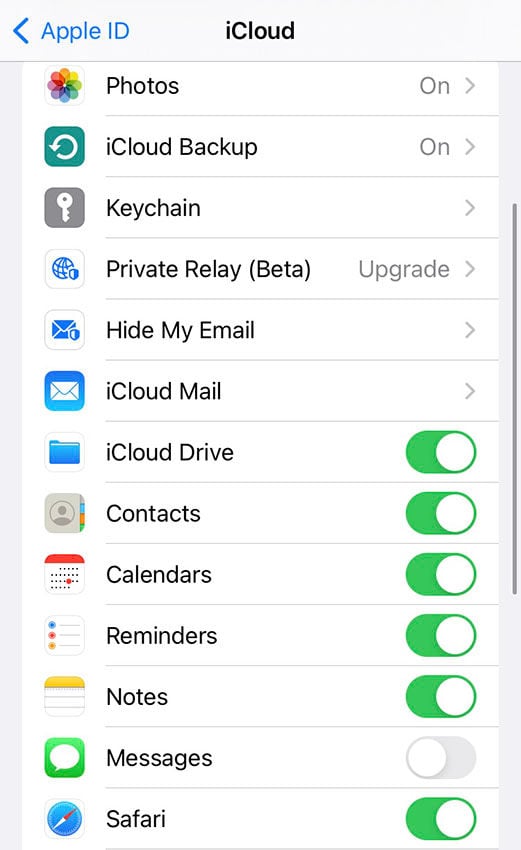 How to Restore Messages form iCloud when iCloud Messages is OFF
Restoring messages from iCloud when iCloud Messages is turned off is still possible. Following are the steps to recover your messages using an iCloud backup, ensuring you can retrieve your important conversations even if iCloud Messages isn't enabled. Here's how you can do it:
Step 1: Factory Reset your Device
Go to Settings > General > Reset > Erase All Content and Settings. This will wipe your device clean.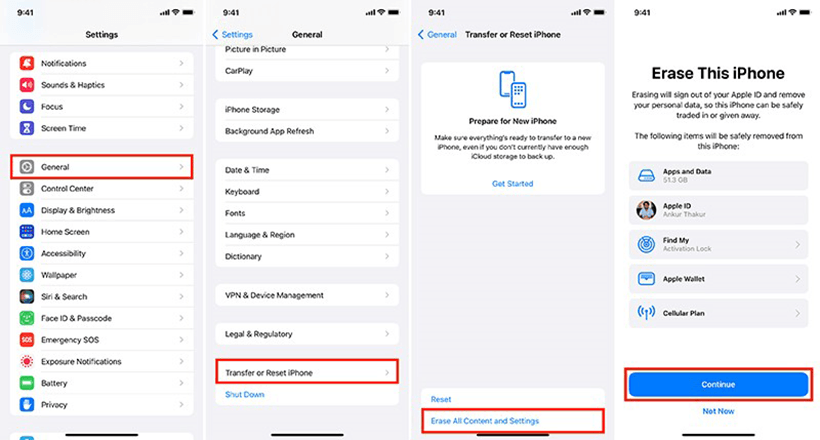 Step 2: Set Up your Device
Follow the on-screen instructions to set up your device. When prompted, select "Restore from iCloud Backup".
Step 3: Sign into iCloud
Enter your Apple ID and password to sign into your iCloud account.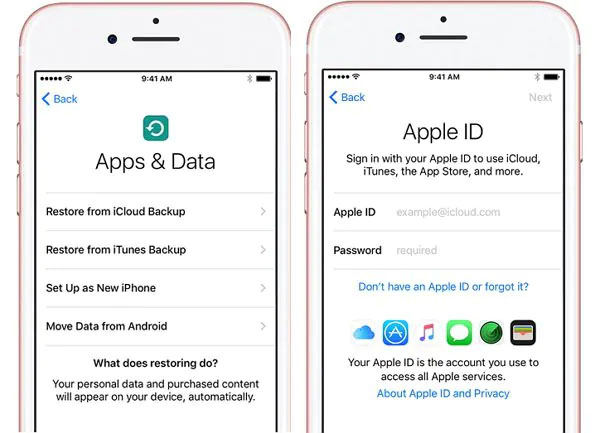 Step 4: Choose Backup
Select the most relevant backup based on the date and time. This should be a backup taken when iCloud Messages was still enabled.
Step 5: Wait for Restoration
Your device will now restore from the chosen backup. Once complete, your messages should be available.
Extra Tips: How to Protect Text Messages on iPhone
Ensuring the security of your text messages is as important as knowing how to recover them. Here are some detailed tips to keep your messages safe:
🔄Back Up Your iPhone Regularly: Set up automatic backups through iCloud or iTunes. This guarantees that even if messages are accidentally deleted, you can always restore them from a recent backup.
✅Double Check Before Deleting: Take a moment to review messages before deleting them. This simple habit can prevent the loss of important conversations.
🔒Keep iPhone Locked When Not in Use: Enable a passcode, Touch ID, or Face ID to add an extra layer of security. This way, even if your device is misplaced, your messages remain protected.
🔎Enable Find My Feature: Activate "Find My iPhone" in your device settings. In the unfortunate event of losing your iPhone, this feature allows you to track its location, remotely lock it, or even erase its data to keep your messages from falling into the wrong hands.
Wrap Up
In this comprehensive guide, we've explored various methods to restore messages from iCloud, whether iCloud Messages is on or off. We've also provided tips on safeguarding your text messages for future security. One standout solution for seamless message recovery is RecoverGo (iOS). This powerful tool simplifies the process, allowing you to directly retrieve messages from your iCloud account. With its user-friendly interface, selective recovery options, and preview feature, it's a highly recommended choice for anyone seeking to recover their valuable conversations. For reliable and efficient message restoration, consider using RecoverGo (iOS) and never worry about losing important messages again.