Most iOS device owners tend to employ iOS system repair tools to solve all iOS devices' issues. Tenorshare ReiBoot is one of the most popular tools that provides a one-click solution to exit and enter the recovery mode.
This program can help you solve all the issues that your device might be experiencing without losing data or employing iTunes. One advantage of ReiBoot is that it is straightforward and simple to use. Even if you have never used the software before, you can effectively install and use it.
However, this doesn't mean that it doesn't have its challenges. For instance, it has proven to take longer to fix some of the common issues affecting iOS devices. This makes many users feel like they need alternative options to restore their devices. For this reason, we have highlighted some of the best paid and free alternatives you can consider in place of Tenorshare ReiBoot.
Best Alternative: iToolab FixGo
iToolab FixGo is one of the best tools you can ever use to fix your iOS device issues. This tool has some of the best features, which include:
When your device isn't working effectively, the tool prevents data loss.
It repairs over 200 iOS system issues, including 'iPhone stuck on the Apple logo', recovery mode loop, white screen or black screen.
Repairs tvOS related problems on Apple TV.
It works well with all iOS systems, including iOS 14.4, iPadOS 14.4 and iPhone 12.
To fix iOS related issues using iToolab FixGo, you must either use the Standard Mode or the Advanced Mode.
The Standard Mode will enable you to fix system issues without having any data loss.
Advanced Mode will help you fix stubborn issues but with total data loss. It is therefore important to only use the Advanced Mode in situations where the Standard Mode fails.
Standard Mode
From the main page, choose the Standard Mode and follow the following steps:
Step 1. Connect your iOS device to your computer. It would be best if you used a functional USB cable. In case the software fails to detect your device, FixGo will recommend that you put your iPhone in recovery mode.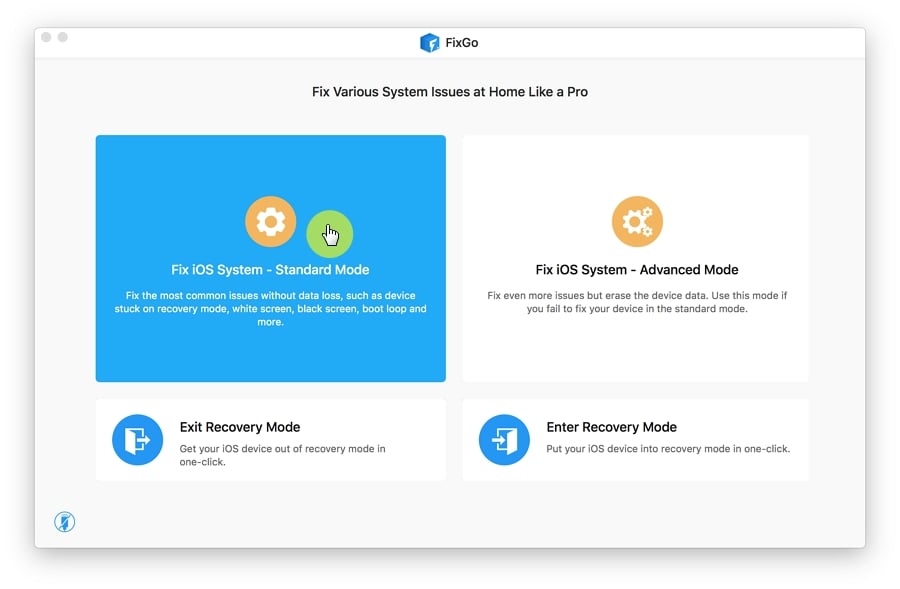 Step 2. Download the latest firmware package and install it. This process may take some time because the firmware file is large.
Step 3. After installing the firmware, you can launch it to start fixing the issues. You need to click on the 'Repair Now' option.
Advanced Mode
You can try the Advanced Mode if the Standard Mode fails. However, it would help if you understood that even though the repair process is similar to that in Standard Mode, your device's data will be deleted completely. Follow the steps below to accomplish the task:
Step 1. Connect your iOS device to a computer, just like in the Standard Mode above.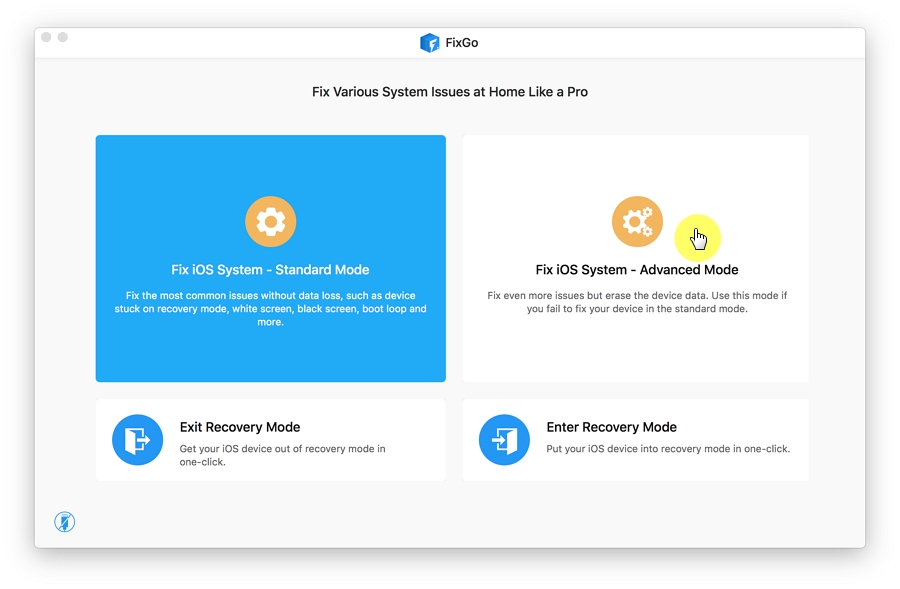 Step 2. Download and install the firmware just like in the Standard Mode. Just ensure that you download the latest software.
Step 3. Click on the 'Start Repair' option to fix the issues.
You might find it difficult to get your device in recovery mode, especially if your home button isn't working effectively. In such a case, select the 'Enter/Exit Recovery Mode' option from the home page.
2. Dr.Fone Repair
Dr.Fone is one iOS recovery software that is developed to work fast and efficiently. It is known to work effectively with all models of iPad, iPod, and iPhone. You can use this software as an alternative to ReiBoot since all steps are simple. Even after using Dr.Fone to repair your device, all data will remain intact.
One main reason why we recommend it is that it doesn't occupy much space on your device. It also detects all problems on your iOS device, some of which might be ignored by other software. Furthermore, it becomes easier to monitor the progress of this software.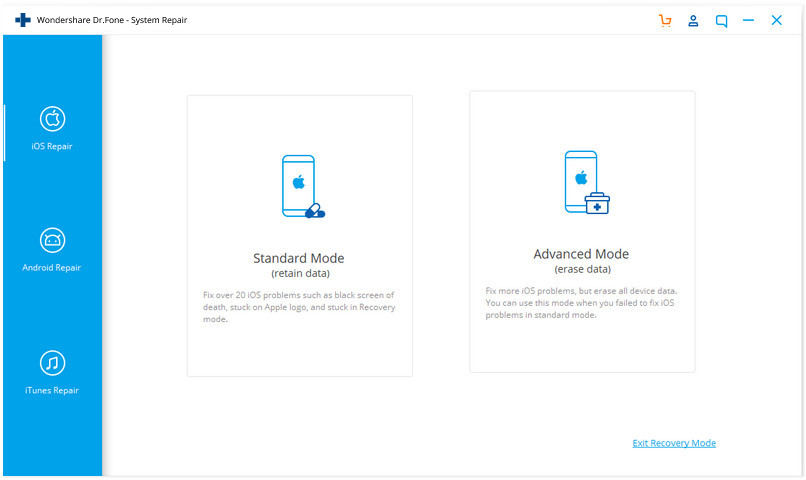 Pros:
It is very fast in operation.
It is easier to use compared to some software.
It won't affect your stored data.
It works with almost any iOS device.
Cons:
It sometimes causes lags.
It might take a large space compared to some other software.
3. FonePaw iOS System Recovery
FonePaw iOS system recovery software is also one of the most effective software you can find on the market. With this software, you can enjoy reliable and fast services because it can fix all minor issues that your device might experience.
This software has features that are clearly outlined to enable you to fix problems without any struggles. The compatibility of this feature with almost all devices makes it a perfect alternative to ReiBoot.
Since the software comes in a compressed form, it won't take much space on your iOS device. As a result, your iOS device's performance will be enhanced due to a lack of delays. Furthermore, it is simple to download and install the program.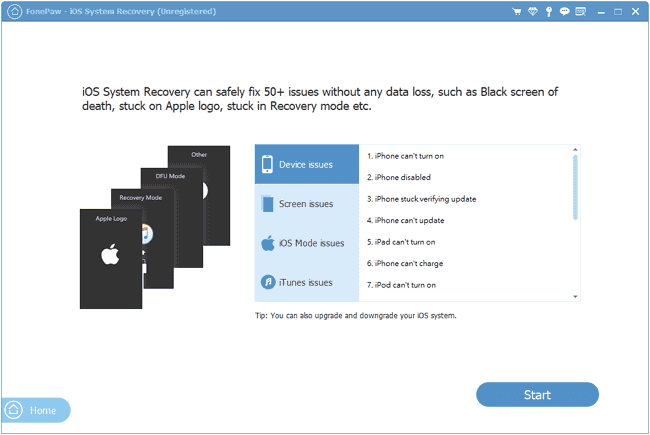 Pros:
No data is lost when you use this software.
It works very fast.
It is certified to be very effective.
It can detect all issues associated with your iOS device.
Cons:
The steps to restoring your device are complicated.
You will have to update the application each time for it to be effective.
4. Joyoshare UltFix
Joyoshare UltFix is among the best Tenorshare ReiBook alternatives because it can fix several issues that your iOS might be experiencing. The software is designed to be able to fix at least 30 iOS-related issues. One benefit of using Joyoshare is its speed in resolving issues since it can fix most problems within seconds.
With Joyoshare UltFix, you can achieve everything with a single tap. You will have to follow through with three simple steps to accomplish everything. The software doesn't occupy a lot of space on your device, leaving room for you to store other things.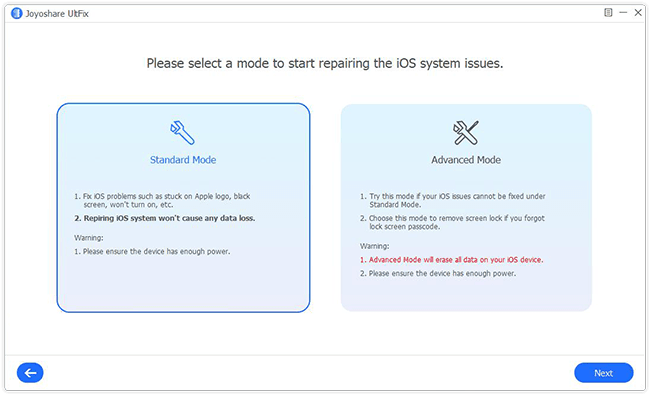 Pros:
It doesn't have any data loss.
Offer users three repair modes.
It can solve at least 30 unique iOS issues.
It is compatible with all iOS devices, including iPhone, iPod and iPad.
Cons:
Some issues may take more to fix.
5. Free Alternatives Also Worth Trying
1. Force Start Your Phone
Sometimes, you don't need to pay for the best software on the market to restart your phone. You can apply some simple and basic approaches such as restarting your device to achieve the same outcome.
A force restart is a more powerful restart. With this option, you don't need to touch or see anything on your device. This is very helpful in cases where you have a black or white screen that won't respond. A force restart will clear your device's memory, although it won't lose its data.
To effectively perform a force restart on your device, follow the following steps:
Hold down the sleep/wake button and the home button at the same time. For iPhone 7, you will have to use a sleep/wake button and the volume down option.
Keep holding the buttons until you have an Apple logo and a flash on the screen.
At this point, you should let go of the buttons and allow your device to start in a normal way.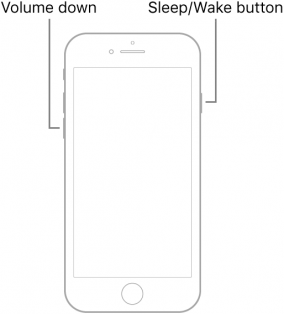 Since iPhone 8 has a different and unique technology in the home button and iPhones XR, XS and X lack a home button; their force restart process is different. You should follow the steps below them:
Press the volume up option and leave it alone.
Press the volume down option and leave it.
Hold down the wake/sleep option and wait for the device to restart. As soon as you see the Apple logo during this stage, stop holding the button.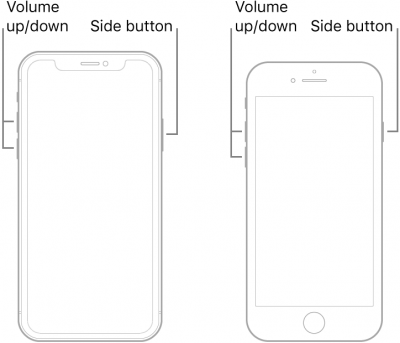 2. Use Recovery Mode to Restore iPhone
If the other options don't seem to be working, you should put your iOS device into Recovery Mode. Recovery Mode is a proven method of getting around any software issues that you might be experiencing. It allows you to reinstall your iOS device and later restore backed-up data on your iPhone.
To effectively use this option, you will need your computer to be installed with iTunes and then follow the following steps:
Start by turning off your iOS device.
Plug the syncing cable into your iOS device. At this point, don't plug the cable into the computer.
What you do here will depend on the model of your iPhone.
With iPhone 8, X, XS and XR, hold down the device's side button while plugging the syncing cable in your computer.
For iPhone 7, press and hold the device's volume down option while you plug the syncing cable into your computer.
For iPhone 6 and earlier versions, press and hold onto the home option and connect the syncing cable to your computer.
Keep hold of the button you are holding until you see the Recovery mode on your screen (You will see the iTunes icon having a cable pointing towards it with a text 'Connect to iTunes' next to it).
You will be in Recovery Mode if the screen changes from white to black. You follow the on-screen instructions from iTunes and restore your iOS device from backup or updating the OS.
Restore your device from a backup.
3. Restore iPhone in DFU Mode
DFU, which stands for Device Firmware Update Mode, is a more powerful tool than the Recovery Mode. With this Mode, you can turn on your iOS device and prevent it from starting its operating system. You can then make necessary changes to the operating system. Although this process is more complex, it is worth your time more so if the other methods have failed. To have your device in DFU Mode, follow the following steps:
Connect your iOS device to a computer and launch iTunes.
Proceed to turn off your device.
The next step will depend on the model of your device:
For iPhone 7 and above, hold the volume down and the side button at the same time.
For iPhone 6S and earlier, hold the home button and power/sleep button simultaneously.
Hold these buttons for at least 10 seconds. If an Apple logo appears, you have held the buttons for a long time and should start the process.
After about 10 seconds, leave alone the power/side/sleep button but still hold onto the other button.
If the screen turns black, your device is in DFU mode.
You can then follow the on-screen instructions from iTunes and complete the process.
Conclusion
You can employ any of the options we have discussed above as an alternative to Tenorshare ReiBoot. However, you will need to go through the software keenly and select the one that fits your needs well.
Therefore, with the above information, you can try iToolab FixGo. You have an option to choose between free and paid options.