There are many users who experience the yellow screen problem with iPhone 12. Arguably, Apple's products are the leading smartphones all over the world. Every user spends a lot of money on buying an iPhone. But, they end up disappointed when any issue arises. A yellowish screen is one of those issues faced by iPhone users.
This article will discuss 8 easy ways to fix iPhone 12 yellow screen. Also, we will recommend the best method to fix the yellowish screen. Read on to find out more!
Why Is My iPhone Screen Suddenly Yellow?
It may be surprising for many users to find out that a top-ranked smartphone company has such a big screen fault. However, you're not alone in facing such a significant issue. Switch blue filters daily, any hardware issue, night shift mode, True Tone, White Point, and outdated versions will directly cause your iPhone 12 screen to become yellowish or dark.
The users can test why the iPhone screen looks yellow. Let's take a look at the steps to test the yellow screen of the iPhone:
1. Go to Settings > Display & Brightness > True Tone and then choose to Turn Off.
2. Again, go to Settings > Display & Brightness > Dark Mode and then select Disable.
3. Also, make sure to compare your iPhone with any older model that's using the exact same settings.
How to Fix iPhone 12 Yellow Screen
Do you want to resolve yellow screen issue? Luckily, you have come to the right place. In this section, we will discuss some of the conventional ways to fix the iPhone 13 yellow tint.
Fix # 1 – Check Your Tone Display Option
Adjust some screen settings is the first solution. You can adjust the "True Tone" settings to resolve the yellowish screen issue. As the name suggests, True Tone can make your screen appear warmer than before. For this reason, all you have to do is disable this option. Here's how you can do this:
1. Go to your iPhone's Settings.
2. Click on the Display & Brightness option.
3. Disable the "True Tone" option if it is enabled.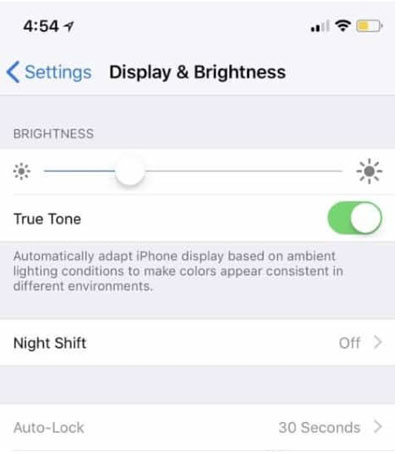 Fix # 2 – Turn Off Night Shift Mode
The "Night Shift Mode" may be another reason for the yellow screen. When turns on, this mode can automatically adjust the screen and make it much warmer. Here's what you should do to turn off Night Shift Mode:
1. Click on the Settings button on your iPhone's homepage.
2. Navigate to Display & Brightness.
3. If Night Shift Mode is turned on, make sure to turn it off.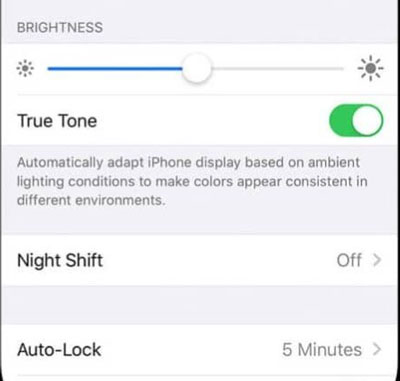 Fix # 3 – Tweak The Color Filters
Have you tried the previous two methods to fix the yellow screen? If those two methods do not resolve the "iPhone yellow screen of death" issue, there's another way to adjust your screen with the help of filters. You need to turn off both "True Tone" and "Night Shift" modes. After that, follow the below steps to adjust the color tint:
1. Go to Settings > Accessibility > Display & Text Size.
2. If the "Color Filters" option is disabled, make sure to turn it on.
3. Choose Color Tint and select a Hue slider with a less yellow tone. Also, use the Intensity slider to remove the warm color.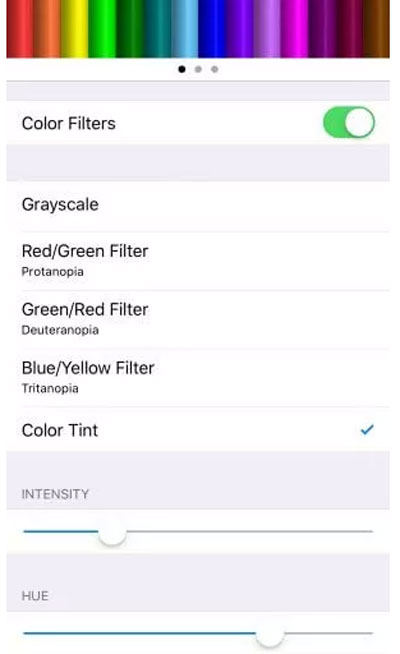 Fix # 4 – Update to the Latest iOS Version
Recently, the company has acknowledged the issue. According to Apple, iPhone 11 Pro max yellow tint is due to a software bug. No doubt, this statement by the company doesn't sound good to most iPhone users. However, they have no other choice than to update to the latest version. So, one of the best conventional methods is to update your iPhone model to the latest iOS version.
1. Go to Settings > Software Update.
2. If there is any available update, click on the "Install Now" option.
3. Once finished, your phone will automatically restart.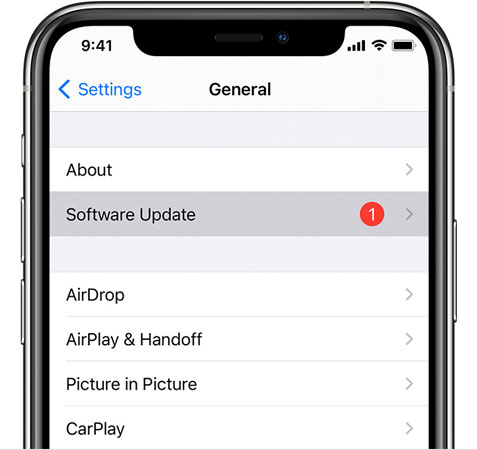 Fix # 5 – Turn On Reduce White Point
The White Point Reduction feature lets users reduce the iPhone's brightness level below the default minimum level.
1. Open your iPhone Settings > Apps > Go to Accessibility.
2. Click on Display and Text Size, then in front of Reduce White Point, toggle the button from gray to green to turn on this feature.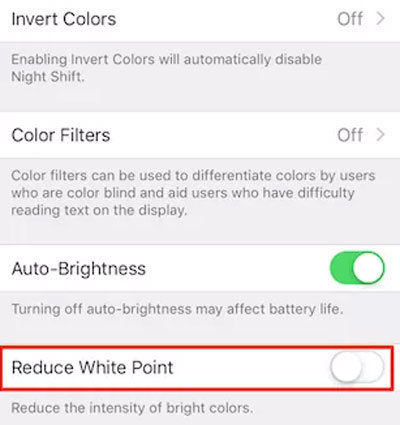 Fix # 6 – Turn Auto-Brightness On and Off
The auto-brightness feature automatically brightens your screen in the dark and dims it in bright light, so it could be the cause of your iPhone's yellow screen.
1. Open your iPhone Settings > Apps > Accessibility > Tap Display & Text Size.
2. Toggle the button from gray to green at the bottom of the screen in front of Auto-Brightness and your Auto-Brightness will be on.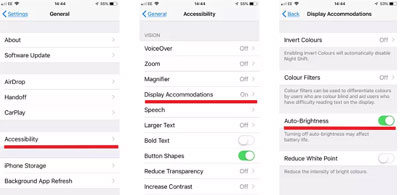 Fix # 7 – Contact Apple Support
Maybe you can choose to go to the nearest App Store for help, but before that, please make sure you have backed up important data.
Fix All iPhone Yellow Screen without Data Loss
It would be time-consuming for you to find out which of the above methods would work for your iPhone. For this reason, you can opt for the best way to get your screen repaired. FixGo is one of the leading tools to resolve the yellow screen issue. This tool can help you get rid of warm screen color of any iPhone model. Below, we will discuss some of the easiest steps you need to follow. Let's find out more!
Step 1 Download & Install
First of all, you will need to download and install FixGo on your device. Indeed, this process is simple and hassle-free.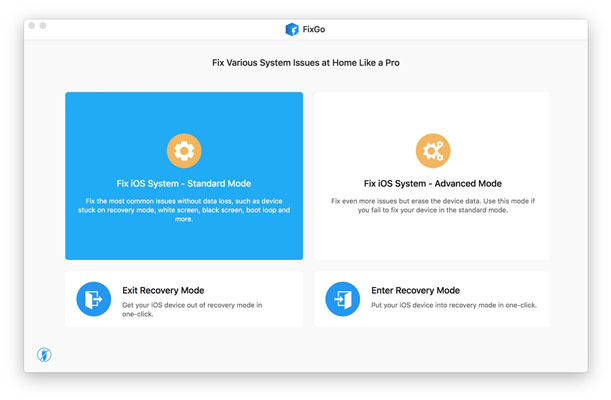 Step 2 Download Firmware Package
You must install the latest firmware package on the device to repair it. Tap on the "Browse" option and then select a path for the firmware. After that, click the "Download" button to start the downloading process. Remember, this may take some time because the firmware file is large.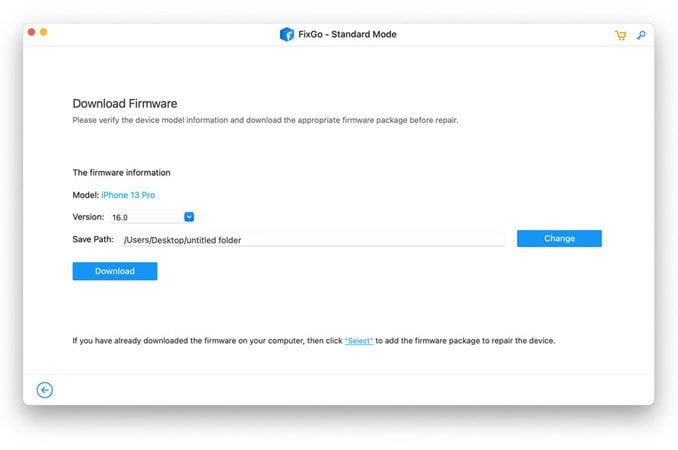 Step 3 Fix iPhone's Yellow Screen
Once the firmware package has been installed, you can now begin fixing iPhone's yellow screen. Click "Repair Now" and FixGo will start repairing the device.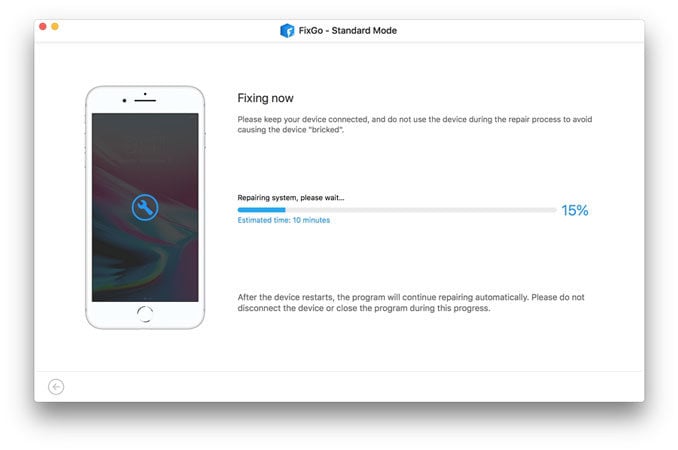 Conclusion
Today, iPhone 12 yellow screen is one of the common issues. There is nothing to worry about if you face a yellow screen issue. Try using any of the conventional methods to fix the issue. If the issue still persists, we will recommend using the iToolab FixGo to get your device repaired. This article has discussed everything about fixing the yellow screen of your iPhone device. Moreover, FixGo is the most convenient method of resolving iPhone yellow screen tint.