WhatsApp is a crucial tool that is undoubtedly used by approximately all iPhone users. The social messaging application is used both for personal as well as professional purposes. On a personal level, people use this app to chitchat with their loved ones and share memories with one another, whereas businesses use its call feature to communicate with their employees, customers, and other businesses.
The WhatsApp call feature is essential for organizations as it keeps a record of all the contact that's been approached. Also, one can find the contact which has not been saved and might be needed in future. However, there are times you might lose these contacts knowingly or unknowingly. And that sounds disturbing and annoying for the businesses that depend a lot on this feature of WhatsApp. But do not worry, as technology is far away from our thinking. Now, it also enables us to do WhatsApp call history recovery iPhone. With this article, you will learn the best approaches to get back your deleted call history on WhatsApp.
An Efficient Way to Recover Deleted WhatsApp Call History on iPhone
iToolab RecoverGo (WhatsApp) is the handiest tool to recover WhatsApp call history iPhone with so much ease. There are many advantages of using RecoverGo (WhatsApp), such as:
The tool is compatible with over 6000 devices including Android, iPhones, and tablets.
It provides the highest data recovery speed with overall safety.
Retrieve WhatsApp including call history, videos, photos without backup.
Recover the deleted files in various scenarios of the iPhone, even if the phone's screen is broken.
How to use RecoverGo (WhatsApp) for WhatsApp Call History Recovery Step-by-Step:
Step 1: Connect The iPhone
Launch RecoverGo (iPhone) and click on the option "Recover deleted WhatsApp data from device".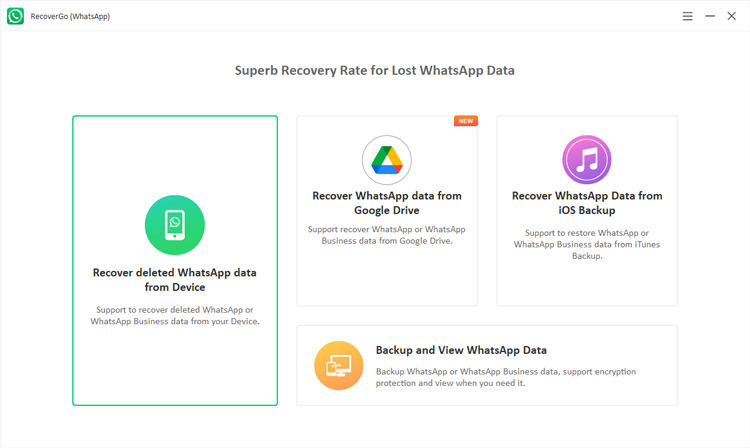 Step 2: Trust This Device
Now, on your iPhone, tap the "Trust" button and enter the passcode so that RecoverGo (WhatsApp) can find the deleted WhatsApp data on the phone.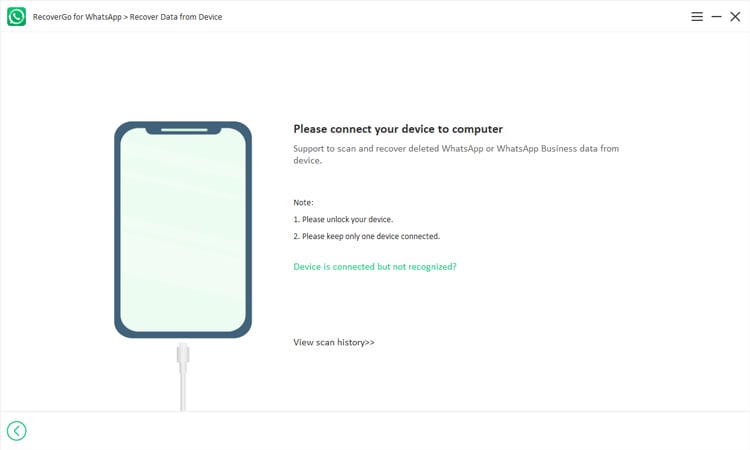 Step 3: Scan WhatsApp Call History
On the interface that will appear, tap on the "Recover WhatsApp" button to scanning your deleted call history.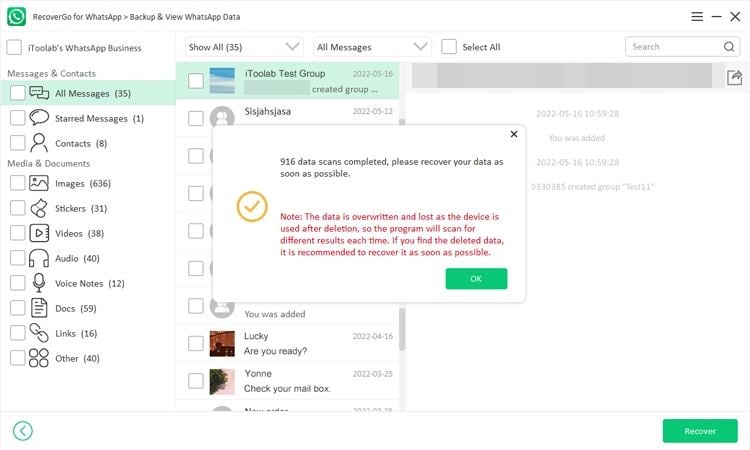 Step 4: Recover WhatsApp Call History
Now, select the Other to check your deleted WhatsApp call history and select the call records. Then, click "Recover".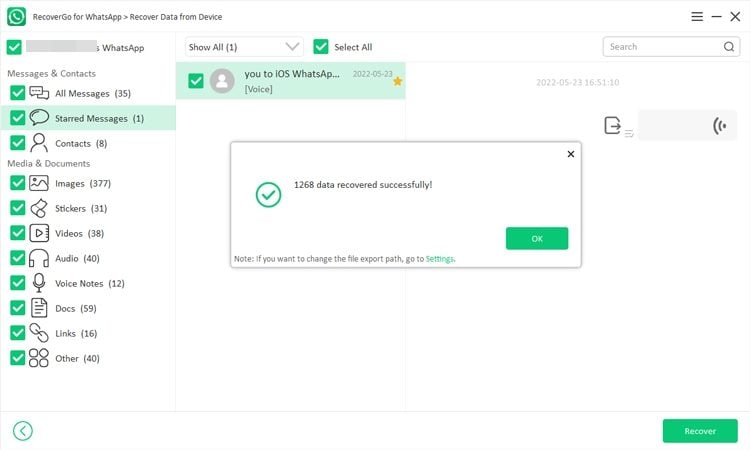 The deleted WhatsApp chat history will be retrieved on the computer. To access the files, find and check the Recover folder. This is how to recover deleted WhatsApp call history on iPhone using this tool.
How to Recover Deleted WhatsApp Call History on iPhone with Backup
There are two common ways to recover deleted WhatsApp call logs, but only for users who have backed up them.
Way 1: Recover WhatsApp call logs with iTunes backup
Connect your iPhone to the computer, using a USB cable. Then download and install the latest iTunes version.
There will be a device icon on the top left corner of the iTunes program. Find and tap on it and from there go to the "Summary" tab.
Just below the Backups section, find and click on the "Restore Backup" button. A window containing the list of backups along with their date and size will appear. From there find the backup file you want to restore and click on it.
Way 2: Recover WhatsApp call logs with iCloud backup
Visit the "Settings" tab of your iPhone then click "General". From there find the "Reset" button and then navigate to "Erase All Content and Settings".
Now you will get the recommendation for the device set up right from the start. Just follow the instructions till you get to the Apps and Data page. From there, hit on the "Restore from iCloud Backup" button.
Use the same credentials to sign in to your iCloud account, which you used for the backup. All the saved backups along with the date and time will appear on the screen.
Select the ones which you want to restore and this way you will recover WhatsApp call history on iPhone with iCloud backup.
Also Know: How to Export WhatsApp Call History to Computer
Exporting WhatsApp call history to the computer is the perfect option to keep it safe. In case, you lose the backup or change the phone or due to any other issue, you don't lose your call details. You don't need to worry about your WhatsApp data if you have its copy on your computer.
RecoverGo (WhatsApp) is the perfect tool to export your WhatsApp call history to the computer. The tool provides the quickest and safest way for the purpose. With this tool, you can also recover and export a variety of WhatsApp data to the computer, even if you don't have any backup.
For this, you only need to connect your iPhone to the computer. Then the tool will detect the lost chat history and after your selection recover it. This way the chat history will get exported to your computer.
Conclusion
Hope you might have got all the understanding about how to check WhatsApp deleted call history on iPhone. These call histories are beneficial for businesses to keep track of their conversations. But it's not bearable if we somehow lose it. Also, WhatsApp has some limitations to store and display the call logs. There are many generic and other methods too to recover the WhatsApp data, but our third-party app provides more flexibility for this. With RecoverGo (Whatsapp), you can not only retrieve the WhatsApp call history but also export them to the computer for safety. Also, it can be done in no time and without any tech knowledge.