An android user asked the following question on an online forum:
"I deleted WhatsApp group by mistake. Is there a way to restore it? I use an Android phone."
Some users assert that they deleted the WhatsApp group inadvertently and are searching for ways to restore it. Thankfully, it is simple to recover deleted Whatsapp group files and chat. This blog aims to provide concise information on recovering deleted WhatsApp group messages. Besides, it will help you implement techniques for recovering deleted WhatsApp groups.
What Happens When A WhatsApp Group Is Deleted?
If you're deleting a Whatsapp group and you're an admin of it, you'll have to remove all group members first to delete the group. When a WhatsApp group is deleted, all of the members of that group are removed and can see chat history.
This also means that they can no longer add new members to the group or change the group name and photo. If someone tries to re-add a member who was previously in the group, they will receive a message saying that the person is not part of the group anymore.  Thus, when you delete a certain group, only existing messages can be seen on your phone.
How to Recover Deleted WhatsApp Group without Backup?
The third-party tools and applications, often, appear to be very useful in restoring your phone's data. In this case, iToolab RecoverGo (WhatsApp) is recommended for Whatsapp group data recovery. The tool is very beneficial for people who have loads of data to be recovered in a few minutes. You can easily recover group messages, documents, audio, videos, photos, and other file types using this tool. It is reliable to use if you're wondering how to retrieve deleted Whatsapp group messages on android:
Steps to recover deleted WhatsApp group with RecoverGo (WhatsApp)
Step 1 Install the tool, and then navigate to the "Recover deleted WhatsApp data from device" feature in order to move forward.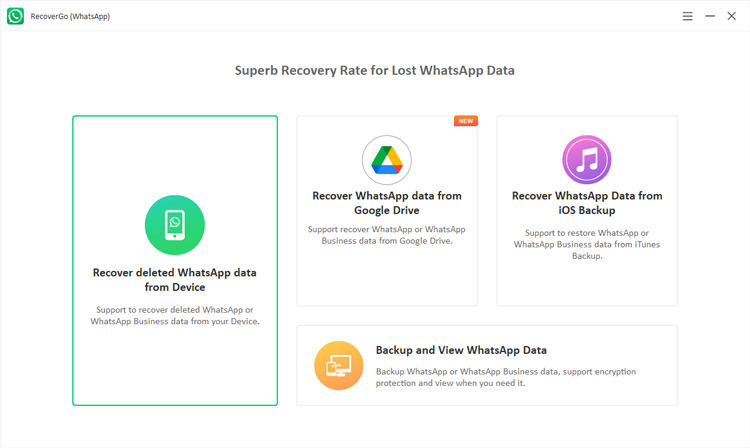 Step 2 At this point, the USB lightning cable should be used to connect your phone to the computer.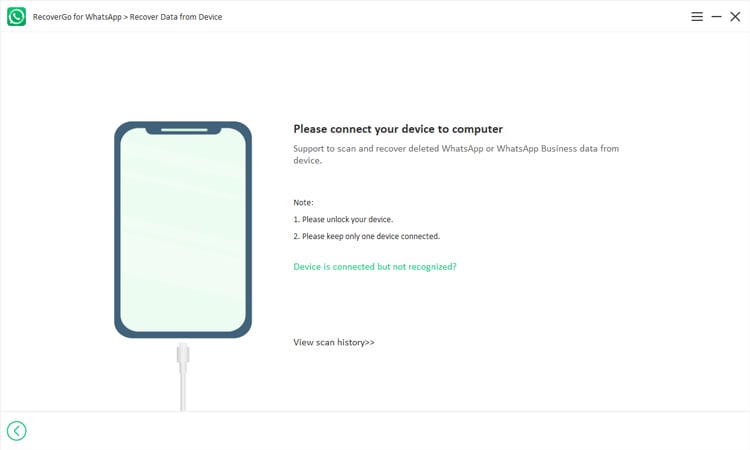 Step 3 You need to select the account from which you need to recover your lost data. The tool will start scanning your account.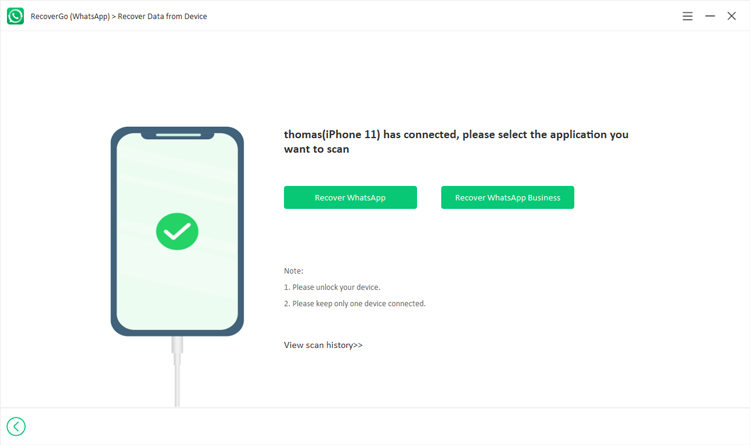 Step 4 Now, you can select the required data to recover and click on the Recover button. You can either select all data at once or select each record manually.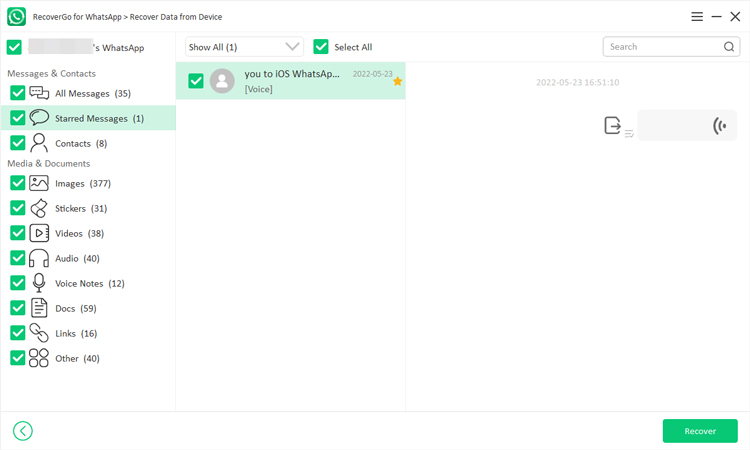 Bascailly, you can't recover deleted WhatsApp group messages without backup. So, the only way left to you is use a WhatsApp recovery software. Fortunately, RecoverGo (Android) can really help you with this problem. However, if you've backed up your WhatsApp you can use the following free ways to restore deleted WhatsApp group.
How to Recover Deleted WhatsApp Group with Backup?
This section will help you by defining methods on how to recover deleted WhatsApp Group with Backup. The following solutions require backup to be in place before you can implement them.
1. For iPhone user
iPhone users are always in trouble while trying to get back their data. The following easy steps can help iPhone users answer how to retrieve deleted Whatsapp group messages on iPhone:
Delete the Whatsapp app from your iPhone.
Reinstall the application from the App Store.
Tap on the Agree and Continue button and enter the phone number associated with your account.
WhatsApp will send you a verification message to verify your identity.
After verification, Whatsapp will display a Restore option to restore all your important data from iCloud storage. Tap on the Restore button to start restoring your deleted Whatsapp group messages.
2. For Android user
The steps to recover Whatsapp on Android are quite similar to that on iPhone. Perform the following easy steps to know how to recover deleted group messages on Whatsapp:
Uninstall and install the Whatsapp application on your android device. Next, verify your number.
If your phone is connected to the same Gmail account, your phone will display an option to restore your previously backed-up data. Select the required data and click on the Restore button to get back all deleted messages.
FAQs
Q1: How do I rejoin a group on WhatsApp without admin?
If you were the Whatsapp group admin and left it then there is a possibility of you becoming a member of that group again. To rejoin, you'll either have to ask the group admin to add you or ask someone to send you an invitation link. You can click on that invitation link to rejoin.
Q2: Will I lose my WhatsApp groups if I change my phone?
There is less possibility of losing your Whatsapp groups on changing your phone. However, you won't be able to get back all data being transferred in those groups.
Summary
Whatsapp groups are an important medium for sharing information and data among its members. If you accidentally delete the Whatsapp group and start wondering about different methods to restore the deleted messages. Above methods will help you recover deleted group on WhatsApp. Also, we introduced the iToolab RecoverGo (WhatsApp), a premium Whatsapp recovery tool, for recovering audio, videos, photos, and other media files. You can implement any of the above-mentioned methods to restore your lost data.