If you are an Android user, then you might have faced errors and issues with your phone. Among all these errors, you may find an error which is "Unfortunately, the process.com.android.phone has stopped". This error can occur due to many reasons, and we will talk about them in the article as well. Moreover, we will discuss how you can fix this error. You may lose some files after this error appears, and you can recover the disappeared file using a data recovery tool. Read the article to see how you can restore your lost data with a third-party data recovery tool.
What Causes "Unfortunately, the process.com.android.phone has stopped"
Before talking about the solution to the "Unfortunately, the process.com.android has stopped" error, you must know what causes this issue. Here are some common causes.
Compiling obsolete files and junk.
When the firmware update of your device fails.
After you factory reset your device.
It has an inbuilt technical issue.
You may have less RAM and free space on your device.
After installation of custom ROM.
A third-party app may cause this problem.
When you connect to any call or internet connection.
You have made major modifications to the phone data.
The latest Android version is not supporting your device.
Fixes for "Unfortunately, the process.com.android has stopped"
If you are facing the process com Android has stopped, don't worry. Different solutions can fix this issue. As we have discussed the causes of this error, now it's time to discuss how to get rid of it.
1. Restart Android phone
It is a common error, and people have complained that it crashes the apps. The first thing you should do when you see an error, "com.android.phone has stopped", is try restarting or rebooting your phone. Check if the problem still exists or not. If you see this error again, try the solutions suggested below.
2. Clean Up Phone Memory (App cache, SIM Toolkit cache)
Many people don't know that errors can arise due to cache. You can clear the cache of your Android device and check if this problem is solved or not. This is how you can clean up your phone memory:
Step 1: On your Android device, go to "Settings > Apps". Choose the app of "Sim Toolkit" to clear its cache data.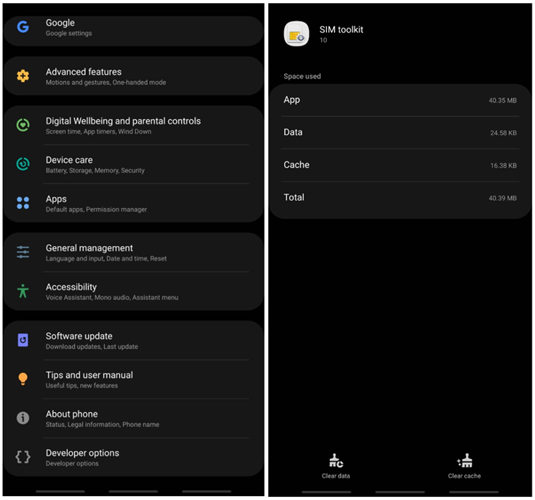 Step 2: Tap on storage, and you will see how much data the cache occupies.
Step 3: To clear it, click on "Clear Cache" at the bottom of your phone's screen.
3. Disable the Automatically Updated Option
According to a survey, users that have "Auto-update apps" options enabled face this issue. So, you can disable the automatic update option from Play Store.
Step 1: Open the Play Store on your Android device and go to its settings.
Step 2: Inside settings, tap on "Network Preference". It will show you a few options, including "Auto-update app".
Step 3: Tap on "Auto-update app" and it will show you three options. Choose "Disable Auto-update apps" and click on "OK". This may solve your problem.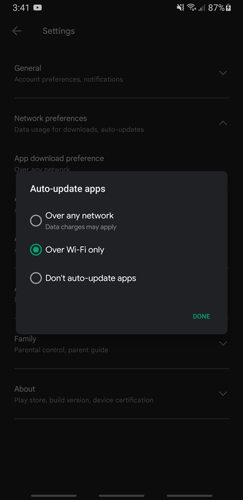 4. Wipe Out the Cache Partition
You can also try out wiping the cache partition on your Android device to fix the issue of "Unfortunately, the process.com.android has stopped". Here is how you can do it.
Step 1: Turn off your Android device and hold down the "Home" button and "Volume Up" buttons. Hold these two buttons and then turn on your phone by holding the "Power" button.
Step 2: When the phone starts, release the Power button and hold onto the Home and Volume Up buttons. Now, when you see the Android logo, leave the buttons.
Step 3: Navigate to "Wipe Cache Partition", press the Power key, and confirm the selection. Your phone will start wiping the cache partition.
Step 4: Choose the option of "Reboot System Now," and your phone will reboot. The issue must've been resolved by now.
Useful Tip: How to Recover Suddenly Disappeared Files on Android
Including the error, "com.android.phone has stopped," there are many reasons why some files have disappeared from your Android device. To recover the lost files, you can use a professional third-party data recovery tool, iToolab RecoverGo (Android). With the help of this tool, you can easily recover the files that suddenly disappeared from your phone.
Features:
iToolab RecoverGo (Android) can help you recover deleted or lost pictures, videos, and more than 12 file types.
It has a simple and user-interactive interface making it easy to use.
You can recover the data of your phone in any scenario with this tool.
This tool can also help you to recover WhatsApp data without any backup.
Moreover, you can restore your WhatsApp call logs and photos with it.
If you have an Android device, then it will work as it supports more than 6000 Android devices.
iToolab RecoverGo (Android) has the highest data recovery success rate among recovery tools.
It offers selective recovery. You can preview the files before the recovery.
It can also recover data from your SD Card.
Your data and privacy are protected with this tool.
See the easy steps to recover lost files on Android
Step 1 Go to the iToolab website and download iToolab RecoverGo (Android). Install the tool on your computer. Open the tool and connect your device to the computer. Once detected, click on "Recover Deleted Data from Device".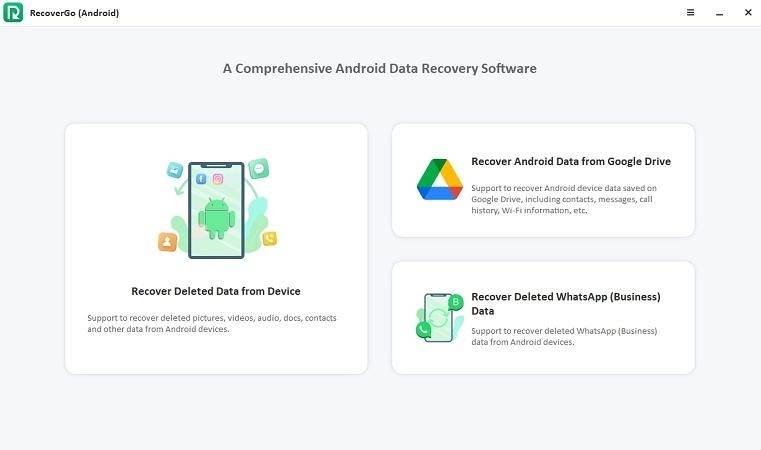 Step 2 Choose the file type that you want to recover. You can be specific with the file type or choose all file types to recover all deleted data. However, by default, all file types are selected.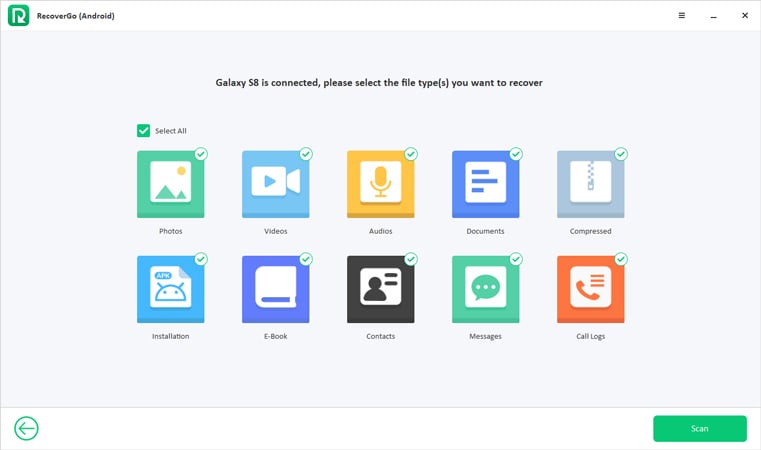 Step 3 Enable USB debugging mode before starting the recovery process. You can follow the on-screen steps if you don't know how to do.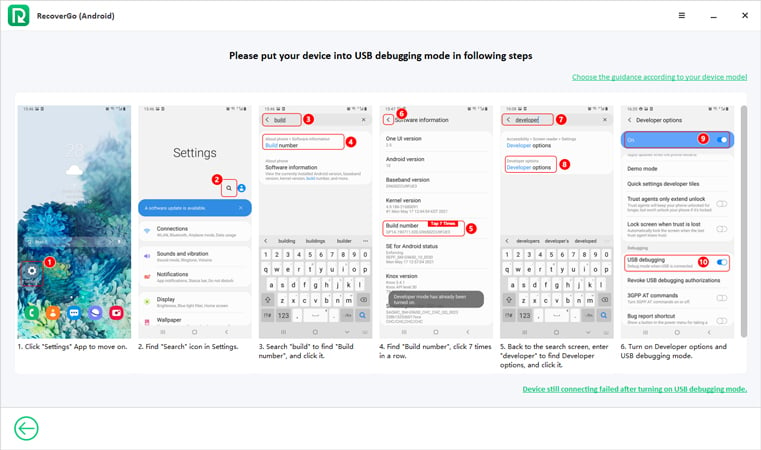 Step 3 Next, the software will scan the lost files. Once done, choose them to recover to your computer.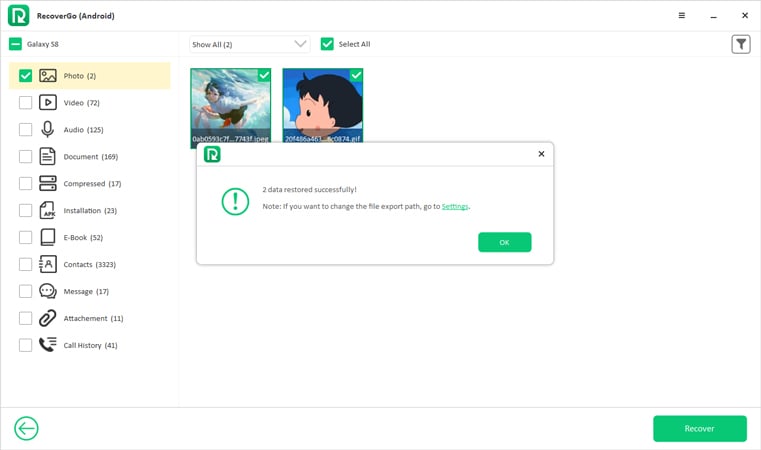 Conclusion
In this article, we have highlighted the issue of "Unfortunately, the process.com.android has stopped". Not only have we discussed what causes this issue, but we also listed probable solutions. It is not mandatory that every method should work. Your device's problem may be solved after following two or more methods. The solution to this issue is subjective to your Android device. However, if you lose any data due to this error, you can use iToolab RecoverGo (Android) to recover it. It is simple and quick to recover all the data. Try out the free trial version to check this tool.