Snapchat is among the most common and popular social media platforms over the internet. Billions of people have been sharing their life experiences day by day with this app. But sometimes we make mistakes and delete some of our important memories from Snapchat. This can be a very frustrating experience, but don't worry, there are ways to recover deleted Snaps.
These Snaps often capture some special moments that are remembered the entire life. This blog elaborates on how to recover deleted Snapchat memories using different methods. You'll also be able to know how iToolab RecoverGo (Android) can bring back your saved memories from internal storage or SD card.
iToolab RecoverGo (Android)
30% OFF iToolab coupon code for RecoverGo (Android)
-30% 100%
Part 1. Can You Recover Deleted Snapchat Memories?
The good news is that Snapchat does keep deleted memories for a short time, allowing users to recover them if they accidentally delete something they didn't mean to. The bad news is that the process of recovering deleted memories can be a little tricky, as the memories are actually moved to the app's trash folder.
To recover deleted Snapchat memories, go to Gallery > trash. If you see the memory you're looking for, just tap on it and then select Restore.
Part 2. How to Recover Deleted Snapchat Memories on Android Free
Snapchat Memories are Snaps and Stories that you can save to use later on rather than self-destructing them. You can open Memories to send, repost, edit, and view at any time. If you're wondering, can you recover deleted Snapchat memories? Then hold your breath; the following methods can help you.
Recover Snapchat Deleted Memories From My Data
If you believe Snapchat is deleting memories then the following steps can help recover deleted memories if they're in the My Data Archives folder:
Step 1. Go to the "Settings" in your Snapchat app.
Step 2. Scroll down and look for the "My Data" option in the Privacy section.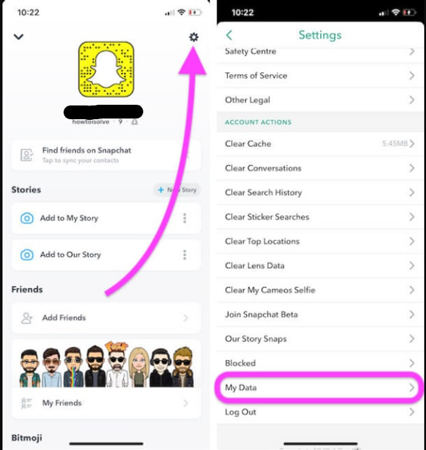 Step 3. You'll be asked to log in using your Snapchat account enter your username and password to continue.
Step 4. Select the memories option on the My Data page and tap on the "Submit Request" button at the bottom of the page.
Step 5. Your request to recover memory will be submitted and the support team will take some time to help you archive memories.
Step 6. You'll receive an email to download the data, including all your Snaps, memories, and videos. Click on the link in your email, and it'll redirect you to the My Data page.
Step 7. Select the "Mydata.zip" file to download, and all your deleted memories will be downloaded to your device.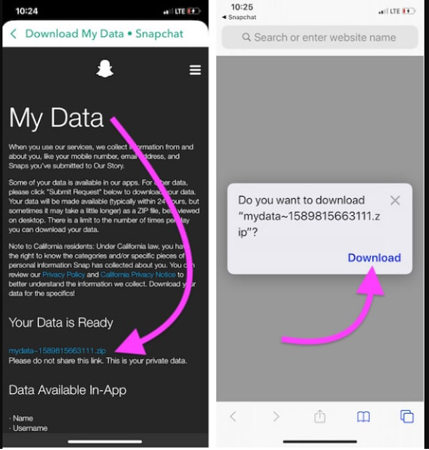 2. Recover Snapchat Deleted Memories From The Device Cache
You can look into the Device Cache folder to recover deleted Snapchat memories using the following easy steps:
Step 1. Open the Android file system using the file manager or explorer app on your Android phone.
Step 2. After opening the device's internal storage, head to the Snapchat folder. You can follow the path Android > Data > com. Snapchat.android.
Step 3. You'll need to check the Cache folder to find the saved photo, copy them to another location or just change the file extension.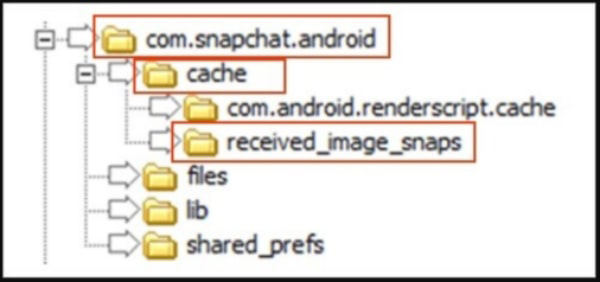 3. Recover Snapchat Deleted Memories From Google Drive
All Android devices by default are connected to a Google account, so saving images to the Google cloud will always be an option. Here is how to recover deleted Snapchat memories.
Step 1. Open your Google account linked to your Android device. Head to Google Photos to see all the photos that are saved on the cloud.
Step 2. Now, choose the Snaps that you want to recover to your device or computer whichever you prefer.

Step 3. You can look into the Google Photo app in the archives folder. If you're not able to find your snaps there then search the Trash folder.
Step 4. Select all the Snaps and tap on the "Recover" button to restore.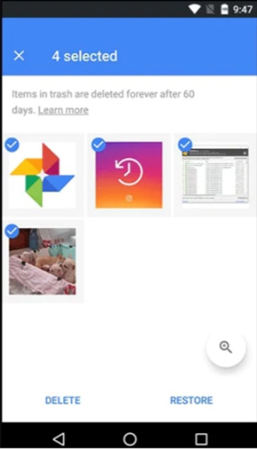 If you are unable to retrieve deleted Snapchat memories with the above ways, you can try to use the third-party tool. In the next part, we will show you how to get snapchat memories back that you deleted with highest success rate.
Part 3. Useful Way to Recover Deleted Snapchat Memories on Android Gallery
If you have saved your Snapchat memories on your Android phone, you can also easily get back deleted Snapchat memories by using iToolab RecoverGo (Android), which is a premium third-party tool that aids Android users to recover their data. You can quickly retrieve all kinds of files including photos and videos, contact details, call logs, video, and other file formats only if you saved to Android internal storage or SD card. As for the detailed introduction of recovering Snapchat pictures, check it here! Follow the next operation steps to help you figure out how to restore Snapchat memories erased.
Step 1 Once you've installed the software, run iToolab RecoverGo Android. Next, connect your phone to your computer via USB cable to begin the recovery process.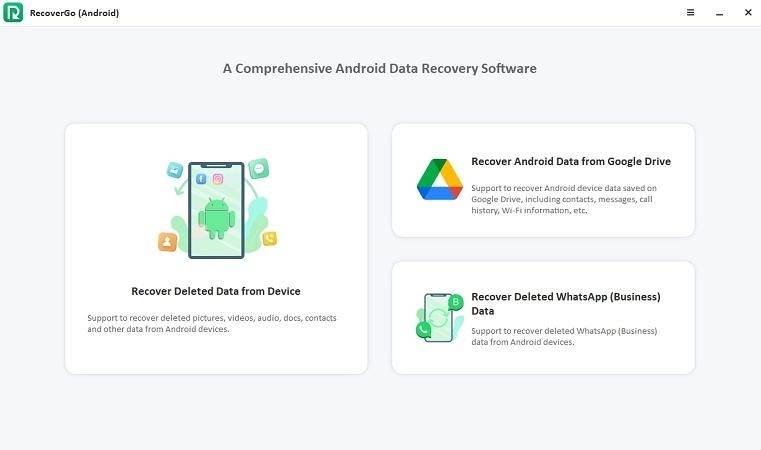 Step 2 You need to enable USB debugging mode by following the on-screen intructions.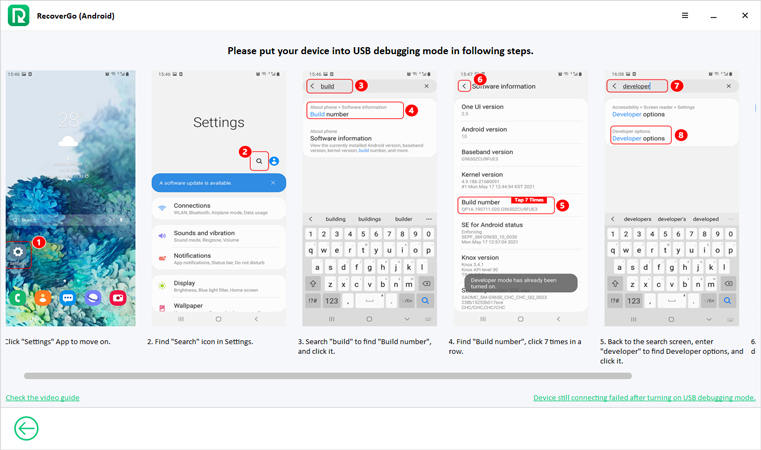 Step 3 Now, you can select the file types to scan the lost data. After the selection click "Scan" to move on.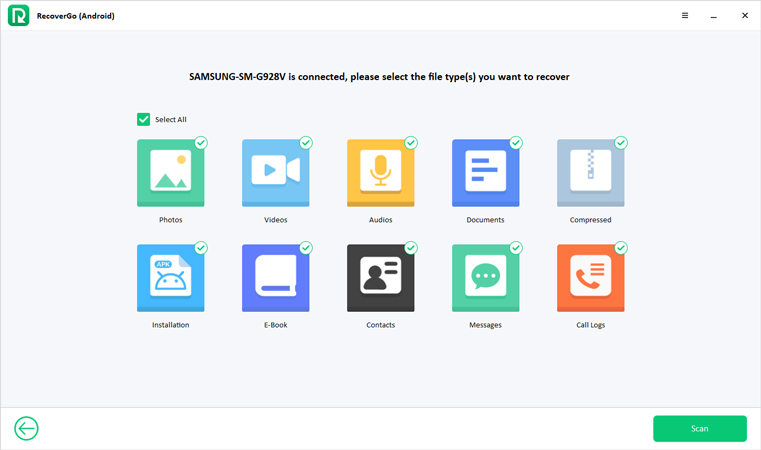 Step 4 Afer scanning, all your files will be displaed on the corresponding folder. Select the lost files and click "Recover".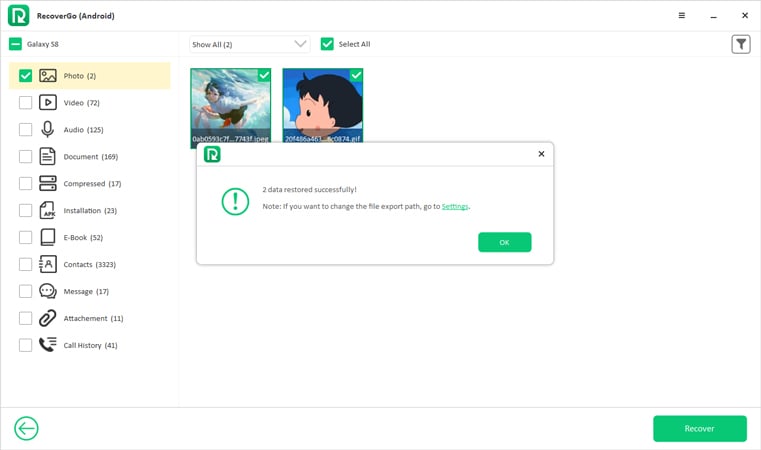 Also Know: Related Questions about Deleted Snapchat Memories
Snaps bring memories that are to be remembered for a long time. Losing Snaps can be horrific for certain users. This section is to clear your questions if you've lost your Snapchat memories.
Q1: Why Snapchat deleting memories?
According to the Snapchat policies, memories will remain active for 24 hours only. This is to prevent the data consumption of users. You can download or send Snaps to your friends to keep them with you for a long time.
Q2: What happens when you delete a snap from memories?
Memories save your Snaps and Stories on your command. You'll always have an option to see your memories that are saved by your Snapchat.
Q3: Where do deleted Snapchat memories go?
If you've accidentally deleted your Snapchat memories, you can go to Gallery and tap on the trash button to see your deleted items. You can recover your favorite snaps from the trash folder easily.
Q4: How to recover deleted Snapchat memories on iPhone?
There are two methods for iPhone users, one is to apply iCloud and the other is to use iTunes.
Using iCloud
Visit iCloud.com and login > Chose Photos option > Check the deleted photos and select them if there are any > Click Recover icon.
Using iTunes
Launch iTunes and connect your device via USB cable > Click Restore Backup to restore all your backup on iPhone.
Summary
If you're one of the millions of people who use Snapchat on a daily basis, you know that memories can sometimes be captured in remarkable moments. Unfortunately, most people get upset after losing them and wonder how to recover deleted Snapchat memories. All the above-mentioned methods are authentic and work in most cases. We've also discussed iToolab RecoverGo for Android is an amazing premium tool to recover any type of deleted data.