Have you ever hit send on a text message only to immediately regret it?
Whether you've sent a message to the wrong person, made a typo, or just wish you could take back what you said, the good news is that there are some ways to unsend text messages Android and save yourself from any potential fallout.
In this guide, we'll show you how to unsend and retrieve a message you accidentally sent and prevent future mishaps.
Can I Recall a Text Message Already Sent?
The ability to recall a text message that has already been sent depends on several factors, including the device you are using, the messaging app you are using, the recipient's device and messaging app, and the timing of your attempt to recall the message. 
There are a few tricks to save you from an embarrassing situation. Keep reading to learn how to unsend text messages on Android.
How to Unsend Text Message Android?
As we've mentioned before, it's not that easy to recall what messages you've successfully sent. Let me explain the real solutions here.
I Know You've Already Tried the Methods Below (Basically Failed!) 
While there are ways to unsend text messages on Android devices, it is not always possible. If you have sent a text message and you wish to retrieve it, below are a few options available to try and unsend the message. Let's take a look:
🔹Remove the phone's battery or quickly switch off your Android by pressing the power button as soon as possible. If you can do any of this quickly, you may stop the message from being sent. But this process requires very fast actions before the message is delivered to the recipient.
🔹Enable Airplane mode on your Android phone to unsend a text message. Swipe down from the top of the screen and tap on the Airplane icon from the Quick settings to turn it on. Once the Airplane mode is enabled on your device, the cellular network, Wi-Fi, and Bluetooth will not be available, so the sending process will be interrupted. However, it will not allow you to retrieve a message that has already been sent.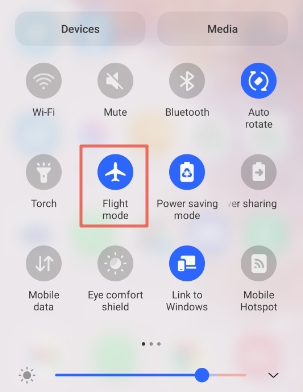 How to Unsend a Text Message on Samsung? 
Unsending a text message on a Samsung phone can be done in another different way, cause Samsung Messages has the recall function that other Android devices don't.
To do this, simply long-press on the message you want to recall, tap "Recall" and then select "Delete".
If you are using a standard SMS or MMS messaging app, it's possible to recall a message before it has been sent. Once the message leaves your phone, it is delivered to the recipient's phone and becomes part of their messaging history.
There are also third-party apps that can help you unsend messages on your Samsung phone. Such as Telegram, WhatsApp, Signal, Snapchat, and many others. 
So, it is better to try some alternative messenger apps to unsend text messages.
Have a Try on Some Alternative Messenger Apps to Unsend Text Messages
Since enabling airplane mode and shutting down Android phones are not working most of the time, using an alternative messenger app is a good choice to recall messages. 
Some messaging apps allow you to delete a message for everyone in the conversation within a certain time frame after it was sent. So, how to unsend a text on Android with third-party messenger apps? Here are the steps for some popular Android messaging apps:
🔅WhatsApp: Open the conversation with the message you want to unsend, long-press on the message, tap on the "Delete" icon, and choose "Delete for Everyone."
🔅Facebook Messenger: Open the conversation with the message you want to unsend, long-press on the message, tap on the "Remove" icon, and choose "Remove for Everyone."
🔅Google Messages: Open the conversation with the message you want to unsend, long-press on the message, tap on the "Delete" icon, and choose "Delete for Everyone." 
It's important to note that the availability and functionality of these features may vary depending on the app and version you are using. It's important to use these unsend features responsibly and thoughtfully to communicate more effectively and respectfully.
Extra Tip: How to Retrieve a Deleted Message on Android Phone?
You may have accidentally deleted some important text messages and are trying to retrieve them now.
Method 1: Recover Deleted Messages from Google Backup
If you have backed up your Android phone to Google Drive, there is a good chance that your data backup may contain your text messages. You can open Google Drive on your Android phone and check if your data has been backed up. Follow this guide to restore messages from Google Drive.
Method 2: Retrieve Deleted Messages with RecoverGo
However, if you don't have a backup, we provide another solution, using a third-party data recovery tool – iToolab RecoverGo Android, this software works perfectly to recover deleted messages from Android phones directly.
RecoverGo Android offers a convenient and modern approach to Android data recovery with quick scan speed and a high success rate that never fails to deliver great results. Moreover, this software is compatible with 6000+ Android devices, such as Samsung, Xiaomi, Huawei, etc.
To retrieve deleted messages from an Android phone, you need to perform the following steps: 
Step 1 Download and install the RecoverGo Android on your PC. Connect your Android device to your PC via a USB cable and open the RecoverGo software. Click "Recover Deleted Data from Device."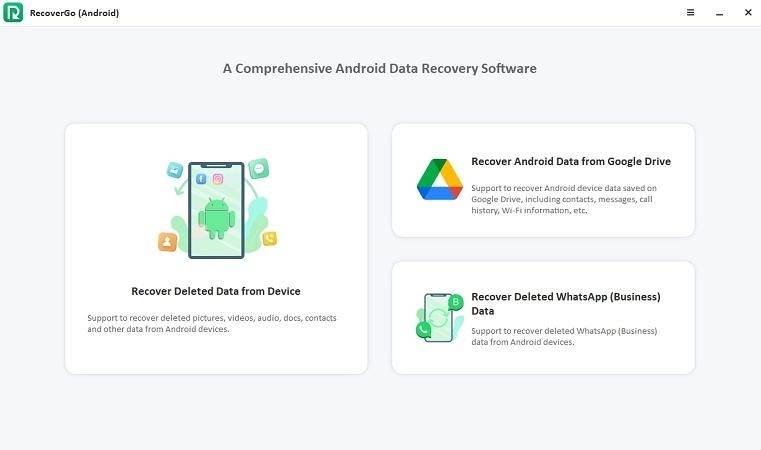 Step 2 Get into the USB debugging mode on your Android device by using the on-screen steps. Next, a pop-up message will appear that need you to allow USB debugging. Click "OK" to confirm.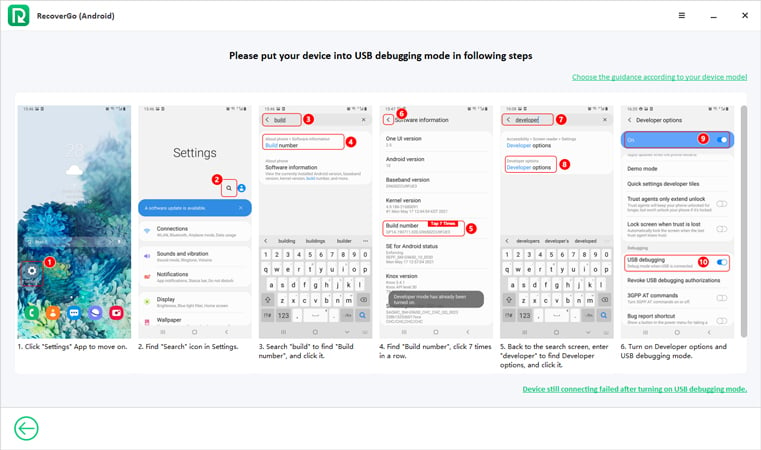 Step 3 On RecoverGo, select the data you need to recover and click the "Scan" button to start scanning. The scanning process may take a few minutes to complete. Leave your android device in an unlocked state until the scanning process is complete.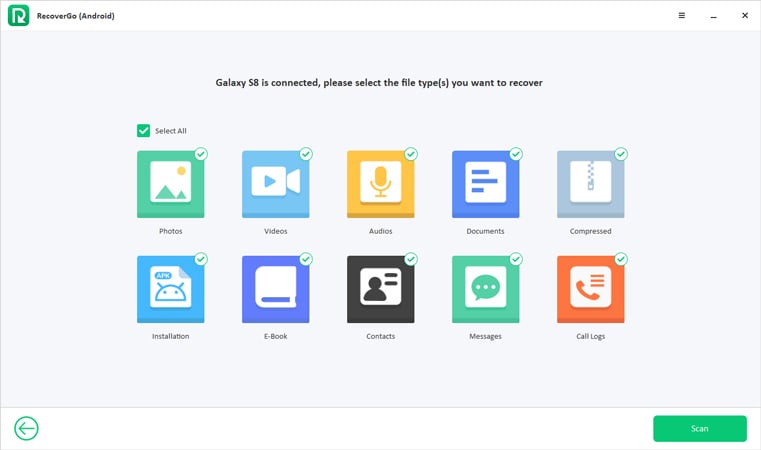 Step 4 After the scanning process is complete, you'll be able to see the amount of data that RecoverGo scanned for you. Preview and select the message you want to recover, and click the "Recover" button. Once completed, all recovered messages will be moved to a new folder named "Recover" located on your PC.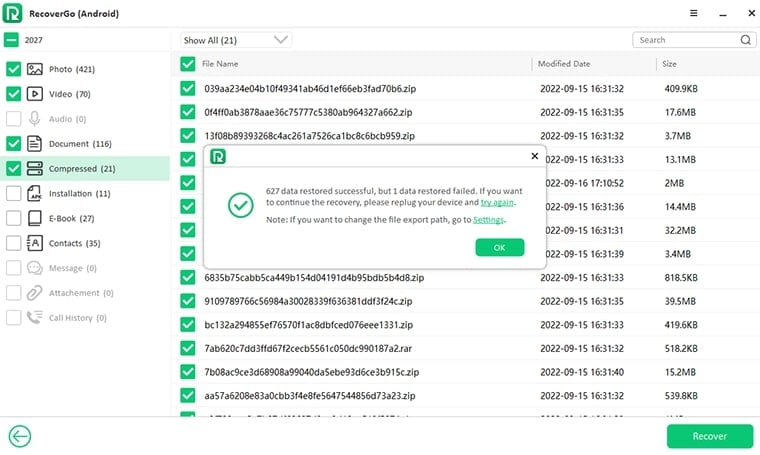 Final Words
It's important to note that it's not always possible to unsend text message, especially if the recipient has already read the message. Suggest you read carefully before sending to avoid any errors or misunderstandings.
But for the deleted messages on your Android phone, you can easily recover them with Android data recovery software – iToolab RecoverGo Android. It is a user-friendly and professional tool. Just give it a good try.