One of the most common problems that Android or any smartphone users face is the limitation of storage. There is never enough storage on the phone. The data or apps acquire much storage in smartphones leaving only a little space behind. You can only acquire more storage by removing unused data or files. In addition, too much trash on your device can also cause your phone to run slower.
In this article, we will discuss the trash or recycle bin on an Android device and how you can empty trash and make space for more data on your Android device.
How To Empty Trash on an Android Phone?
Before emptying trash, you should know there is no Recycle Bin on your Android device. So, this means that you are not deleting trash directly from the Recycle Bin with one click. However, here are some useful tips to help you free up your phone's memory and thus speed up your Android device.
1. Uninstall Useless Apps
There are always some apps on the phone that we don't use. Check out all the apps and select the apps that you don't use anymore. You can either tap and hold onto the apps, and an option of "Uninstall" will appear. Or you can go to "Settings > Apps" and uninstall the apps from here to clear up some space.
2. Clear the Cache
We always recommend people clear their cache, but what is cache? It is an intermediary data that is saved by an Android phone to optimize the performance of the device. The cache takes up memory in the phone. If you clear or delete the cache, then you will see free space on your Android device. Go to "Storage" in the settings, and you will see cached data. Delete this cached data and create some free space on your device.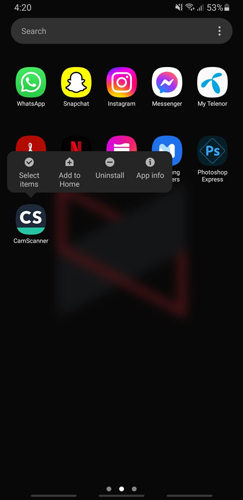 3. Permanent Delete Data
The most common method to free up space and empty trash on an Android device is by permanently deleting the files. Check for the files that you don't use anymore. Use File Explorer to check files on your Android device and delete them permanently to free yourself from storage on your phone.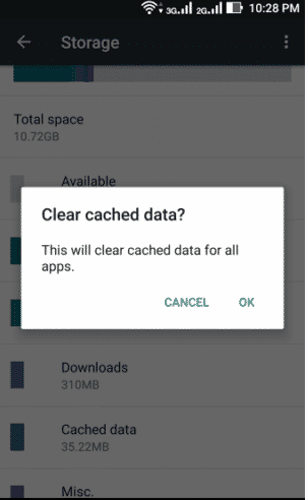 4. Delete Downloaded Files
There are so many things that we download on our Android devices and forget to delete them. After a time, these files take up a lot of storage space on the Android device. Go to File manager and download folders. Select the files that you don't use anymore and delete them. It will free up a significant amount of storage on your phone.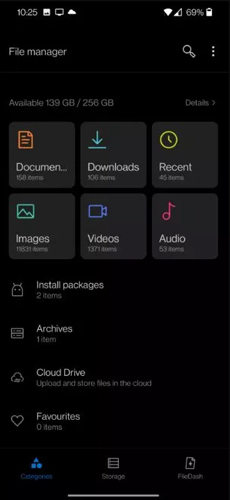 Note: If your Android device doesn't have File manager, go to App store download a File Manager to find the downloads.
5. Transfer Files to SD Card
One of the best ways to clear up space on your Android device without losing or deleting data is by transferring it to SD Card. Most Android devices have a slot for SD Card. You can simply go to "File Explorer > Phone Memory", select the files and move it to SD Card. You can also store your apps, photos, videos, and other important files on SD Card. It also gives your phone the freedom to perform exceptionally well. But if you remove the SD card, the apps that are on it will not work anymore.
6. Using Recycle Bin & Trash Bin App
If you don't know how to manage your phone's storage, then you can use third-party apps. These apps help you to empty up space on your Android device. Such a tool is the Recycle Bin & Trash Bin. This app allows you to recover deleted files, manage your storage and access the deleted files. It also has access to an SD Card, so you can also manage your storage through it. You can also preview your deleted files and even remove them to free up space.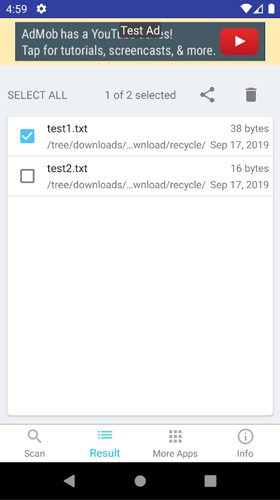 How to Empty Trash on Android from Google Photos
There is another way to empty trash is go to Google Photos to clear the deleted media files. So, if you wondering does google photos trash count towards drive storage, the answer is "Yes". That's the reason why there is a necessary to empty trash from Google Photos. However, if you've emptied trash all these files can't be restored anymore.
Step 1. Launch Google Photos and click Library option in the bottom bar.
Step 2. Next, select Trash option and you will see all your deleted photos and videos.
Step 3. Click the three-dot option and click Empty trash to permanently erase the data.
Accidentally Deleted Data What to Do?
If you have accidentally deleted data on an Android device, then you can recover it easily. We know that there is recycle bin or trash on an Android device, then how can we recover it? There is a powerful third-party data recovery tool that allows you to restore all the deleted data, iToolab RecoverGo (Android). It helps the user to recover more than 11 file types without even a backup.
It is a safe and reliable desktop application that helps you to restore lost or deleted data. It can recover data in multiple difficult scenarios. It is an advanced tool that scans your Android device for the file type you choose and presents you with all the recoverable data. You can then perform selective recovery of all your files.
Conclusion
There is no recycle bin or trash on an Android device, but there are other ways in which you can empty trash. We have discussed different ways that you can follow to clear up space in your Android device. However, the best way to delete unused apps or transfer them to the SD Card, so the data is not deleted. While deleting the data, if you accidentally delete the important file, then there is a third-party recovery tool RecoverGo-Android Data Recovery, that can help you to restore the data. It is a very powerful tool and is capable of performing recovery of multiple file types without any backup.