Losing or having your Android phone stolen can be a stressful experience, especially if you have important data stored on it. In such cases, recovering the lost data becomes a top priority.
However, data recovery from a lost or stolen Android phone can be a daunting task, and it largely depends on the security measures and backup solutions you have put in place. In this article, we will explore some effective methods on how to recover data from stolen Android phones.
How Can You Protect Your Data If Your Android Phone is Lost/Stolen?
Losing your phone can be anxiety-provoking, and one of the biggest concerns is the security of the data stored on your device. Here are some steps you can take to protect your data in case your phone is lost or stolen:
1. Immediately get your SIM card locked.
2. Use Google "Find My Phone" option to lock your device and erase your data from it.
3. Immediately change your Google account password and remove the stolen device as a trusted device for multi-factor authentication.
How to Recover Data From Stolen Android Phone to Computer?
It is easy to recover data from a lost or stolen Android phone if you have synced it to Google Drive. Here we'll introduce the most efficient way – use a third-party data recovery software iToolab RecoverGo Android to restore data from Google Drive on a computer.
RecoverGo Android is an intuitive software that helps you recover your lost Android data safely and quickly. With this tool, you don't need an Android device or restore a full backup, you can select the data you need and save it directly to your computer.
More Features:
✅ Easy-to-use tool with step-by-step tutorial available.
✅ Easily preview Google Drive data and filter the data you want to recover.
✅ Even with a damaged screen/lost phone, you can recover deleted files with clicks.
✅ It downloaded and kept your Google backup data safe in all circumstances.
✅ Supports recover Contacts, Messages, Call History, Wi-Fi, etc.
Follow the steps mentioned below to recover your data using iToolab RecoverGo Android:
Step 1 Open RecoverGo Android and choose "Recover" mode
On your Desktop, install and run RecoverGo Android, then choose "Recover Android Data from Google Drive" to continue. Using this tool you can download and view backup data directly.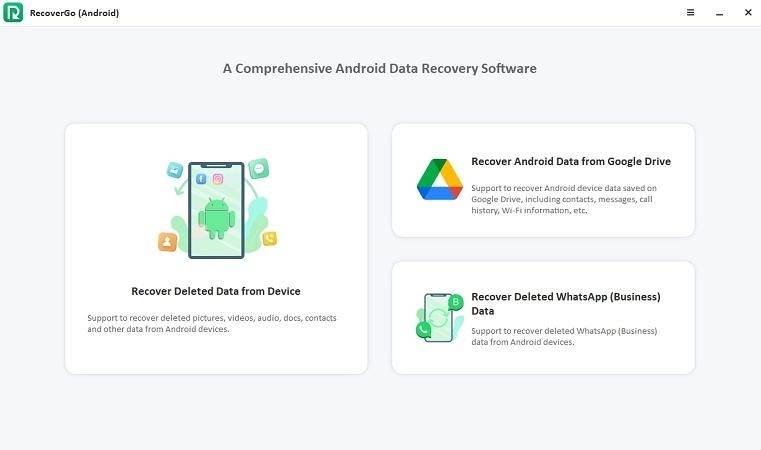 Step 2 Log in to your Google Drive account
Access the Google Drive account where your backups are stored by logging in. The software will evaluate the backup if you are logged into the correct account.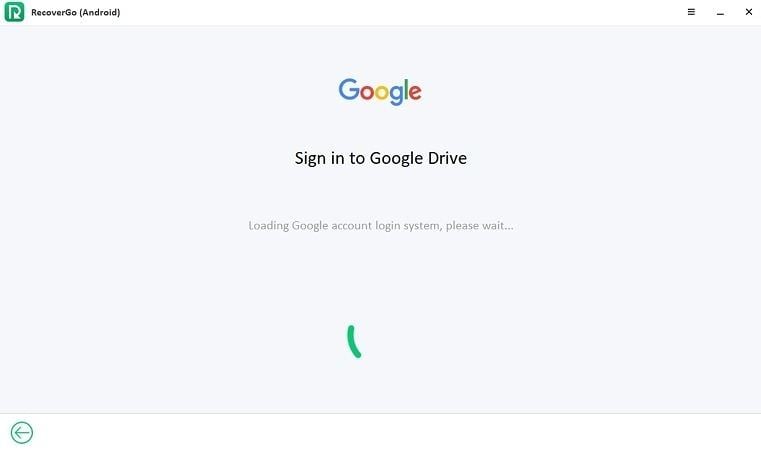 Step 3 Decide which type of file to download
After login in, all the available file kinds will be presented and checked in default, also you can select file types one by one. To proceed, tap "Download."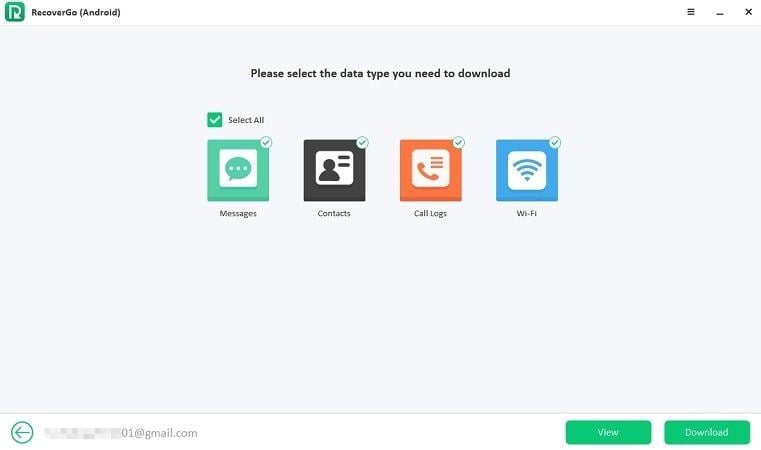 Step 4 Begin the scan process
The scan process will automatically begin after the most recent backup has been analyzed. Please maintain a steady network so the scanning procedure can proceed without interruption.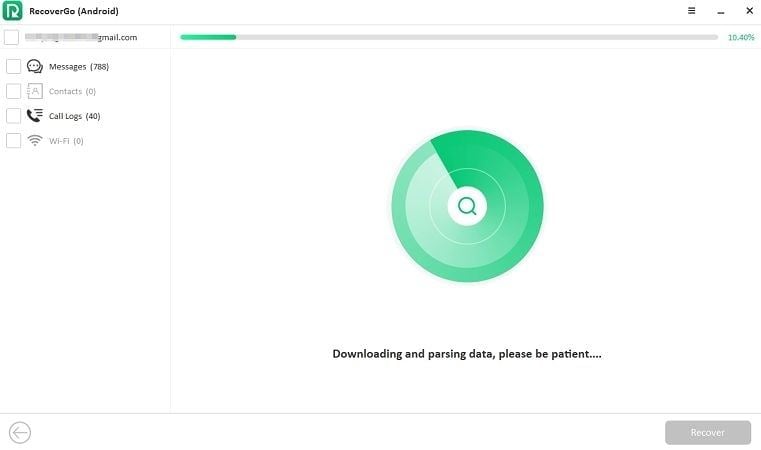 Step 5 Choose data and recover
After the scan process is done, all the data will be listed. You can choose which data to recover after viewing the information.
When you click the "Recover" button after deciding the data you wish to recover, the data is immediately saved to your PC.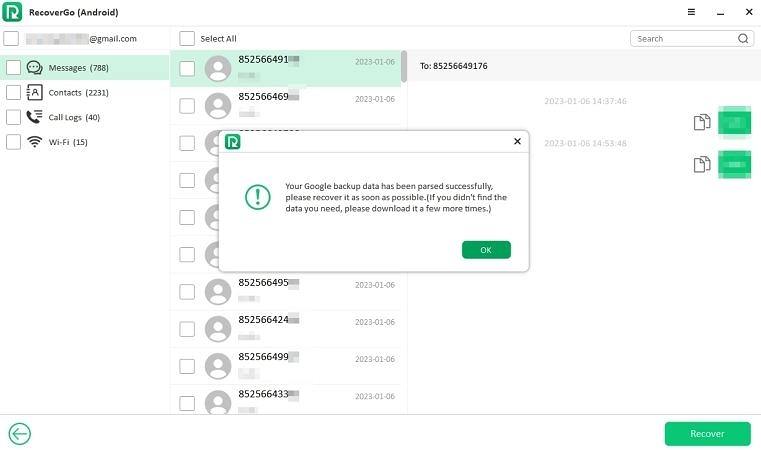 Anyway, remember it's always a good idea to regularly back up your data to avoid losing it in any event.
How to Recover Data from Lost Android Phone to a New Phone?
In this section, we'll introduce two methods to help you restore data to a new phone, if you already purchased a new device and want to restore the full backup of the lost phone, the below methods are for you.
Method 1: Recovering Data Using Google Backup
Since you already have a new device, then restoring backup from Google Drive will be easier to achieve.
🤦‍♂️Limitation: The full backup data will be restored, and if you have a large backup, it will take up a lot of storage space and need a long time to restore.
Here are the steps to follow:
Step 1: On your new Android phone, go to the setup screen and sign in with the same Google account that you used on your lost phone.
Step 2: During the setup process, you should see an option to restore data from a backup. Tap on that option.
Step 3: You will be asked to choose the backup that you want to restore. Select the Google backup that you created on your lost phone.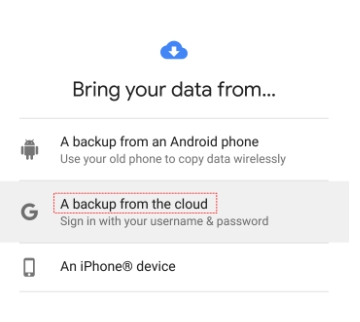 The restoration process may take some time depending on the amount of data that needs to be transferred.
Method 2: Recovering Data From Lost Android Phone Via Other Cloud
Some Android devices have their cloud services, such as Samsung has Samsung Cloud, and Xiaomi has Mi Cloud. If you have a backup on your lost phone cloud, in addition to restoring backup from Google Drive, you can recover your data using these cloud services.
🤦‍♂️Limitation: Need a backup and need your new phone is the same brand as the lost one.
Let's take an example of Samsung. Here are the steps:
Step 1: On your new Samsung phone, sign in to your Samsung account that you used to backup your data.
Step 2: Go to "Settings" and select "Accounts and backup".
Step 3: Tap on "Samsung Cloud" and select "Restore".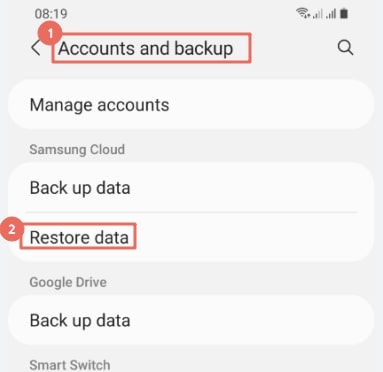 Step 4: Choose the device that you want to restore data from and select the data types that you want to restore, such as contacts, messages, photos, or app data.
Step 5: Tap on "Restore Now" to start the restore process.
Make sure that your new phone is connected to a stable Wi-Fi network and has enough battery life. Once it complete, you will get all the backup data in the new Android.
Tips to Prevent Data Loss on Your Android Device
If you have an Android phone, you can take the following precautions to prevent data loss:
Enable a lock screen password: This is a simple but effective security measure that can prevent unauthorized access to your phone.
Activate remote locking: You should enable the "Find My Device" feature on your phone, which allows you to remotely lock your phone and wipe its data if it is lost or stolen.
Regularly back up your data: You need regularly back up your data to a cloud storage service or your computer, so you can easily restore it if your phone is lost or stolen.
Avoid storing sensitive data on your phone: It is best to avoid storing sensitive data such as passwords, credit card numbers, and personal identification documents on your phone. If you must store this information on your phone, use a secure password manager app to encrypt and protect it.
Keep your phone up-to-date: Keep your phone's operating system and apps up-to-date with the latest security patches and updates. This will help protect your phone from known security vulnerabilities and reduce the risk of data loss.
By taking these precautions, you can minimize the risk of data loss if your Android phone is lost or stolen.
Conclusion
In conclusion, you can recover data from a lost or stolen Android phone in above three ways, and RecoverGo Android is the best choice, with this tool, you can recover your data in minutes, and download the Google backup to preview and restore at any time.