Snapchat is among the most used applications, and there's no doubt people love to create streaks with each other. The best part is that all the videos and photos a person takes on Snapchat will be stored in their memories. If somehow a person has lost their mobile, they can recover it there.
There is an official way available to recover deleted videos directly from it. It is easier when you have a backup available. But if the backup is not available, this can turn out to be a difficult process. However, the videos can still be recovered. Keep reading till the end to find out about the process that can help you recover the deleted videos from Snapchat easily!
How to Recover Deleted Snapchat Videos on iPhone and Android?
If you are an Android or iPhone user and looking out for methods to recover deleted Snapchat videos, do understand that it depends on different situations. There are different methods available that help users recover deleted videos, and these are as follows:
Way 1: Recover deleted Snapchat videos from My Data
The primary method that users consider is the official way that has been introduced by Snapchat. Yes, for this method, there will be no need for you to get any particular tool. The steps are as follows:
Step 1: Firstly, open Snapchat on your Android or iPhone device and create a login with the same credentials as you used to use with your previous device or with the same device before reinstalling the application.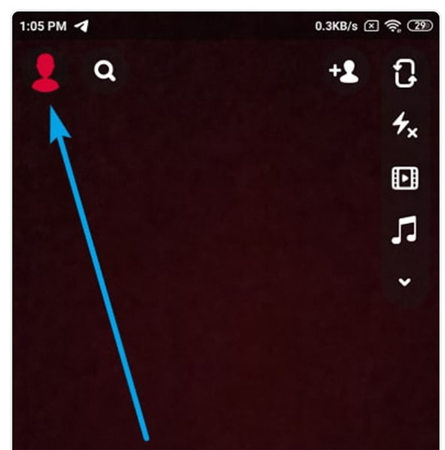 Step 2: On the top of the page, the bitmoji icon is there. Click on it. Here you will be redirected to the profile page, and you will click on the gear icon available at the top corner of the screen. This will redirect you to the settings page.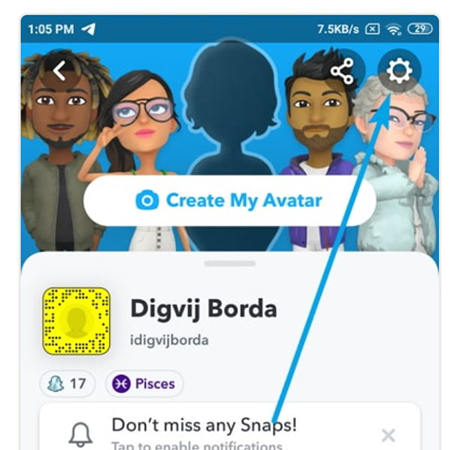 Step 3: In the settings menu, scroll down until you see the privacy section, and then navigate through my data under it.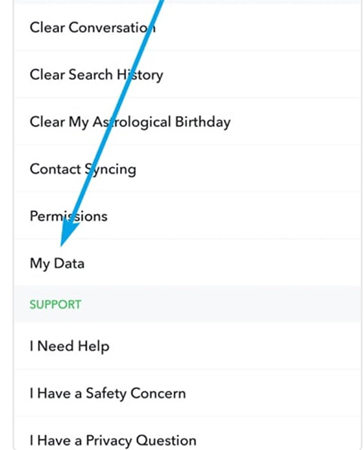 Step 4: A new screen will appear asking you to mention the login credentials. Mention them and hit the login button again.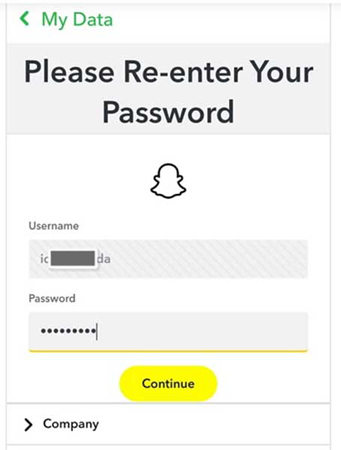 Step 5: After completing the login process, a long list of Snapchat data appears to download. It is totally up to you what data you wish to download.
Step 6: When you scroll down to the last "SUBMIT REQUEST" option, click on it, and the Snapchat team will start creating the copy for the data. It is a time-consuming process, so you need to be patient for a while.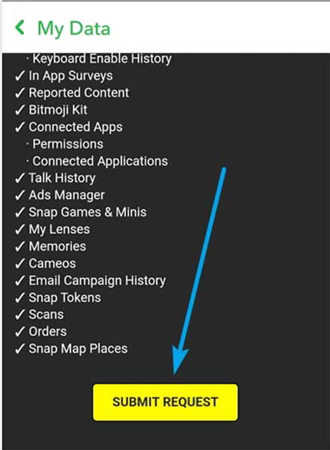 Step 7: When the process is completed, and the data is ready to download, it will reach out to your registered email address, sharing the link to all the data. Open this link and download the zip file as it has all your Snapchat data. You can also download the zip file on your desktop and unzip it as needed.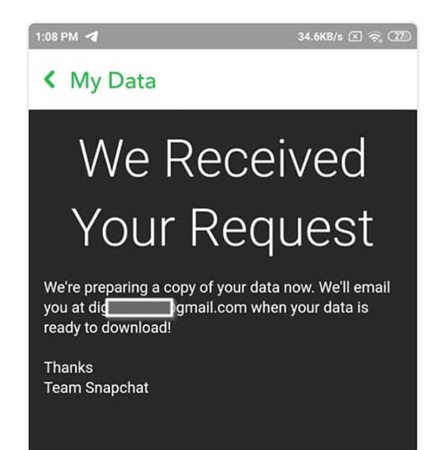 Way 2: Recover deleted Snapchat videos from Camera Roll
Sometimes it happens that this straightforward method, as discussed above, is not everyone's cup of tea, so use of look out for some other methods that can help delete Snapchat. Well, the solution we are discussing here is for all those who are looking forward to recovering deleted Snapchat from their camera roll. In this case, the iToolab RecoverGo (Android) is the best tool available to users around the world.
This tool has an innovative interface and allows users to recover all the deleted photos from Snapchat easily. It doesn't matter what the scenario is and why you are looking forward to receiving the lost files. This tool will help you out. It also supports Android 12, which simply means if you have access to a new Android version, you can utilize this.
The steps to using this tool are:
Step 1: Install iToolab RecoverGo (Android) on your computer, connect your device to the computer using a USB cable and then select Recover Deleted Data from Device to proceed.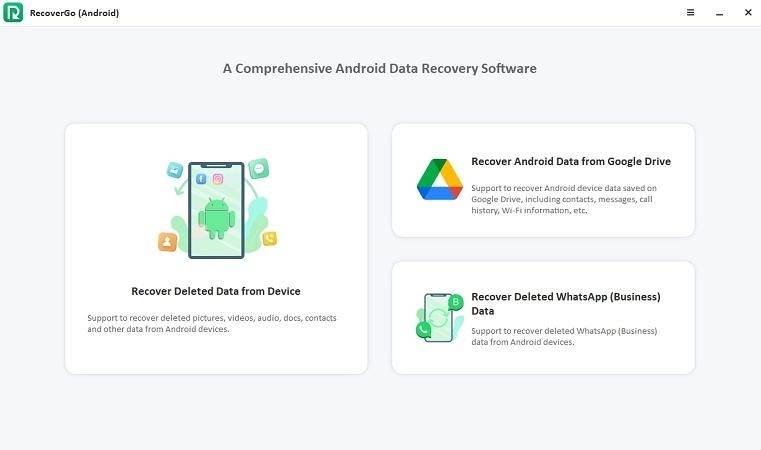 Step 2: Here, all the supported file types will be displayed. Click on the scan button to start scanning.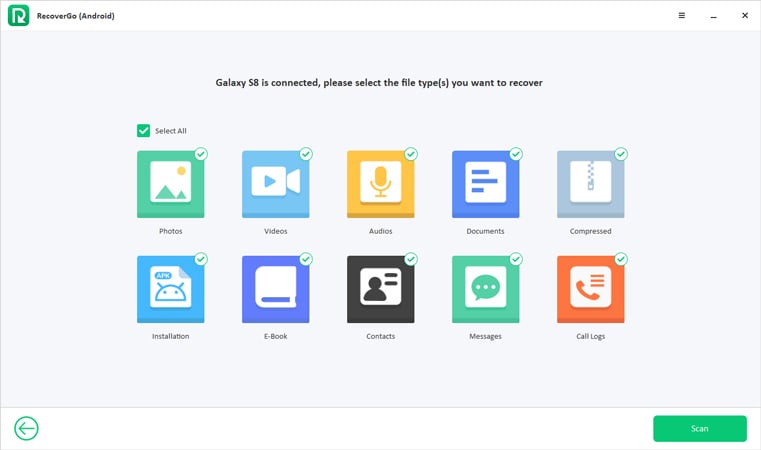 Step 3: Now follow the instructions on the screen to put the Android device into the USB debugging mode. Next, select the files you wish to scan again.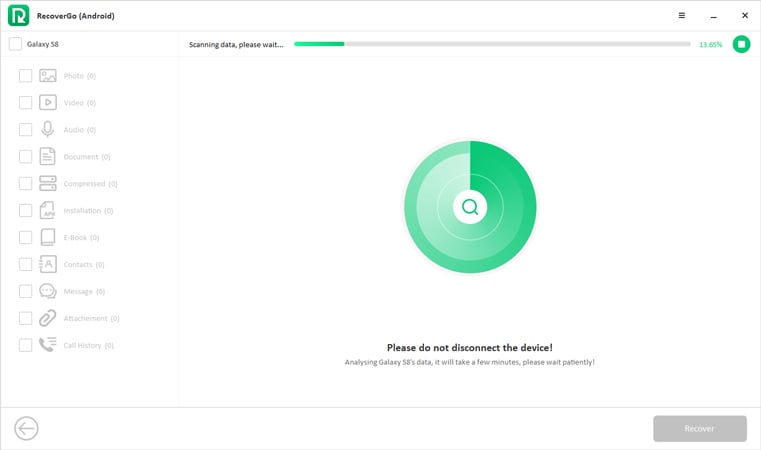 Step 4: When the scanning process is completed, you are all set to recover the type of data you want. And click on the "Recover" button.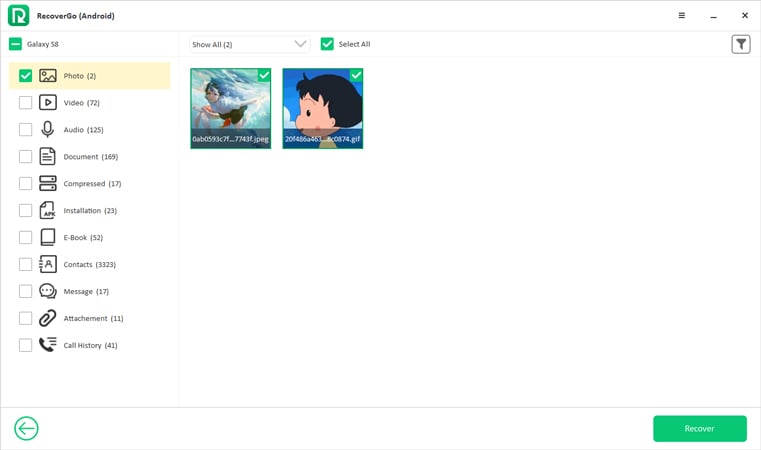 Within a while, the process will be completed, and you will be able to get access to all your Snapchat memories easily. That's how you use RecoverGo (Android) to recover deleted Snapchat videos. It's very easy and effective.
Way 3: Recover deleted Snapchat videos from Android Cache
It is possible that Snapchat deleted files are saved in the cache. In that case, there is an option available where you can find all the deleted videos there as well, just by following a few steps.
Steps to follow to recover deleted Snapchat files from the cache:
Step 1: Go to the File Manager on your smartphone and open it.
Step 2: Click on the search icon and tap on it to see the search bar. In the search bar, mention Android and hit the enter key. Different folders will appear on the screen; tab it to open, and you will find more folders inside, including data, media, and OBB. Click on the data folder to open it.
Inside the data folder, there are different folders available, and a long list will appear. Keep on scrolling and find out the folder name with com.Snapchat.android
Step 4: Click on this folder to open the other two folders, cache and files, and open the cache one. Inside the folder, there are two more folders available with the names com.android.renderscrpit.cache and received_image_snaps.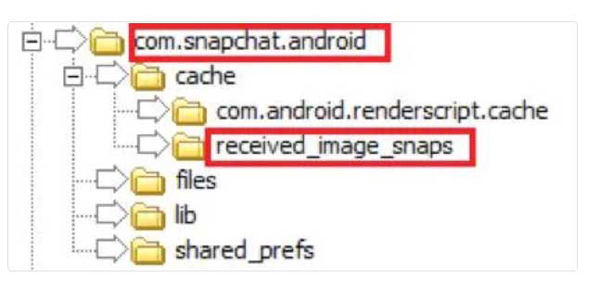 These are the folders where you will be able to find all the deleted Snapchat memories.
Way 4: Recover deleted Snapchat videos from iCloud Backup
If you have an iPhone and believe that none of the methods listed above will help you, remember that you can recover deleted Snapchat from an iCloud backup. If you have turned on backup on your device, you will definitely find the data on iCloud. This process turned out to be really simple and convenient for most of the users. The steps to using this method include:
Step 1: To start, you need to get your iPhone and open "Settings" in it.
Step 2: After that, tap on "General".
Step 3: Go to "Transfer or Reset iPhone" option now.
Step 4: Lastly, tap on "Erase All Content and Settings".
Step 5: Your device's data will wipe off and it will go to the factory mode.
Step 6: You can now setup your device like new. When you set up, an option of "Restore from iCloud Backup" will appear. Choose it and get your Snapchat videos recovered.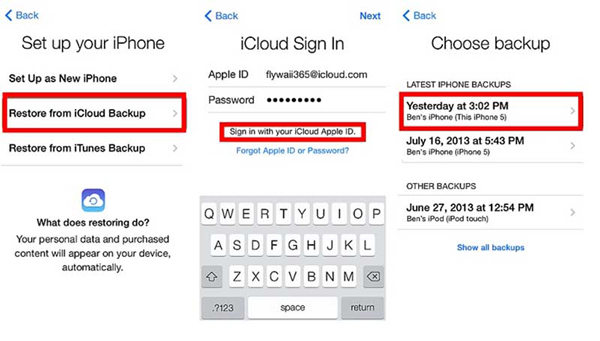 Within a while, the files will be restored and you will be able to have access to all the data easily!
Conclusion
In conclusion, if you delete any files from your Snapchat account, there is a way to recover them. You can use a third-party app that specialises in recovering deleted files from different platforms. Well, in our opinion, RecoverGo (Android) is the best tool for recovering deleted videos on Snapchat. It is easy to use and can quickly recover lost data. So if you've deleted something important and can't remember where it went, try using it to get your files back!