Many WhatsApp users have automatic backups enabled to save their data, but the storage space on google drive is also limited. So when your cloud drive is full you can only store it on your Android internal storage or SD card, and this may result in your deleted data not being backed up in time. Furthermore, some users have not even backed up their data. Can you still recover deleted WhatsApp messages on Android in these situation? Read on to find out the solution!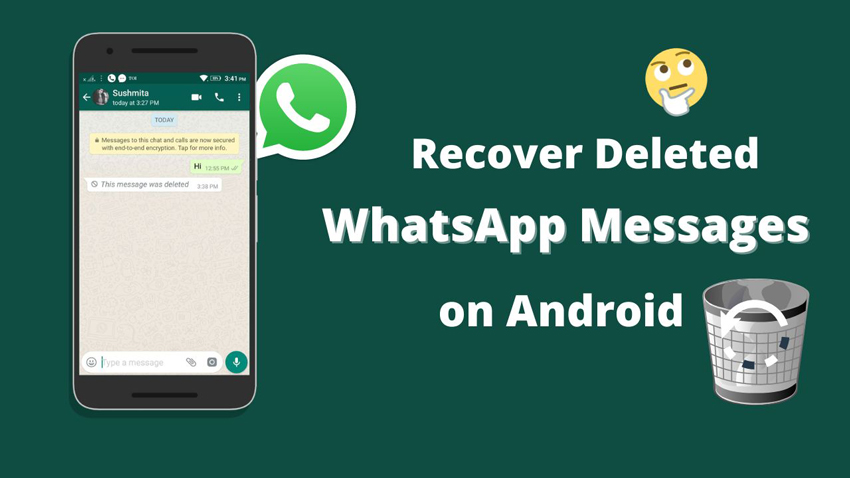 How to Recover Deleted WhatsApp Messages on Android without Backup
If you are here to look for how to recover deleted WhatsApp messages on Android without backup, the only thing that makes it possible is through a third-party tool, i.e., iToolab RecoverGo. iToolab RecoverGo (Android) is a well-known third-party tool that helps recover lost Android data safely and quickly.
Check out this guide for a step-by-step instruction on how to retrieve WhatsApp messages on android device.
Step 1 Install and launch RecoverGo (Android), connect your device and select "Recover Deleted WhatsApp Data." to starting.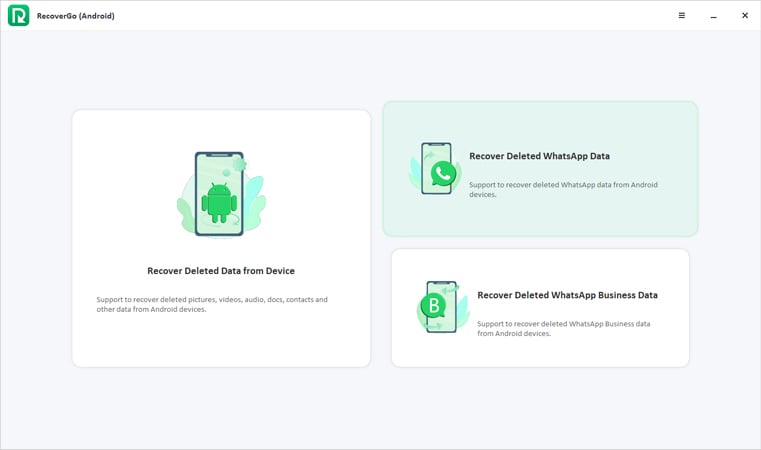 Step 2 Next, follow the on-screen steps to enable USB debugging on your Android device.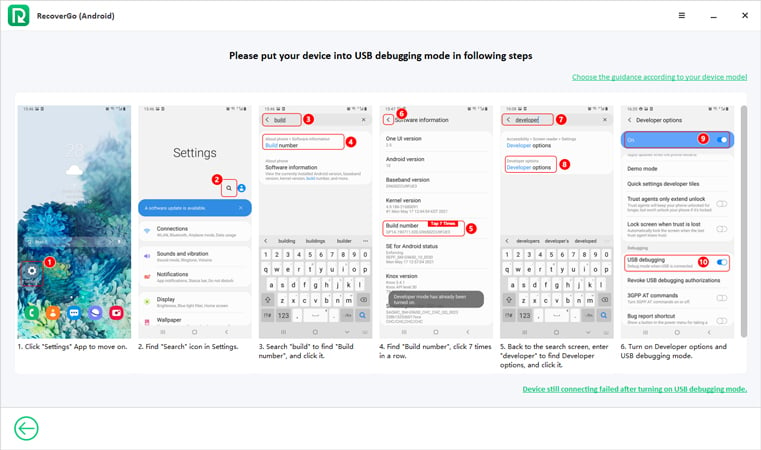 Step 3 Log into your WhatsApp account and backup your WhatsApp with the on-screen steps.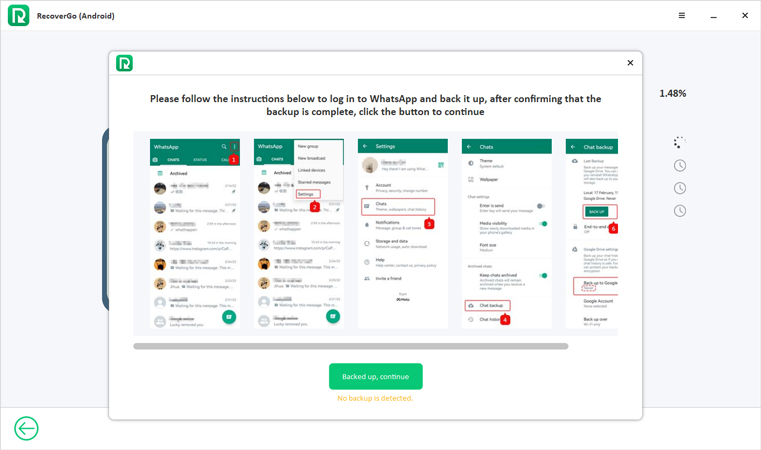 Step 4 Last, activate your WhatsApp account and then RecoverGo will scanning your data. Once done, select the delted messages and click "Recover."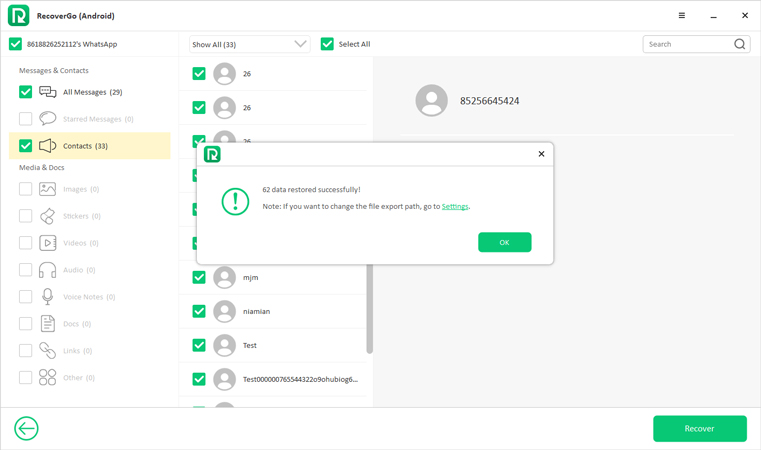 This is super easy way to retrieve deleted WhatsApp messages on Android. It can be finished in just a few minutes and you don't need a backup. If you don't have a backup then this is definitely worth a try. You can also check the solutions if you have made a backup.
How to Retrieve Deleted WhatsApp Messages on Android with Backup
If you are looking for ways to recover your deleted WhatsApp messages with backup, we present you top official ways to do so.
Way 1: Recover deleted WhatsApp messages from Google drive
The automatic backup feature for Google Drive allows you to choose whether you'd like your chat history to be backed up daily, weekly, or monthly. Using the same number and account as when creating your Google Drive backup is required to restore the backup successfully.
To restore your backup:
Your backup needs to be linked to your Google Account with your new Android device.
Install WhatsApp and open it, then verify your phone number.
When asked to restore your conversations and media from Google Drive, tap RESTORE.
Click "NEXT" when the process of restoration is complete. Upon initialization, your chats will appear.
As soon as your chats are restored, WhatsApp will also restore your media files.
WhatsApp will automatically restore data from your local backup file if you haven't previously made any backups from Google Drive.
Way 2: Retrieve deleted WhatsApp messages from a local backup
A local backup can be created by transferring the files to the device using a computer, file manager, or SD card.
To restore your backup:
Start with installing a file manager app.
Select the file manager application and then go to local storage or SD card > WhatsApp > Databases. Likely, the data isn't stored on an SD card so it will appear as "internal storage" instead. The most recent backup file should now be located in the Databases folder of your new device.
Install WhatsApp and open it, then verify your phone number.
When prompted to restore your chat history and media from the local backup, tap RESTORE.
Note: 1. During a local backup, your phone will keep records of the last 7 days.
2. Every day at 2:00 AM, local backups are created and saved as files on your phone.
Way 3: Restore deleted WhatsApp messages from Archived WhatsApp chats
Is it possible to recover deleted WhatsApp messages on an Android device? If you have archived all your WhatsApp messages, there's a chance you may not delete them. A thread you archive in WhatsApp will no longer appear in its Chat tab. Even so, the archived WhatsApp chat thread is still accessible.
Tap Archived on the Chats screen at the bottom of WhatsApp.
Then tap Unarchive on the top bar to unarchive the thread.
Chat threads will appear in your Chats tab once again, and you can now find the missing WhatsApp messages.
Related Questions about Recovering Deleted WhatsApp Messages
Q1: How can you see deleted messages on WhatsApp?
WhatsApp does not have a built-in feature to view a deleted message. This can be done with a third-party app that tracks notifications.
Q2: What's the best whatsapp recovery app for android?
If you have mistakenly deleted your important WhatsApp messages and now can't figure out what to do next? Don't worry; iToolab RecoverGo has the solution to all your problems in one go. This tool helps you recover all your deleted WhatsApp messages.
Conclusion
Hopefully, you have got all the details concerning the possible ways to recover deleted message from WhatsApp. It's not that complicated to retrieve a message; you just need to follow each instruction step by step. Also, in your WhatsApp messages retrieving process, iToolab Recover Go can help.