In our digital age, text messages often contain vital information and personal memories. Losing them can be distressing. Whether it's due to accidental deletion or a device malfunction, knowing how to retrieve deleted text messages on Moto G Stylus, Razer, or Edge becomes crucial for Motorola phone users. Fortunately, various methods and tools enable the recovery process. If you find yourself wondering how to retrieve deleted messages on Motorola phones, this guide will walk you through the essential steps and options available to get back those precious texts.
Can You Retrieve Deleted Text Messages on Motorola Phone?
Yes, you can retrieve deleted text messages on a Motorola phone. Various methods make this possible, including using specialized recovery software, restoring from a previous backup, seeking assistance from your mobile carrier, or accessing cloud services where the messages might have been synced. By employing these techniques, users often find success in recovering their important messages and information that were mistakenly deleted or lost.
How to Retrieve Deleted Messages on Motorola Phone without Backup?
RecoverGo (Android) emerges as a robust solution for those looking to retrieve deleted messages on Motorola and other Android devices without a backup. Tailored specifically to meet the demands of unexpected data loss, this software tool offers a lifeline for messages that were deleted unintentionally. With compatibility extending across various Android brands, including Motorola, RecoverGo (Android) emphasizes ease of use and efficiency. Whether you're a seasoned tech expert or a beginner, the application guides you through the process seamlessly. Without needing any prior backup, RecoverGo (Android) unlocks the ability to restore lost conversations, ensuring that essential messages are never permanently lost. Its design bridges the gap between accidental deletion and successful recovery, making it a go-to choose for many users.
Exceptional Features of RecoverGo Android
✨ User-Friendly Interface: RecoverGo provides an intuitive interface that makes the recovery process straightforward and effortless.
✨ Comprehensive Data Recovery: Besides text messages, it can recover photos, videos, contacts, and other essential data.
✨ Compatibility with Various Android Devices: RecoverGo is designed to work with more than 7000 Android brands, including Motorola, Samsung, LG, and others.
✨ Secure Recovery Process: Ensures the privacy and safety of your data during the recovery process, keeping your information protected.
Step-by-Step Guide
Step 1 Download and Install RecoverGo
Visit the official website and download the RecoverGo tool, then follow the installation instructions. Lanuch the software and select "Recover Deleted Data from Device" from the main interface.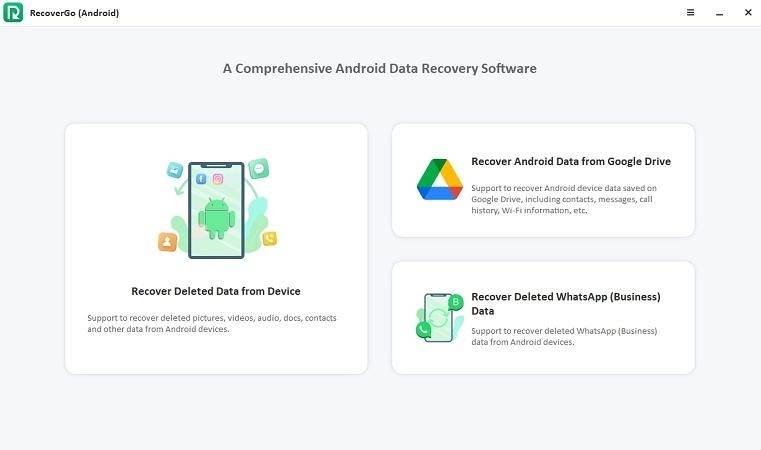 Step 2 Connect Your Motorola Phone
Plug your device into the computer using a USB cable, and enable USB debugging if prompted.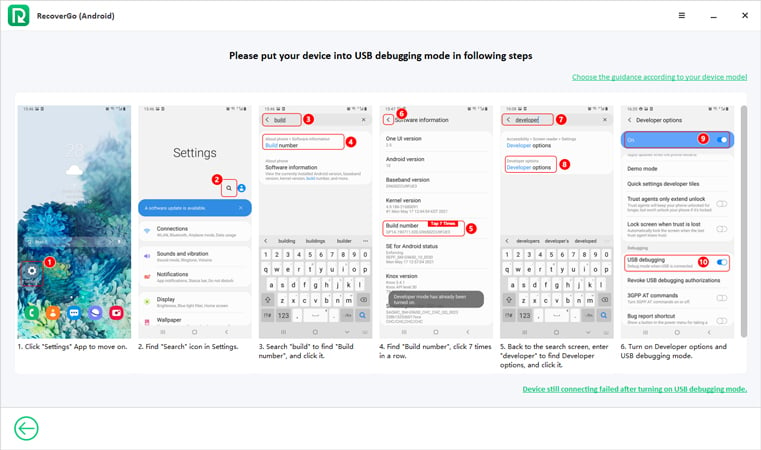 Step 3 Select the Data Type to Recover
choose the data types you want to recover, such as text messages. Click the "Scan" button to begin scanning your device for deleted messages.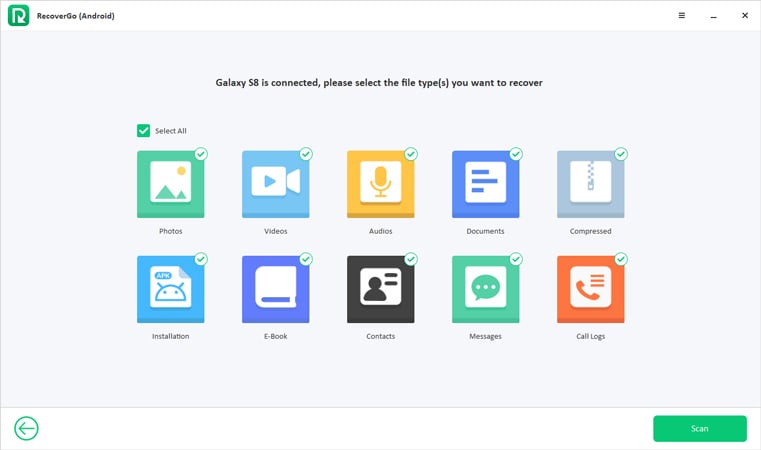 Step 4 Preview and Select Messages
Once the scan is complete, preview the deleted messages and select the ones you want to recover.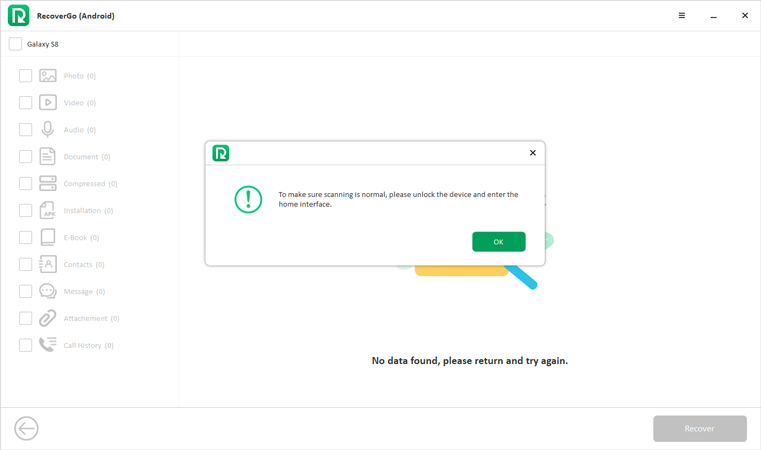 Step 5 Recover the Messages
Click the "Recover" button to restore the selected text messages to your device or computer.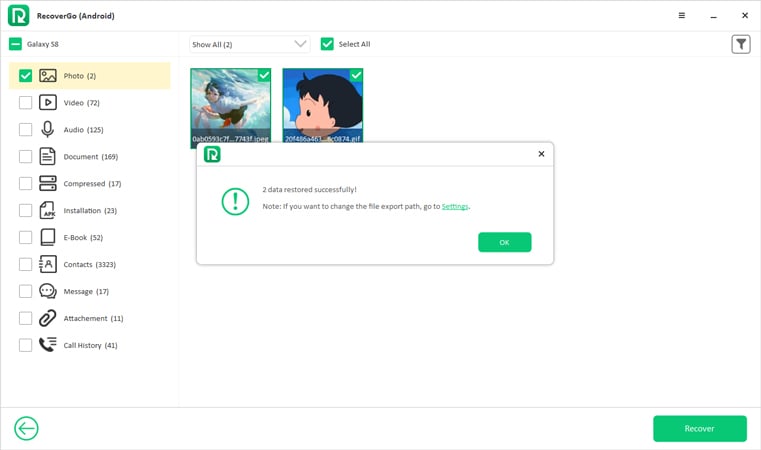 How to Recover Deleted Text Messages Motorola Android with Backup?
Losing text messages can be a significant inconvenience, but if you're lucky and looking to understand how to retrieve deleted text messages on Moto G Stylus or other Motorola Android devices with backup, you have several methods at your disposal.
Method 1: Recover Deleted Messages on Motorola from Google Drive
Google Drive offers a convenient way to backup and restore data, including text messages, for Android users. If you have previously backed up your text messages on Google Drive, you can recover them on your Motorola phone by following these steps:
If your messages were backed up on Google Drive, uninstalling and then reinstalling the messaging app may prompt a restore option.
Ensure you are logged into the same Google account used for the backup. This account should be associated with the Google Drive where the messages were stored.
During the reinstallation and setup process of the messaging app, you might be given the option to restore messages from Google Drive. Simply follow the prompts to complete the restoration.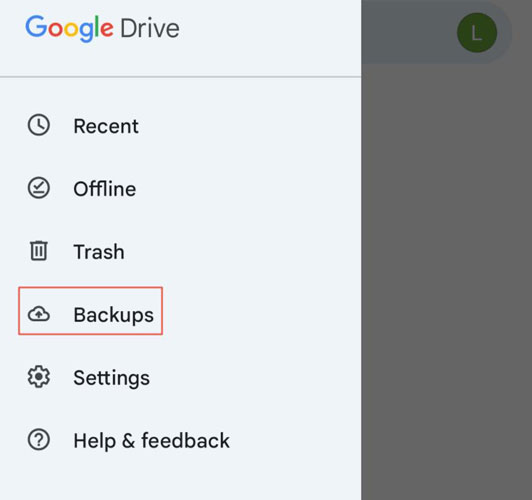 Method 2: Recover Deleted Messages on Motorola from Local Backup
Local backup is a built-in feature in many Android devices that allows users to manually save a copy of their data, including text messages, on the device itself. If you have created a local backup on your Motorola phone, you can recover deleted messages using this backup. Here's how to see deleted messages on Motorola using a local backup:
Open the phone's Settings app, and look for the "Backup & Restore" or "Backup & Reset" option.
Inside the Backup settings, you will find an option for local backups. Select this to view the available backup files stored on your device.
Look for the backup that contains the deleted messages (based on the date and time of the backup) and tap on it.
Tap the "Restore" button and follow any on-screen prompts to recover the deleted messages from the local backup.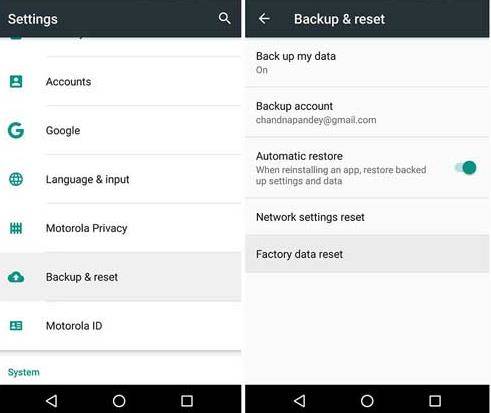 Method 3: Recover Deleted Messages on Motorola with SMS Backup & Restore
SMS Backup & Restore is a popular app available on the Google Play Store that allows users to backup and restore their SMS and MMS messages. If you're wondering how do I retrieve deleted text messages on Motorola, this app can be a convenient solution, especially if you have previously created a backup using the app. Here's how it works:
If not already installed, visit the Google Play Store to download and install SMS Backup & Restore.
Open the app and choose where you have backed up your messages. Options might include Google Drive, Dropbox, or local storage on your device.
Browse through the available backups, choose the messages or the backup you want to restore, and tap the "Restore" button.
The app will guide you through the restoration process, and your deleted messages will be restored to your Motorola device.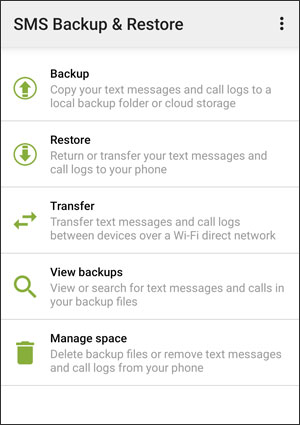 FAQs about Messages on Motorola
Q1: Is there a Recycle Bin in Motorola?
For applications like photos and files, Motorola devices do have a recycle bin functionality. However, for text messages, there is no specific trash bin on Motorola devices.
Q2: How to recover permanently deleted text messages without root?
Recovering permanently deleted text messages on Motorola doesn't require rooting the device. Users can effortlessly recover them from backup or utilize data recovery software like RecoverGo (Android).
Closing Remarks
Retrieving deleted text messages can seem a daunting task, but with the methods outlined in this guide, it's clear that this is a process well within reach. Whether by utilizing Google Drive, local backup, SMS Backup & Restore, or even professional software like RecoverGo (Android), learning how to retrieve deleted text messages on Moto G Stylus or other Motorola phones is simpler than ever. For those without backups, RecoverGo (Android) stands as a highly recommended solution for its user-friendly interface, robust capabilities, and secure recovery process. Its features are designed to suit a wide