Contacts are an important asset of today's life, and anyone can be contacted from anywhere in the world. Most importantly, contacts keep everyone connected. Communication disrupts when you lose your important them with your phone. This article is in line with your question, "Can you recover deleted contacts on Android?"
The answer is "Yes", it's easy to restore your contacts using different methods. You could use a third-party application to restore contacts and Google account if you lost them within the past 24 hours. Apart from some traditional and official methods, we'll discuss a reliable third-party tool like iToolab RecoverGo for Android. Go through the following sections to know how to retrieve deleted phone numbers on android.
Part 1. How to Retrieve Deleted Phone Numbers on Android?
It's not always easy to get back contacts that you've accidentally erased from your Android phone. We're making it simple for you in this blog. Certain limits must be overcome in order to use some free methods to restore your phone's contacts. To recover deleted phone numbers on Android without a computer, use the following steps:
Way 1. How to retrieve deleted phone numbers on Android from Google Account?
You'll need a Google Account to carry out the next procedures, which may be performed on a computer or an Android phone.
Step 1. Log into the Google Account that was previously associated with your old phone. If your Google Account isn't the same as that one, you'll need to log out first.
Step 2. Open the People & Sharing section from the menu at the top of your mobile device, or from the sidebar on your PC.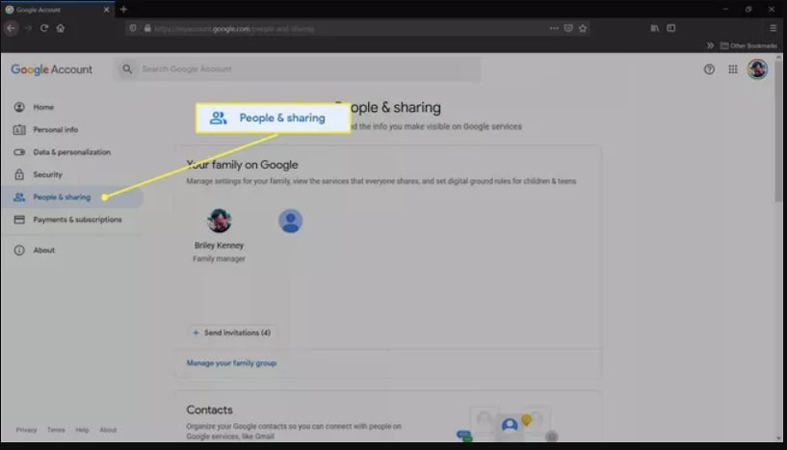 Step 3. Scroll down to the Contacts section and click on the Open button to open it.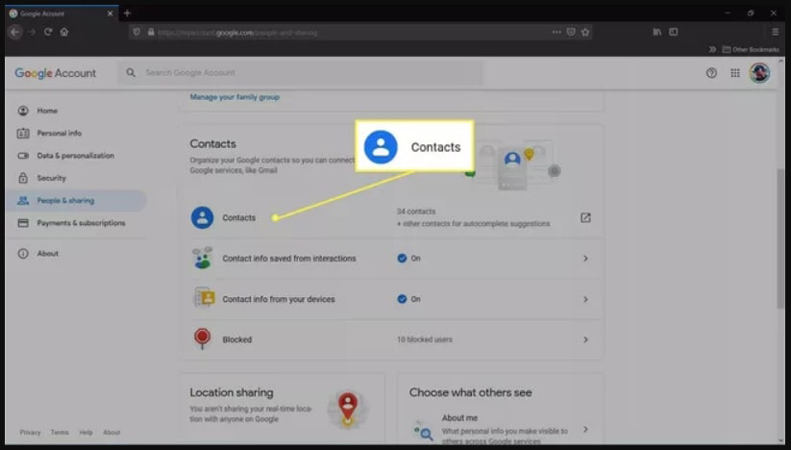 Step 4. You can see all your contacts listed in your Google account.
Step 5. In the side menu, click on the Trash button to recover the recently deleted phone numbers.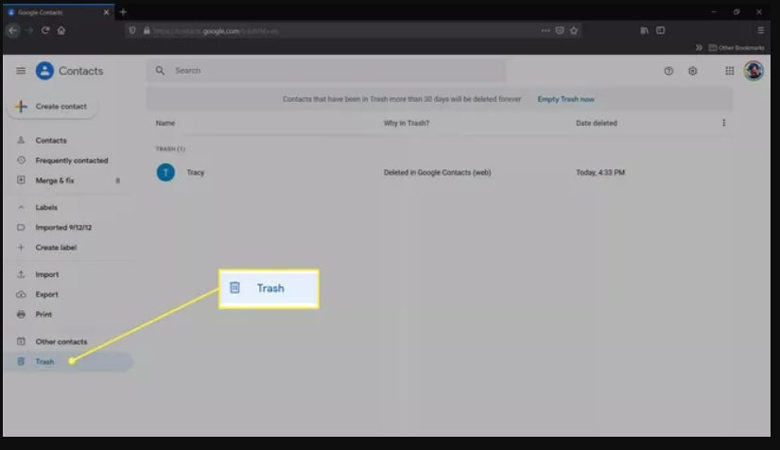 Step 6. You'll see a list of deleted contacts along with email addresses. You can select a specific contact and recover it.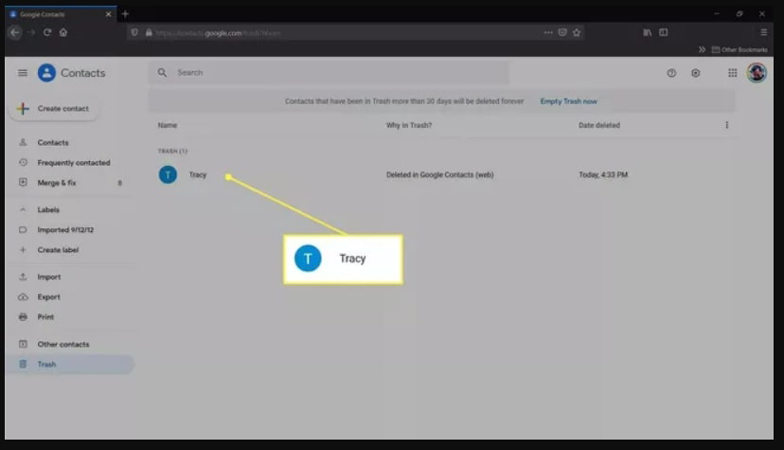 Step 7. Select "Delete Forever" or "Recover" from the drop-down menus. You can recover your contacts by pressing the Recover button. Your phone will be restored with the selected contacts.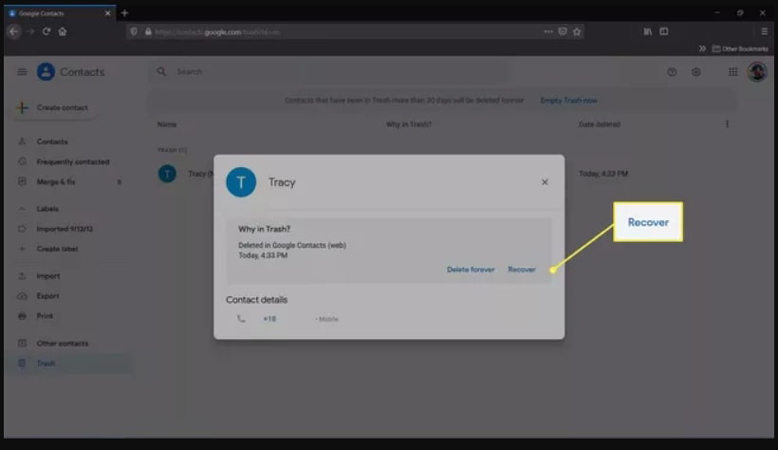 Way 2. How to retrieve deleted phone numbers on Android by Contacts App
Several third-party apps can assist you in restoring contacts on your Android device. It's worth mentioning that if you erase contacts from your phone, they'll stay in the Contacts App's Recycle Bin for 30 days. To recover deleted contacts on an Android device, follow the steps below: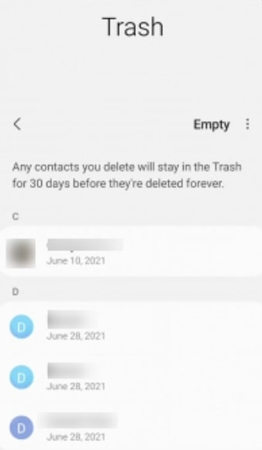 Open the Contacts App on your Android Phone.
Click on the "Hamburger" tab and look for the "Trash" feature.
Check if there are any deleted phones, click on the Restore button to recover deleted contacts android.
Way 3. How to retrieve deleted phone numbers from Samsung Phone
Please read this section if you're seeking how to get back deleted numbers on Samsung phones. To learn more about how to restore deleted contacts on an Android device, follow these simple steps.
Open the Contacts and head to the Menu option.
Now, tap on the Manage Contacts button.
Now, tap on the export or import contacts option. Then tap on the import button to continue. You'll be able to see two options either import from a SIM card or your phone's internal memory.
Select any of the options and tap on the import button to confirm. The process may take some time to complete.
Part 2. An Effective Way to Recover Deleted Contacts on Android
We firmly think that there is always a better method to accomplish a task. The same goes for third-party tools, if you're not pleased or can't find a solution using the aforementioned approaches. Recovering deleted phone numbers on Android has never been easier than with this simple-to-use app.
We're going to explore iToolab RecoverGo (Android) to recover the deleted contacts on your phone. The tool is perfect for you to recover any file, photos, video, or chat backup from your phone. The tool has the highest recovery success rate as compared to other tools over the internet. Here is how to retrieve deleted phone number from cell phone.
Step 1 Download and Install the RecoverGo for Android on your PC. Launch the program and connect and from the main menu, click on "Recover Deleted Data from Device" to move on.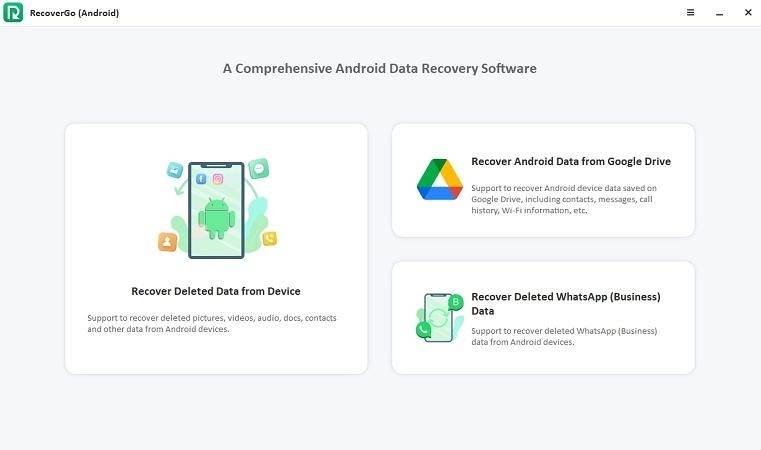 Step 2 Now, connect the device to your computer using USB cable, and then enable the USB debugging on your android phone with the on-screen steps.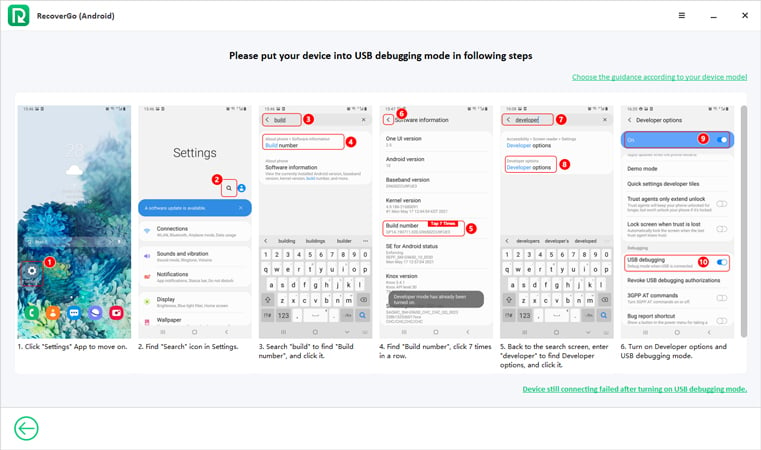 Step 3 Once turned on, you can choose the Contacts option to scan the deleted contacts.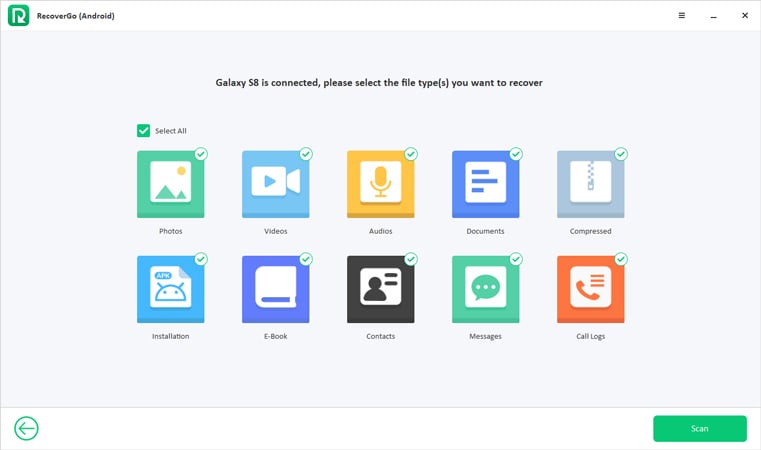 Step 4 Once the scanning process completes, you'll get a list of deleted contacts, select them and hit "Recover" option to finish the steps.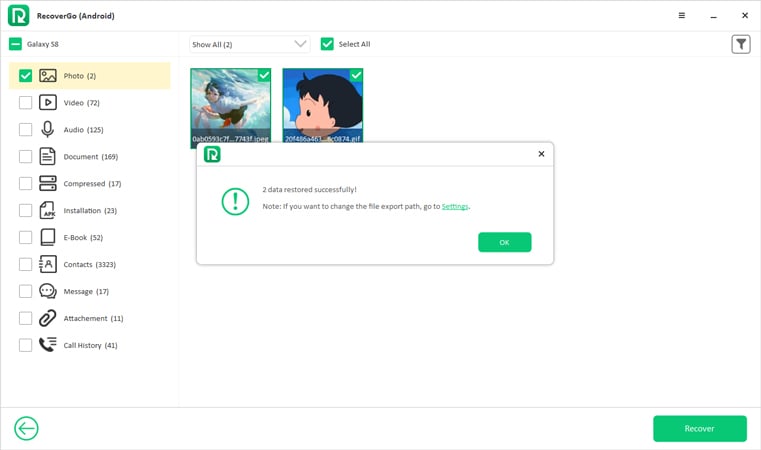 Also Know: How to Recover Deleted Phone Numbers from WhatsApp
Step-by-step instructions on how to retrieve a Whatsapp deleted phone number may be found here.
Uninstall and then install Whatsapp on your android device.
Open Whatsapp on your device and agree on all terms and conditions.
Sign in to your Whatsapp account using the same number and make sure that your device is connected with the Google Account with your backup files.
Whatsapp will automatically detect the backup files. Now, tap on the "Restore" button to restore all backup files. The process may take some time to complete.
Now, click on the "Blocked Contacts" option, look for the unsaved numbers, and unblock them.
Summary
Contacts are essential for keeping in touch with close friends and family members. In this post, we'll show you how to recover lost contacts from your Android phone using a variety of methods. iToolab RecoverGo (Android) has also been discussed to understand how to recover deleted phone numbers on Android. You may retrieve any form of data from your phone that you've accidentally deleted using this tool. To begin, simply download the app.