Recovering deleted files from your Android phone can be difficult for most people. Now, we've made that easy for those who always wonder to recover deleted files android. This guide will consist of acceptable methods to recover accidentally deleted files or deleted ones with your consent. Most people believe a particular tool can help them recover deleted files.
Can You Recover Deleted Files on Android without Root?
Recovering deleted files from your Android isn't as easy as people think. General speaking, you should root your Android phone first to get the highest access to find your deleted files. But not all lost data needs to be recovered by rooting the phone. You can also choose the professional tool to quickly recover deleted files from android internal storage. You can also recover files using the Backup and Restore options available on most Android phones without root Android device.
How to Recover Deleted Files from Android Phone Internal Memory
It's always easy to recover files that are backed up before deletion. The problem occurs when they're not backed up. This section will help you find the deleted files if you've deleted them recently. Here is how to recover deleted files from android phone internal memory, and no root reuqires.
1. Check the Recycle Bin
Many android devices are featured with Recycle Bin, where deleted files are moved for a particular time after deletion. You need to perform the following steps to recover deleted files android app:
Open the Gallery and tap on the three-dot button at the top right corner.
OHead to Settings and tap on the "Recycle Bin."
Now, you can restore the files that are deleted unexpectedly.
2. Check Local Backup
Like Recycle Bin, most android devices come up with a local backup facility. You can find it by going through the following steps:
Open the Settings and head to General > Backup > Backup & Restore.
Click on the Restore button and select the backup you want to restore on your phone.
Select the file types that need to be restored and click on the Next button to continue.
The recovered files will be automatically moved to the location where they used to be.
Is There A Way to Recover Deleted Files on Android from SD Card Free?
There are no free methods to recover deleted files on android. Recovering deleted files can be easy if you wish to use some third-party tool. Keeping this in view, iToolab RecoverGo (Android) is a complete Android data recovery tool. You can recover deleted files, photos, audios, videos and more in a few steps.
Following easy steps to know how to recover deleted cache files from SD Card:
Step 1. Install and open the RecoverGo (Android) on your PC, connect your device and select "Recover Deleted Data from Device."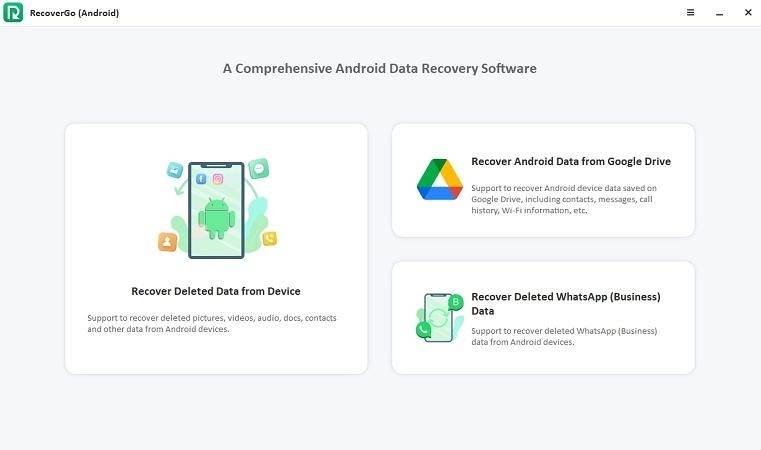 Step 2. Connect your device to your computer using the USB cable and enter USB debugging mode.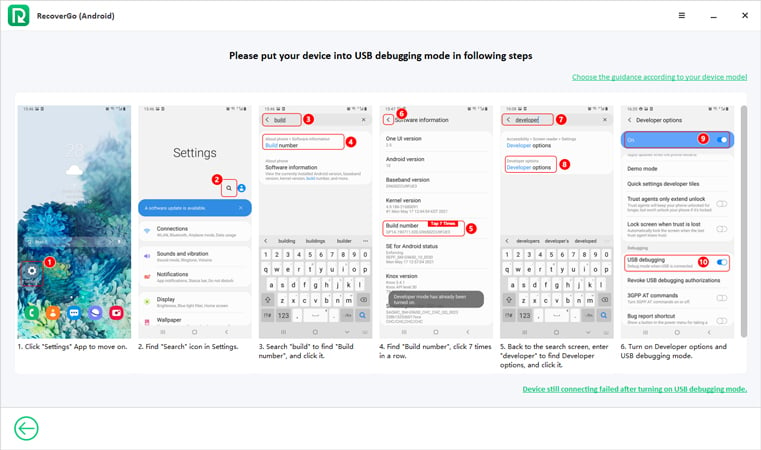 Step 3. RecoverGo will list all the format types it supports. Choose the required file types, click on the "Scan" button to move ahead. The program will start analyzing your device.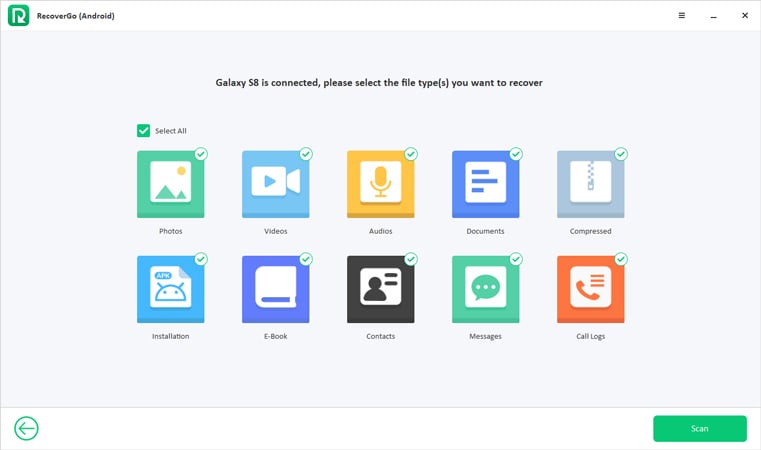 Step 4. After successfully scanning the device, it will display all your lost data. Click on the data and hit "Recover" button to save them onto your computer.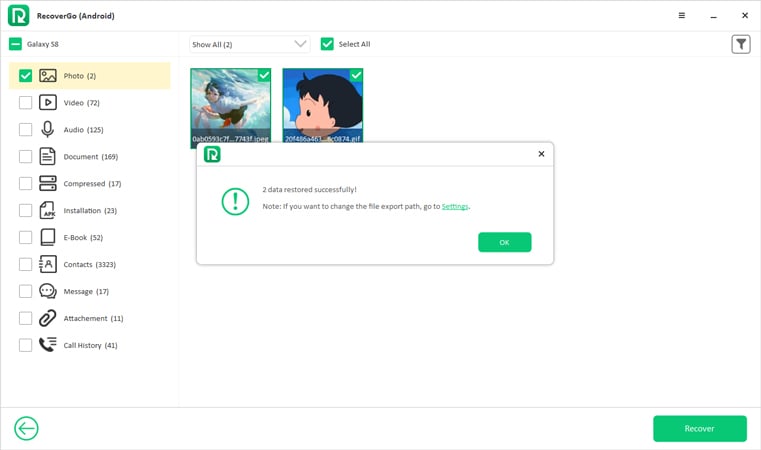 This software can also recover deleted cache files on your Android device. So, if you didn't backup your data and delete the files permantely, choose a professional android data recovery tool is necessary.
Summary
There is always something important about the files we delete on the run. We do everything to get that crucial data. In this guide, we've discussed several methods to recover deleted files android. Although recovering files on an Android phone isn't as easy as we think, we've tools to recover files. It's worth noting that there are currently no free methods to recover files, but with RecoverGo (Android), it's pretty easy to do it. You can download this tool on your computer get rid of any issue related to your android phone.