Using fun GIFs (Graphics Interchange Format) and stickers has become an integral and inseparable part of our typing trend off lately. Sometimes, we tend to lose our collection of GIFs on our device due to some reason or the other. And you'll feel disheartened by losing your collection that you may have collated over a long period of time. Then you start wondering if there is any way to recover deleted GIF? Yes, there definitely is! And it is exactly what we will discuss in the following discussion.
How to Recover GIFs from Android
Here in this section we are going to discover several ways with which you can recover GIFs without any hassles. So without much ado, let's begin with the most effective methods to recover deleted GIF.
Way 1: Find Deleted GIF from Android Gallery Trash
The first way is to find the deleted GIF from the trash of your Android gallery. When you delete photos or GIF, these deleted files will be stored in the Android gallery trash, which usually keeps the deleted media for 30 days. So you will have limited days to get your GIF back.
Here are the steps:
Step 1: Go to the "Gallery"/"Photos" app on your Android device.
Step 2: Now go to the "Album"/"Library" folder, and then look for the option of "Trash"/"Bin".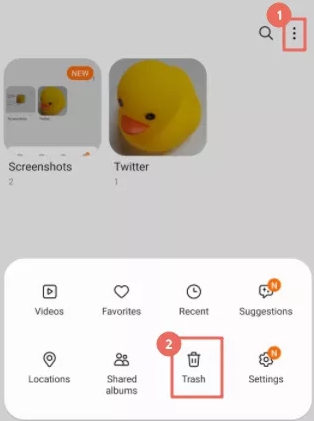 Step 3: You will be able to find all the recently deleted GIFs in this trash area of your gallery.
Step 4: Select the GIF you need and click Restore, it will be downloaded to the gallery.
You can readily recover those GIFs from your Gallery. Let us now go ahead with the next method.
Way 2: Recover GIF with RecoverGo Android (100% Working)
In this part, we'll introduce to you the guaranteed recover deleted GIFs Android tool, which is iToolab RecoverGo Android. It has numerous wonderful features that ensure the perfect restoration of not just the GIFs that you lost or deleted, but also numerous other data as well. Let's explore some of the main features of this tool.
Key Features:
Recovers GIFs, images, videos, contacts, call logs,etc, which can be as varied as more than 11 different types of files.
Restore WhatsApp messages and stickers as well without having a backup.
You can effectively retrieve lost files in various scenarios, even when you have a broken screen.
RecoverGo is a reputed and trusted software, which has the highest recovery success rate and support rate in the industry, enabling it to be called the best tool for retrieving deleted data.
Step by Step Tutorial: Recover Lost Data from Android Device
Now that you are well aware of this impeccable tool of iToolab RecoverGo Android, here are the simple and effortless steps that will help you use this tool for receiving the lost GIFs on your device.
Step 1 The first step is to connect your Android device. And for that, you need to first install and launch the tool on the computer. Then connect the device to your computer with the help of a USB cable. After successfully connecting it, select the option "Recover Deleted Data from device" to move further in the process.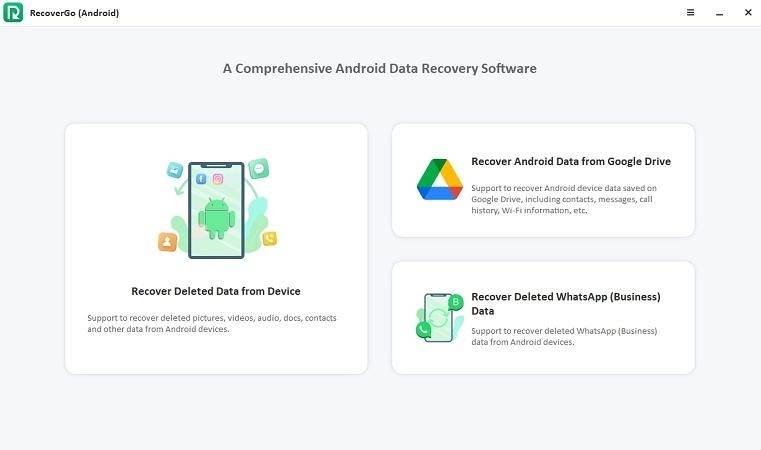 Step 2 Now, you have to put your Android into the USB debugging mode. For this, connect your device and then, tap on Settings and search for the "Build number". Select it and then hit on it seven times. This will enable Developer options. Now, go back to the search screen and get into Developer options section. Then, turn the USB debugging mode on.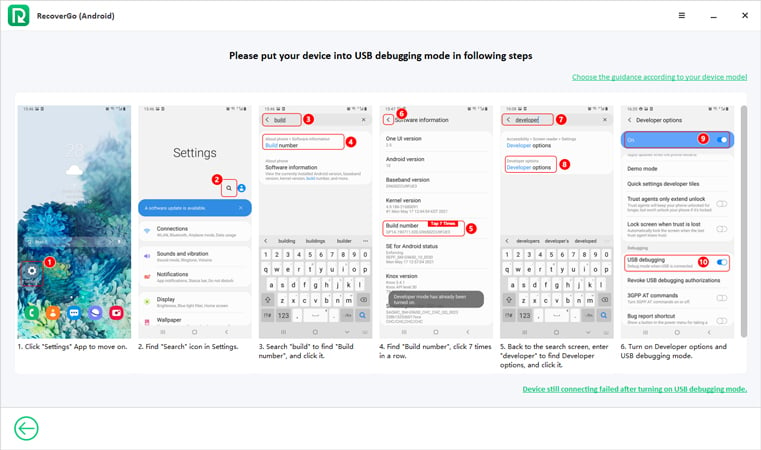 Step 3 Once done, you can then proceed with recovering the lost files. On the RecoverGo screen, you need to select the data types that you wish to recover. Hit Scan button once you're done with selection.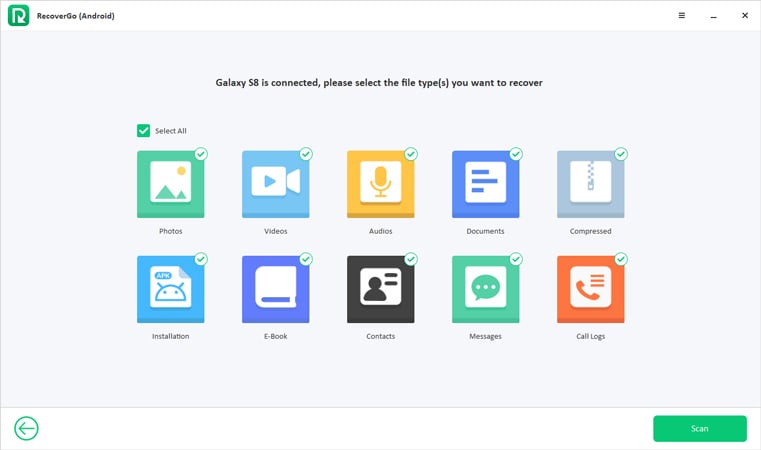 Step 4 The tool will then start scanning your device for the deleted data. Wait for the process to complete.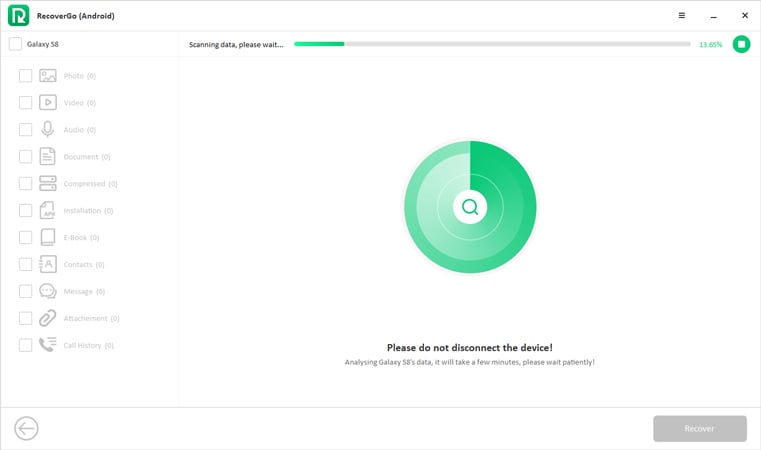 Step 5 Once the scan is completed, you can then preview and look for the recoverable data that has been detected by the tool. Select the data that you wish to recover and then hit on "Recover" button.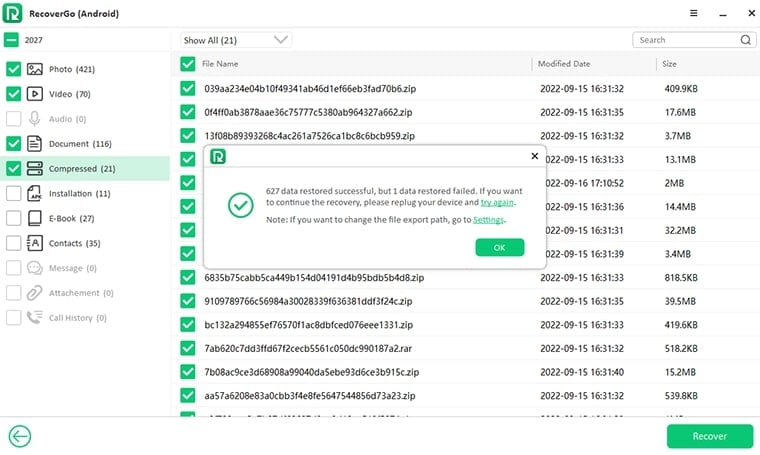 That's it, you're done!
How to Undelete GIFs on Windows or Mac
If you are wondering about losing data from your PC, there is a chance recover the deleted Gifs from the Recycle bin or Trash folder on Windows and Mac respectively.
Windows:
Step 1: Go to your desktop and then open the Recycle Bin. You will find the deleted GIFs here that had been accidentally deleted.
Step 2: Select the GIF that you want restored. And then, right-click on it and hit "Restore".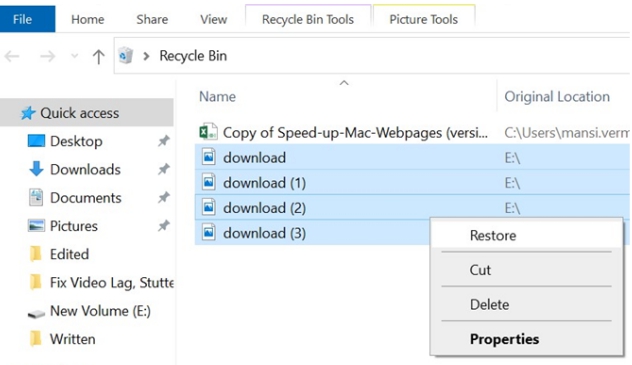 Mac OS:
The steps for restoring deleted GIFs in Mac OS are almost the same. They are as follows.
Step 1: First, launch the Trash folder on your MacOS.
Step 2: Select the GIFs that had been accidentally deleted and you want to retrieve. Right click on it and hit "Put Back".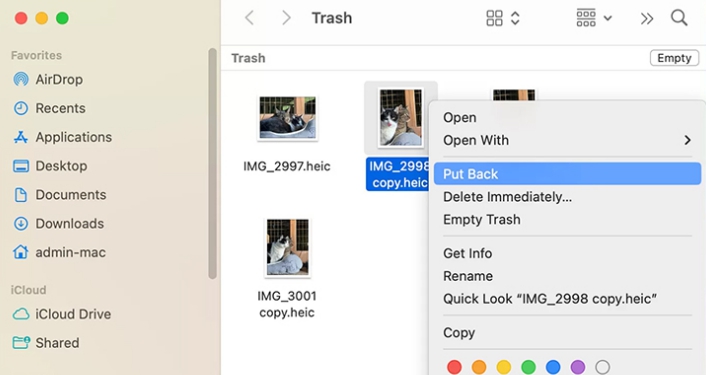 Useful Tips about GIF You Might Want to Know
Apart from knowing the methods to recover the deleted GIFs, you must also know the following useful tips.
Tip 1. Where is GIF on my phone?
You can find the GIFs on your phone when you open your default messaging app, go to the section for emojis and then tap on the GIF button. 
Tip 2. How Do I Find Free GIFs?
There are numerous sources available online such as GIPHY, Tenor, Reddit, Gfycat, Imgur and the like.
Tips 3: How to save a GIF on Android?
Find the GIFs you want to save, press on the GIF image until a window prompts, at this point, you can select"Save Image" or "Download." It does not matter what you choose, both will give you the same results and will download to your android phone.
Final Words
Well, now that you know all the methods to recover the deleted GIFs on your device, it is up to you which one would you like to go with. But, choosing iToolab RecoverGo Android is the perfect choice because of its effectiveness and effortless process to recover GIFs.