Can anyone tell me how to recover my voice recordings from my Android phone as I have lost it today morning by mistakenly.

— From NEXTPIT Community
There are multiply reasons why voice recordings may be lost, the most common being accidental deletion or system crash. Losing the voice recordings of your family, loved ones or friends is definitely frustrating. What should you do in this situation? can you restore deleted voice recordings on Android? In this article, we will cover all your doubts. Let's get started!
Is It Possible to Restore Deleted Voice Recording on Android?
Yes, it is possible to restore deleted voice recordings on Android. But the deleted recordings are available on your device but these have emptied the space on your device turn out to be invisible. This lets you add new data on your device in the same space. It is advisable for you to stop using the device if you wish to reach the recordings because when you start using it, the data will get overwritten by another kind of data.
It is important for you to choose the Android recovery software as soon as possible because if you get late to do so, you will not be able to recover them at all.
Restore Deleted Voice Recordings on Android without Backup
We are in the generation of technology and that's why there is an option available for you to restore all your deleted voice recordings on Android without backup.
You might have searched for numerous methods to know how to recover deleted voice recordings on Android but all of them ask for backup. When you are considering RecoverGo (Android) there will be no need for you to worry about the backup at all.
This tool is specially developed for all Android users and helps them to recover the deleted audios easily. It comes up with a simple interface that indicates there is no need for you to go into any technical aspect to use it. It will scan your device and help you to restore the data as needed.
Steps for using RecoveGo (Android)
Step 1: After installing RecoverGo (Android), connect your device to your computer and click the first function.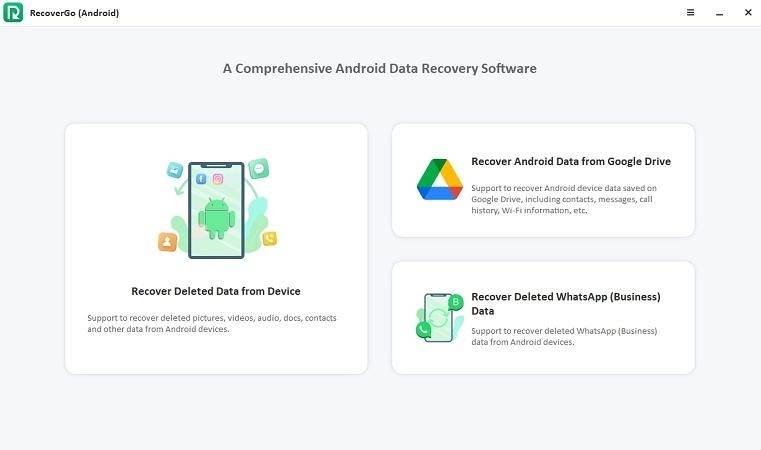 Step 2: All the files will be displayed and you need to click on the "Scan" button to start scanning.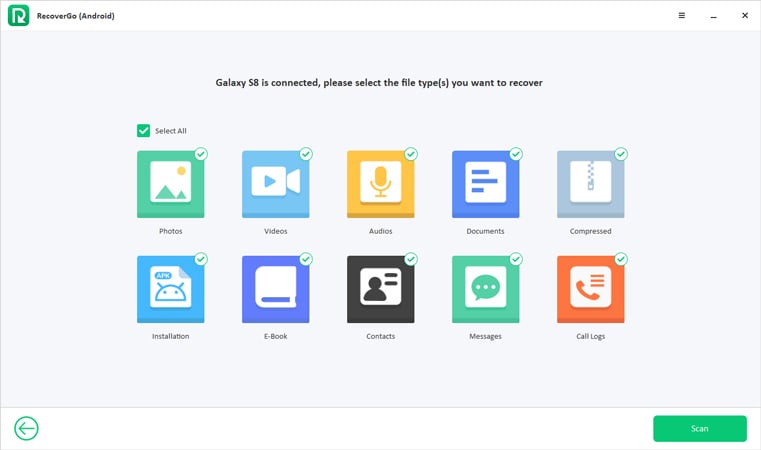 Step 3: After enabling USB debugging on device, RecoverGo (Android) will start scanning your deleted voice recordings on Android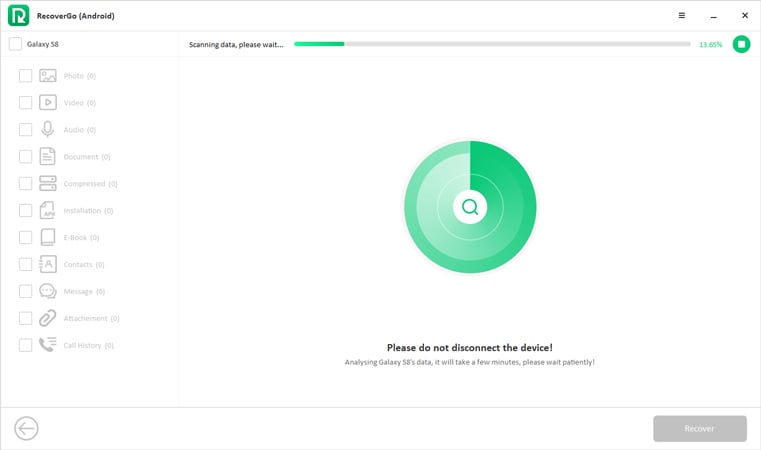 Step 4: After the scanning process is completed you will see all your deleted voice recordings, select them and hit "Recover".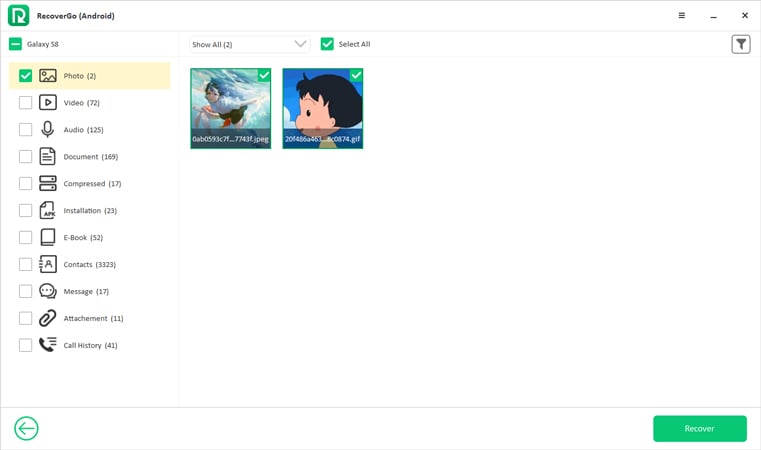 There is no limitation to recover voice recordings on Android with RecoverGo (Android). It supports Android 12 and most Andrid brands. If you created a backup before you lost your data, you can follow the next part to restore backup with ease.
Restore Deleted Voice Recordings on Android Through Backup
There is a method available through which users can recover deleted voice recordings from local backups on Android. Generally, the local backup is Google Drive. If you are using Samsung device, your local backup will be stored in Samsung Cloud.
Check Local Backup
Move to settings and click on system.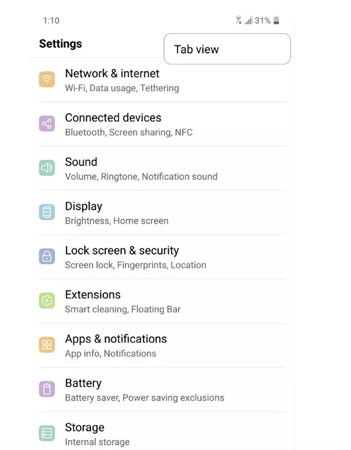 Scroll down through the menu and click on backup.
Click on backup data and you will be able to get the data from the past 57 days.
Click on restore backup and you will be able to get the recordings that you have deleted within the last 57 days easily.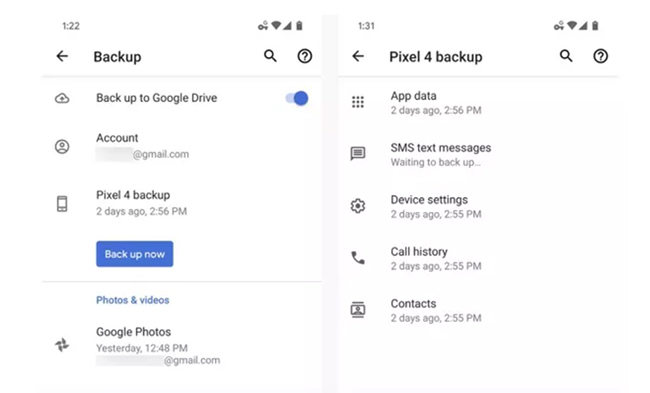 Check Samsung Cloud Backup
If you have a Samsung device, you can go to Samsung cloud to check your deleted voice recordings. Follow these steps to retrieve deleted voice recording on Samsung.
Got to Settings > Accounts and backup > Backup and restore > Restore data.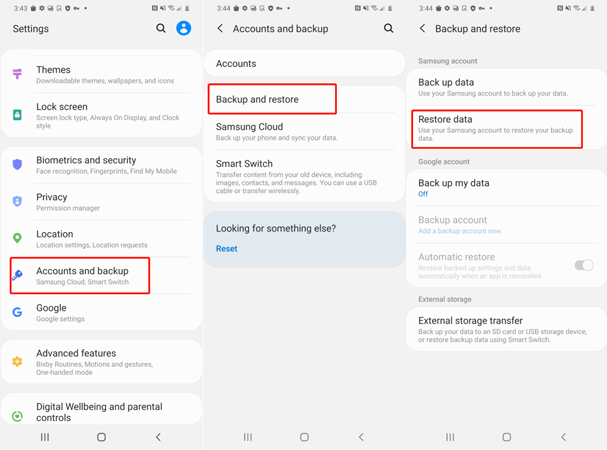 Now, you need to sign in to your Samsung account and select the voice recordings.
Last, click on Restore button to restore deleted voice recordings.
Restore Deleted Voice Recordings on Android by Contacting App Service
If you are considering any particular application for voice recording then you can get the recording by contacting the app service provider. Yes, you heard it right. This is helpful for all those users who do not wish to deal with restoring backup data option and have no phone backup data available.
For getting the recording from the app service provider you just need to find the contact information of the developer of the call recording app you are using. Through Google search, you will be able to find out the contact information and contact the company or app provider directly.
When you get in touch with them ask them to restore your data and if they have a cloud file of recording, they will be able to restore it for you.
Conclusion
Recovering deleted voice recordings from an Android phone is really very easy and there is no need for the user to get into any complicated process at all. The aforementioned methods are helpful in everything so don't worry and consider any of them. Our personal favourite is considering RecoverGo (Android) because it does not ask for any backup and there is nothing to deal with the app provider for getting the data. By following some simple steps, a user will be able to get the voice recordings easily!