Losing text messages on your device can be very frustrating. If you have backed up your SMS using Google Drive, there are some solutions that may assist you in restoring SMS from Google Drive. We will guide you through very effective SMS recovery methods for Android. Read on to get the solutions on how to restore SMS from Google Drive with or without a factory reset.
Part 1: Does Google Drive Save SMS Messages Automatically?
Once your device is linked to a Google Account, Google Drive will back up your text messages automatically. However, there is a downside of Google Backup: the data is restricted to google drive; older backups will be removed over time, and you will not be able to restore it if you're inactive for 57 days.
Where is Google SMS Backups stored? To see your text messages on Google Drive:
Go to Google Drive.
Open menu.
Go to Backups.
Here you can see all the backup files, including SMS messages. However, you can only view the backup file without reading the messages. If you want to see the backup SMS, you must factory reset your phone first, which is explained more in the next section.
Part 2: How to Restore SMS from Google Drive to Android with a Factory Reset Phone?
Restore SMS from Google backup is a useful method, but without a third part recovery software you can only restore the full backup to a new phone or need factory reset your Android phone. Here is the detailed step to restore the SMS from Google backup:
Go to settings and open system and tap on reset.
Tap on "Delete All" and add a password when required.
Phone will get restarted and will install the Android OS.
After that, go to the phone settings. In the backup and restore option, click Google and add your account that was logged in before the reset.
Click Sync and check the data types you are willing to restore.
Then click "Restore all sync data", so this is how your messages will be restored.
Part 3: How to Restore SMS from Google Drive to Android without Factory Reset?
Here we will introduce two ways to help you restore SMS from Google backup without factory reset.
Way 1: The Best Way to Restore Messages from Google Drive without Data Loss
If you have accidentally deleted SMS on Android and have backup text messages to google drive, don't worry. You can use RecoverGo (Android) to recover all your SMS in just a few clicks. RecoverGo (Android) supports restore SMS form Google drive without factory reset Android phone, what's more, you can preview, search and download certain messages. The following steps are for SMS recovery:
Step 1. Download and run the iToolab RecoverGo (Android) setup program on your computer, then select "Recover Android Data from Google Drive" to move on.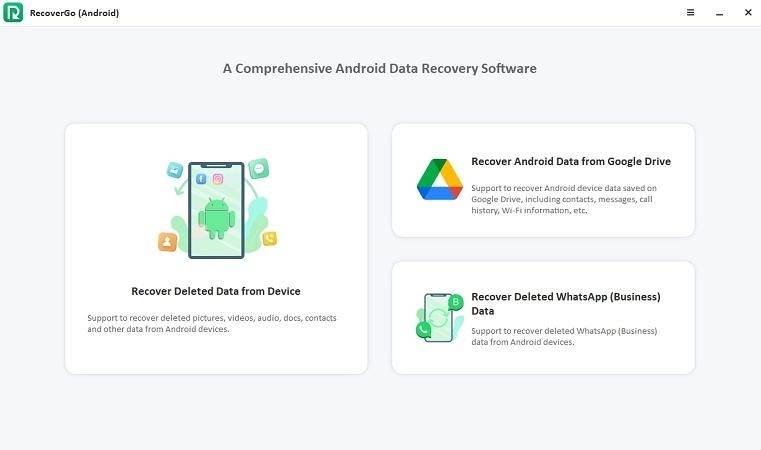 Step 2. Sign in Google drive with the account you want to view and download data.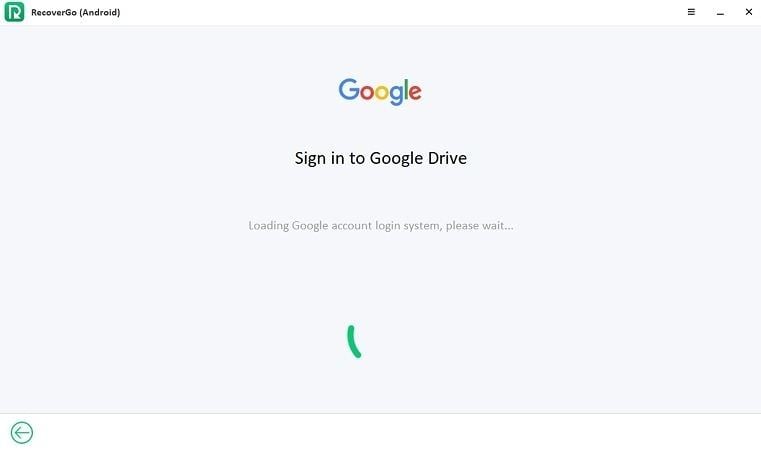 Step 3. Select Messages and click on "Download", it will automatically analyze the most recent backup data.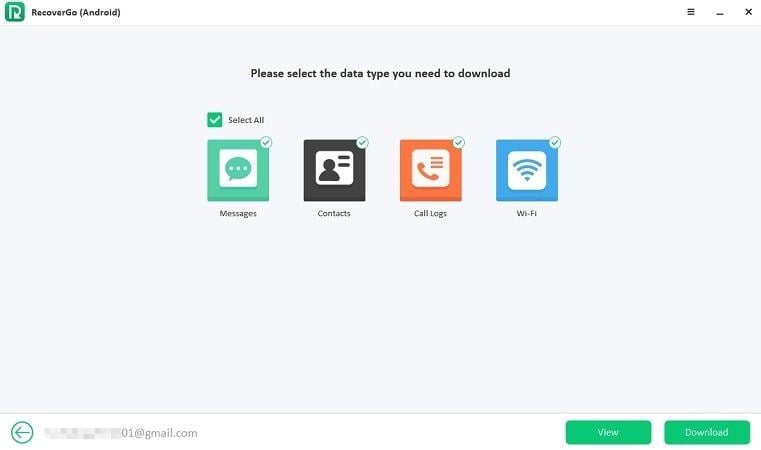 Step 4. The scanning process will take a few minutes to complete. For the scanning process to run smoothly, please keep your network stable.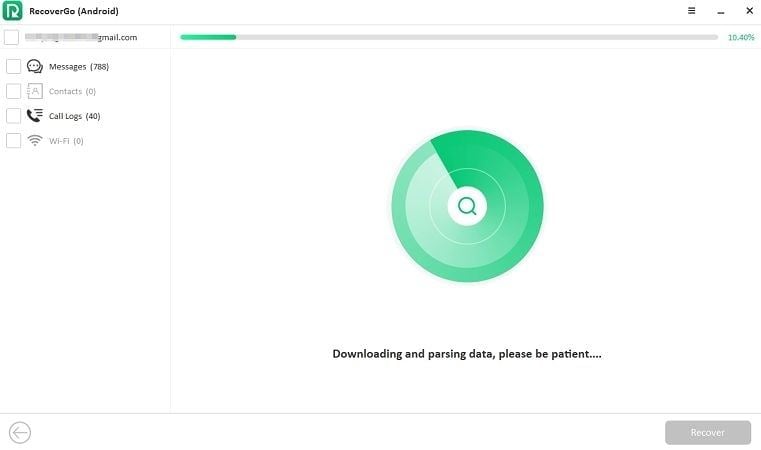 Step 5. After the scan process finished, you can preview and select the SMS you need. After selecting, click "Recover"button, data will be restored to your PC directly.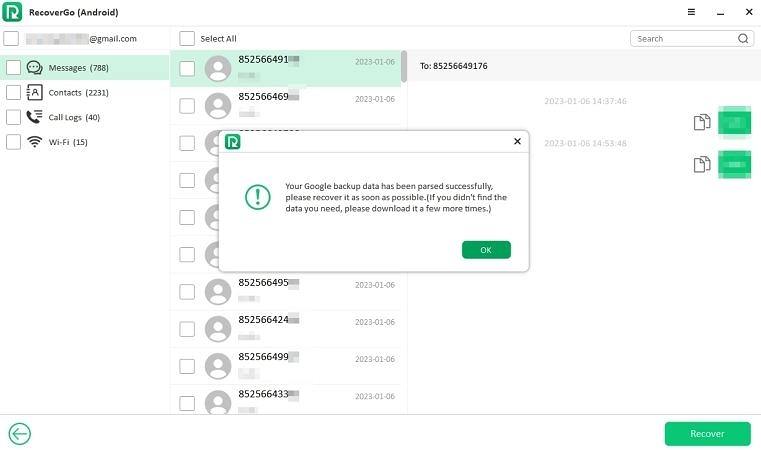 RecoverGo (Android) can be a lifesaver in such situations. If you accidentally delete an important text message, RecoverGo (Android) can help you to recover it quickly and easily without reset the Android phone.
Way 2: Restore Text Messages from Google by Contacting the Support Team
If you're still having trouble restoring text messages from Google Drive without resetting the device, you can contact the Google Drive Support Team as the last attempt. Here is how to do it:
Open the Google Drive app on your device.
Tap Manu and select Help & feedback > Send Feedback.
Explain to the Support Team that you are trying to recover text messages from Google Drive and tap Send.
Part 4: How to Back up Messages to Google Drive
As explained in the previous sections, Google Drive will back up your messages automatically if linked to the device. However, you still need to back up your SMS manually to Google Drive on some occasions.
How to back up SMS messages on Android? To back up text messages on Android to Google Drive:
Open your Android Settings and go to Google or System.
Select Backup and select Google Drive.
To add your Google account, tap Account.
Select ok to complete the process.
Toggle on the Backup to Google Drive option.
Tap on Back up now to back up messages to Google Drive manually.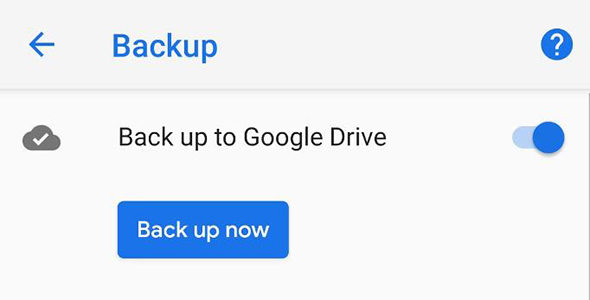 Part 5: FAQs about SMS Retrieving Messages from Google
Q1: How to Restore SMS from Google Drive to iPhone?
How to transfer Google messages to iPhone? Unfortunately, there is no direct way to retrieve Google messages to iPhone. One way to do this is to transfer Google messages from Android to iPhone.
Here is how to transfer text messages from Android to iPhone without computer. To transfer your Android messages into iPhone, make sure your phone is connected to the internet.
Install app "Move to iOS" app.
On you iPhone, follow prompts and go to screen "app and data", select "Move from Android" and add 10 digit code.
Choose the data type (SMS in this case) you want to transfer.
Now wait to complete the process.
That's it and your SMS will be transferred from Android to iPhone in just few minutes.
Q2: Can I recover deleted messages without backup?
Yes! Data recovery software like RecoverGo (Android) can bring back deleted messages even without any backup. You can also check how to retrieve messages on iPhone without backup.
Q3: Can I recover text messages from an old phone?
Yes, you can recover text messages from an old phone if there is a backup of it. Restoring an backup of the old phone to your new device will bring back all the data, including text messages.
Conclusion
That's how you restore SMS from Google Drive, it's pretty easy to get your SMS back whether you want to restore it on your formatted device or just restore certain SMS to your device. As a professional data recovery tool, iToolab RecoverGo Android will help you a lot to save all your lost data. If this article helps you, please let more user know!