Memory or storage is one thing that every smartphone user is concerned about. There is never enough storage on the device as it fills up with time due to applications and data.
Multiple files take up a lot of space in the storage, and due to this, your phone can start malfunctioning. However, many Samsung devices have expandable storage. SD Cards can fulfill their requirement of more memory. Here are a few Samsung devices that can use SD Cards to expand their storage.
Samsung Note 20 Ultra 5G
Samsung Note 20 Ultra
Samsung S9 Plus: Hybrid Slot
Samsung S9: Hybrid Slot
Samsung S10 Lite
Samsung S10 Plus
Samsung S10
Samsung S10e
Samsung S20 5G
Samsung S20 FE 5G
Samsung S20 FE
Samsung S20 Plus 5G
The data on your SD card can also get corrupted or lost. However, it can be recovered. In this article, we will discuss how you can make Samsung SD card recovery. We will share different tools and their steps so that you can recover files without any hassle.
Using Samsung SD Card Recovery Software
Solution 1. Samsung Phones with Built-in SD card
If you have a Samsung device that has a built-in SD Card, then you can use a data recovery tool to restore your SD Card data. iToolab RecoverGo (Android) is a professional data recovery tool that works with every kind of Android device. It supports different data types and formats. It is very easy to use and allows you to recover the deleted or corrupted as well.
RecoverGo (Android) is such a powerful data recovery tool that it can recover data in almost every difficult scenario. It does not matter if you have broken your phone or factory reset device; this tool can restore the data with a few simple steps.
Here are the steps for Samsung SD card recovery.
Step 1: As it is a desktop tool, you will need to download and install it on your computer. After installation, open this tool. Click on "Recover Deleted Data from Device".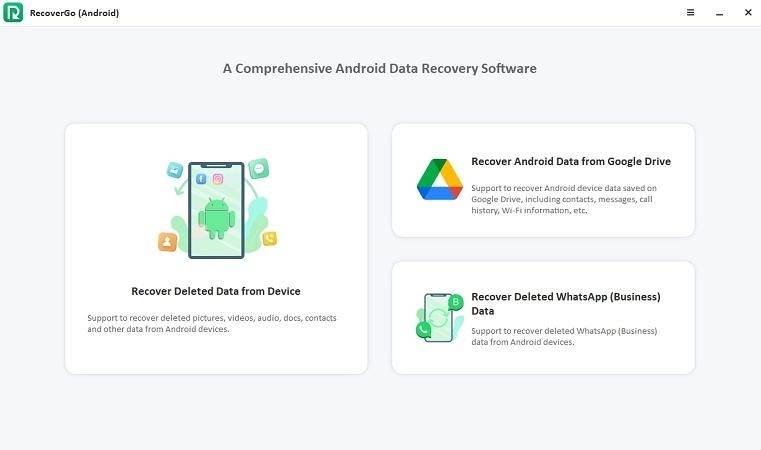 Step 2: The next step is to choose the type of data that you want to recover from your SD Card. After selecting, click on "Scan".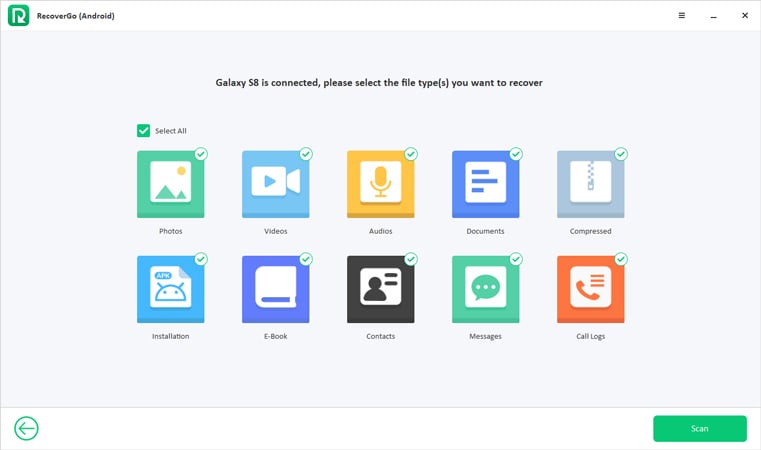 Step 3: Enable USB debugging with on-screen steps, and it will then scan the SD Card and your phone for certain data types and present with all the recoverable files.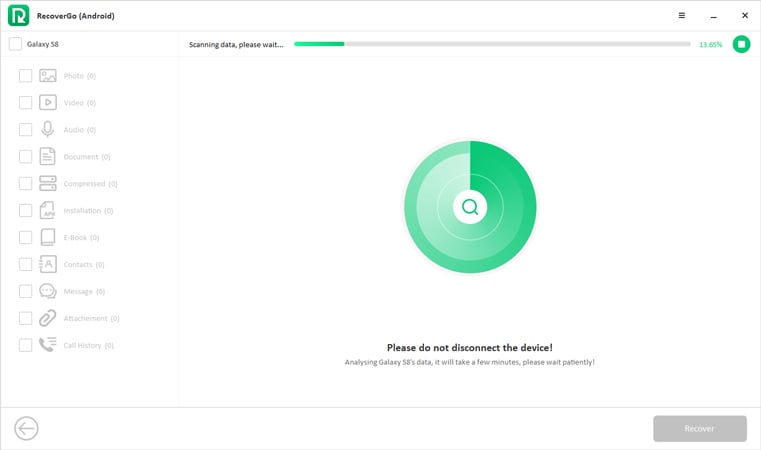 Step 4: You can now select the data that you want to restore and click on "Recover". You can also choose the path where you would like to save it.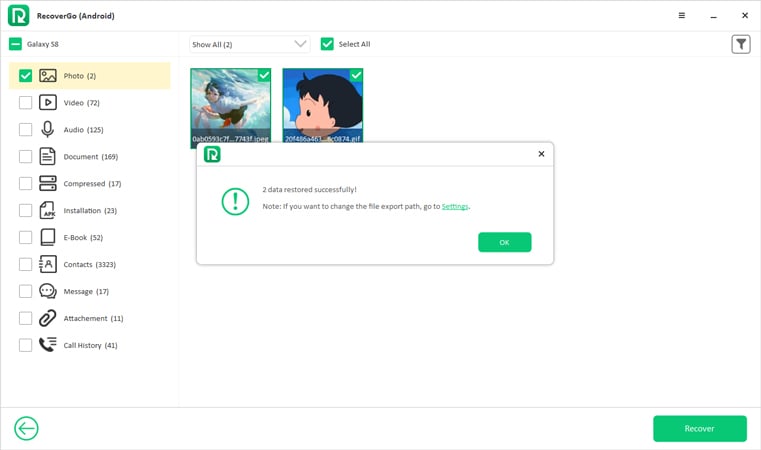 Solution 2. Samsung Phones with Micro SD card
Another way to recover a Samsung SD Card is by using a Samsung Data Recovery Tool. It is the best SD Card data recovery tool for Samsung users. It helps you to recover deleted, lost, or even formatted data from SD Card.
Samsung Data Recovery supports the recovery of photos, videos, documents, audio files, and more. You can preview the data before you restore it. It also allows you to back up data to the computer from your Samsung device. However, this tool also supports other Android phones other than Samsung, like Oppo, HTC, Huawei, Motorola, Sony, and more.
Step 1: After installing Samsung Data Recovery on your computer. Open the tool and click on "Android Recovery", it will be located in the toolbox.
Step 2: As we want to recover data from SD Card, click on "SD Card Recovery". Unmount the SD Card from your Samsung device, remove it and connect it to the computer with the help of an SD Card reader. Now, you will see the SD Card appearing on the Samsung Data Recovery. Choose the SD Card and click on "Next".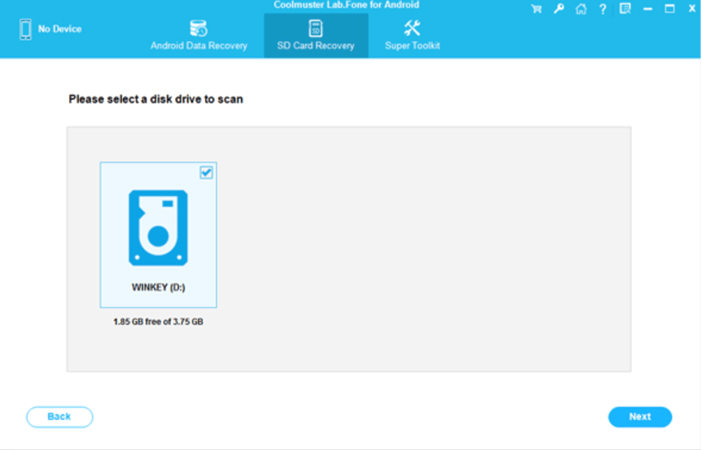 Step 3: Samsung Data Recovery will scan the SD Card and preview all the files on the SD Card. On the left-hand side, you can see different data types. Click on a specific data type to view only that type of data. Choose the data or files you want to recover and click on "Recover" in the bottom right corner to restore it to your computer.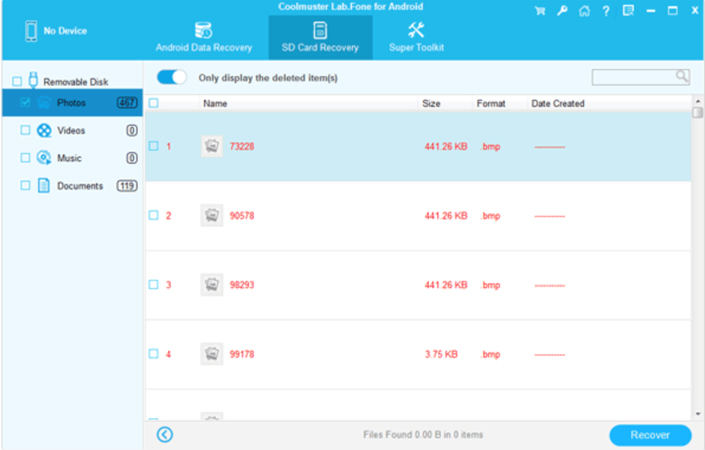 Related Questions
Q1: Can Smart Switch transfer files from an SD card?
Yes. Smart Switch works with external storage devices such as SD Card. So, the user can easily create a backup of an SD Card, including photos, videos, and documents, and transfer it to a new phone or device using Samsung Smart Switch.
Q2: How to Decrypt an Encrypted SD Card?
There are different ways to decrypt an encrypted SD Card. You can either use a third-party decryption tool, use a password, or remove read-only using CMD. These are a few common methods that you can use to decrypt your SD Card.
Q3: Samsung Corrupted SD Card Recovery Is It Possible?
Yes, Samsung corrupted SD card recovery is possible, but only if you have a powerful tool to extract the data from a corrupted SD Card. Such a tool is iToolab RecoverGo (Android). It can help you to recover your deleted or even corrupted data from your SD Card.
Conclusion
This article summarizes Samsung SD card recovery. However, it is not limited or restricted to Samsung devices only; it will work with most Android devices as the operating system is the same. Samsung Data Recovery is a fairly good data recovery tool, but iToolab RecoverGo (Android) is a better option for Samsung SD card recovery. It is because iToolab RecoverGo (Android) is simpler and easier to use. It helps the user to recover almost every type of data without any hassle. You can download the trial version for free and start your Samsung SD Card data recovery with this tool. Moreover, the user doesn't need to remove the SD Card with iToolab RecoverGo (Android). In this way, the chances of data corruption are quite less.