Our security is in our hands. If we are not paying attention to it, unfortunately, anyone can have access to our personal details. The same is the case when you have created excel sheets.
If you have created excel sheets and want to protect them, undoubtedly, you will put the password to them. But major problems happen when we forget the same. Probably you have thought of an excel password cracker, too, in that situation. If certain things are there in your head, keep reading. Here we are sharing the details with you that are worth considering if you want to crack excel password. Let's get started!
Part 1: Can An Excel Password Be Cracked in 2022?
The primary query users have is "will they be able to crack excel passwords?" in simple words, "Yes." Now you can simply crack excel password and have access to the data seamlessly. There are two solutions available which a user can consider. These are as follows:
Solution 1: FREE ONLINE TOOLS
Primarily, users try their hands on the free tools available. Well, on the online portal, you will find out some tools that claim to be the best free online excel password remover crack. The major reason people are choosing them is that these are free of cost and somewhere cater to their needs too. But don't forget there are certain pros and cons too. These are as follows.
Pros:
Free of cost
Easily available.
Direct links to crack excel password
Cons:
Not secure to use
Limited options only.
Solution 2: THIRD-PARTY TOOLS
As compared to free online tools, the third-party tools available are best to try. You will see there are multiple paid tools available catering to all your needs. But some users refrain themselves from getting them because of the cost. But do forget the features linked with it. Well, the pros and cons of their party tools are as follows.
Pros:
Secure to use.
Interactive interface.
Readily available.
Unlimited features
Crack excel password directly.
Cons:
Some users find them expensive.
Part 2: An Essential Way to Crack Excel Password
When you browse through online portals, you will find so many tools claiming to be the best ones. But don't trust all of them because some tools are not worthy of trying. If you have confusion which one to choose, get PassWiper for Excel available to you immediately. It is one of the ultimate tools helpful in removing the password easily. There are so many features in it making the right choice for all of us.
Features in PassWiper for Excel
This tool sufficiently removes the password by keeping the original data intact.
This tool comes up with a 100% success rate.
The time required for completing the task is very less.
Sufficiently resolves the complex passwords too. And it can store the cracking process if the password is so complex and difficult.
It is helping users to crack the password in a very simple way.
It sufficiently removes restrictions like stopping from editing, read-only and vba project password.
The most maximum flash point compared with other third-party tools is that it supports Office 365 and excel 2021,2019,2016, these latest excel versions. And it can recover and remove locked worksheet and workbook without office software.
Here is how you can crack excel password with PassWiper for Excel.
Get the software downloaded on PC and then choose "Recover Excel Restriction Password" option.
Select the plus icon to add your excel file there. And select an attack mode to crack Excel passowrd.
Within a few minutes, your Excel password will be displayed on the screen.
Part 3: Free Online Excel Password Remover Crack
Well, some users are not fond of having any third-party tool, and they look out for free online Excel Password Remover Crack solutions. If you also have the same thought, have a look at the tools we are discussing here. These are as follows.
LostMyPass is one of the best and free tools available to users when they are looking forward to cracking excel passwords. This tool comes up with an innovative interface and helps them to crack passwords of multiple formats. It doesn't matter whether you are having a hand on .xls or .doc if there is a password on the file and you are looking forward to cracking the same. This tool will help out for the same.
The best part is it has a database of almost 3 billion passwords and search or the same through it. Users will not face any difficulty while having a hands-on this tool for cracking the excel password.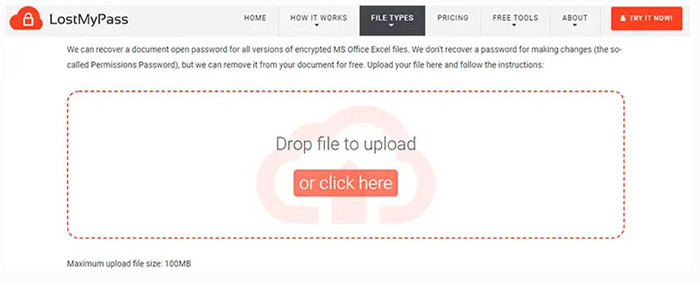 Password find also occupies a place in the best free tools available to crack excel passwords. The major reason people are choosing it is due to its interface and other features integrated into it. It supports multiple formats, so users will not face any sort of difficulty at all.

You can check the full list of the third-party software and online free tools by click here.
Also Know: Any Difference to Crack Excel Password VBA?
Visual Basic for Application or VBA of Excel is a helpful feature helping to create and maintain the pricing related to complex trading and allowing users to work on the management models securely as well. It also helps in generating financial ratios in excel. When such a confidential is there is the file, it is integral to keep it protected.
Also, if you wish to crack Excel's VBA password, the same is also possible, so there is nothing for you to worry about the same. The only agenda behind putting passwords is to keep the data secure, and ultimately you are opting for it, so don't face any problem when it is about cracking the same.
Conclusion
Presently, it is important to keep the data secure because you never know when the intruder will try to have access to the data you saved. Thus, do not consider saving a file without a password. Although you will think about what will happen if you forget the password, don't worry about the same as well. When it is about excel password crack, it is one of the simplest tasks to do with the right tools. When users have their hands on one of the best tools like PassWiper for Excel, they will not face any sort of difficulty at all. These tools are secure to use and also help users to get unlimited features available. You can easily get this from the web browser and crack the password of the excel file easily.