Are you struggling to unlock an Excel file that has restrictions? Then you must have searched for the solutions over the internet and came across Passper for Excel password unlocker, right? Now, you're looking for if it is actually helpful or not or maybe you may have been looking for better alternatives. Well, we have specifically drafted this article for you. Let's understand about the Passper for Excel password unlocker first. It offers an easy and fast way to recover your worksheet passwords. With its advanced decryption method, you can remove restrictions from Excel without a password in just a few minutes.
With four different attack modes and several advanced options, this software can recover password pretty well. Plus, its intuitive interface makes it easy to use even for non-tech-savvy users. Let's get to understand how to make use of Passper For Excel password unlocker.
Part 1. How to Use Passper for Excel Password Unlocker
The list of steps involved in using Passper for Excel is:
Step 1: Launch and install Passper for Excel. Then, click on the "Recover Passwords" mode.
Step 2: Drag and drop the Excel file which you want to decrypt. Click on an attack mode depending on your necessity.
In the "Dictionary attack" mode, you will get a built-in dictionary that will contain millions of most commonly used passwords.
In the "Combination attack" mode, the program will create all the possible combinations of numbers and letters that you enter.
We recommend you to use the "Mask attack" mode, in case you have a little clue about the password. In case you don't have any clue about the password of your Excel file, you should use "Brute force attack" mode.
Step 3: After selecting attack mode and customizing settings, tap on the "Recover" option. Wait for the program to find out your password. Once it is done, the password will appear on the screen.
Part 2. Why and Why Not to Choose Passper for Excel Password Unlocker?
Here, We will discuss the advantages and disadvantages of Passper Excel password remover crack too:
👍 Advantages:
Very friendly and helpful customer service.
Effective way to unlock Excel passwords.
Does not require expert knowledge as it provides an easy-to-follow user interface.
👎 Disadvantages:
No trial version of the tool available.
Unlocking process can be slow, especially when dealing with complex passwords.
Part 3. Better Choice – PassWiper for Excel
If you don't find Passper for Excel appropriate as per your requirement, do not worry. We have an ever better alternative for you. We would like to introduce a much better way to crack your Excel file password and that is iToolab PassWiper for Excel. It is the premier excel password recovery tool to protect precious Excel files. iToolab PassWiper is fast, reliable, and secure and it can quickly recover lost or forgotten passwords so that you can get back to work without delay. With its advanced recovery technology, it ensures no damage to your data. Thus, iToolab PassWiper is one of the most efficient ways to recover your passwords. With 3 recovery modes, it provides 100% success rates.
Very reliable with absolutely no risk of data corruption.
User-friendly, even a novice can use it in no time.
Recovers encrypted passwords reliably and efficiently with its smart algorithms.
supports all Excel versions starting from Excel 2003 to the latest Office 365.
Step by Step Tutorial:
Step 1 Download and install the tool on the system. Then, click on "Recover Excel Password".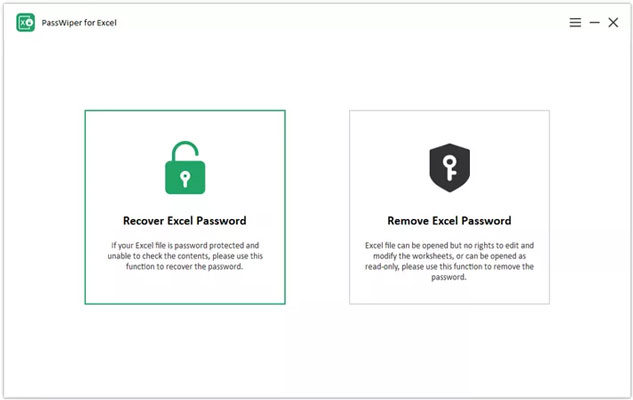 Step 2 Add the file that you want to unlock. Then, click on the "Dictionary Attack" option and tap on "Recover".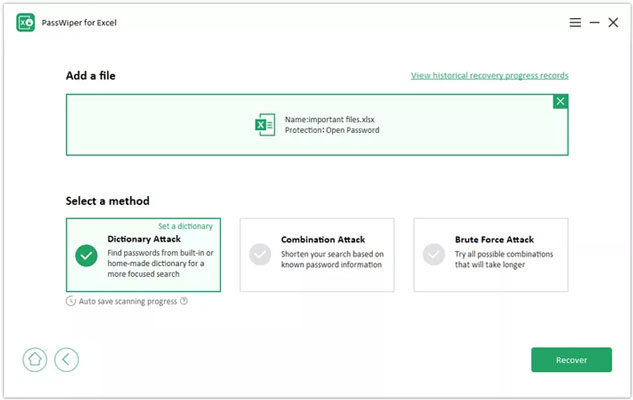 Step 3 Wait till the program scans and detect your password. After completion of the scanning process, you will be able to view the password.
FAQs about Passper for Excel Password Unlocker
1. Is Passper for Excel Password Unlocker Safe?
Yes, it is completely safe to install and use passper for excel password unlocker.
2. Is Passper for Excel Password Unlocker Free?
No, the software is not available to use for free. There are 3 plans available which you can purchase and that are: monthly plan, yearly plan, and lifetime plan.
Conclusion
With this, we have discussed everything you need to know about Passper for Excel password unlocker. It is a great tool when it comes to unlocking your Excel worksheet. But if you are searching for a more reliable option, then iToolab PassWiper for Excel is the better choice. It is a more effective and simple-to-use tool that can help you recover forgotten or lost Excel passwords easily. There will be a guarantee of security and privacy with your information kept confidential at all times. With its user-friendly interface and secure encryption algorithms, iToolab Passwiper for Excel is an ideal solution to unlock an Excel file in no time.