Hi everyone. I'm in the UK and have a friend in Singapore, both of our iPhones are up to date. But we're unable to use the greyed out SharePlay button during FaceTime calls to share what's on our screen. Is this a temporary issue? So confused, especially as it works without a hitch on Zoom, but the quality is nowhere near as good!

— From Reddit
Some users posted on Reddit about not being able to share their screen with their friends during FaceTime calls. Like always, the Reddit community shared their practical suggestions, and some other users also mentioned the same problem with their devices after updating to iOS 16.
With the iOS 15, Apple made some changes to the Watch-Party-Like feature, generally known as SharePlay. If the issue is caused by the update, you can either upgrade or downgrade the iOS version. But some other reasons might cause the same problem. Read this detailed guide if you want to know why my FaceTime screen share not working.
How to Fix FaceTime Screen Share/SharePlay Not Working on iPhone/iPad
In the initial release of iOS 15, the screen share feature was not functional. The issue was addressed in the later iOS 15.1 version. If you are still having issues with that feature, here are some practical fixes that can save you time and money.
⛔ Check iOS System Version and Enable SharePlay: SharePlay is a fun feature that can make your FaceTime calls even more exciting and entertaining with friends. The first thing is to ensure that your iPhone has iOS 15.1 or a later version. You can check the iOS version by tapping on Settings >> General >> About >> Software Version. If the latest version is available, make sure to install the update.
Now, the other step is to ensure that SharePlay is enabled for your device. You need to follow the given path for that: Go to Settings >> FaceTime >> Navigate to SharePlay >> Enable SharePlay, Music, and TV.
⛔ Restart FaceTime: Sometimes any wrong setting can also affect the smooth working of the FaceTime app and its features like SharePlay. Restarting the app will change settings to default and will remove any possible bugs. Here is how to restart the FaceTime app if SharePlay not working in iOS 15.1 or later: Go to Settings >> FaceTime >> Disable and Enable FaceTime.
⛔ Reset Network Settings: SharePlay requires high-speed internet access for a smooth connection. A slow internet connection will also cause issues with the screen share feature. Make sure your device is connected to a stable internet connection. There are online tools that can be used to test the internet speed.
Try connecting your iPhone to another internet connection or try resetting the network settings. A high-speed internet connection will surely help you to get rid of FaceTime and SharePlay errors.
⛔ Apply FixGo to Make a Fresh Try: What is iToolab FixGo and how can it help you to resolve the iPhone FaceTime screen share not working issue? For starters, iToolab FixGo is one of the most trusted iOS system recovery tools.
It can fix common software and setting issues that prevent the perfect functionality of the device. If the screen share issue is caused by any software bug, iToolab FixGo can easily fix that.
FixGo – Fix FaceTime Screen Share Not Working
Enter or exit iOS recovery mode with one click
Fix screen share not working and other common issues within moments
Downgrade to the last iOS version if iOS 15 is not working smoothly
Reset your iPhone without the current password and jailbreak
Let's see how to use this tool to fix FaceTime screen share not working in simple 3 steps.
Step 1 Download and Install iToolab FixGo on your Laptop.
You can install iToolab FixGo on any other laptop or computer. Once loaded, choose Standard Mode from the home screen to fix the common iPhone and iOS issues. The lightning cable can be used to connect your iPhone with a screen share problem to the computer.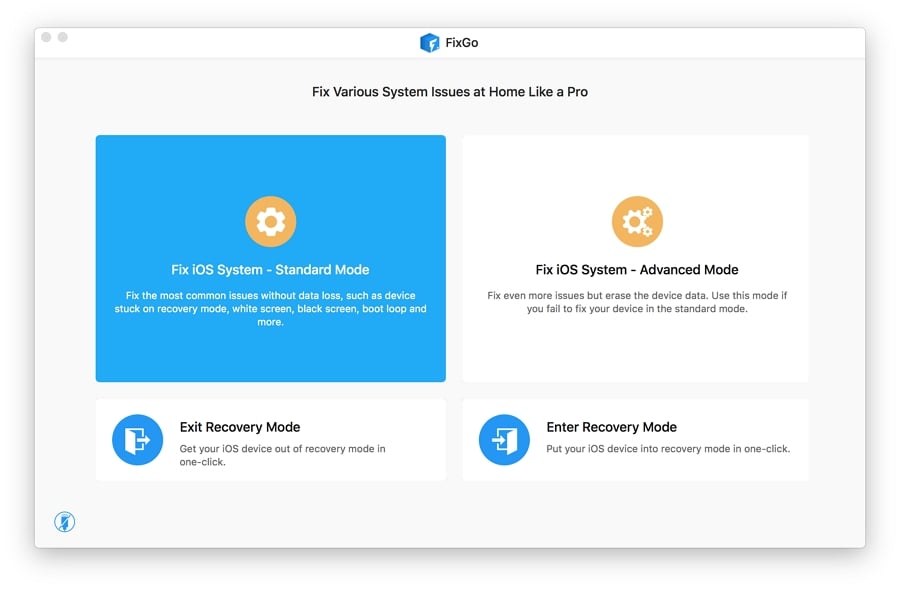 Step 2 Download Additional Firmware Files.
For your iPhone, some additional firmware files and required, and iToolab FixGo will automatically find and download the files. You can use the already downloaded files, or you can change the download destination of the files.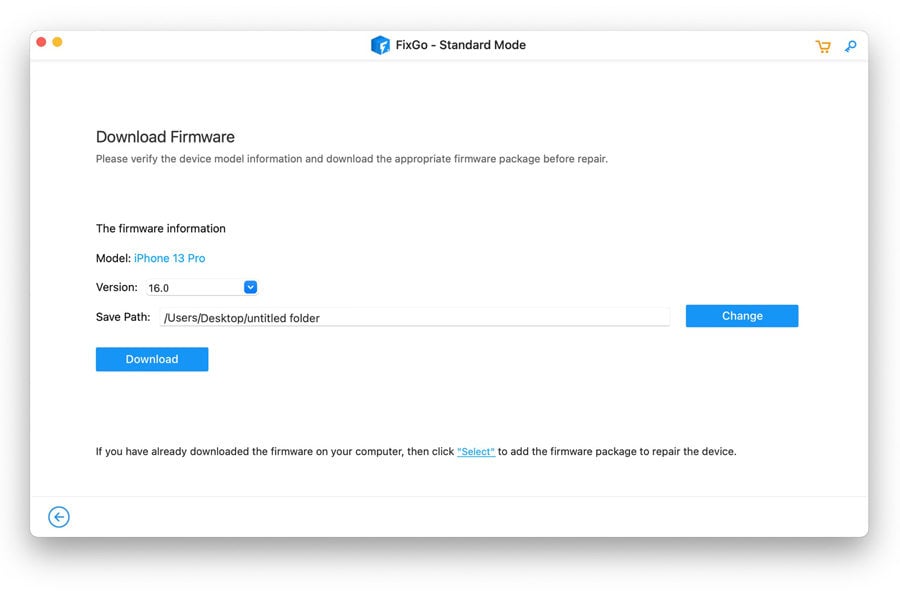 Step 3 Fix the iPhone SharePlay with FaceTime Issue.
Let the iToolab FixGo complete the process by fixing and removing the errors and bugs. Once the process is done, you will be notified, and you will face no issues with FaceTime or screen sharing.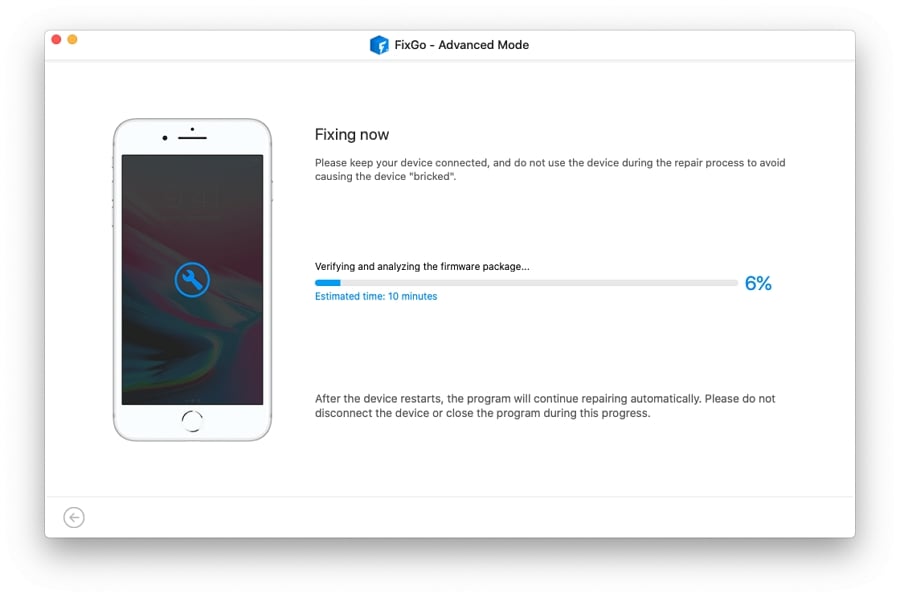 ⛔ Force Restart iOS Device: Apple users know the importance of the force restart because most of the common issues are easily fixed by performing a force restart operation. You can force restart your iPhone by pressing the volume up and down buttons and then pressing and holding the wake button until the Apple logo appears.
Depending upon the model of your iPhone, the method to force restart your device may vary slightly. It is important to follow the right force restart procedure for your device.
Extra Tip: How to Fix FaceTime Screen Share Not Working on Mac
If the FaceTime screen share not working on your MacBook, here are some steps that you can follow to ensure everything is on track.
Ensure that screen sharing is enabled on both devices that you are trying to connect.
Go to setting on other Mac >> Apple Menu >> System Settings >> General >> Sharing >> click on info.
Now, make sure that your Mac is added to the list of devices with permission to access data.
Try connecting both Mac devices to the same network, and no device should be in sleep mode.
FAQ About FaceTime Screen Share
Here are some common questions asked by iPhone users on different platforms regarding FaceTime and SharePlay.
Does FaceTime Screen Share Work on iOS 15?

Unfortunately, iOS 15 had some issues that prevented the working of screen share during FaceTime. The issue was resolved in the later iOS 15.1 version. If you have not updated your iOS version, now is the time for the update.

How to Enable Screen Share on iOS Device?

By default, screen share is enabled but if it is not, here is how to enable it: Go to settings >> tap on the Plus button next to the screen recording >> Make sure screen recording is included in the active options >> Now, you have successfully enabled screen sharing.
Get Your FaceTime Now
FaceTime and screen share features are really useful for Apple product users. If you have any problem regarding the FaceTime screen share not working, do not hesitate to use iToolab FixGo on your device. It is a trusted, tested and recommended tool that will fix all the issues without affecting your device data.
You just need to download it on your computer, connect your iPhone and follow the guided instructions to fix the SharePlay issue. Our iToolab FixGo has already helped thousands of iPhone users to eliminate iOS errors in a very short period with little effort.