If your iPhone is stuck on no service, you won't make any calls and messages to your friends and family. Furthermore, you won't be able to use internet services on your favourite network. However, you'll always have an option to browse the internet via Wi-Fi.
In this detailed blog, we'll have a closer look at the reasons behind this issue. Moreover, we'll highlight some practical solutions to solve these problems. We'll discuss the top-notch iToolab FixGo to resolve all types of system issues on your iPhone. Follow this blog to end to know more about the problems and the solutions alike.
Why Is My iPhone Stuck on No Service?
There can be several reasons why your iPhone is stuck on searching for no service. In this section, we'll have a closer look at the reasons for this issue:
1. Inquire About Issues From Your Carrier
Carriers can provide several reasons to cancel their customer's account or membership without prior notice. A lot of people have reported their disconnection issues because their page noticed fraudulent activity.
Therefore, if you find a problem with your carrier service, it's a good idea to contact support. You can call them directly to inform them about the problem. If your carrier isn't a reason for this problem, you need to check your phone's software.
2. Update Carrier Settings and iPhone's Software
If your iPhone is stuck on no service, then there is a possibility that it can be due to outdated settings and device software. Every new iOS update comes with bug fixes that can help you resolve this issue. Here is what you need to do:
Connect with a portable Wi-Fi and check whether your device has a pending software update. To prevent this, go to Settings > General > Software Update.
If you do not see any software update, then you need to toggle the carrier settings. Go to Settings > General Software Update for checking whether there is any carrier settings update. Wait for about 10 secs to see if there is any update.
Connect your iPhone to your computer using iTunes or Finder if you don't have access to the internet. If there will be an update, the device will automatically update the device.
3. Reset Network Settings
You can resolve iPhone 7 stuck on no service issue by resetting the network settings on your device. The reset method will delete all credentials on your phone, and you'll have to re-enter all passwords again. And, when you'll restart your device, all problems will resolve quickly.
How to do:
Go to Settings > General > Reset > Reset Network Settings to reset network settings. For confirmation, the device will require you to enter your Apple ID and password to continue.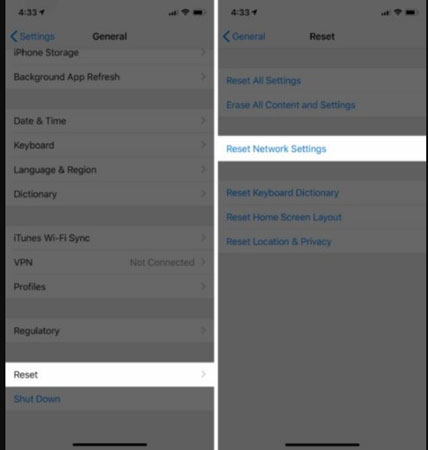 4. Verify Your Cellular Settings on Your Device
Cellular Settings change automatically or accidentally, and as a result, your iPhone will show the issue as mentioned above. You can turn on and off the cellular settings to fix them. The cellular settings may differ depending on your device's credibility.
To toggle on and off the cellular settings, you need to go to Settings > cellular > Ensure Cellular data is turned on.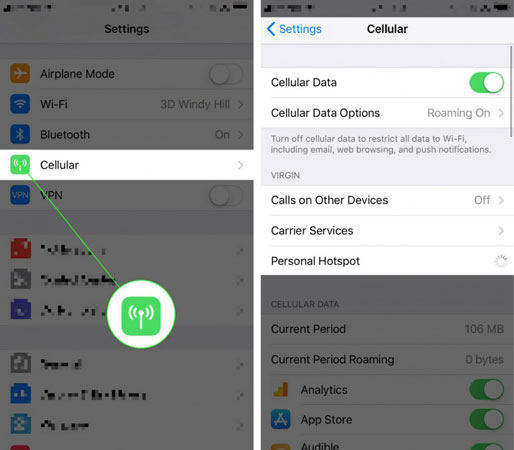 5. Take Out Your SIM Card
The SIM Card allows a fair connection between your iPhone and cellular network. Your network carrier sends network configuration on your iPhone. To fix this, you need to remove your SIM Card and put it back again. You can use any SIM Card ejector tool to remove SIM Card from your device.
6. Look For Water Damages
If your phone faces a hardware issue, then you won't be able to use your device. The hardware issues might include water damages that are insidious and invisible. If you contact your nearest AppleCare outlet, then they're more likely to replace it.
Essential Way to Fix iPhone 7 Stuck on No Service
Have you tried the solutions mentioned above but disappointed then we've got a good solution for you. iToolab FixGo is a premium tool that can help you get rid of all types of system issues. This tool can also help you resolve iOS 15 Update issues if your device fails to provide you with text and email notification alerts. Here is how you can use this tool to know how do I fix my iPhone that says no service:
Step 1. Connect Your Device to the Computer
Connect your malfunctioned device to your PC via USB cable and click on the "Fix Now" button to begin. The iToolab FixGo will recommend you put your device into recovery mode if the program fails to detect your device.
Step 2. Download The Firmware Package
To repair the device, the tool will automatically download a suitable firmware package on your device. Click on the "Browse" button to set the location for firmware and then click on download.
Step 3. Fix All System Issues
After successful downloading of the firmware package, you're all ready to fix your device's issues. Click on the "Repair Now" button to start repairing.
Summary
Is your iPhone stuck on no service? Don't worry, and there are a couple of solutions that can help you resolve this issue. In this blog, we've discussed several reasons why your phone is stuck on no service. We've explained the premium tool naming iToolab FixGo that helps iOS users get rid of all system issues.