Resetting your iPhone is one of the most effective ways to fix some common iOS issues or wipe the device before selling it. But can you reset your iPhone without a computer and iTunes?
There are actually several effective ways to reset an iPhone without a computer. Let's begin with the simplest solution.
Factory Reset an iPhone Using Settings
If you have access to the device, it can be very easy to reset it in settings. Just follow these simple steps to do it:
Step 1: Open the Settings on your device and then tap "General > Reset > Erase All Contents and Settings.
Step 2: A message will appear asking you if you would really like to erase the device. Tap "Erase" to confirm. You may also need to enter your passcode.
All the data and settings on the device will be completely removed and the device will restart. You can then set it up as new.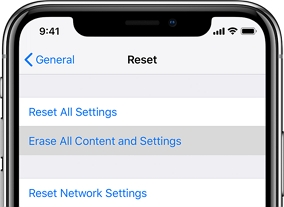 Factory Reset an iPhone Using Find my iPhone
If you had set up Find my iPhone, you can easily factory reset the device remotely. This can come in handy when you don't have access to the device or you forgot its passcode. Here's how to factory reset your iPhone using Find my iPhone:
Step 1: On any browser, go to https://www.icloud.com/#find to access the Find my iPhone site via iCloud.
Step 2: Sign in with your Apple ID and password. Make sure that it is the same Apple ID and passcode that you use of on the device you want to reset.
Step 3: From the drop-down list under "Devices", select the iPhone you want to reset.
Step 4: Click on "Erase iPhone" and confirm that you want to factory reset the device. The device must be connected to the internet to receive the command.
Factory Reset iPhone without Trusted Computer and iTunes
When you don't have access to the device and Find my iPhone is not set up on it, it may seem like you have limited options. But there is a tool that you can trust to reset your iPhone to factory settings even when you don't have a trusted computer and iTunes. Moreover, UnlockGo is very easy to use, anyone can unlock their device in simple steps.
How to use UnlockGo to Factory Reset an iPhone
Follow these simple steps to use UnlockGo to reset the iPhone:
Step 1: Install UnlockGo onto your computer and run the program after a successful installation. Connect the iPhone to the computer using USB cables and wait for the program to detect the device. Click "Start" to begin the process.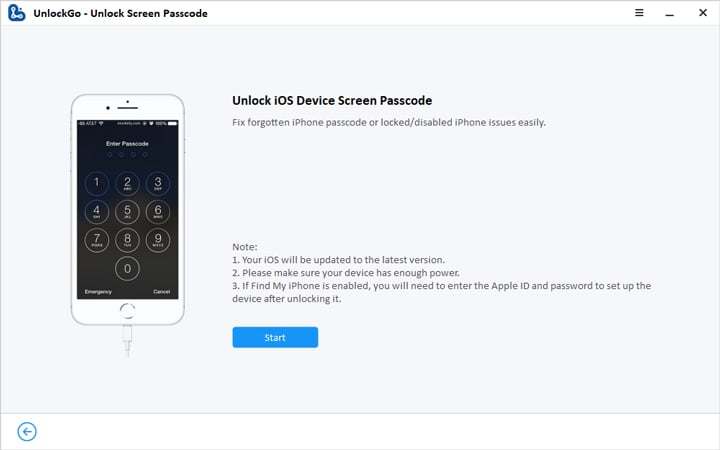 Step 2: As part of the reset process, the program will need to install the latest firmware for the device. Click "Download" to begin downloading the needed firmware.
Step 3: When the firmware download is complete, click "Unlock Now" and UnlockGo will unlock the device, resetting it to factory settings in the process. You can then set up the device as new.
Conclusion
Above these ways can help you factory reset iPhone without computer. But we highly recommend you try iToolab UnlockGo, a third-party iOS unlocking tool that can allow you to very easily unlock and reset the iPhone even without the passcode. What's more, UnlockGo is compatible with all versions of iOS including iOS 14 and all iPhone models. If you think this article is helpful, don't forget to share it with your friends.