This article will discuss how to iCloud bypass iOS 16 because we know that sometimes you can lock yourself out of your phone. It can be because your kids might have entered the wrong password or passcode too often, or you can't access it due to some update. Apple has kept this feature for security, but it can become a nuisance sometimes. So, without further ado, let's discuss simple and easy steps to iCloud bypass iOS 16 and access your precious data.
Way 1: Best Tool to Bypass iOS 16 iCloud 🔥🔥🔥
Now there are many ways to do iOS 16 iCloud bypass, and some of them do work, but none have the highest probability of using a 3rd party tool because of their reliability. We will discuss iToolab UnlockGo, the best and untethered bypass iCloud iOS 16 unlock tool for your iPhone without a password. If you have purchased a used iPhone, you can bypass iCloud activation lock on iOS 16 without previous owner.
Here are some essential features from iToolab UnlockGo when you use it for iOS 16 activation lock bypass.
UnlockGo – All-in-One Unlock Tool for iPhone/iPad
It supports to bypass iCloud activation lock on iPhone/iPad/iPod touch running iOS 12.0-16.5.
The tool is easy to use, allowing users to bypass activation lock within 3 simple steps.
After bypassing, your device won't be remotely erased by the previous Apple ID.
Once the activation lock has been removed, you can enjoy all iOS features except calls, cellular and iCloud.
Aren't these features impressive? Now let's move on to bypass iCloud activation lock iOS 16 with the help of these easy steps.
Download and install the UnlockGo program from the official website for Windows or Mac.
Step 1 Connect Your Device
Run the program and choose Unlock iCloud Activation Lock from the six options available.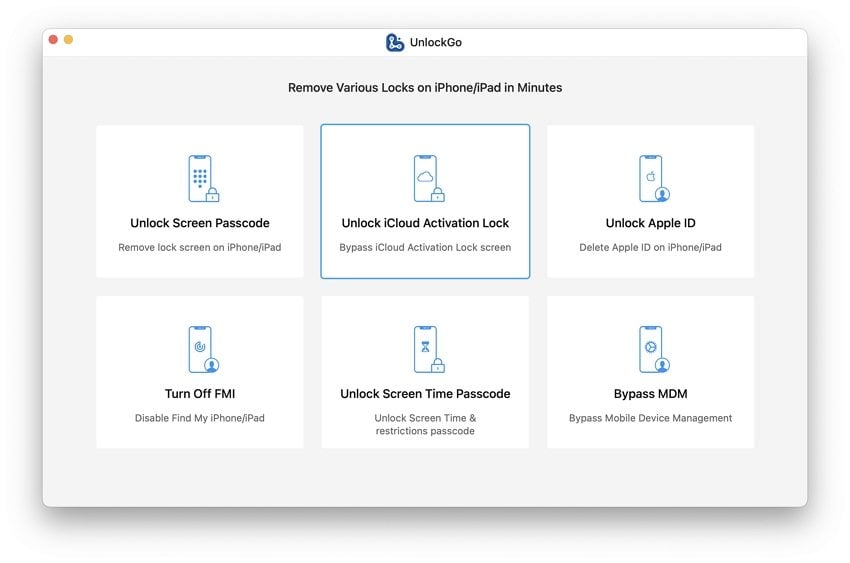 Connect your locked iDevice to the computer. Press Start when you have read the cautionary notes. These are important notes before proceeding with iOS 16 bypass iCloud.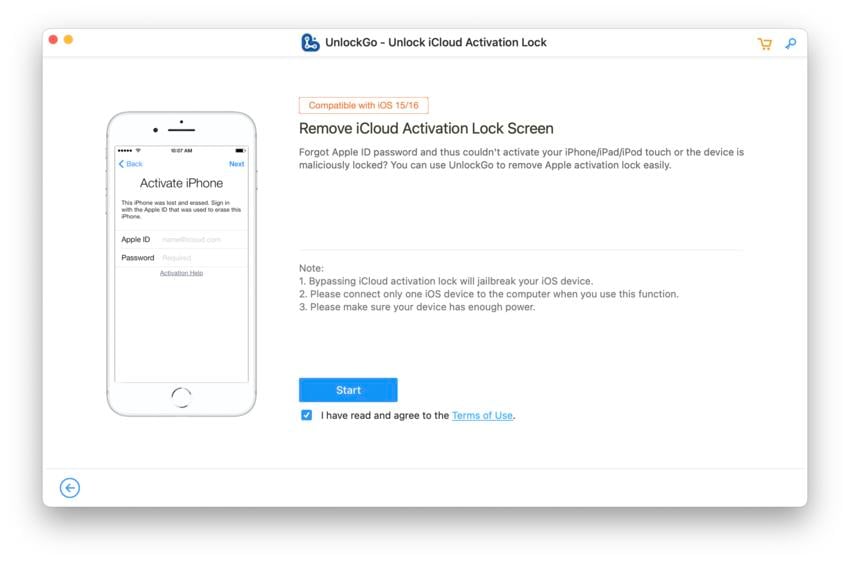 Step 2 Jailbreak Your Device
To bypass iOS 16 activation lock, it requires going into the DFU mode, which you can do by following the method mentioned by the program, as you can see below.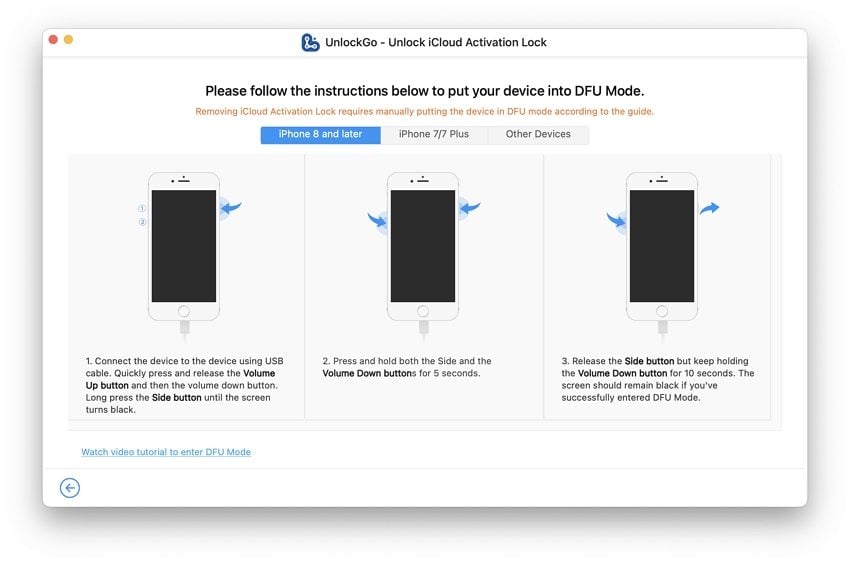 The jailbreaking process will start when DFU mode is active.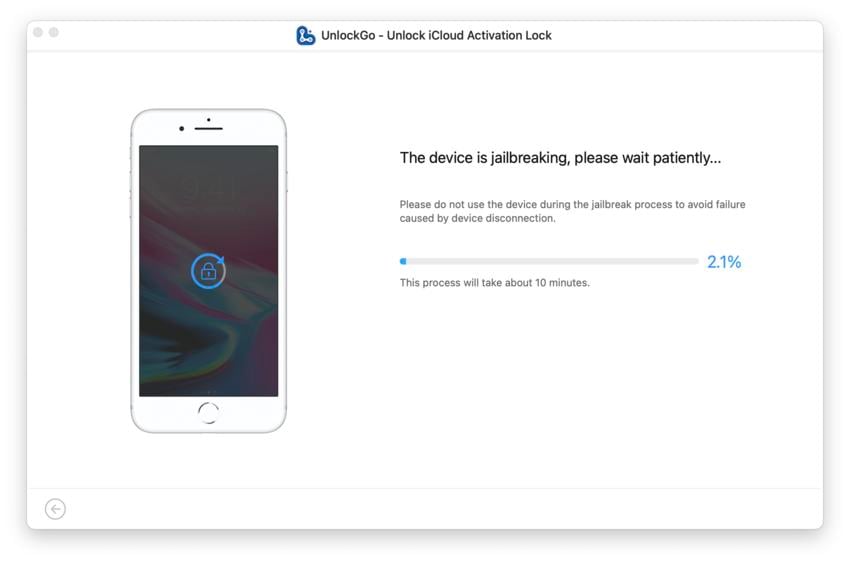 Step 3 Bypass iCloud Activation Lock on iOS 16
When the jailbreak is completed, your device will restart.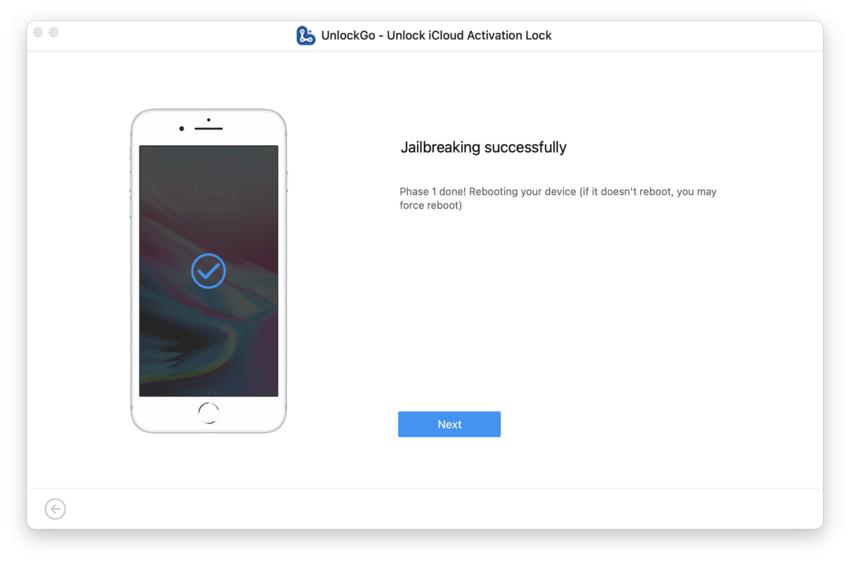 For iOS 16 devices, you need to put the device into DFU mode again.
Once your device has entered the DFU mode successfully, the program will begin to remove activation lock. It will take 1-2 minutes to complete the whole process.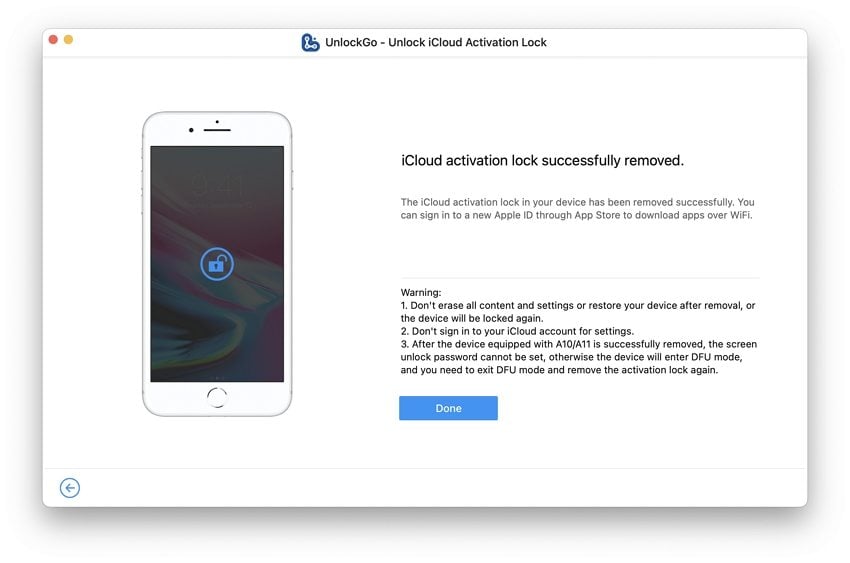 It is important to remember here that for iPhone devices A10 and A11 codes, you cannot set a passcode after iOS 16 iCloud bypass is completed. If you accidentally set up a passcode, your device will again be iCloud locked, and you will have to repeat the above process.
Way 2: Bypass iCloud on iOS 16 with DNS
The 2nd method to bypass the activation lock if you have bought a used phone is using iCloud DNS bypass iOS 16. You would use this if you need access to the phone and don't know the credentials from the previous owners. The only issue is that this method will not be guaranteed to work correctly.
Please follow these steps to make iOS 16 iCloud bypass this way.
1. Turn on the device and choose your country and language from the starting menu.
2. Connect to a known Wi-Fi in the next step but first, look for the "i" symbol next to the Wi-Fi.
3. Before entering the settings through the "i" menu, disconnect your Wi-Fi.
4. Enter the Connection Settings and press the Forget Network option.
5. Enter the following IP address to iCloud DNS bypass iOS 16 based on where you are now.
For the USA, you can enter 104.154.51.7
You can use 104.154.51.7 if you are based in South America.
Enter 104.155.28.90 for Europe.
For Asia, you can use 104.155.28.90, 104.155.28.90 for Australia and Oceania, and 104.155.28.90 for all other continents.
6. Once entered, press the Back button and turn on your Wi-Fi to connect to the known Wi-Fi connection.
7. Enter the bypass screen on the next page by pressing the Back button again.
Once your iCloud DNS bypass iOS 16 is finished, you can access your device and enjoy the features..
Way 3: iOS 16 iCloud Bypass Free
iOS 16 iCloud bypass free method requires the free tool called DarkRa1n, which will help you with iOS 16 iCloud bypass with ease. The central premise is that it can help use the credentials of recycled iDevices. Even though this iOS 16 iCloud bypass free method is a simple process, you'll need Homebrew and Python installed on your Mac laptop.
1. Connect your iPhone with your Mac computer to start the iOS 16 iCloud bypass process.
2. Open the DarkRa1n folder and Mac terminal.
3. Type the following command to install components that will help you iOS 16 iCloud bypass free.
bash ./install_deps.sh
4. Visit system Settings – Security and Privacy. Give full disc access to the terminal and ssh-wrapper. Enter the following commands in the next step in the terminal.
python3 darkra1n.py
5. Click "STORM iCloud" and follow the prompts.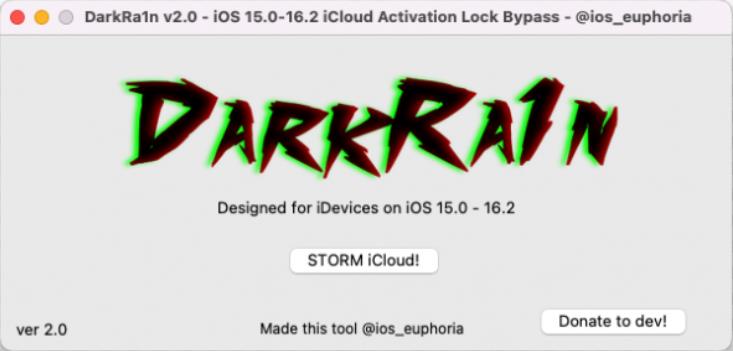 Your device will reboot without the iCloud activation lock, and you'll need to re-jailbreak your device.
Conclusion
Now you don't need to worry about getting stuck in the activation screen for your iDevice as we have mentioned incredible and sureshot iOS 16 iCloud bypass ways in this article. Furthermore, using the best 3rd party tool iToolab UnlockGo, you can simplify and improve the process as most of the steps are done by this fantastic bypass iOS 16 unlock tool.