Find My iPhone helps locate iOS devices, Mac computers, Apple Watch, etc. With the help of this application, you can easily find your iPhone device if it is stolen or lost. Nowadays, users are concerned about the Find My iPhone alerts that send location-based alerts on iPhone. With the help of these alerts, you can notify your friend when your location changes. But the question is: Does Find My iPhone alert help track your location? In this article, we will discuss everything about Find My iPhone alerts and whether they are helpful or not.
Part 1. What Does "Find My iPhone Alert" Mean?
Find My iPhone Alert means getting location-based alerts on your iPhone. So, if your location is changed or your device connects to the internet, an email is sent to your Apple ID email address. If your device is off, then your device will be on sound pending mode. You can hear the sound when your device is connected to the cellular network.

Part 2. How to Turn on Find My iPhone?
Find My iPhone can be turned on by following the steps below.
Open your Settings application and click your Name.
From there, click the "Find My iPhone" option.
Turn on your Share My Location option.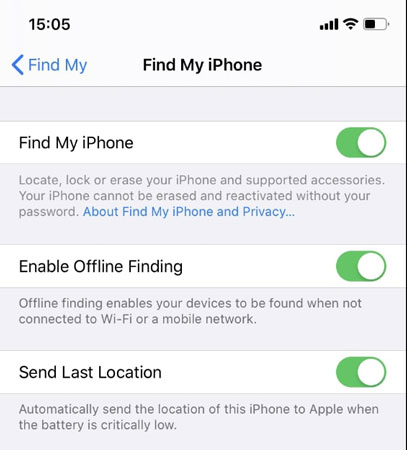 Also, click Find My [device] and turn on Find My [device] option.
You can also turn on Find My Network. This option will help locate your iPhone when it is offline.
You can also send the last location by clicking the "Send Last Location" option. So, the app will automatically send the location whenever your battery is low.
If you want to find your lost device, ensure your location services are turned on. And for that, you don't have to do much; just go to your "Settings," click the "Privacy" option, select "Location Services," and you are good to go.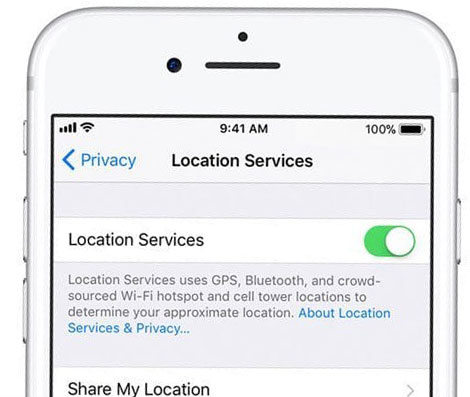 That's all; this is how you can turn on the Find My iPhone option on your iPhone and locate your device without worrying about anything.
Part 3. How to Play Sound When Tracking a Lost iPhone?
You can play a sound while tracking a lost iPhone using two different ways. The first one is using another iDevice with the same Apple ID, and the second one is using a third-party application named UnlockGo. These methods help send location alerts on the iPhone, which makes your work easier.
Let's see how these methods work.
Situation 1. Use Another iDevice with the Same Apple ID
You can get location notifications on your iPhone by using another device with the same Apple ID. For this process, you have to perform the following steps.
First, install the app on your device and launch it.
Now, sign in with your Apple ID and select the device where you want to play the sound.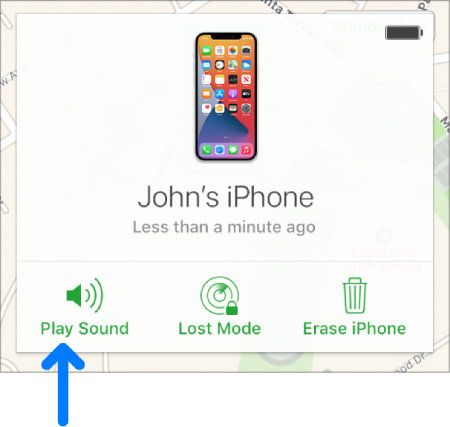 You will see the location of the device on the map.
You can also select the sound or vibration that you want to play.
In case the device is not located, you will see the "No Location Found" under the device's name section.
Situation 2. Ask Your Friends to Help You
Here is how you can ask your friends to help you in finding your lost device.
Open your friend's iPhone and open the Find My app.
Now, click the "ME" option.
Scroll down a bit and click the "Help a Friend" option.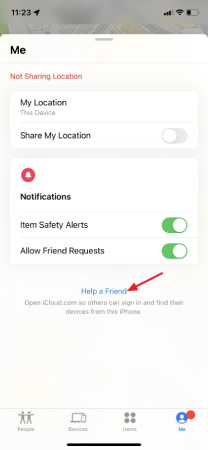 Now, login into your account by entering your Apple ID and password.
Click on your missing iPhone or another item that you want to find.
You can also play sound from here and put your device in Lost Mode or erase it.
These are the two possible ways to help you play the sound when tracking a lost iPhone.
Extra Tip: How to Turn Off Find My iPhone If You Forgot Password?
If you have forgotten your password and want to turn off Find My iPhone, we suggest downloading the iToolab UnlockGo. This software is wonderful and helps remove different types of locks on your iPhone and iPad. Using it, you can effortlessly remove screen passcodes, such as 4/6 digit passcode, Face ID, Touch ID, and much more. You can even bypass the iCloud activation lock without a password. Isn't it amazing? In order to disable Find My iPhone without a password, check the steps below.
Step 1. Download and launch UnlockGo on your PC and click the "Turn off EMI" option from the homepage.
Step 2. Connect your device with the PC and click the "Start" button to disable Find My iPhone. Don't forget to read the terms and conditions on the interface.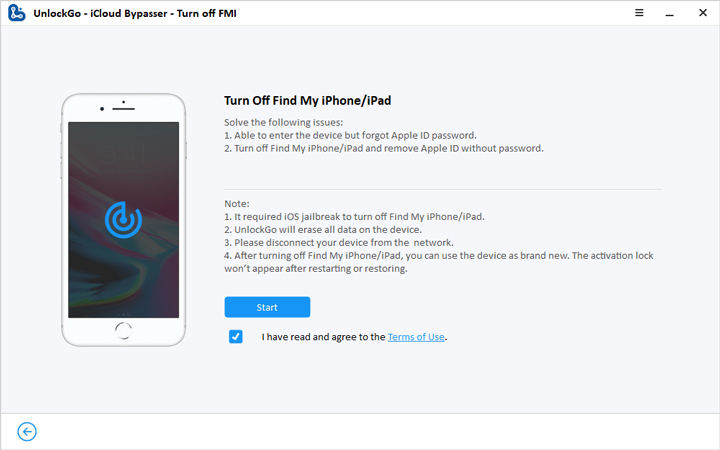 Step 3. In the next step, you have to jailbreak your device, and for that, you can see the jailbreak tutorial. Now follow the on-screen instructions and click the "Next" option to start the process.
Step 4. The application will start disabling Find My iPhone once the jailbreak process is done. Make sure your device is connected during the process; otherwise, you have to repeat the steps again.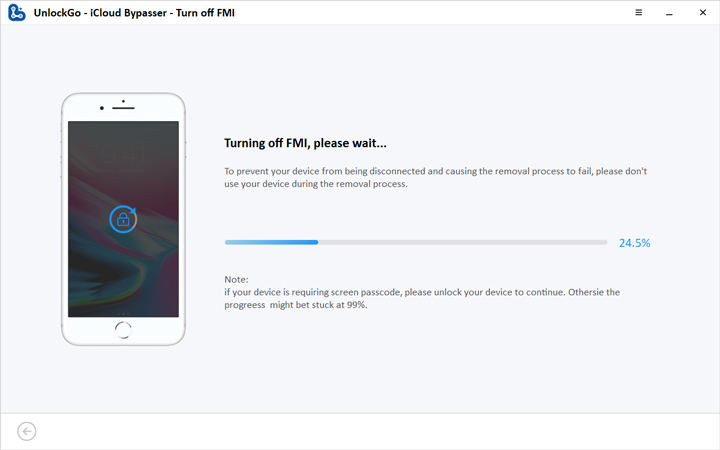 Step 5. From the screen, confirm the device information and click the "Remove" option. In the next step, you have to make sure your device's internet is turned off and your PC has a strong internet connection.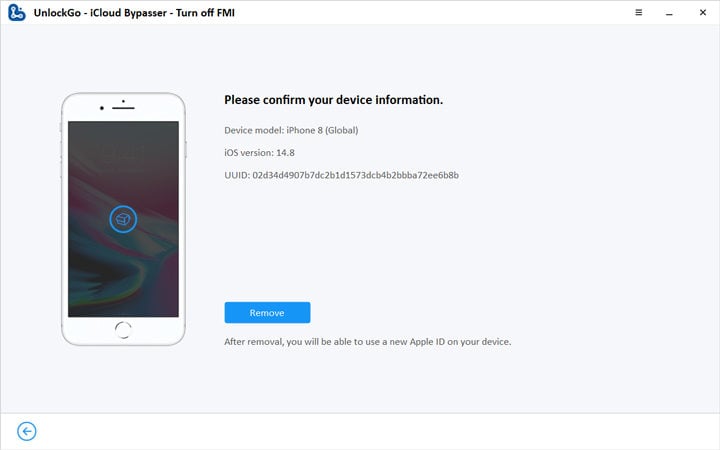 Step 6. After everything is done, check the Find My iPhone status, and for that, you need to click the "here" option. You will also be given a serial number, so copy it and paste the number on the website from where you can easily check the FMI status.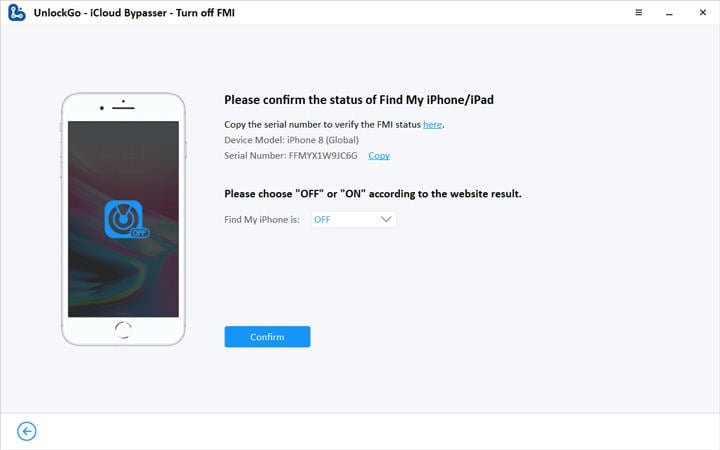 Again open the application and click the "Confirm" option. Within a few seconds, FMI will be removed successfully. Remember that this method will ask you to reset your iPhone, so don't forget to do that.
Conclusion
This article concludes that Find My iPhone alerts are important for your device and helps notify your iOS 15 when left behind. If you don't know how to turn on these alerts, you can check the methods mentioned above. Furthermore, if you want to remove FMI from your iPhone, we suggest downloading the UnlockGo application. It is best for removing FMI from your device without asking for the password.