End-to-End encryption is a privacy feature in WhatsApp which prevents third-party applications from accessing the data. Only the user can access and manage everything. This security system prevents you from hackers and snoopers. You must use this feature to save your important data from being stolen and misused.
In this article, we will discuss the End-to-End encryption WhatsApp in detail and learn how to read WhatsApp messages using professional software.
What Is End-To-End Encryption in WhatsApp?
WhatsApp offers End-to-End encryption, which has gained the trust of millions of people around the world. When you chat with someone, your chats are actually end-to-end encrypted, which means that not even WhatsApp can read your messages. This security system scrambles your chats into an unreadable format so no one can decode them.
WhatsApp end-to-end encryption is applied to your WhatsApp chats, calls, status, documents, voice messages, photos, and videos. It keeps your data safe from getting into the wrong hands. Suppose you have sent someone a message which contains your banking information. You don't need to worry about data leakage because WhatsApp doesn't read or share your information with others. It has a high-level security system that never lags in sensitive cases.
Your messages are locked between you and the recipient, and you both have a special key provided by WhatsApp to unlock and read the messages with the code. Even Business WhatsApp will never use your messages for ad purposes because they are also end-to-end encrypted.
How To Set End-To-End Encryption in WhatsApp
It seems challenging to set end-to-end encryption in your WhatsApp backup, but we will guide you with the easiest steps so that anyone can access it. You can also add that encryption layer to your Google Drive account. It is a desire for other companies to achieve such a security system as WhatsApp.
Let's begin with how to set end-to-end encryption in WhatsApp.
Step 1: Launch WhatsApp on your phone from the app drawer.
Step 2: Tap the "More" icon on the top right corner and go to "Settings."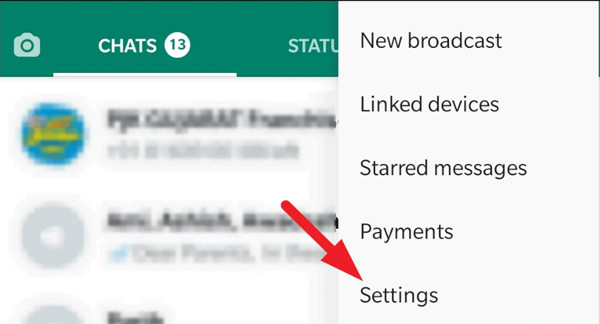 Step 3: Tap "Chats" to open the chats setting and then hit "Chat Backup".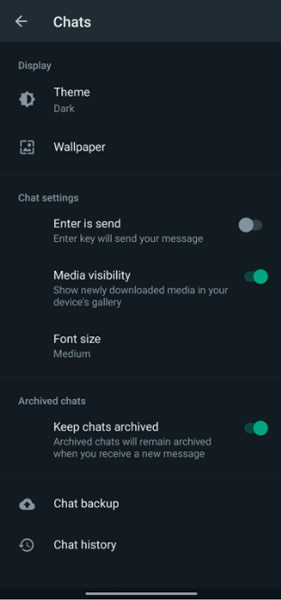 Step 4: You will see an option of "End-to-End Encrypted Backup" tap on it.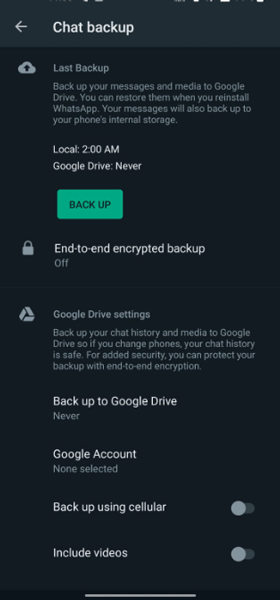 Step 5: Tap "Turn On" and then "Create A Password," or you can also set a "64 Digit Encryption Key." This will turn on your end-to-end encryption on your backup. You must enter the password when you recover your WhatsApp data.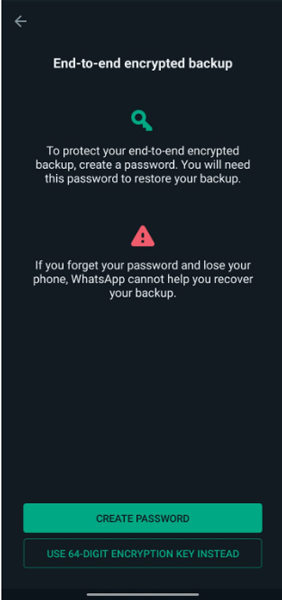 Step 6: To turn off the end-to-end encryption, repeat the above five steps. Hit "Turn Off" to disable it.
Once you have forgotten your password, then WhatsApp is unable to reset that, so make sure you always memorize the password. You can never restore it through WhatsApp because it will detect you as a hacker trying to decode the backup.
How To Read End-To-End Encryption WhatsApp Messages
There is no way to read end-to-end encrypted WhatsApp Backup messages, but iToolab RecoverGo (WhatsApp) has made it possible to read and recover the data without entering the passwords.
RecoverGo (WhatsApp) allows you read end-to-end encryption WhatsApp messages on Google Drive. You can also recover WhatsApp data without backup using this software. iToolab RecoverGo (WhatsApp) exports WhatsApp chats in multiple file formats. It has compatibility with the latest iOS versions and iPhone models.
Let's begin the steps to read end-to-end encrypted WhatsApp messages.
Step 1 Go to the website and get iToolab RecoverGo (WhatsApp). Install it on your PC.
Step 2 Launch the software and click "Recover Deleted WhatsApp Data from Google Drive" to proceed.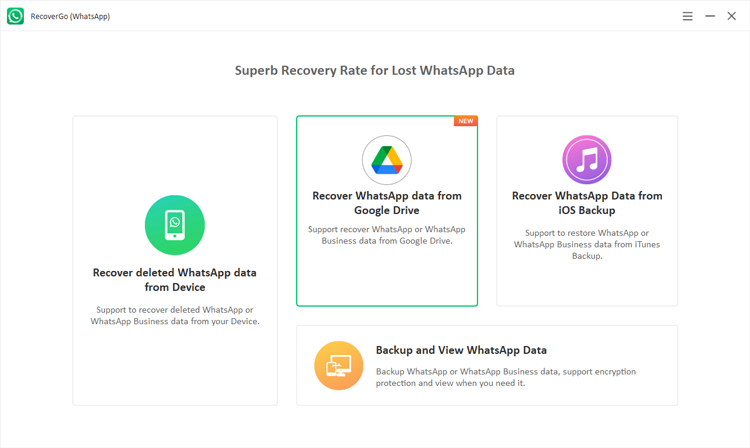 Step 3 Now, login your Google account that store your WhatsApp backups.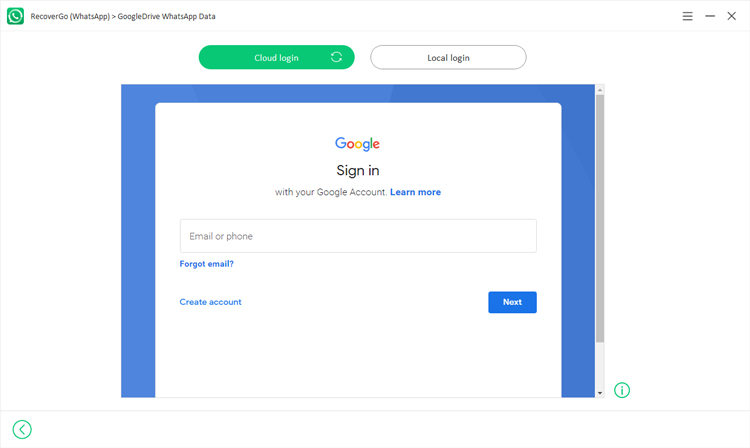 Step 4 Now, all your WhatsApp bacups will be listed. Select the one you want to check details.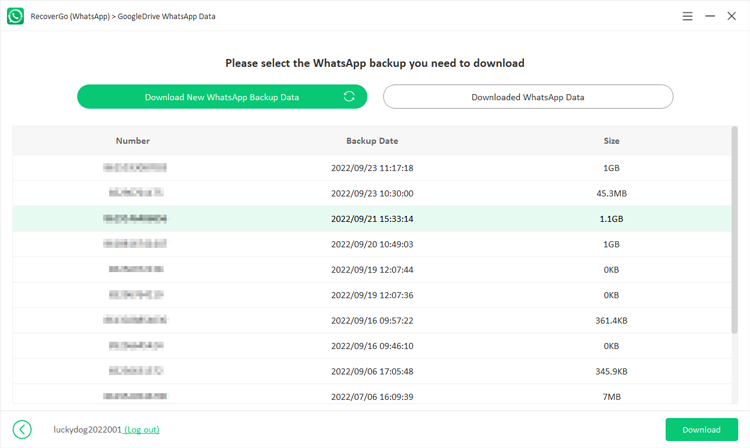 Step 5 RecoverGo (WhatsApp) will scan your backup. After that, you are enable to check all your WhatsApp messages.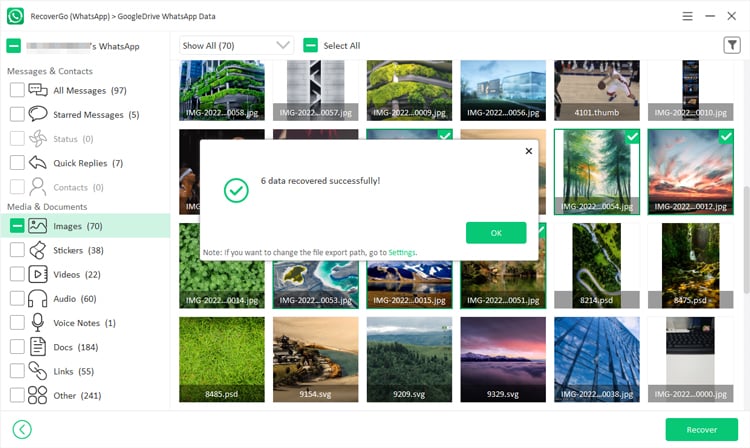 FAQs
Q1: Is WhatsApp video call end-to-end encrypted?
Yes, your video call is also end-to-end encrypted, and you can identify it with a golden message at the top of your video calling interface.
Q2: Is WhatsApp end-to-end encryption safe?
WhatsApp has high-level end-to-end encryption, and it is 100% safe to use because even WhatsApp is unable to access your information and data.
Q3: Is WhatsApp business end-to-end encrypted?
Yes, WhatsApp Business is also end-to-end encrypted, which gives the surety for the users to chat with their business partners and share their business and payment details with them.
Conclusion
WhatsApp plays an essential role in our daily life. We are in contact with our family and friends through WhatsApp. The WhatsApp end-to-end encryption feature is highly appreciated due to the security services provided to consumers.
If you have lost your WhatsApp encryption password or code, don't worry iToolab RecoverGo (WhatsApp) is here to resolve your issue. You can access your data and backup without any conditions. After recovery, you can also read all your messages and check media and other data. We recommend you use RecoverGo (WhatsApp) because it is exceptional software that can help you access your lost data.