On Android devices, WhatsApp uses Google Drive to create a backup. While backing up the data, the backup is encrypted for security and privacy purposes. But people often need to access and read WhatsApp backup on their computers. They either need to do it to recover any files/chat or see the content of the backup.
In this article, we will discuss how you can read WhatsApp backup from Google Drive on a PC. We will share different methods and step-by-step instructions.
Can You Read WhatsApp Backup from Google Drive on PC?
WhatsApp chats are encrypted; therefore, they cannot be access directly from the backup. Even if you access the backup on Google Drive, it is useless as you cannot understand/view it unless you decrypt it. However, if you have the right tool that can decrypt the backup, you can read the texts and see the media.
3 Steps to Read WhatsApp Backup on PC
You can read WhatsApp backup from Google Drive on a PC using special software. iToolab RecoverGo (WhatsApp) is a dedicated application for WhatsApp backup. It can recover deleted data without backup, create a new backup, and help you view the WhatsApp backup on your PC.
The important thing about RecoverGo (WhatsApp) is that it is an easy tool. Beginners can also use it without any hassle. Its powerful algorithm decrypts WhatsApp backup, and you can easily see the text and media. The backup is stored on your PC, and you can view it whenever you want.
Step 1 Download this software on your computer. Install the application and open it. Connect your mobile phone to the computer using a USB cable.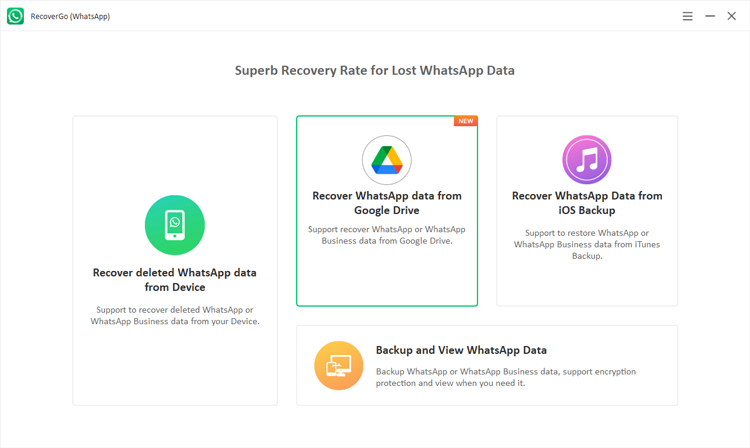 Step 2 Select "Recover WhatsApp data from Google Drive" and log into your google account. Next, select the backup to download.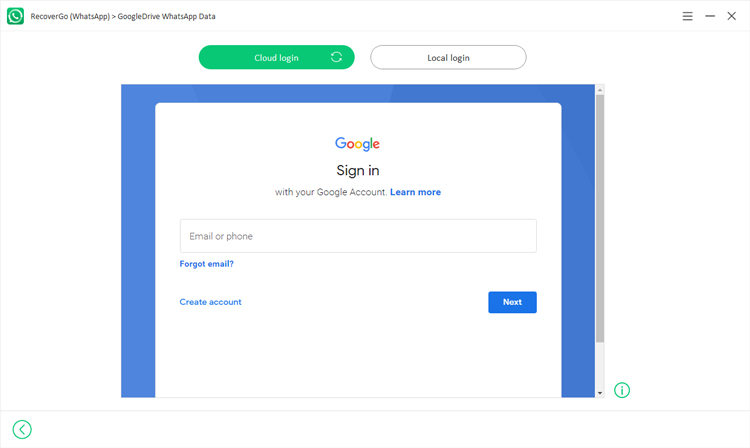 Step 3 After logging into google account, RecoverGo (WhatsApp) will scan all your Google drive backup and you can now read WhatsApp backup and restore it to PC.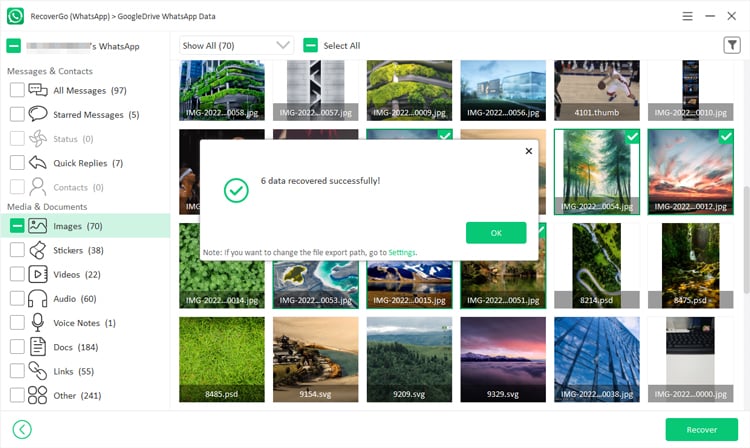 All your WhatsApp backup will be displayed on the screen, you can select the file types to read WhatsApp backup from Google Drive on PC without any hassle. This is very convenient for WhatsApp users. Moreover, you can export the data you need separately and backup your WhatsApp data to computer in minutes.
Also Read: How to Restore Deleted WhatsApp Messages without Backup
How to Access WhatsApp Backup on Google Drive
There are two ways to access your WhatsApp backup on Google Drive. One way is to restore the backup using the WhatsApp application. Then, you can easily view the backup data. The second method, which is the most suitable method, is to locate the backup in Google Drive; you need to find the location and then access the data. We are going to explain both methods in detail.
1) Reinstall WhatsApp
To restore WhatsApp backup from Google Drive, you need to reinstall the application. But before that, make sure you have a backup and your device is connected to the same Google Account. You can check backup by going to Settings > Chat > Chats Backup. You will see the backup there and its data and time. If you want to create a recent backup, tap on the Back Up button.
Note: If you are restoring a backup, the recent data will be lost. If you restore it on another phone that has another WhatsApp, backup that data first; otherwise, you will lose it.
Uninstall the application from your mobile.
Go to the Play Store and reinstall the application.
Enter your phone number and complete the verification.
The application will look for the backup in Google Drive. If there is any, you will see an option to restore it. Tap on Restore and wait for the process to complete. After that, you will be able to view that backup on your WhatsApp
2) Using Web Google Drive
Open any internet browser and go to Google Drive's website. Log in to your account.
At the top right corner, you will see the Settings button; click on it.
You will see three options. Click on Settings.
It will open a new window. On the left, click on Manage Apps.
You will see all the applications there. Look for WhatsApp Messenger. This is your WhatsApp data backed up in Google Drive.
Also Know : How to Read WhatsApp Messages in Gmail
You can also send WhatsApp chats to emails. WhatsApp offers a built-in export option to the export chat and send to anyone. Once you have received the email, you can see the media and messages. The messages will be in a txt file, and you can easily view your text messages on Notepad.
Open the WhatsApp application and go to the chat that you want to export.
Tap on the three dots icon on the right. Tap on More and then tap on Export Chat.
Now, you can select whether you want to export chat with media or without media.
You will see a list of options to export the chat. Tap on Email or Gmail. Enter the email address of the recipient and send the chat.
Final Words
WhatsApp backup on Google Drive is encrypted, so there is no way you can view data or chat directly. However, if you want to view that backup, you can use iToolab RecoverGo (WhatsApp). It is a powerful WhatsApp tool for backup that can help you view all your backups in one place. You can view the media and the text in a similar appearance as the WhatsApp application. Try it now!