WhatsApp is one of the most used applications. Undoubtedly, as compared to other social media applications including Facebook and Instagram, people are more dependent on WhatsApp for sharing media files. But sometimes it happens that unknowingly people lose some media files and at the end look out for the methods helpful in recovering the same.
If you are not aware of how to recover missing media file in WhatsApp, keep on reading as this article will help you to know about the best solutions for it. Let's have a look!
Can You Recover Missing Media Files in WhatsApp?
Primarily it is a must to know whether you can recover missing media files in WhatsApp or not. Fortunately, yes. There is a tool, iToolab RecoverGo (WhatsApp) available helpful in recovering the missing media file in WhatsApp easily.
It is a tool that can recover missing media files from WhatsApp. It can recover both photos and videos that have been deleted from WhatsApp. It is very easy to use and you just need to connect your iPhone to the computer and run the software. The recover process only takes a few minutes.
This one is a reliable and effective tool to recover missing media files from WhatsApp. It is a fast and easy-to-use tool that can recover both photos and videos that have been deleted or missed from WhatsApp.
Steps to follow for using iToolab RecoverGo:
Step 1: Primarily, download and install RecoverGo on your computer. Open the tool and select "Recover deleted WhatsApp data from device" to proceed further.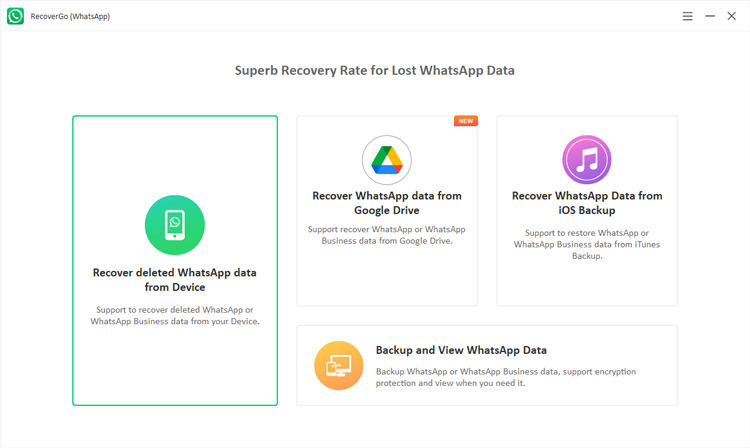 Step 2: With the help of a USB cable connect your phone to the computer and click on the "trust" option on your iPhone and enter the screen passcode. If you are using an Android device just allow the permissions.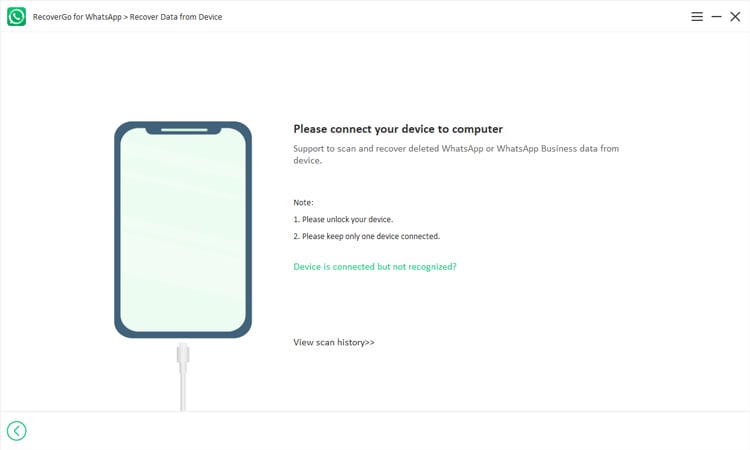 Step 3: Here you need to select the account from which there is a need to recover the lost data and RecoverGo will start scanning the same account. The scanning process will take few minutes so be patient.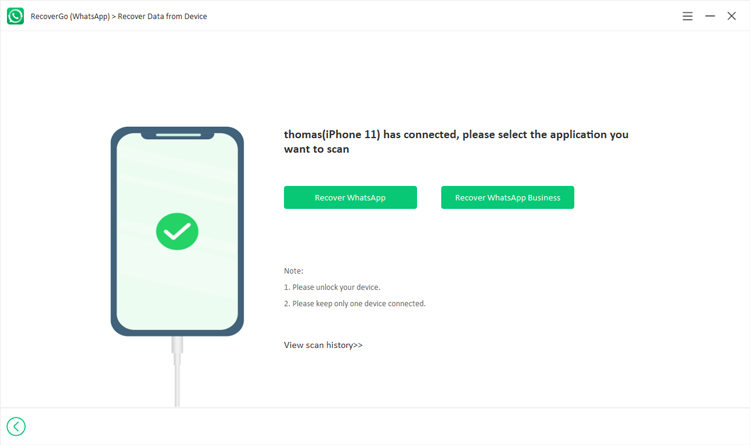 Step 4: The scanned data will appear, click on the Ok button to proceed further. Select the data you wish to recover and click on the "Recover" button.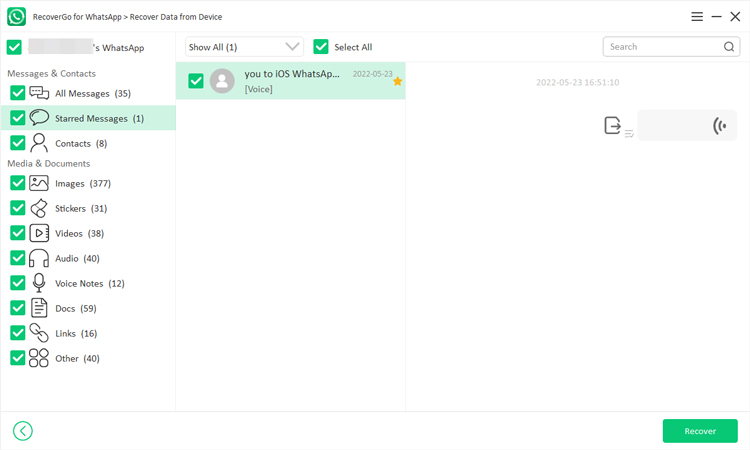 How to Fix WhatsApp Media Files Missing Error
After recovering media files, it is equally important to consider other professional solutions to avoid this mishap in the future. The following solutions include:
Way 1: Update WhatsApp
If you think WhatsApp media files are missing from your device, try updating the app. This could fix the problem, as it sometimes helps to refresh the app and its files. To update WhatsApp:
Open the App Store or Google Play Store.
Search for WhatsApp. If there's an update available, tapping Update will install it on your device.
Wait until the update is done and restart WhatsApp.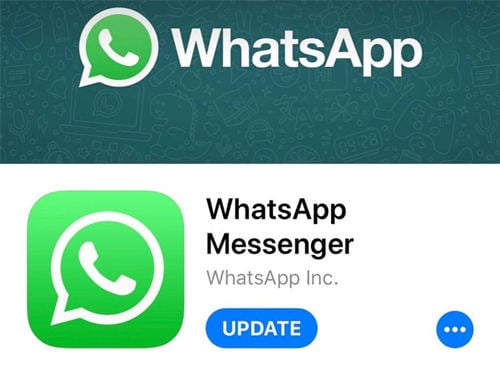 Way 2: Reinstall WhatsApp
If you are facing the error "WhatsApp media files missing", then one solution is to reinstall WhatsApp. This will delete the current installation of WhatsApp and all of its data, which may include the corrupt files that are causing the error. After reinstalling, you will have to set up WhatsApp again and restore your chat history from a backup.
Uninstall WhatsApp. (But before uninstalling it, create a backup)
Go to Google Play Store or Apple App store and search for WhatsApp.
Click on the "Install button" and wait until the installation is done.
set up your account again and recover the data to use WhatsApp easily!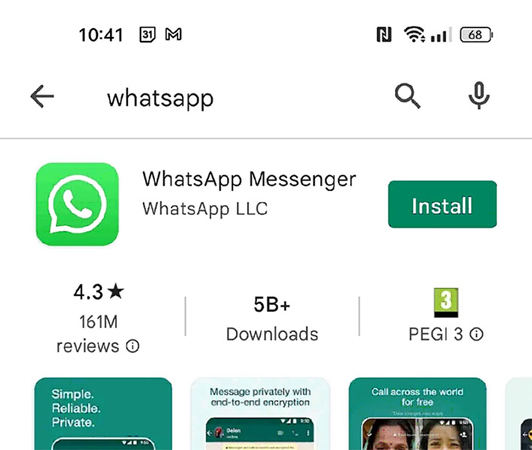 Way 3: Ask the Sender to Resend the File
If you wish to know How to recover Sorry, this media file appears to be missing in WhatsApp, one way to fix it is by asking the sender to resend the file. This error can occur if the file you received was corrupted or if the download was interrupted. By asking the sender to resend the file, you can ensure that you're downloading a good copy of the file. This fix is particularly useful if you're trying to download a large file, as it can be frustrating to download a large file only to find out that it's corrupted.
Way 4: Allow WhatsApp To Download Media
WhatsApp is a mobile messaging app that allows users to exchange text, image, video, and audio messages without having to pay for SMS. However, users have been reporting that their media files are not downloading properly, or are missing altogether. Well, to fix this issue allow WhatsApp to download media. This can be done by:
Open WhatsApp and click on the three dots at the top right corner of the screen.
Click on settings and select "Data and storage usage".
Here select "Media auto-download." Make sure that the "When using mobile data" and "When connected on Wi-Fi" options are both checked and here select Photos, Videos, and Documents.
Close WhatsApp and open the app again!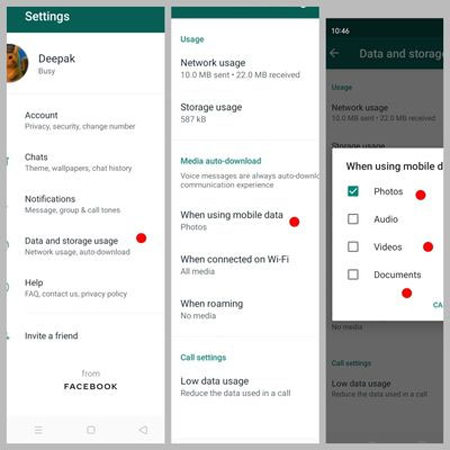 Conclusion
WhatsApp is one of the most used applications and with the right steps you will be able to utilize all the features smoothly. If you were curious to know how to restore missing media files from WhatsApp, we are pretty sure the aforementioned solutions will help you out. Just follow the right set of steps to get the best possible outputs!