WhatsApp is one of the most used messaging services, with billions of active users worldwide. This feature-rich app allows you to share Pictures, Videos, Messages, and Documents with others. However, there is a lot of debate on how to know who viewed my WhatsApp DP secretly or if it is possible to know who viewed your WhatsApp profile.
In this article, we will answer all these questions and mention any possible way to check out who views your profile picture on WhatsApp. Read this guide until the end to learn more about this topic.
Who See My WhatsApp Profile?
If you want to know who viewed my WhatsApp DP, unfortunately, you won't be able to get that information. Because WhatsApp doesn't maintain the data of people who viewed your DP recently. Profile visit counts aren't available on WhatsApp.
However, some Apps on Android or iOS devices claim to provide the details of people who visited your profile recently. But on our findings, these Apps show false results.
If you want to learn about those Apps, follow this guide until the end.
Is WhatsApp DP Viewer App Trustworthy?
Before we show the App that claims to help you see who sees my profile in WhatsApp, you need to understand that these Apps don't provide an accurate result.
🎯Android Device
Here are the top 3 WhatsApp DP Viewer Apps available on Android devices.
1. Who Viewed My Profile – Wprofi
Wprofi allows you to check who visited or viewed your profile recently. This App is available on Google Play Store and is free to download. The best part of this App is that it's 100% Ad-Free.
It also offers features like who blocked you, checked your status, etc. Wprofi provides a simple and easy-to-use interface, which allows users to operate this program easily. When this App detects any visit to your profile picture, it will immediately notify you. Wprofile is the best solution to find out your secret admirer.
2. WhatsApp – Who Viewed Me
The next application on our list is WhatsApp- who viewed me. Sadly, this App isn't available on the Google Play Store, but you can download the APK file and install it manually on your Android device. Launching this App on your mobile phone will ask permission to access contacts and locations.
This App claims that it provides 100% accurate results on who viewed your profile, but we doubt that because random names from your contact list appear when you press the scan button.
3. Whats Tracker
The last Android application is Whats Tracker. The main purpose of this App is to track the location of WhatsApp users, but it also provides a viewed WhatsApp profile feature.
Whats Tracker is an easy-to-use program, and the best part is that it's free to use. It also provides features like location tracker, status tracker, and more. You can download this App from Google Play.
🎯iOS Device
Here is the list of Apps available on iOS that claim to provide information on who viewed my profile DP.
WRevealer
WRevealer is an iOS app allowing iPhone users to check who viewed their profile recently. This App only works on jailbroken iPhones. Many users claim that this App has worked and provides accurate results.
It also offers features like Last seen, online duration, Last message, and more. You can also use this program to track someone's location on WhatsApp. It's a free-to-use Application and can easily be found on the Apple App Store.
Other FAQs about Viewing WhatsApp Profile
Q1. What do people see on my WhatsApp profile?
When a WhatsApp user opens someone's profile, the first thing they do is Profile Picture. The Next thing is Phone Number, WhatsApp Status, Name, and more.
Q2. How to know how many times someone viewed my WhatsApp profile?
Sadly, there is no official way to find out this information. However, few apps claim that they can provide this information. Above, we have mentioned the following apps.
Q3. Can you see someone's WhatsApp profile without them knowing?
Yes, if the other person saved your Contact on WhatsApp, you can easily see his profile picture without knowing them. WhatsApp doesn't notify them.
A Trick: How to Transfer WhatsApp from Android to iPhone without Losing Data
WhatsApp data is the most essential part of your device, and you don't want to lose it. But what to do when switching your device from Android to iPhone? In that case, you will need a third-party program to easily transfer data from Android to iPhone. iToolab WatsGo – Best WhatsApp Transfer Software is just the right tool for this job.
This program allows WhatsApp data transfer from Android to iPhone, iPhone to Android, and more. Its wide range of data types, such as messages, pictures, video, contacts, etc.
How to use iToolab WatsGo?
Step 1. Download iToolab WatsGo from its official site, launch it, and then select WhatsApp transfer.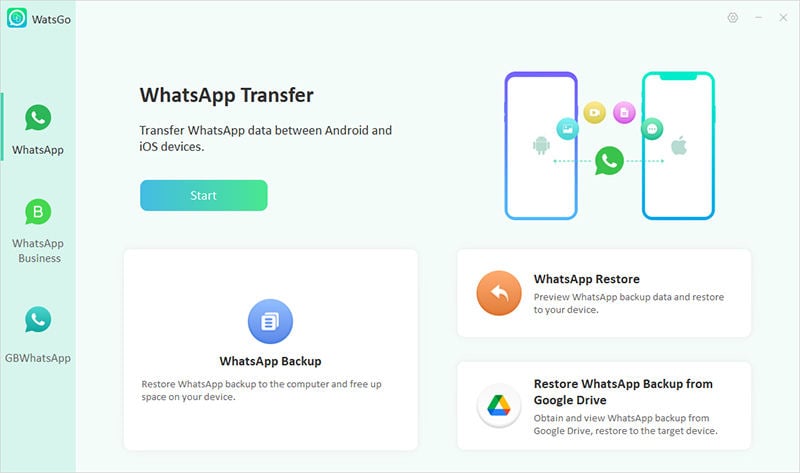 Step 2. Connect source and target device to PC via data cable.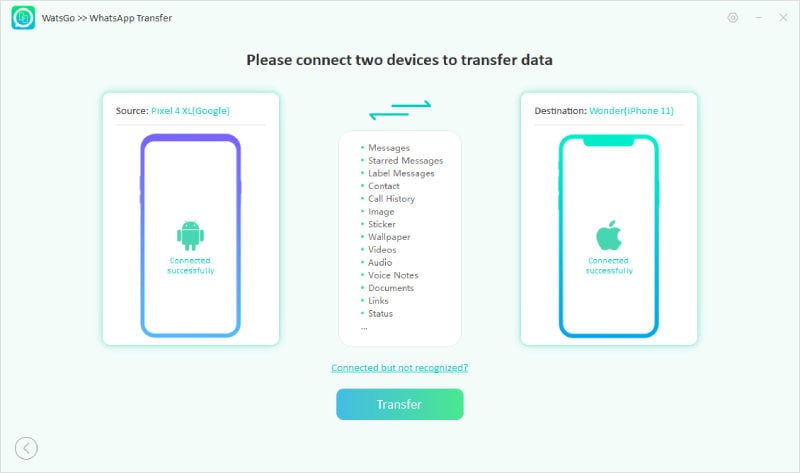 Step 3. Ignore the prompt and click on the Continue button. Choose the data type you want to transfer and click on continue.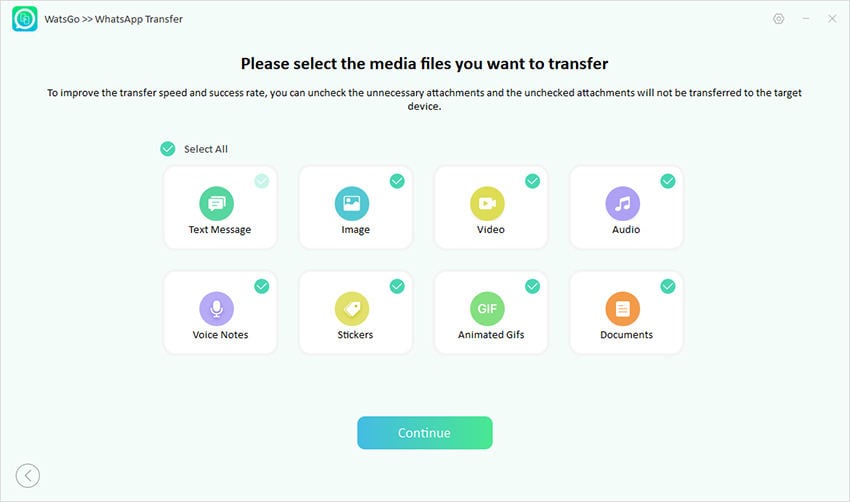 Step 4.Turn on the End-to-End encryption on the Android device. Follow the steps mentioned in the below image. The program will start generating the WhatsApp data.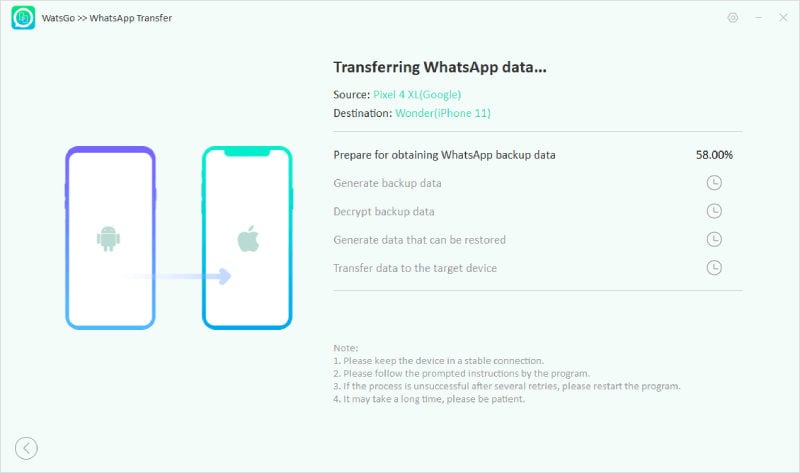 Step 5. Verify the data with a 64-bit password. Now, wait for a while. WhatsApp data will be converted to the format that will applied on iPhone.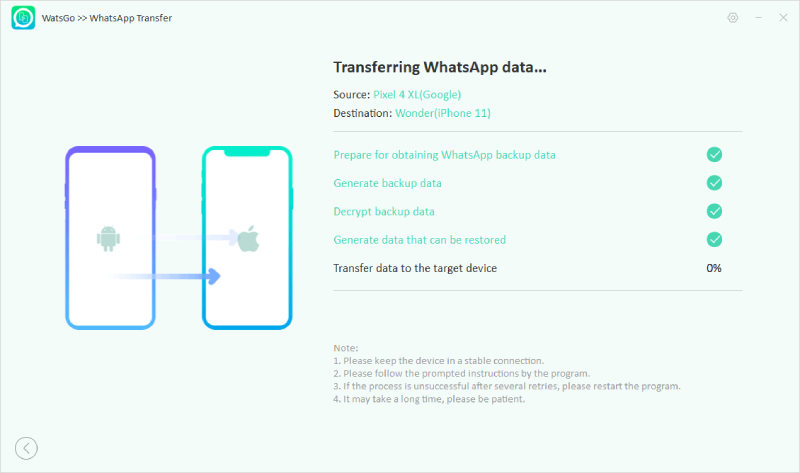 Your data will successfully transfer to the target device in a few minutes.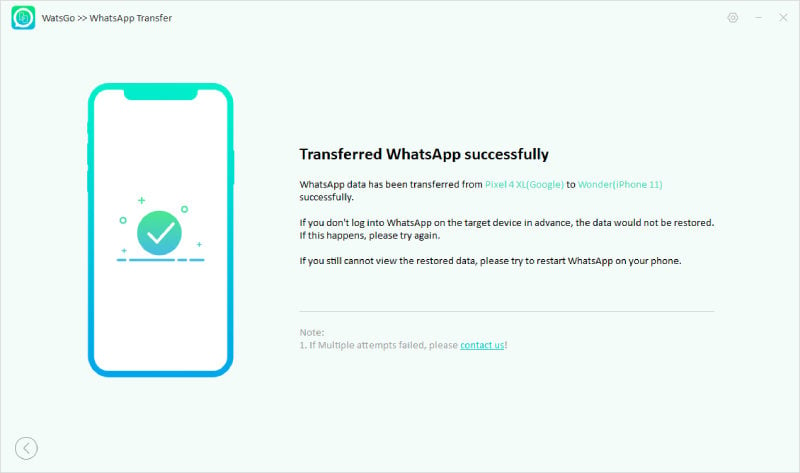 Conclusion
As we have mentioned above, WhatsApp doesn't provide any information on who checked my WhatsApp DP. However, some Apps claim that they will provide this information to you. Above, we have mentioned some Android or iOS apps that can help you check your profile views.