If you are upgrading your device and want to transfer your GBWhatsApp data to WhatsApp easily and don't to how to do it, then don't worry because, in this guide, we will show you all the methods that will help you transfer your data from GBWhatsApp to Normal WhatsApp easily. Read this guide until the end to learn more about this process.
Can I Transfer GBWhatsApp Data to Normal WhatsApp?
Without a doubt, WhatsApp is one of the most used instant messaging apps worldwide. This app allows you to connect with friends, family, clients, etc. To improve the WhatsApp experience, a third-party developer introduced an app known as GBWhatsApp, which provides many new features unavailable on normal WhatsApp. Although GBWhatsApp has many new features, it also has disadvantages that make people return to the original WhatsApp.
Here are the disadvantages that make you return to the original WhatsApp.
❌ To update the App, you need to uninstall and reinstall the App.
❌ The account can be suspended anytime due to not being licensed.
❌ The app has many bugs and glitches.
❌ Customer service of GBWhatsApp is abysmal.
❌ Hard to transfer your data from one device to another.
How to Transfer Data from GBWhatsApp to WhatsApp?
Now let us show you how to transfer GBWhatsApp data to WhatsApp.
Did you enjoy this tip? Subscribe to iToolab YouTube Channel
What is iToolab WatsGo? It's a powerful WhatsApp transfer tool, which helps you to migrate GBWhatsApp messages to WhatsApp within simple clicks. Even if you only want to restore GBWhatsApp backup on new devices, that would be always your choice.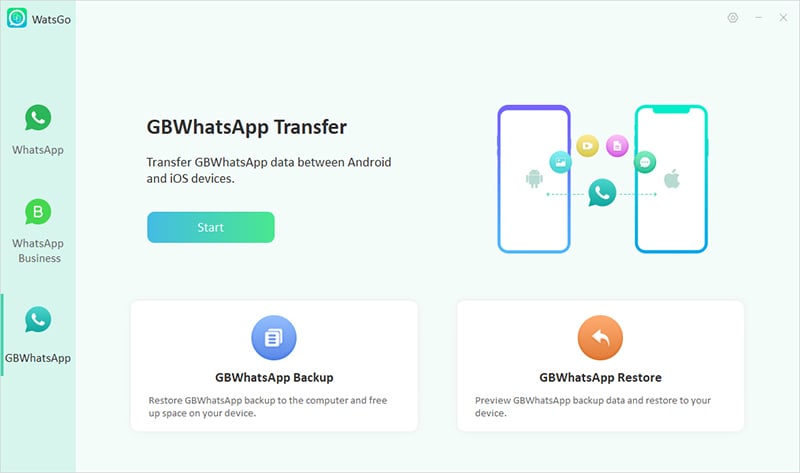 Step 1. Choose GBWhatsApp from the main interface, and then click "Transfer GBWhatsApp to WhatsApp", connect your devices.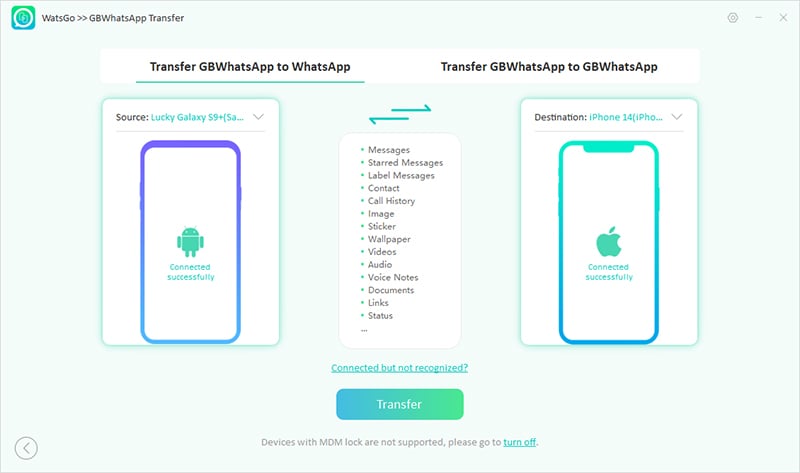 Step 2. Now you've come to the stage of selecting any data type to restore to your target device. Then, you gotta back up GBWhatsApp backup firstly and if you've backed up before, you can skip this step.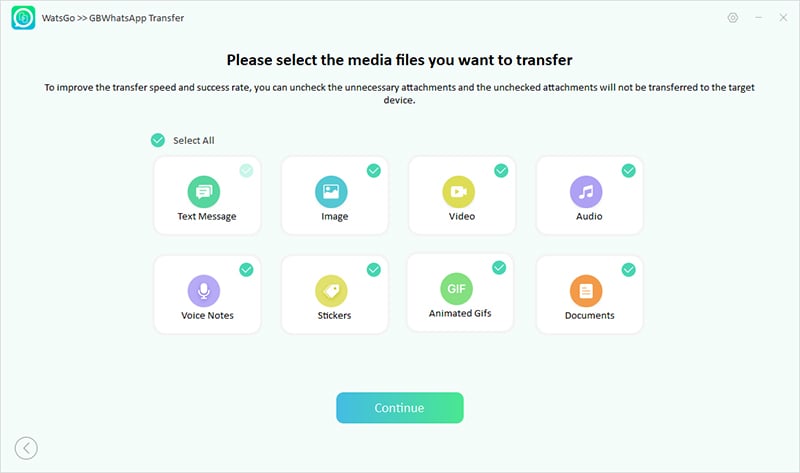 Step 3. After you've backed up GBWhatsApp, the program will begin to restore GBWhatsApp backup.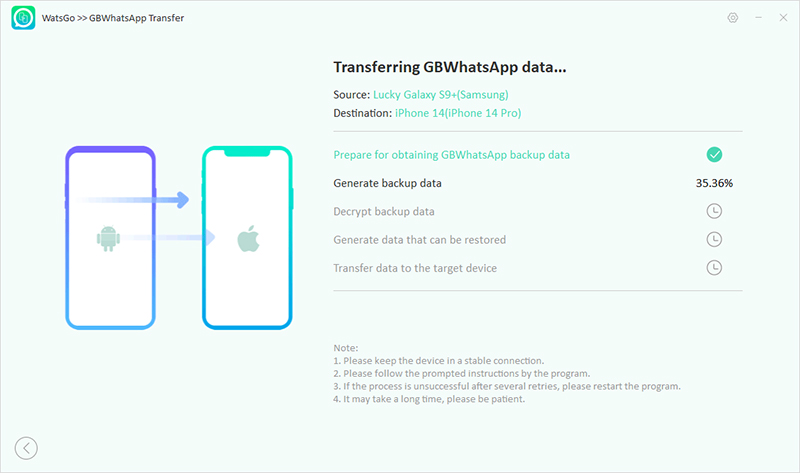 Step 4. It might take a while for you to see the transfer success prompt. When you see the "Transferred GBWhatsApp Successfully", that means the whole process is done.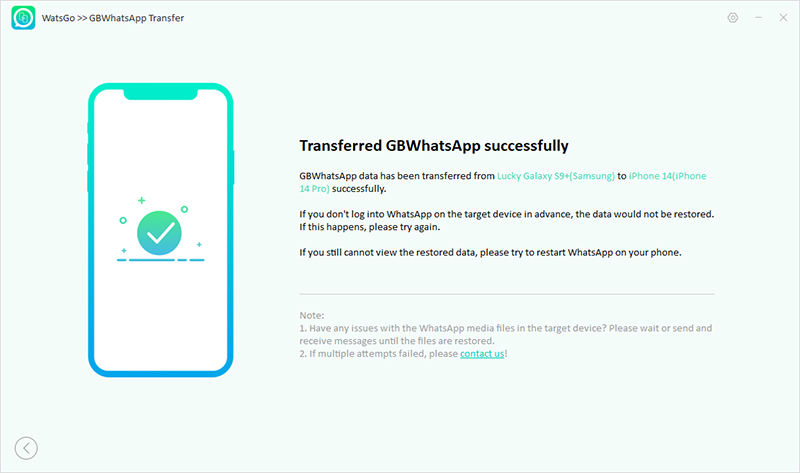 Now launch the normal WhatsApp and then the restoration file will appear on your screen, tap on restore to transfer all your GBWhatsApp data to normal WhatsApp.
How Can I Stop Being Banned on GBWhatsApp?
Here are the top 5 tips that you can use to stop being banned on GBWhatsApp.
Method 1. Update the App Regularly
One of the best ways to avoid being banned on GBWhatsApp is by regularly updating your App. Using this method will avoid getting banned, so make sure to use the proper way to update your app regularly.
Method 2. Don't use the same GBWhatsApp Number on other Apps.
Many users experience that moment when they try to register their Number on WhatsApp, but they get rejected all the time. This error occurs when you have recently logged into WhatsApp or already used this number to sign-up on WhatsApp.
Method 3. Avoid forwarding the same message to many recipients
If you are using the latest version of GBWhatsApp and still got banned, you have shown some unusual activity on your Account that WhatsApp has noted and banned you for good. Avoid sending the same message to many recipients because this will get WhatsApp attention.
Method 4. Don't post longer videos on your Status
WhatsApp status is designed to upload 30 seconds videos to make it stable and more reliable. Uploading long videos can overload the server and downgrade the performance of your WhatsApp.
Method 5. Uninstall WhatsApp
If you use the GBWhatsApp on your smartphone, uninstall the normal WhatsApp from your mobile.
How to Transfer WhatsApp from Android to iPhone without Factory Reset?
If you want to transfer your WhatsApp data from Android to iPhone without factory resetting your device, the iToolab WatsGo – WhatsApp Transfer is the best third-party program to do this job with a few clicks.
With the help of this tool, you can transfer your WhatsApp data between Android and iOS devices. This program also helps store your WhatsApp backup to your computer to free up your smartphone space and then recover it to any device at any time with simple clicks. This program is fully compatible with Android 13 and iOS 16 devices.
Step 1. First, download the iTools WatsGo program on your device, launch it on your computer, and then choose the WhatsApp transfer to start the process.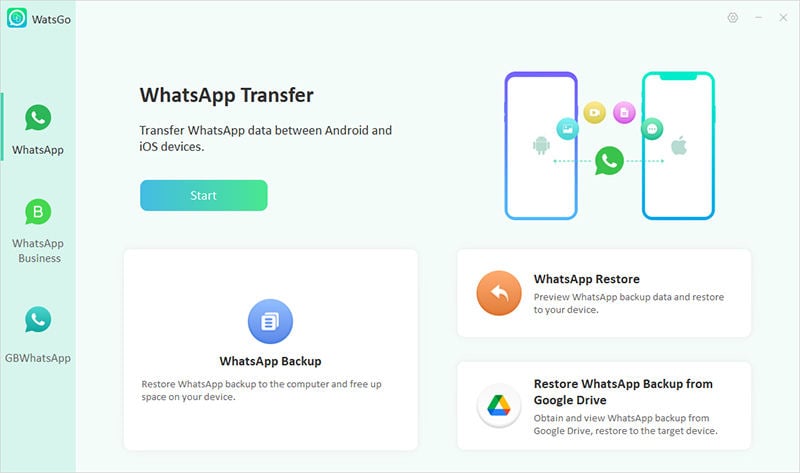 Step 2. Connect both devices to the computer via USB Cables.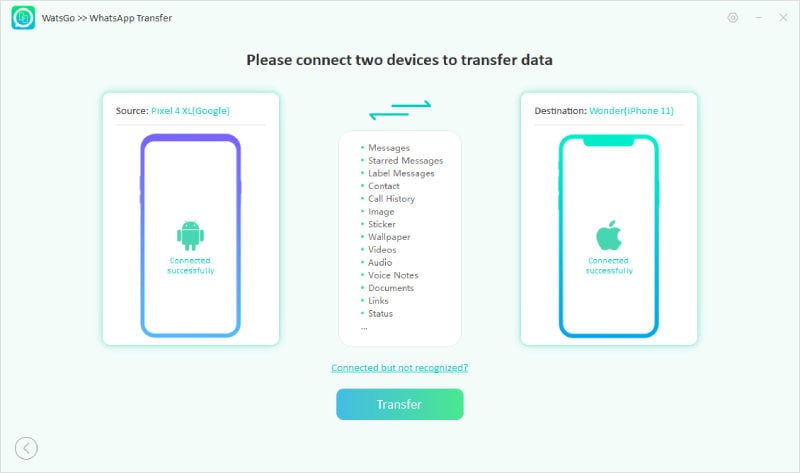 Note: Now the program will remind you that the target device will lose all WhatsApp Data available; press on Continue to move forward.
Step 3. Choose the data you want to transfer on your iPhone and select continue.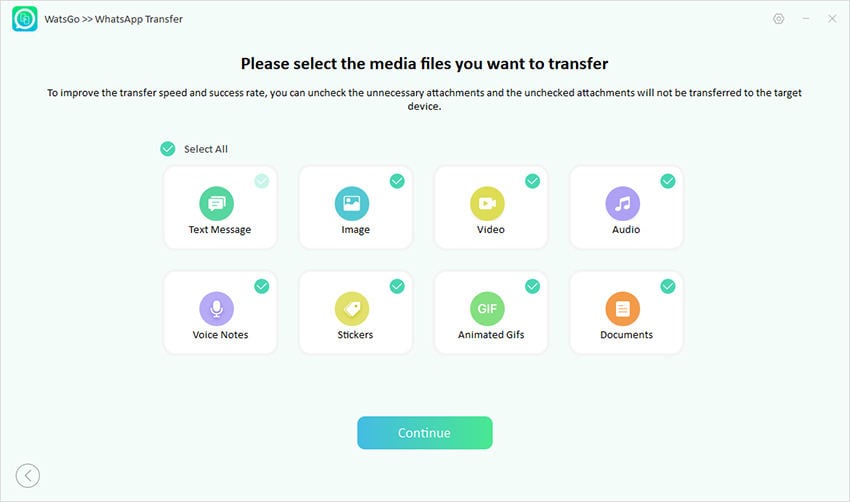 Step 4. Enable the end-to-end Encrypted by following the steps shown in the pic below.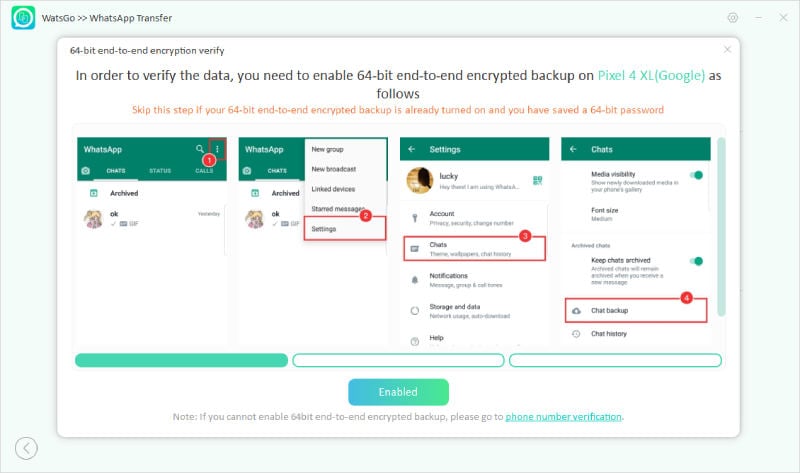 The backup will be generated from the source device; verify the backup with a 64-bit password.
Step 5. Now the process of transferring data will be started; make sure to wait for a while. Once the transfer is complete, the below screen will appear on your device.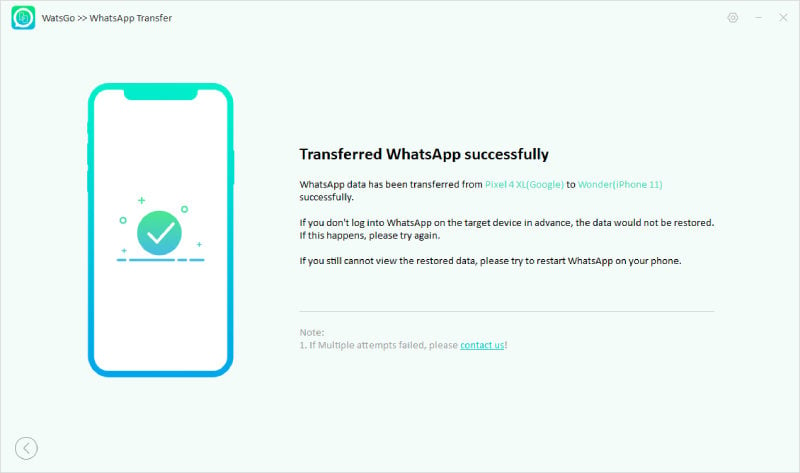 Learned Everything!
And this is the end of how to transfer GBWhatsApp data to WhatsApp. As we have told you in the guide, GBWhatsApp is a good modification of WhatsApp, but this has some disadvantages, so if you have decided to switch back to the normal app with data, then now you know how to do it. Furthermore, in the end, we have also mentioned a third-party program known as iToolab WatsGo – WhatsApp Transfer that will help to transfer your WhatsApp data from Android to iOS or iOS to android with a few clicks.