iToolab WatsGo – One Click to Transfer WhatsApp is one of the best apps for transferring WhatsApp from one device to another. Not only this app helps transfer data, but it also makes sure that you can backup and restore data using it. Since this app is famous, you might see many cracked versions on the internet. In this article, we will guide you about the iToolab WatsGo crack and official versions, so continue reading the article.
Part 1. Basic Explanation of iToolab WatsGo Crack Version
It is an all-in-one WhatsApp transferring app. Using it, you can effortlessly move data from one device to another. Moreover, it is compatible with various devices and ensures you can move the data in one go. However, experts don't recommend using the iToolab WatsGo Cracked because it can cause issues for your device. Also, the cracked versions are unsafe for your device and can damage your important data.
Part 2. Go Get iToolab WatsGo Free License Key before They're Invalid
For the cracked version, you have to get the License key before they are invalid. Many websites offer free license keys, which you can use to activate the application. Here are some iToolab WatsGo license keys you can use to activate your software. Make sure to apply them quickly before they become invalid.
Part 3. iToolab Official Version vs iToolab WatsGo Crack
As mentioned above, the official iToolab tool is better than the crack version. Below is the comparison table, which will help you get more idea about the difference.
| Items | iToolab WatsGo Official | iToolab WatsGo Crack |
| --- | --- | --- |
| Copyright | Yes | No, you will face copyright issues |
| Virus Attack | No, 100% safe | No, High chances of Malware attacks |
| Update | Weekly or Monthly | No, you will not get updates |
| Version | Latest version | Old version |
You can clearly see that the official website is better than the crack one. Apart from that, the iToolab WatsGo Full Version has many benefits. We have mentioned all the benefits below.
Part 4. What are the Extra Benefits of iToolab WatsGo Full Version
Want to know more about iToolab WatsGo full version? Below are the amazing benefits of this app.
1. 👍 Free Download iToolab WatsGo Official Version/Full Version
To download the iToolab WatsGo official version, you can check out the websites below. From these websites, you can get the tool for free. Also, no need to worry about malware attacks before this tool is 100% safe and free from viruses.
https://itoolab.com/whatsapp-transfer-backup-restore/
https://www.softpedia.com/get/Mobile-Phone-Tools/Others/WatsGo.shtml
https://pesktop.com/en/windows/itoolab-watsgo
https://watsgo.en.uptodown.com/windows
2. 👍 30% OFF Discount as Low as $11.87
You can get a 30% discount on the packages on their official website. However, make sure to avail the offer soon because it is available for a limited time. You can use the "WATSNEW03" code to get the discount.
3. 👍 Free to Backup WhatsApp on iPhone without iCloud
As mentioned above, you can transfer data from Android to Android, Android to iPhone, iPhone to iPhone, and iPhone to Android. Also, using this tool, you can easily backup WhatsApp on your iPhone without iCloud.
4. 👍 Free Technical Support Anytime
The technical support of iToolab WatsGo's official website is amazing. They are available 24/7 and ensure you don't face any issues. You can contact them in case of any issues, and they will try to fix your problem as soon as possible. c
Part 5. How to Transfer WhatsApp between Android and iPhone
If you are upgrading to a new phone and want to transfer WhatsApp between Android and iPhone, this tool is a perfect choice. With one click, it can transfer your data from one device to another. Also, you don't have to worry about data loss because it protects your data. Here is how iToolab WatsGo works.
Step 1. Click the download button and install it on your website. You will see different options on the screen but click the "WhatsApp Transfer" button.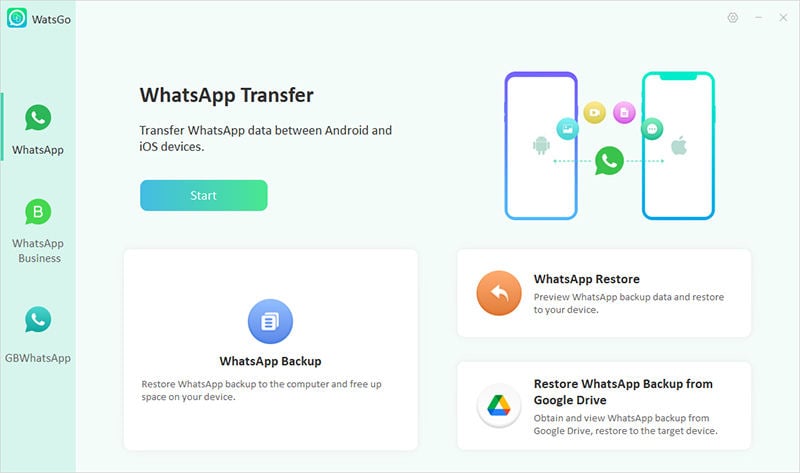 Step 2. Next, connect both your Android and iPhone devices. You can also click the Flip option to change the source and destination of your devices.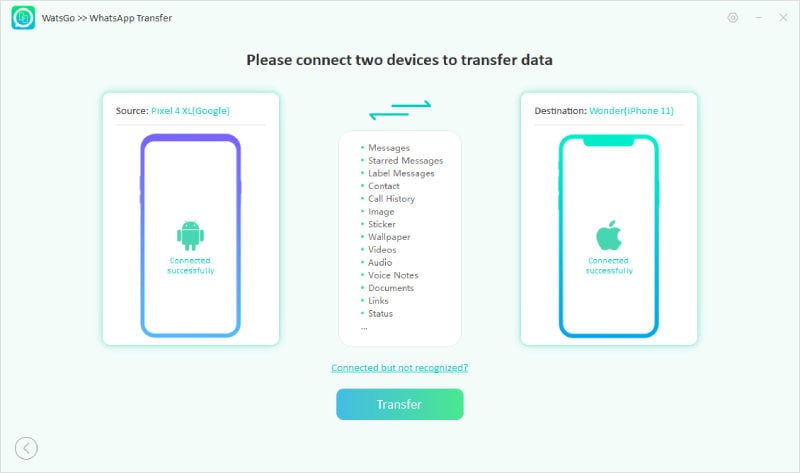 Step 3. Once the devices are connected, enable end-to-end encrypted WhatsApp backup on your device. You can follow the instructions on the screen to do it.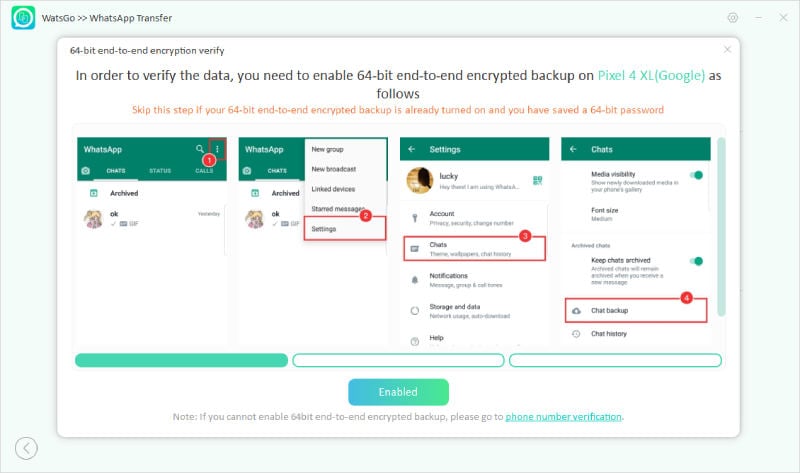 Step 4.Once the data is ready, verify your WhatsApp account and generate a WhatsApp backup on your iPhone. The tool will first convert the data into a format that can be used easily on the iPhone device.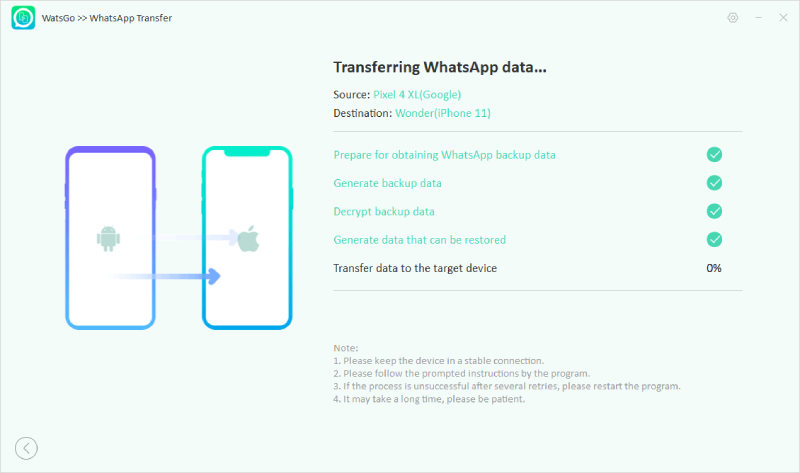 Step 5.You will see the WhatsApp transferred Successfully message on the screen. It means your data has been transferred to your iPhone, and you can now use it.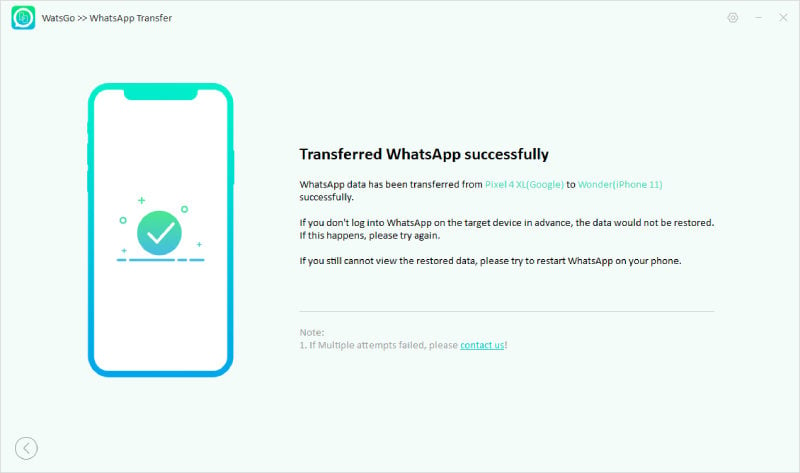 This is how you can use this app for transferring data from one device to another. If you want to transfer data from iPhone to Android, then you can check the website and learn the ways.
Conclusion
These were all the details about the iToolab WatsGo crack version. We would recommend using the official version because it is safe and won't damage your device. Also, the official version has more features than the crack version. Also, the iToolab WatsGo – One Click to Transfer WhatsApp crack is not smooth; you might face many issues during the process.