PCUnlocker is a powerful resource for people who often forget their Windows passwords. The unlock tool helps windows users in resetting forgotten or lost Windows local administrator passwords. You can use this tool to unlock domain administrator and other user account passwords.
It helps you to regain access to your locked PC without installing Windows operating system again. In this detailed guide, we'll be discussing the fantastic PCUnlocker windows 10/11 and how to use it. However, if you want to choose a cheaper and easier to use tool, then we'll take a look at iToolab UnlockGo (Windows) – a valuable resource to unlock your device with ease.
Does PCUnlocker Windows 10/11 Safe?
The most straightforward answer to this question is "Yes." The PCUnlocker works for Windows 11, 10, 8, 7, Vista, XP and 2003/2008/2012/2016 servers and its full version is a safe option as experts tested this fantastic tool on different anti-viruses. The unlock tool is safe to use on your Windows PC as it keeps all your data protected.
While buying the paid version, you don't have to worry about losing your credit card details. For your money, you'll receive the original tool rather than getting scammed.
PCUnlocker Windows 10/11 Free Download
As stated above, the PCUnlocker is a paid tool, but you can use its trial version to check whether it works for you. To download the PCUnlocker full version, just click on this link. This tool can easily reset and unlock the forgotten Windows password; you just need to install the software on the compatible operating system on your PC.
PCUnlocker Free And Paid Version
If you're confused about the features of having paid version over free or free over paid version, this section provides you with brief information. However, it's worth noting that the trial version has limitations. The trial version allows you to look at all your accounts rather than allowing you to remove the passwords of your Windows login account.
How to Use PCUnlocker Windows 10/11?
If you decides to try this Windows password recovery tool, please follow the steps below to get started!
Step 1. Create a bootable CD/DVD or USB flash drive
Download the PCUnlocker on any other computer that is easily accessible to you. Unzip the downloaded file and look for an ISO image file named PCUnlocker.iso. You need to burn the ISO image using the BurnCDCC program to a blank CD/DVD, or you can also burn it on a USB flash drive using ISO2Disc.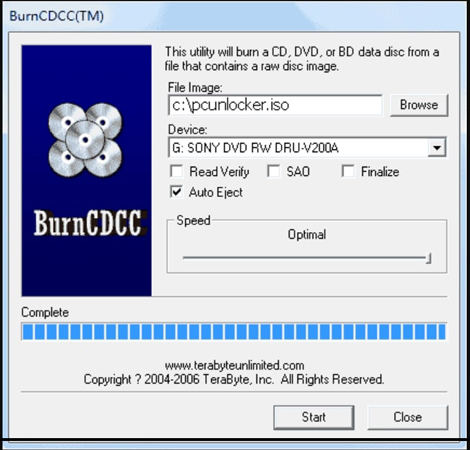 Step 2. Set BIOS to Boot From CD/DVD or USB flash drive
Insert the bootable disk to your locked computer and boot it. Once your computer turns on, you need to check the boot-screen for setup keys like DELETE key, F8 key, or F2 key to enter BIOS Setup Utility.
Next, select the BOOT menu and set the Boot Device Priority option. You need to set the 1st Boot Device to CD/DVD-ROM to create a bootable CD/DVD. Instead, you need to select the 1st Boot Device to Removable Device if you have a flash drive. In the end, you need to press the F10 button to save your changes.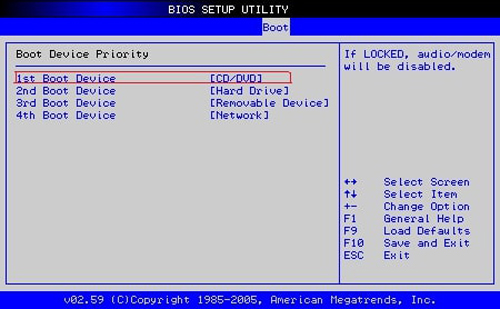 Step 3. Boot Your Computer from CD/DVD or USB flash drive
Now, you need to insert the newly burned CD/DVD or USB flash drive on your locked PC. Now, restart the computer, and the boot loading screen will appear immediately.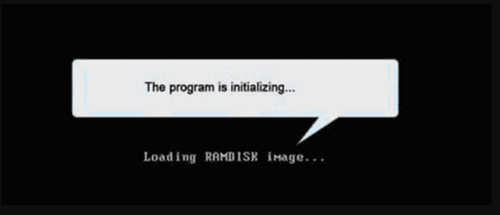 Note: Once the boot process completes, the PCUnlocker main window will appear on the screen.
Step 4. Reset Windows Password
The final step is to reset the Local Admin/User Password. You must select the Windows SAM registry file; PCUnlocker Windows 10 will automatically list all user accounts. Now, you need to click on the Reset Password button to reset your password to blank.
Step 5. Reset Active Directory Password (For Domain Controller)
Now, you need to select the ntds.dit file (Windows Active Directory Database). It's time to click on the Reset Password button to reset the password to anything you like.
In the end, you need to restart the button, take out the bootable device, either CD or USB Flash Drive, and then enter the new password to log in.
PCUnlocker can reset Windows password for you, but the complex procedure making it hard to use for new users, and its UI design is not friendly for people, so here UnlockGo for windows gives all of you guys a special experience on locking Windows passwords. It suits for new users and people have technical skills, overall, it's the best choice for all of you.
The Best PCUnlocker Alternative – UnlockGo (Windows)
Like the PCUnlocker, UnlockGo (Windows) is an amazing premium tool with a simple interface for unlocking your locked PC. The password recovery software can help you recover your PC without losing your essential data. Here is how to use this tool to unlock your computer within a few easy steps:
Step 1. Install the UnlockGo for Windows on another accessable computer and open the program. Next, launch the tool and insert the USB or CD and select the boot media, click "Next".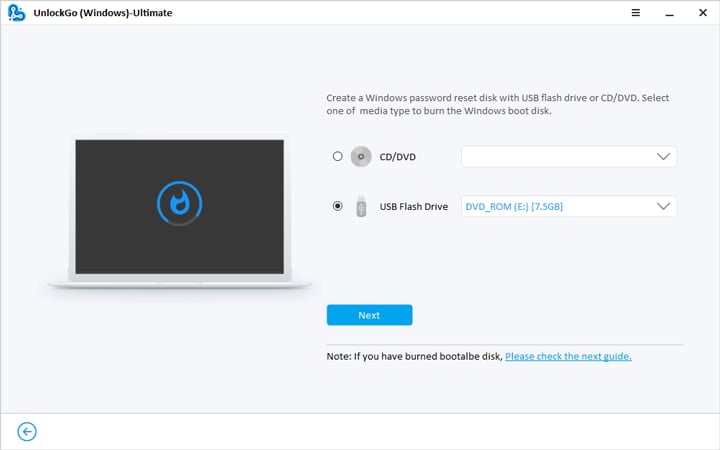 Step 2. Once the disk has been burned successfully you will see the on-screen instructions. Find out the boot key to enter your computer BIOS menu.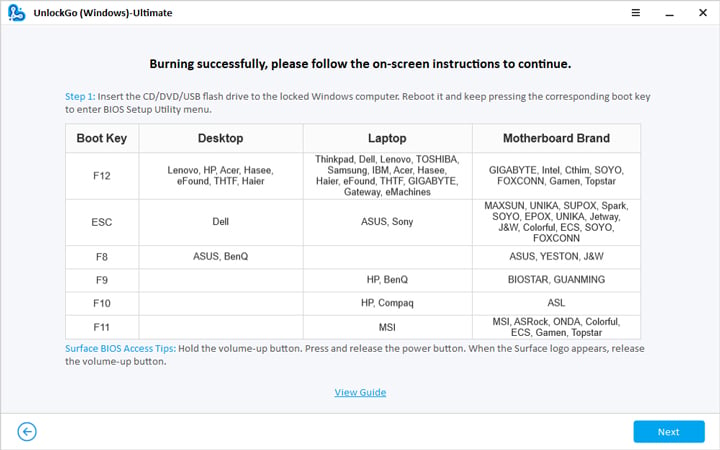 Step 3. Now, insert the bootable disk to your locked computer and reboot it by keep pressing the boot key, once you entered BIOS menu use the arrow key select Boot option and in Boot Device Priority select your disk name. Press F10 to save and exit.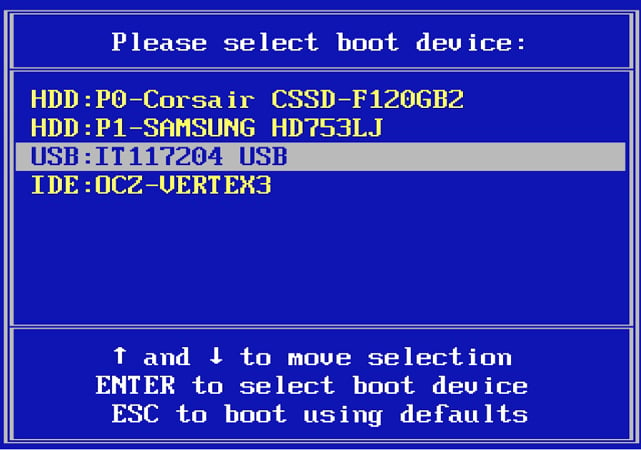 Step 4. Select the Windows system and account and choose "Reset Account Password" to enter the new password. Once you've reset the password, your computer will restart. And you can use the new password to access your computer!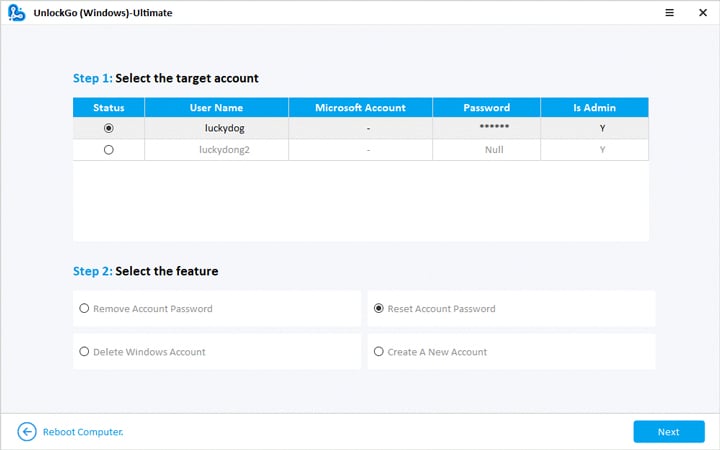 Summary
If you've forgotten your Windows Windows 11/10/8/8.1/7/XP/Vista and Windows server password, then there is no need to worry anymore. We've reviewed the amazing PCUnlocker and an exceptional tool. We've discussed whether it's safe to use PCUnlocker for removing account passwords. Moreover, we've also explained the UnlockGo for Windows to unlock your Windows PC within quite a few easy steps.