Have difficulty in getting to the administrator password in the current version of windows and have no clue about how to get on to it? Well, right now, users consider to show administrator password using cmd in windows 11/10/8/7. But still, some have no clue how to do the same.
If this is the case with you, here we are. In this read, we are discussing all the details, considering it so that you can also have your hands on the same. As for the situation that it doesn't work on your computers, UnlockGo for Windows, a professional windows password manager, will help you reset/remove administrator password, and even create/delete admin account! Let's get started!
Can I Show Administrator Password Using CMD in Win 11/10/8/7?
Well, if you are looking forward to using CMD to get administrator user and password, unfortunately, the same is not possible. This is not possible because the password is not allowed to be visible for the default administrator account. But for the admin account, a user can reset the password with the help of a command prompt. Don't feel disappointed because various tools are there that can be helpful in doing so.
How Do I Show/Find Administrator Password Using CMD?
If you are in confusion how to find administrator password windows 10, then we suggest you be a bit patient for a while. You might be thinking, why are we saying so? This is because the methods are there, helping you in dealing with it easily. But these methods do require time and patience. Let's have a look at the best solution that will help you in doing so easily!
To find and change password with the help of Command Prompt, the steps you need to follow are:
Move to "Windows 10" desktop and hit on the "Start" button.
Type "Command Prompt," and with the help of right-clicking, "run it as administrator".
Now type the command "net user" and hit on the "enter" key.
Now you are supposed to change the account, and for the same type, the command "net user USERNAME *
Be sure to change the username in the command to see the visible changes.
Mention the "new password" and hit on the "Enter key".
Confirm the password by writing it again and hitting the enter key.
This method is not 100% working due to the different version of windows system and is complicated to operate without admin rights. So the alternative way when CMD not working or without admin rights.
Alternative Way to Show Administrator Password Using CMD
If you are searching out for the methods that can help you to get the administrator password, perform the reset and all the user name will show up on the pop-up window. Resetting will allow you to set up the password of your choice, and there will be no problem at all. The best part is if users find it one of athe difficult tasks, but in reality, it is not.
Yes, you read it right. Some tools are there that will be helpful in how to find administrator password windows 10. You can choose UnlockGo – Windows Password Reset Tool.
This tool is one of the best tools available helpful in resetting the admin password. Only one click is required by the user to do so. This tool is available for Windows 11/10/8.1/8/7/Vista/XP (32/64 bit) & Windows Server. Not only for administrators, but this tool will also help you to reset the password for the accounts available on Windows.
To reset your password with UnlockGo for Windows, these are the steps that you can follow:
Step 1
Download UnlockGo for Windows on the PC that is accessible and download it from there. Afterwards, install it and launch it. Once launched, insert a bootable USB/CD/DVD into it to burn.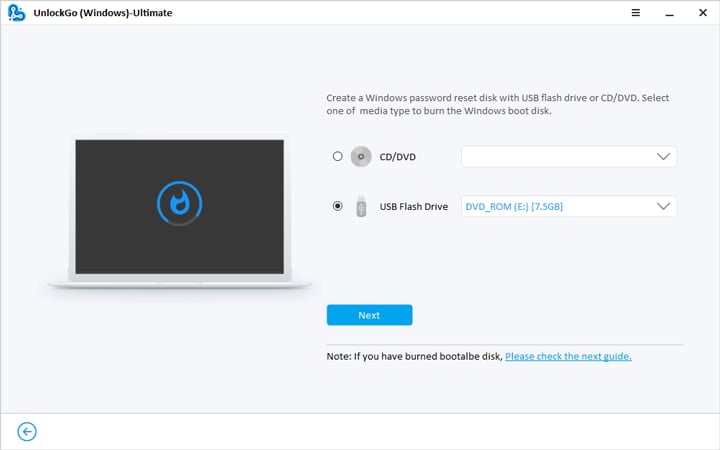 Step 2
After burning, insert the boot device into the computer that you want to see admin password, and then follow the on-screen instructions to enter bios menu. In the menu, select boot tab and boot device priority to set it, finally press F10 to save and exit.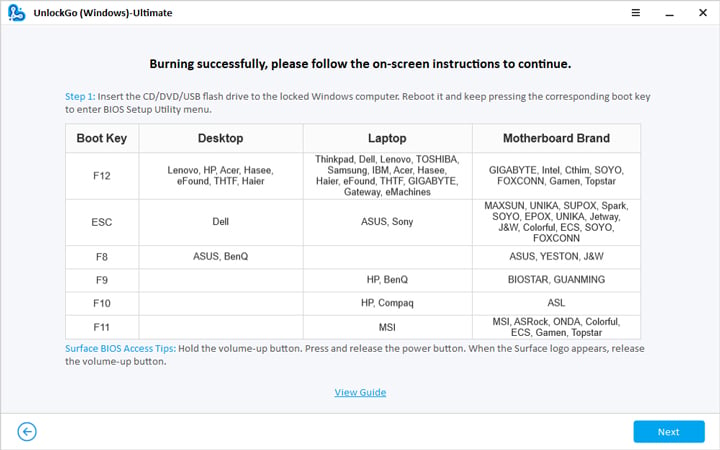 Step 3
Now it's time to choose windows system to reset/remove windows account admin password.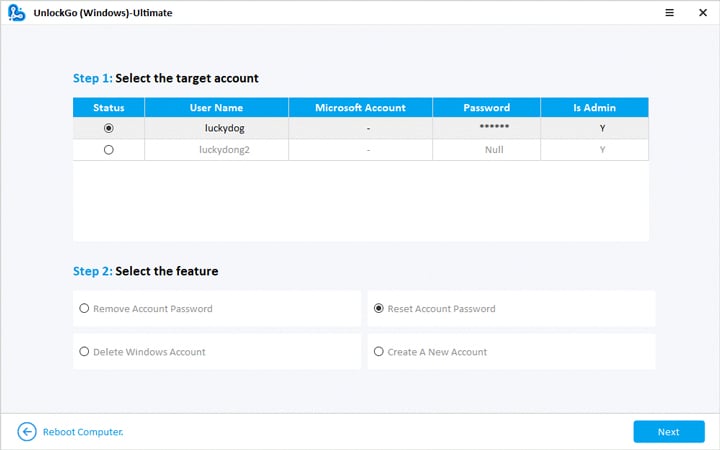 In these 3 simple steps and a few clicks, you can reset/remove admin password without admin rights. Many people still ask How to Get Administrator Privileges, then they can get the ideal answers.
Conclusion
When a user wishes to show administrator password using CMD, unfortunately they cannot do it directly because Windows 10 do not allow them to do so. But with the help of tools, the same is possible. The tools helpful in unlocking the windows are highly in demand and serve the needs of the user. Be sure to choose the best tool like UnlockGo for Windows so that the same can be done easily, and you will not face trouble like how to view admin password in windows 10.
Reset Windows 10 Password without Using CMD
Reset/Remove Windows passwords with a bootable usb and another accessible computer
Create a new account or delete account without logging in
Support Windows 11/10/8/8.1/7/xp/vista and Windows server 2022-2011