Suppose you accidentally drop your Android device on the floor, and it gets cracked! Or your Android system crashed with unknown reason. You probably will be worried about the data and documents available on the phone as you can't view them due to the damaged phone.
Well, there is no need to get too much worried about the issue as we will discuss some effective ways to help you retrieve your data in a quick time. Let's see how to Android broken data recovery is achieved.
Questions about Broken Android Data Recovery
Let it be apparent! If your Android phone screen is damaged, you can still use the professional Android data recovery software to get your data back. However, before recovering data from broken android phone, you need to know the degree of breakage of your phone. Because different degrees of damage correspond to different solutions.
Question 1: Can you recover data from Android broken screen?
There are many useful ways for broken Android data extraction. However, some way requires USB debugging enabled. If your Android phone totally damaged, you can only recover data from SD card.
Question 2: Can you recover data from broken Android system?
Yes. If your phone suddenly dies and there is no physical damage. Then it may be due to system reasons. No worry, you can also recover data from broken Android system even without backup. Bascially, all your Android data can be restored.
Now, let's focus on the workable solutions to recover data from Android phone with broken screen.
Actionable Ways for Broken Android Data Recovery
If your have a broken screen Android phone or a dead Android phone, this part will show you all the workable ways.
Method 1: Using USB OTG Cable
You are required to use the USB OTG cable to recover the data from the device. It is a specification that facilitates Android phone users to connect their device to another device such as a mouse and use it to control their Android device.
Steps to use:
Connect your Android to the mouse via USB OTG Cable.
Control your device using the mouse and then trasnfer your data.
It will allow the user to transfer the file wirelessly to another Android phone to the cloud-based service using data transfer applications or Bluetooth.
Method 2: Using File Explorer
As your phone is responsive, you can still access the device's internal storage and manually copy the data from the Android device to your PC or laptop. You also need to understand that some files cannot be recovered, such as text messages and contacts, because they may become unreadable after applying the copy and paste option. All you have to do is observe the basic steps listed below to recover data from android phone with broken screen free, such as audio, videos, and pictures.
First, you need to connect the damaged Android device to the PC, which is authorized while enabling the process of USB debugging.
Visit "This PC" > [Android phone name]"Internal shared storage".
Look for the folder and copy to save the content you are looking to recover to your PC.
Paste the copied content on the PC and get your data back in quick time.
Method 3: Using SD Card
If you have saved your Android data on an SD card, things get easier. You can easily recover data from broken Android screen. Also, it's the only way to recover data from dead Android scrren. Follow the steps to get back your data.
Remove your SD Card from your broken Android, then insert to other Android device.
Search "File Manager" folder and open it, then go to SD Card.
Select all your data and click on "Copy here".
Now, go to "Internal Storage" folder and paste all your data here.
These are some of the easy methods through which you can re-access your data when your touch screen is not working.
100% Working Way for Broken Android System Data Recovery
iToolab RecoverGo (Android) is a practical and reliable Android broken screen data recovery software available on Wondershare official website. You can easily download the software to retrieve your data that is lost or when your Android device is broken. The most salient feature of the tool refers to the fact that it is compatible with more than 6,000 Android phones and recovers the data in a quick interval of time.
Steps on how to get data off a broken phone Using RecoverGo (Android)
Step 1 Connect the Android phone to the PC by using the USB Cable. Launch the software on PC and choose "Recover Deleted Data from Device".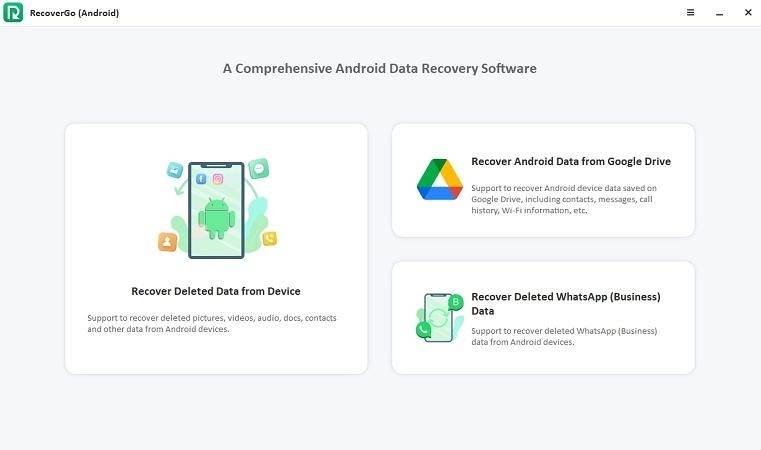 Step 2 Before RecoverGo detecting your device, you should follow the on-screen steps to enter USB debugging mode.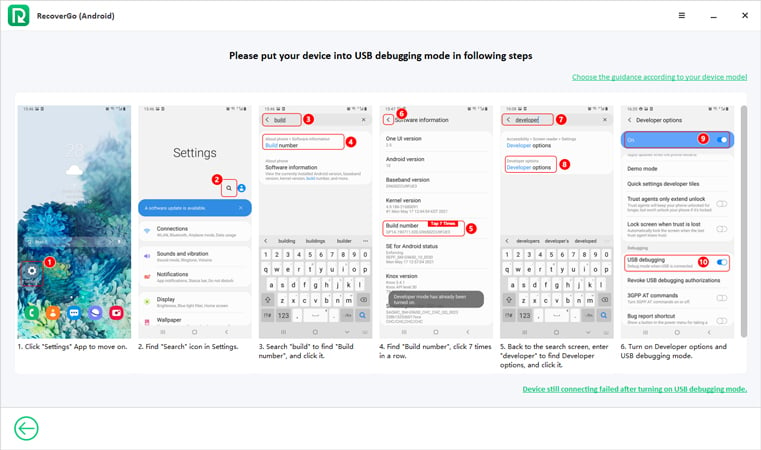 Step 3 Now, choose the file types and click "Scan" button, RecoverGo (Android) will start scanning the files on your broken Android device.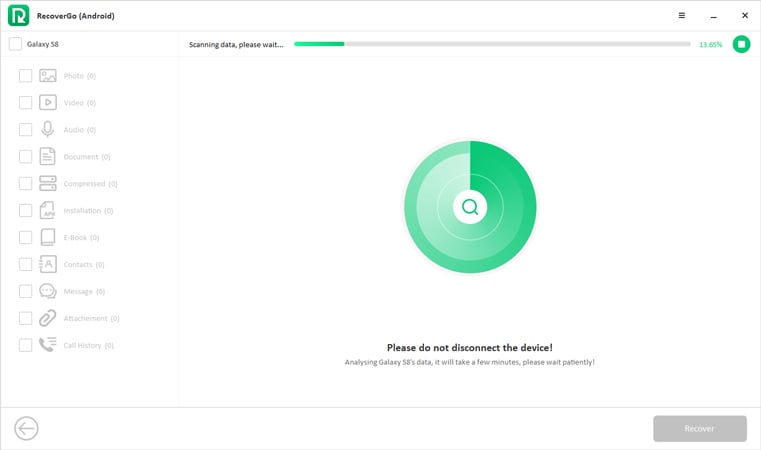 Step 4 After scanning completed, you can choose the files that you want to recover and click "Recover" to get the job done.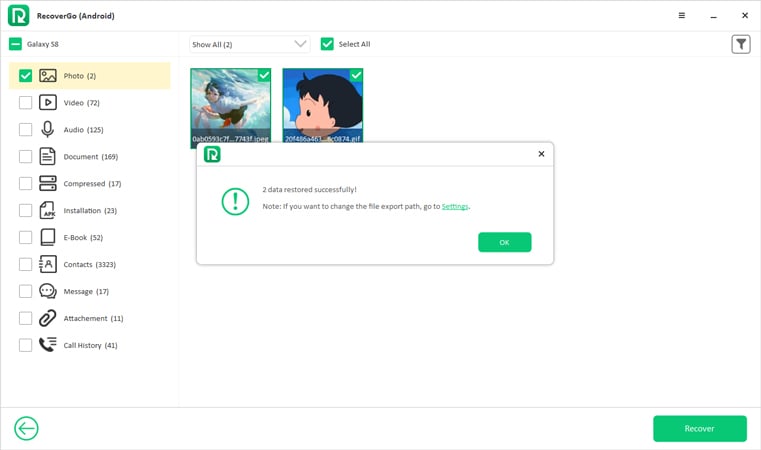 Conclusion
Therefore, if you are worried about your data when your Android device is damaged, you need to download RecoverGo (Android) and get your data back in a quick interval of time. However, note that if the phone is completely damaged and can't turn on, you will not be able to fetch your data back by using any software. If you have any doubts or suggestions about the information, do let us know by commenting on the box given below!