If you have lost photos on your Samsung device, don't worry; the lost or deleted photos can be easily recovered if you know the right methods. No matter how you lose the photos, there can be multiple reasons, but data recovery is possible and quite easy. In this article, we will explain how to recover deleted photos on Samsung devices. We will discuss different recovery methods that you can try. Whatever Samsung models you have, you can try these methods for Samsung photo recovery.
How to Recover Deleted Photos from Gallery Samsung
Samsung has introduced an amazing feature called Recycle Bin. It allows you to restore the deleted photos and videos from the folder.
When you delete anything from your gallery, it is not permanently deleted; instead, it lands in the Recycle Bin folder. You can recover your files from the folder within 30 days. After the said time, the data is automatically deleted from the Recycle Bin. For this special feature, your Android software should be updated to the latest.
Open the Gallery app. Tap on the menu icon.
You will see the Recycle Bin option there. Tap on it.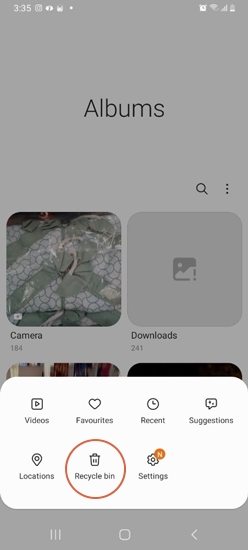 If there is any deleted image, you will find it there. Select the images that you want to restore.
Finally, tap on the Restore button at the bottom of the screen.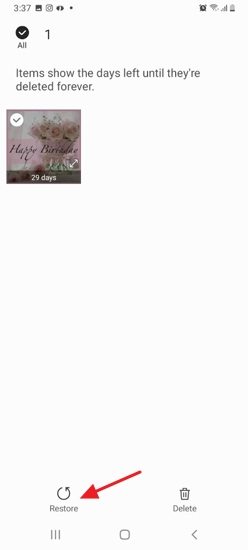 If there is no photo in the Recycle Bin folder, you can follow the next method for Samsung photo recovery.
How to Recover Permanently Deleted Photos from Samsung
The above method works well and is quite easy, but if 30 days have passed or you have also deleted the photos from Recycle Bin, then the only option is a data recovery tool. A third-party data recovery tool does not require any backup, and there are no prerequisites. iToolab RecoverGo (Android) works perfectly in this case.
It is data recovery software specifically for Android devices. It works on 6000+ Android models and all software versions, including Samsung phones. It can recover more than 11 types of data without any hassle. Even if your smartphone screen is not working, it can help in recovering your data.
Steps to Make Samsung Deleted Photo Recovery Using RecoverGo (Android)
Step 1: Install the software on your computer, launch the application and connect your Samsung phone to the computer. On the main screen, you will have three options. Click on "Recover Deleted Data from Device".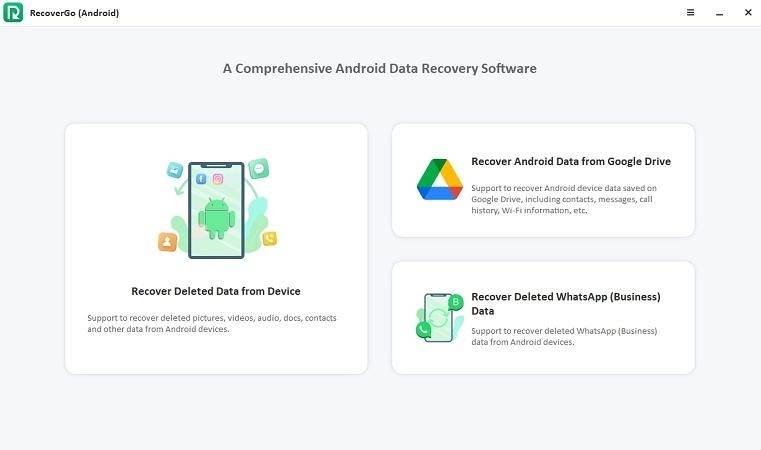 Step 2: You will see the data types you can recover using RecoverGo (Android). Select photos or whatever you want. Click on the Scan button to start the process.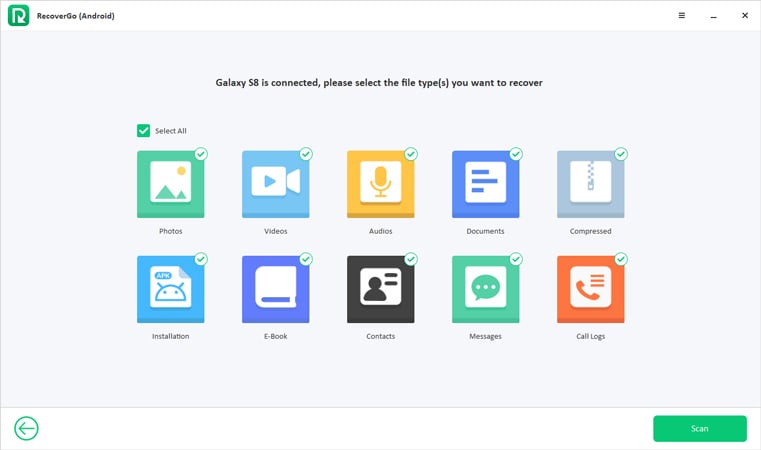 Step 3: Now, follow the on-screen steps to enable USB debugging to move on. If your USB debugging has enabled, you can skip this step.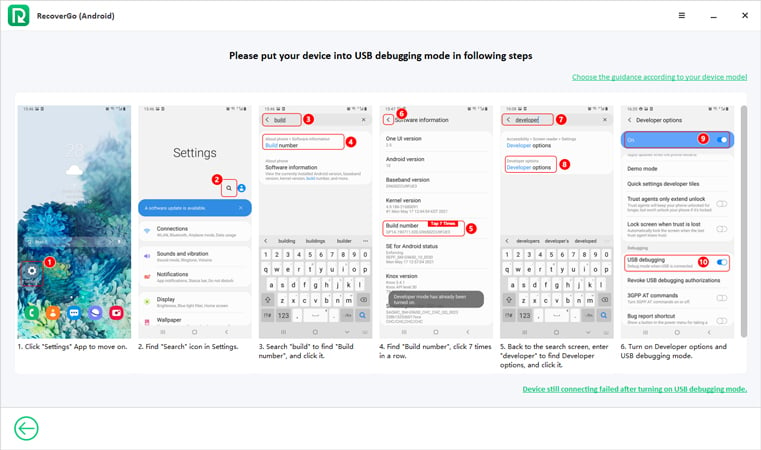 Step 4: The scanning will start, and it will take a few minutes to find all the files. Make sure to keep your device unlocked during the scanning process.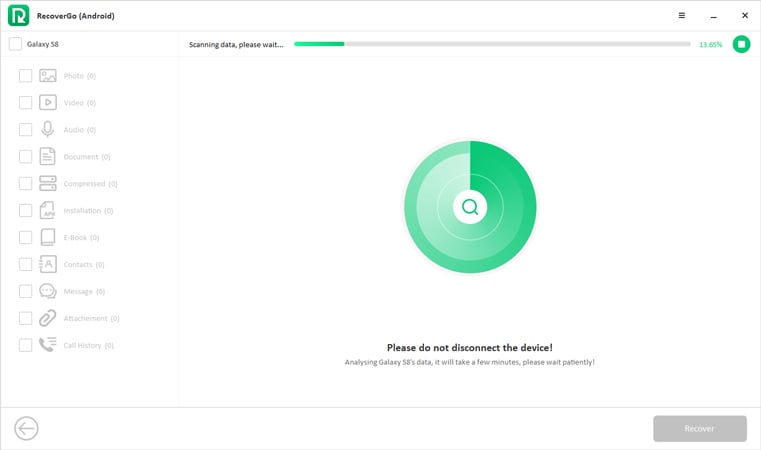 Step 5: After scanning, you will see all your files there. Select the photos that you want to recover and click on the Recover button. It will restore all the selected files to your computer.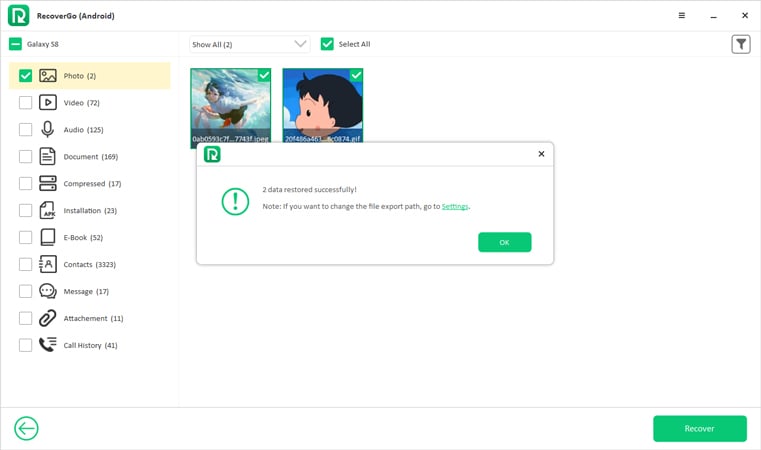 It's a quick and safe way to recover deleted photos on Samsung device. Also, it doesn't require a backup. If you lost photos due to factory reset or system crash this way will be the best choice for you. All your lost photos can be recovered. But if you've backed up photos to Samsung Cloud or Google Drive you don't have to use the third-party tool. The following part will show you how to restore deleted Samsung photos from backup.
How to Recover Deleted Photos on Samsung with A Backup
If you have a backup, you can recover the deleted photos easily without using any third-party tool. All you need to do is access the backup and restore the data. In a Samsung device, you have two options for creating backups. One is the Samsung Cloud, and the other is Google Photos.
1) Restore Deleted Photos from Samsung Cloud
Samsung users can use 5GB of free Samsung Cloud storage space. It can be used to sync the data that creates a backup automatically. Your photos and videos are automatically updated in the cloud. If you have ever enabled Samsung Cloud, you can restore the data through the following steps.
Go to the Settings app on your Samsung device.
Tap on Accounts and Backup.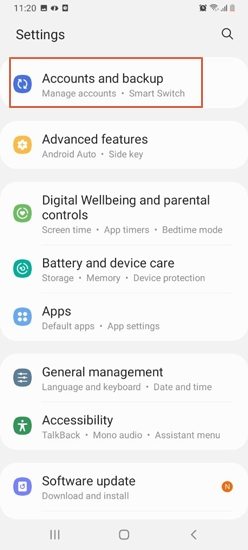 Tap on Samsung Cloud.
Tap on Backup and Restore.
Tap on Restore Data.
Select Gallery and tap on Sync.
2) Restore Deleted Photos from Google Photos
Samsung Cloud might not be enabled on your device, but Google Photos is a go-to application for all users. If you have backed up your photos on Google Photos, you can recover them from there.
Go to the Google Photos application on your device.
If you are logged into your account, you will see your photos there. If not, you can log into your account.
Tap on the photo that you want to restore. Tap the three-dot icon at the top right.
Tap on Download. The photo will be downloaded to your device.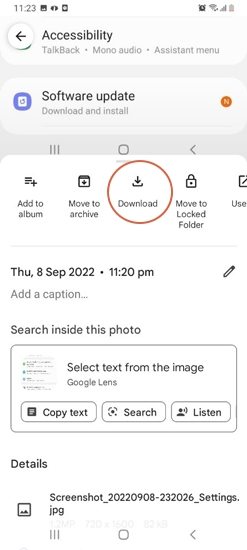 These were the simplest methods to follow if you have any backup. If there is no backup, you can use iToolab RecoverGo (Android).
Summary
It is quite easy to recover deleted photos from a Samsung device, and you can do it on your own. We have explained how to restore deleted photos on Samsung. There are different ways to recover deleted photos. First, you can check in the Recycle Bin folder. You can find your deleted photos there. After that, you can try to restore the backup of Samsung Cloud or Google Photos. But if there is no backup, the only solution is a data recovery tool, iToolab RecoverGo (Android). It can recover all your lost and deleted files without any hassle. You only need to follow a few simple steps, and your data will surely be recovered.