Snapchat is one of the most popular apps for taking photos and videos. It offers many interesting and funny filters that even attract users more and make them stick with the app. But with so many interesting features, the app also has some drawbacks. The major drawback is; that it cannot save photos to the camera roll directly, though it only saves them in memories.
To save photos to the camera roll, you need to do it manually. Dealing with problematic Snapchat photos on your iPhone or Android device is a common concern. If you have accidentally deleted or lost some important photos, there are ways to recover them. This article will give you practical ways on how to get deleted Snapchat photos back on iPhone and Android devices.
Part 1: How to Recover Snapchat Photos on Android
Recovering Snapchat photos for Android users seems to be a little difficult. If this is creating frustration in you then you have landed at the right place. Here, we will discuss some of the best ways of recovering Snapchat photos on Android devices:
1. Recover Snapchat pictures from Google Drive (Backup only)
Almost all Android phones provide the option of auto-sync, you need to enable it. With this, all the photos of your Android device will be backed up on the cloud storage. Google drive is the prior option for cloud backup. You can get the Snapchat photos from Google Drive even if it gets deleted from the phone. So, let's browse the steps for this approach:
Enter valid credentials of Google account and tap on Sign in.
Now, open the folder of photos from the drive or navigate through the recent backup folder. All the photos of your last backup along with those uploaded on Snapchat will appear on the screen.
Click on the photos you wish to recover and then hit on the "Restore" option.
2. Recover Snapchat pictures from cache files
Android phones by default save the cache memory of all the apps including Snapchat on the phone storage. You could easily recover the deleted Snapchat snaps from there, here's how:
Open "File Manager" from an Android device.
Jump through the options "Android" > "Data" > "com.snapchat.android".
Now, head over through the "Snapchat Cache" folder.
Tap on the "recieved_image_snaps" to browse the deleted photos.
Click on the photos you wish to recover and then click "Recover".
3. Recover Snapchat pictures with RecoverGo (Android) that weren't backed up
RecoverGo (Android), trusted by piunikweb.com and twitgoo.com ect, is the best way to recover your Snapchat photos for those user who saved Snapchat photos in Android internal storage or SD card. If you formatted your device and lost all your photos please follow the steps to get your pictures back.
Step 1: Install and launch the program RecoverGo (Android) on your computer. Tap on "Recover Deleted Data from Device".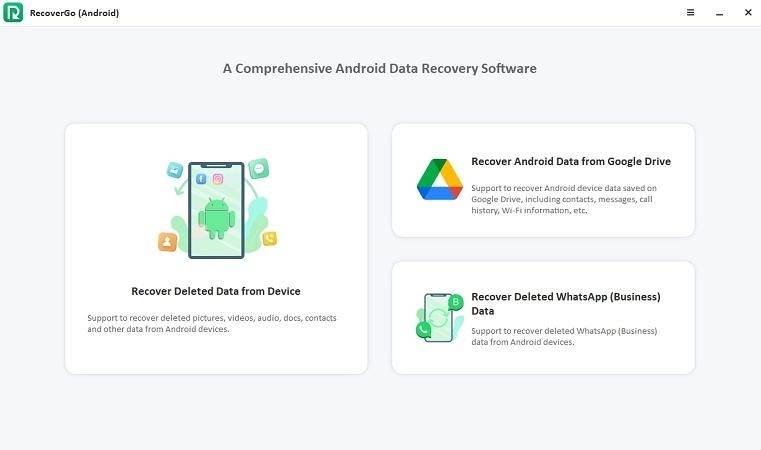 Step 2: Then connect the Android phone with the computer with the help of a USB cable. It will display all the supported files, choose the type of file and then hit the "Scan" button.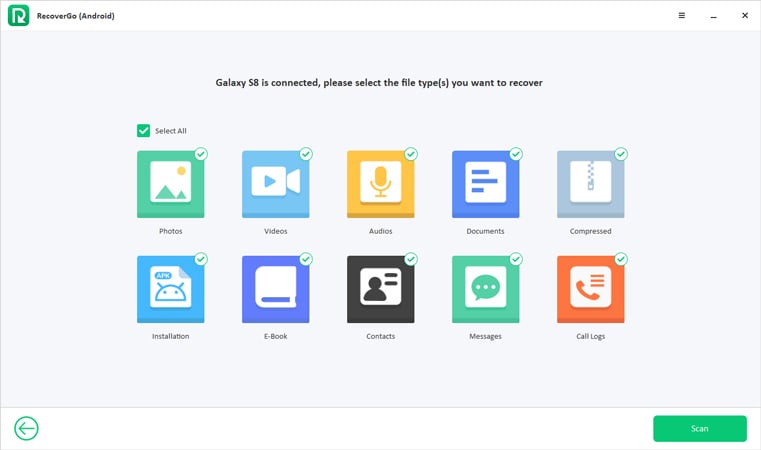 Step 3: Now, put your Android into USB debugging mode by following the steps given below.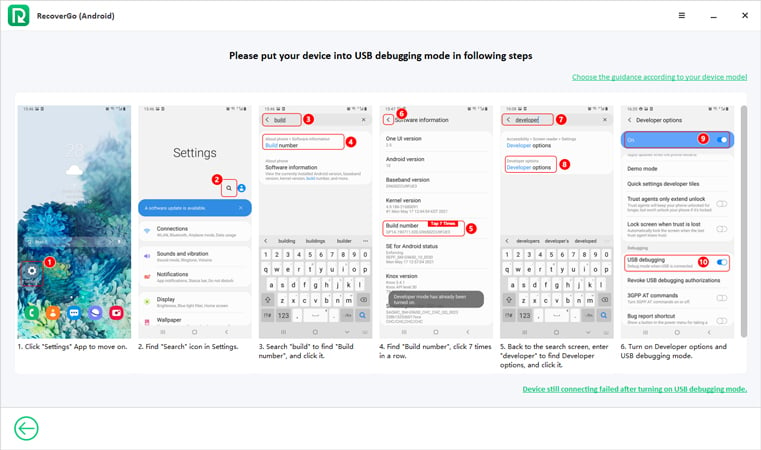 Step 4: After scanning, you can now choose your data and hit the "Recover" option. Wait for a while to get your recovered files such as Snapchat photos back.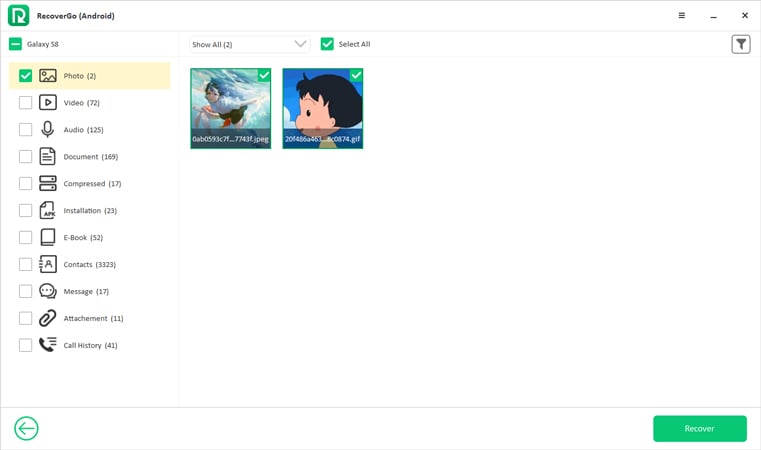 4. Recover Snapchat pictures from mydata.zip
To use this approach for recovering Snapchat pictures, you need to send request to Snapchat team, download the account data in the form of mydata.zip and then, you need to extract and follow the below steps to restore the pictures:
Open Snapchat and head to its "Settings". Go to "My Data" option and then login.
Choose Deleted memory option and then press "SUBMIT REQUEST" button.
You will receive an email within 24 hours. Tap on the download link to get navigated to "My Data" page.
Now, extract the file "mydata.zip" on your Android phone. After the extraction is done, a new folder will be formed and appears on the screen.
Click on the folder and then open index.html.file. Head on to the "Photos" option from the left panel.
All the deleted Snapchat snaps will appear on the screen. Choose the photos you wish to restore and click on "Recover".
Part 2: How to Recover Snapchat Photos on iPhone
If you have misplaced or deleted a Snapchat photo, you can easily recover it and put it back on your iPhone. Read on to learn how to retrieve Snapchat photos and videos on iPhone using different ways.
1. Recover deleted Snapchat photos from memories
Memories are where you can keep your snaps and stories saved. From memories, you can share those saved pictures with friends and recover and export them to the camera roll. Here's how you can do this:
Open the Snapchat app from your iPhone device. Go through "My Profile" > "Settings" > "Memories".
Wait till the backup gets completed.
Now, you can export the backed-up photos to the camera roll.
2. Recover deleted Snapchat photos from iCloud backup
iCloud backup is also one of the convenient ways to recover deleted Snapchat photos from iPhone devices. So, let's know the steps for the same:
Navigate through the "Settings" menu from your iPhone. Then tap on "General" > "Reset" > "Erase All Content & Settings".
Type the credentials of iCloud and then again tap on "Erase All Content and Settings".
Now, your Apple device will automatically get restarted and a screen with the name "App and Data" will appear.
Tap on the "Restore from the iCloud Backup" option and hit the iCloud backup file.
The device will restore data from the backup automatically. Now, you will be able to access your restored Snapchat photos.
FAQs
Q1: How to recover my eyes only pictures on Snapchat
If you are looking for ways how to recover my eyes only pictures on Snapchat iPhone, then follow:
Visit the profile section of your Snapchat account. Then, further click on the "Settings", "Privacy Section", and "My Data" options one by one. At last, sign in to the account and then submit a request for recovering Snapchat's eyes-only photos.
Q2: How to recover Snapchat photos after uninstall
Generally, it will restore your snapchat photos from Google Drive when you re-install Snapchat with the same phone number.
Conclusion
If you are looking to recover your Snapchat photos and videos on Android and iPhone, then you might have found the solutions. Whether you have lost them by accident, or want them back for some reason, try these methods. Even though all these methods can help you recover Snapchat pictures with ease, it's hard to say which one is truly the best for any particular situation. Not all the methods might work in every situation and are equally effective. So, try each one to figure out which one works for you.