From calls to entertainment purposes, we are all highly dependent on our smartphones. What if you accidentally deleted Samsung Galaxy phone logs and now you need to retrieve the call history? Professional users make hundreds of calls every day, and their call history is an important factor for them. Call logs keep track of calls that you received and made. Even if you did not delete call logs intentionally or unintentionally, here are some causes that may cause the loss of call logs:
Broken Android device or damaged hardware
Call logs are lost due to viruses or bugs in the OS
You made a mistake and deleted all logs instead of specific ones
If any of these issues caused the deletion of the call logs or call history, there are some ways to restore the call logs and the history. You can create a backup of your phone and use the recommended methods for smooth retrieval of the records.
How to Retrieve Deleted Call Logs on Samsung Galaxy?
If you own a Samsung Galaxy phone, you are lucky, as we have created this guide to discuss the best methods for the highest data retrieval success. We will narrow down our guide to the 3 popular methods.
Way 1. Retrieve Deleted Call Log with RecoverGo (Android)
Using a 3rd party Android recovery tool can make your job a lot easier. Without any technical steps or knowledge, you can easily restore your lost files, media contents, chats, and call logs within minutes. RecoverGo (Android) can help you to retrieve almost 11 different file types. Let's see how to use this powerful tool to recover deleted call history with ease.
RecoverGo (Android) – Retrieve Deleted Call Logs
Retrieve deleted call history and call logs without previous backup file
Recover lost or deleted media files, videos, images, and other file types
Get your deleted Whatsapp chats back, and you can even restore stickers and other settings
Save your phone data from phone to PC, and works fine with more than 6000 Android devices
Step 1 Connect your Samsung Galaxy to your laptop/computer.
Simple wireless or wired connection options can be used to connect your Samsung Galaxy to your computer. Install and launch the tool and choose the "Recover Deleted Data from Device" option from the main screen.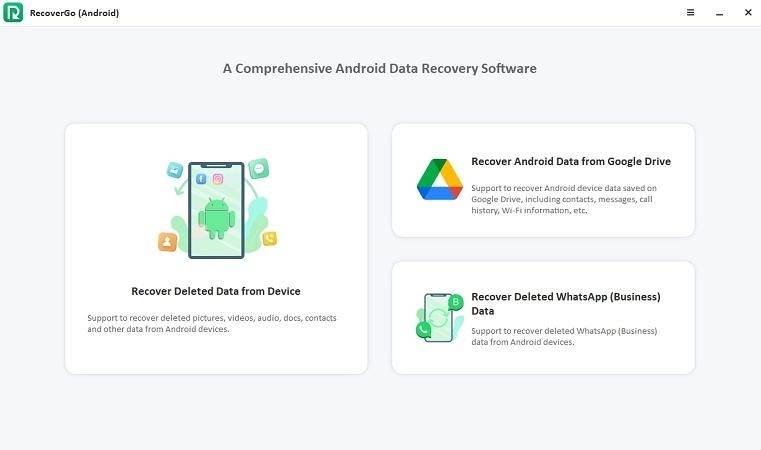 Step 2 Scan your Samsung Galaxy for Deleted Call Logs.
You can choose any single file type, like call logs, or you can perform a scan for different file types by selecting the needed file types.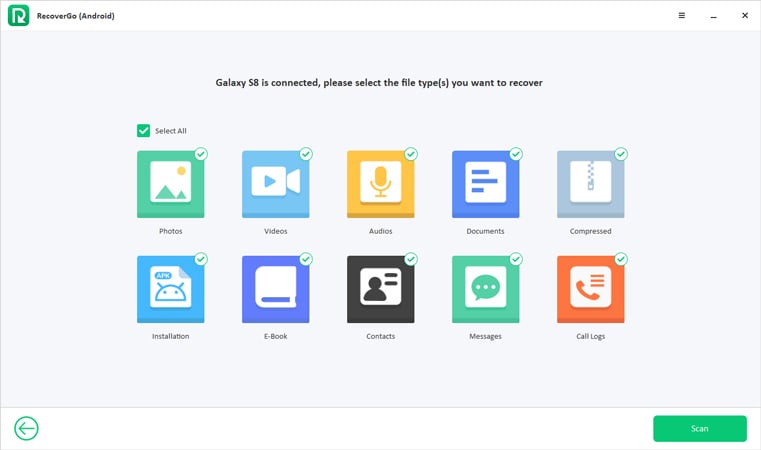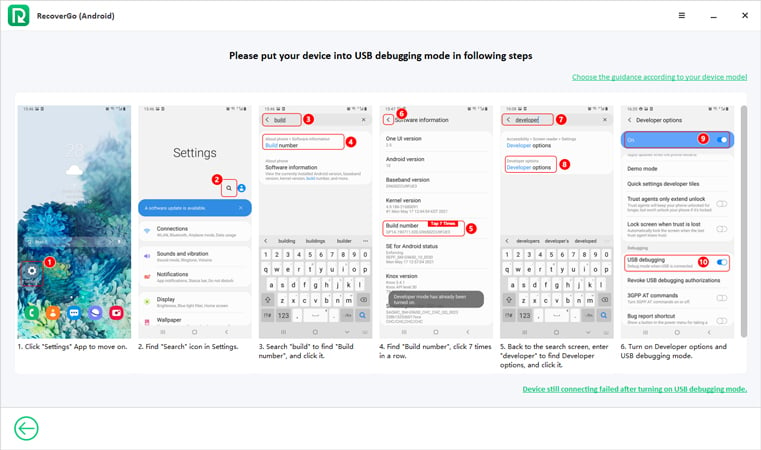 Step 3 Select and Retrieve Lost Call Logs
Once the scan is complete, you can select the scanned data and then perform the final steps to retrieve the lost call logs. You can review the scanned data before recovery.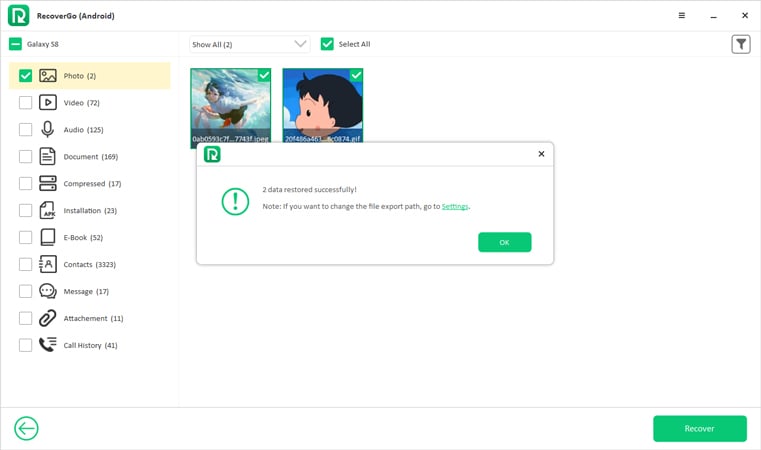 Way 2. Retrieve Deleted Call Log with Samsung Cloud
Samsung Cloud only works if you have a readily available backup file of your phone. If there is no backup available, Samsung Cloud is of no use in that condition. Here are some steps that you need to follow to retrieve lost call logs with Samsung Cloud backup:
Go to settings >> Account >> Samsung Account >> Restore
Choose the call logs option from the list and select the restore option
Way 3. Retrieve Deleted Call Log with Undeleter
There is a method that can help you to retrieve lost call logs without using your PC. Undeleter is free software that is used to recover lost and deleted media files, call logs, and other file types. You need to root your device to use this application, and this is the biggest disadvantage of this application. Here is how to use and restore call logs with Undeleter:
Download and install the app and allow the application to access the phone storage and other details
Select the Call Logs icon and let the device scan for possible call logs
Preview the call logs and click on the restore button to recover the deleted call logs
What Should We Do When Call Log Has Been Deleted?
You may think about using the mobile for a few days when you are unaware of call logs deletion. Stop using that phone since there may be more damage to your phone unless the data gets restored from some backup.
If you have restored the call logs from any backup, there is no need to make changes in the settings. If it's not available, change the settings and settings that are related to call logs to factory settings. You can try restoring deleted call logs by using the above ways.
Extra Tip: How to Backup Call Log on Samsung Phone
Data is the most important and valuable asset of every phone user. You can know how important call logs and call history are in case you lose them. It's better to back up call logs on Samsung before they get deleted accidentally or due to any kind of glitch. Call logs contain information about your previous calls, received and made calls, etc.
Check this blog, you will always have the backup of call logs and other data files in case something goes wrong with your Samsung Galaxy phone.
In Conclusion
You have to be quick when trying to recover deleted call logs on a Samsung Galaxy phone. There are chances that if your phone gets damaged, you may not be able to access the phone data. If this happens, you can simply use RecoverGo (Android) and get back all the important files that you want to safeguard.
To save a lot of unnecessary time, try these methods of recovering deleted call logs from Samsung Galaxy. You can easily get it done with the help of RecoverGo (Android) and other tools mentioned above. Other methods pose some limitations, but our recommended tool offers everything that can save you from further trouble.