Ever accidentally deleted some apps from your phone and then regret it afterward?
There may be numerous reasons for you to regret deleting an app on your phone. You might have forgotten the app name, deleted it accidentally, or need some photos or data out of the app.
Don't be upset because you just landed in the right place. In this blog, we'll learn how to see recently deleted apps on Android or iPhone.
Can I Recover the Deleted Apps on My Phone?
The good news is that you can definitely recover the deleted apps from your phone. In fact, recovering deleted apps is much simpler than recovering other data from your phone.
If the app conforms to the Google Play Store or App Store agreement and has not been removed totally, it can be easily reinstalled.
How to See Recently Deleted Apps on Android
Wondering how to check recently deleted apps on Android?
If you're an Android user, the simplest and quickest way to see apps recently removed from your Android device is to use the Google Play Store.
Method 1: Recover Recently Deleted Apps from Google Play Store
To check recently deleted apps, either paid or free, on your Android device, here are the steps.
Step 1: Open Google Play Store and tap your profile icon at the top right of your phone screen. Now, tap "Manage apps & device".
Step 2: You'll see two tabs: Overview and Manage. Switch to the Manage tab. Then, tap "Installed" and choose the option "Not installed".
Step 3: Now tap the Filter icon and select the Recently added option.
Step 4: You will see the list of recently downloaded apps, both free and paid ones. The most recent apps appear at the beginning.
Step 5: If you want to download any of these apps again, check the boxes next to each listed app and tap the Download icon.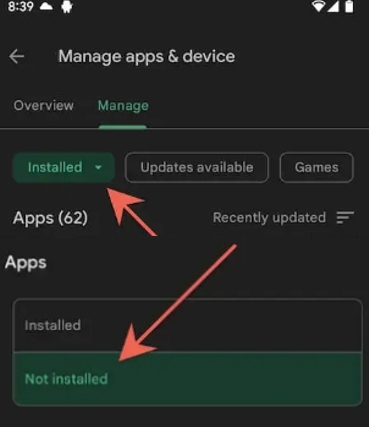 Keep in mind that this list won't show apps that are specific to an Android phone manufacturer. So, you may need to see the manufacturer's app store on your device as well.
Method 2: Don't Find Deleted Apps on Google Play Store? Try iToolab RecoverGo Android
If you failed to find the deleted apps in Google Play Store, there is another simple way to help. A third-party Android data recovery software is the most time-saving solution, iToolab RecoverGo Android works perfectly in this case. To be more specifically, it is capable of scanning all Android APKs existing on your Android device. Sounds super great? Let's take a look at how to recover deleted apps with iToolab RecoverGo:
Step 1 Download and install the RecoverGo Android on your PC. Connect your Android device to your PC via a USB cable and open the RecoverGo software. Click "Recover Deleted Data from Device".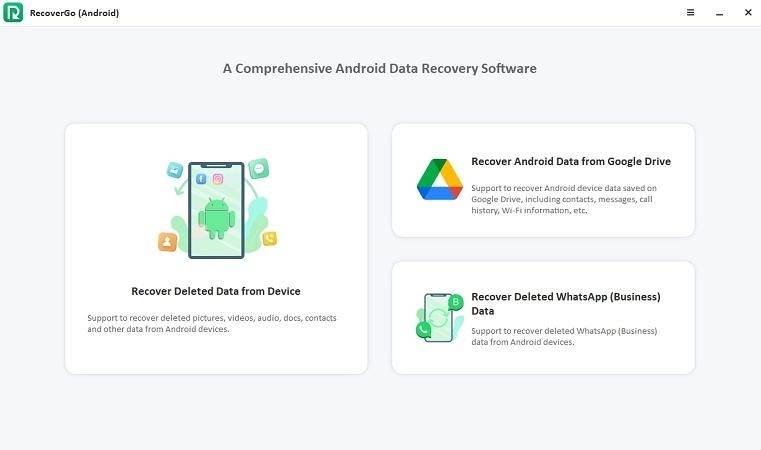 Step 2 Get into the USB debugging mode on your Android device by using the on-screen steps. Next, a pop-up message will appear that need you to allow USB debugging. Click "OK" to confirm.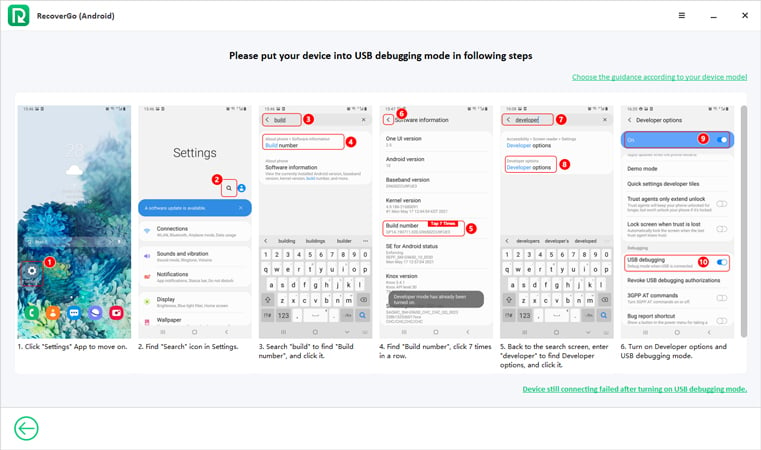 Step 3 Now, select the file types you need to recover. On RecoverGo Android, select the file types and click the "Scan" button to start scanning. The scanning process may take a few minutes to complete. Leave your android device in an unlocked state until the scanning process is complete.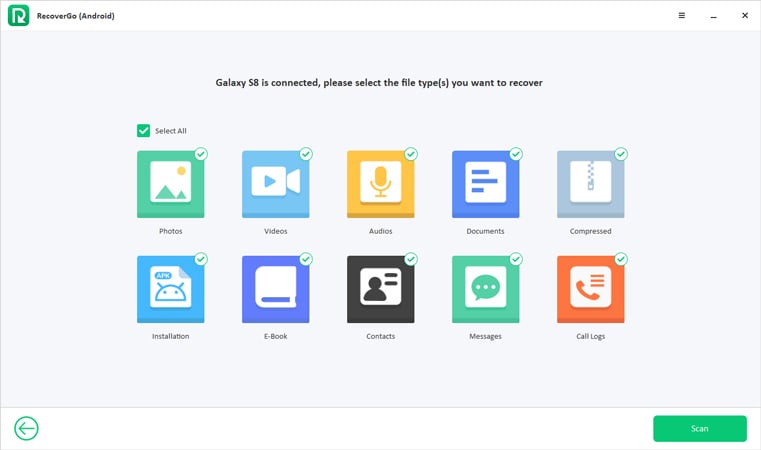 Step 4 After the scanning process is complete, you'll be able to see the amount of data that RecoverGo scanned for you. Preview and select the data you want to recover, and click the "Recover" button. Once completed, all recovered data will be moved to a new folder named "Recover" located on your PC.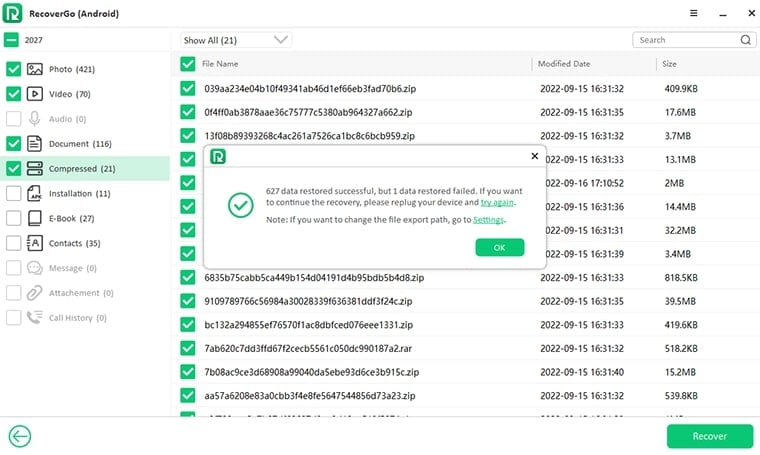 With this professional Android data recovery tool, you can find and recover all deleted apps with only a few clicks.
How to See Recently Deleted Apps on iPhone/iPad
Want to see recently deleted apps on iPhone/iPad but don't know how to do it? Don't worry; we've got you.
Here, we have discussed three of the easiest methods to do this. Let's begin!
Method 1: Retrieve Deleted Apps on iPhone/iPad from iTunes
Reinstalling deleted apps from iTunes is the first choice of most Apple users. The good news is the process is straightforward, and you can retrieve all the apps in a few minutes. However, you must have a PC.
To check recently deleted apps on iPhone or iPad via iTunes, follow these easy steps:
1. Begin the process by connecting your iPhone/iPad to a PC.
2. Launch iTunes on the PC and click on the "Device" tab.
3. Select your iPhone/iPad.
4. Go to "Settings" and select "Apps".
5. You can then see which apps you have recently deleted. Click on the ones you want to reinstall and confirm by clicking the "Install" option. The deleted app will be reinstalled on your device within seconds.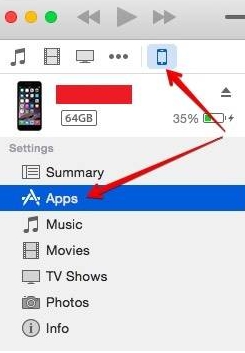 Make sure you don't disconnect your iPhone/iPad at any point during this process, or else you will have to start from the beginning again.
Method 2: Check the deleted apps from App Store
For iPhone users, there's a way to keep track of all the recently deleted apps. You can see the recently uninstalled apps on your iPhone by looking at the Purchased section in the App Store. From there, you can find all downloaded apps including those recently deleted apps.
Now, let's get started on how to check recently uninstalled apps on your iPhone:
Step 1: Open the App Store.
Step 2: Tap your profile icon on the top-left corner of the iPhone App Store screen.
Step 3: Select Purchased. If you're a Family Sharing group organizer or member, tap My Purchases on the following screen.
Step 4: Tap "Not on this iPhone". This will bring up all previous apps that are not currently installed on your device. These apps are automatically sorted in descending order by download/purchase date. So, you can assume that the apps at the top of the list had been recently deleted.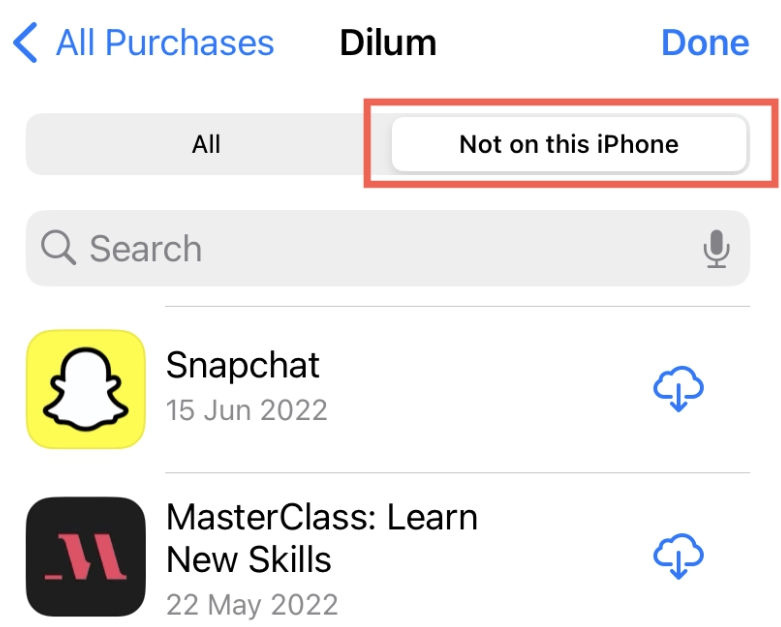 Remember that this list contains apps from all Apple devices with that ID. So, you may even see years-old deleted apps from your other devices with the same account.
Method 3: Find Deleted Apps from App Library
Apple has helped people a lot by adding the App library. There, users can see all the apps categories-wise and install the ones they like. Fortunately, it also lets them find recently deleted apps.
To view recently deleted apps from the App library, do these steps:
1. On the Home Screen, swipe left to open the App library.
2. Type the name of the app in the search bar.
3. If the search is successful, press and hold the app icon until a drop-down menu appears, then tap on "Add to Home Screen."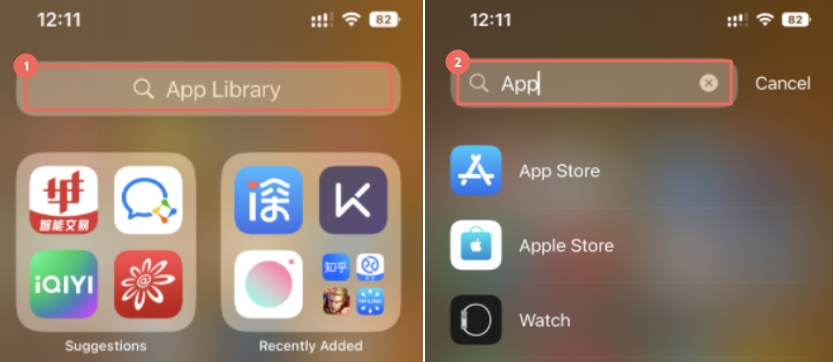 However, note that this method only works if your device is updated to iOS 14. To know the current iOS of your device, open "Settings," go to "General," and tap on "About."
If you have iOS 14 and are still facing some problems while performing this method, then restart your iPhone/iPad. Restarting a device fixes minor issues, and the library can also start working properly when you do this.
Final Words
So, this is our take. Hope you enjoyed reading this article about how to see recently deleted apps! You can easily recover and extract apps on Android using RecoverGo Android tool. Just install it on your personal computer to recover any deleted data on your Android device.
Did you find this piece helpful? Feel free to share your thoughts with us. Until next time everyone.