In today's digital age, data is one of the most valuable assets any person can have. Therefore, having a trustworthy and effective mechanism for data backup and restoration is essential. Whatever you have accidentally deleted important files, phone lost or damaged, Huawei Cloud restore backup is the most simple and workable way to retrieve deleted data. With the latest updates and advancements in Huawei Cloud for 2023, users can expect even more useful tips and features to help protect and manage their data.
What is Huawei Cloud?
Huawei Cloud provides services such as storage, databases, networking, security, and analytics, as well as artificial intelligence and big data services. It stores your data and keeps it private. This allows you to restore or back up your data later at any point in life.
For beginners, it is a must to know how to restore photos from Huawei cloud to ensure that they get their lost data back in case of any mishap.
How to Restore Data from Huawei Cloud?
Different users face data loss from their device due to several reasons. They need something that can help them with data recovery with easy procedures. For that, Huawei Cloud helps them to keep a backup of their data that can be recovered in case any mishap happens.
Whether you are looking for data about how to restore contacts from Huawei cloud or important photos and videos, there is a simple way to get it all back.
1. Go to setting and log in to your Huawei Cloud account using your email and password.
2. Tap on the "Cloud " option and you will see Cloud backup.
3. Choose the device that you want to restore the data. Click on "Manage backup data" to move on.
4. Tap Restore data and Decide which backup's date you wish to restore from, select the file types you need to recover.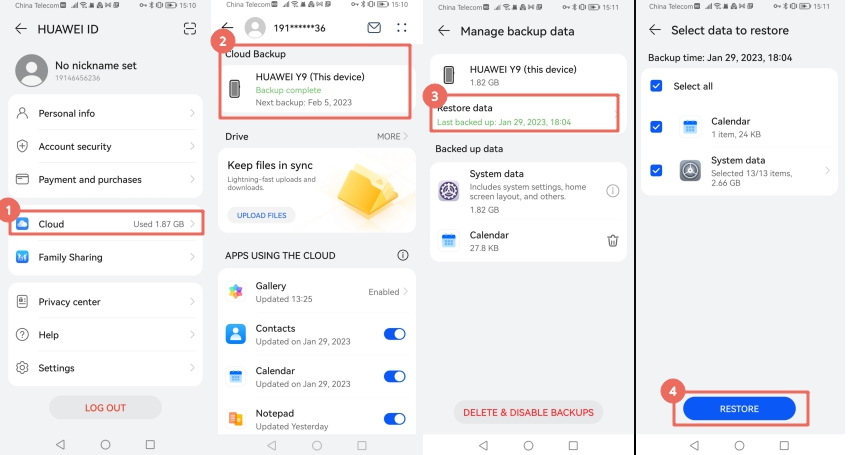 5. Hold off until the restore process is finished. Depending on how much data you are restoring, this could take a while.
You will be informed when the restoration procedure is finished and your data has been successfully restored. Check your device to confirm that all of your data has been restored.
Note: If you are restoring data from a different device, you may need to log in to your Huawei Cloud account on the new device and repeat the process from step 3. If you have a Google backup, read How to Restore Android Phone from Google Backup.
How to Restore Huawei Data without Backup?
To restore Huawei data without backup, you can use a third party tool like iToolab RecoverGo Android. It is the latest software to help users recover their lost files and videos as well as important images. In order to use it to recover the data, here is a simple way to restore data other than the Huawei cloud backup restore process.
Step 1 Once the software is installed, connect your Huawei device to your computer using a USB cable. Select "Recover Deleted Data from Device" to move on.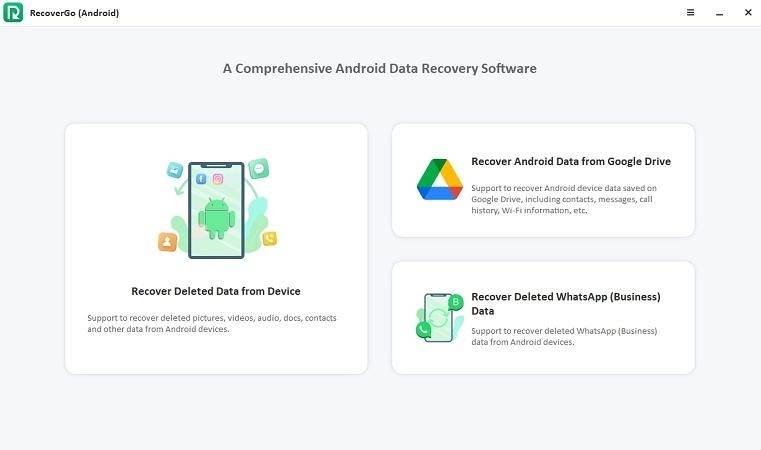 Step 2 Make sure that the device is in "Debugging" mode, which can be enabled by going to "Settings" and then "Developer Options" on your Huawei device.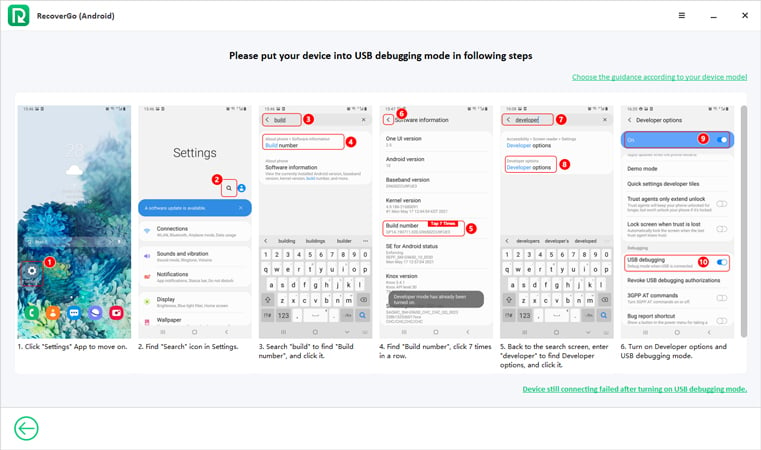 Step 3 When your device is connected, the RecoverGo Android software will automatically detect it and display a list of file types that can be recovered. Choose the file kinds, such as contacts, messages, videos, and images, that you want to recover.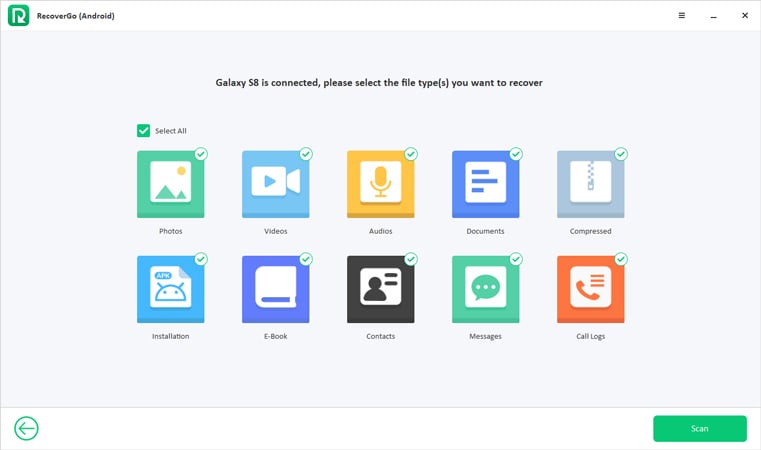 Step 4 Once you've decided the file types you want to recover, click "Scan" to launch the procedure. Your device will be scanned by the software for any missing or deleted data.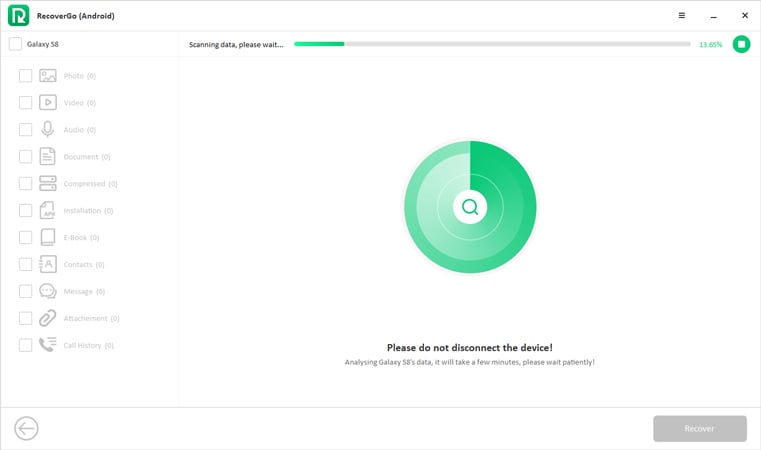 Step 5 The software will present a list of all the recoverable data after the scan is finished. To be sure it is the data you wish to recover, you can preview each item. Click the "Recover" button after choosing the data you want to recover.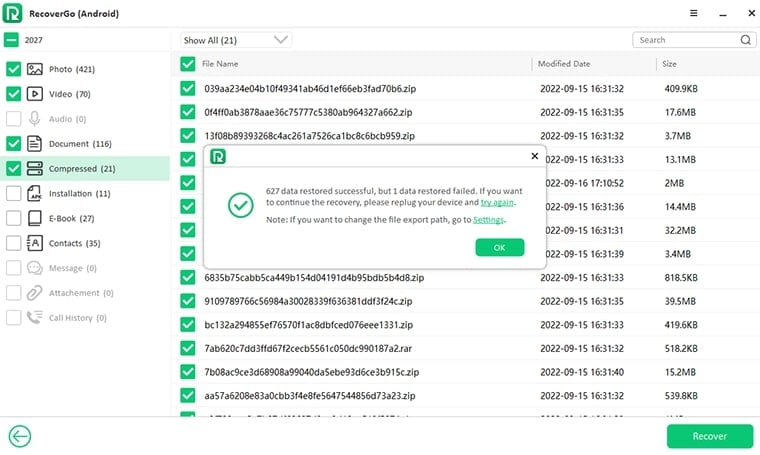 The recovered data will then be saved to your computer by the software. You have the option of deciding where on your computer to save the recovered data. You can access and use the data as usual once it has been saved.
Conclusion
In conclusion, the Huawei Cloud Restore process is a simple and efficient way to ensure the safety and security of your data. By following the step-by-step guide outlined above, you can use iToolab RecoverGo Android software to easily restore your data.
Remember to always keep your Huawei ID and password handy and to regularly back up your data to the Huawei Cloud to ensure that it is always accessible in case of emergency.