Even with Samsung backup or Google backup, you can still lose data on your Samsung device. Situations like accidental deletion, system crashes can lead to the loss of recently unbacked up data. Not to mention that many users don't even back up their data to the cloud drive. That's why you need Samsung data recovery software.
We have selected a few powerful data recovery tools for Samsung to test, and here are the conclusions of our tests. We will list the pros and cons of the products below to help you choose a better product.
1. iToolab RecoeverGo (Android)
RecoverGo (Android) is a very comprehensive Android data recovery software, which basically supports all Android devices. The supported files types including:
Messages, Photos, Videos, Attachments, WhatsApp data, etc.
As previously stated, the aforementioned tool is extremely useful in recovering your important data regardless of the data loss situation. In addition, it does not require you to root your Samsung device. Within a few steps, you can recover lost Samsung data to your computer.
The steps below will assist you in keeping things simple and clear.
Step 1 Install RecoverGo (Android) on your Windows PC, then connect your Samsung phone to the computer and select the "Recover Deleted Data from Device" option.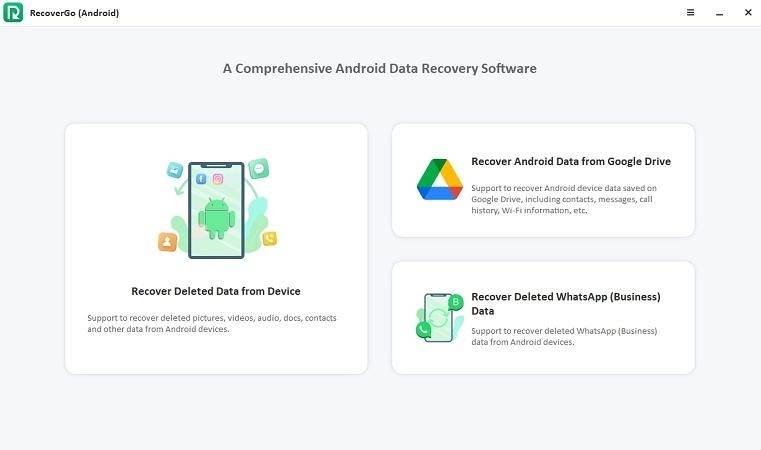 Step 2 It lists all recoverable file types. To start scanning, select the file type and click Scan. All file types are defaulted.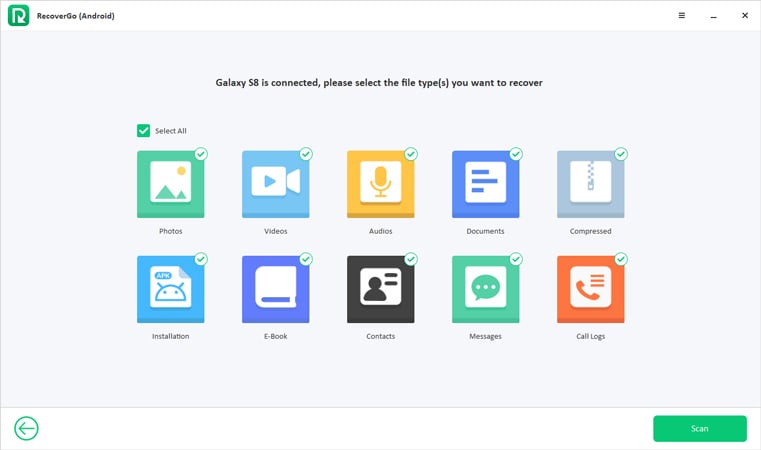 Step 3 If your device hasn't enabled USB debugging, you will need to follow the on-screen steps to turn it on.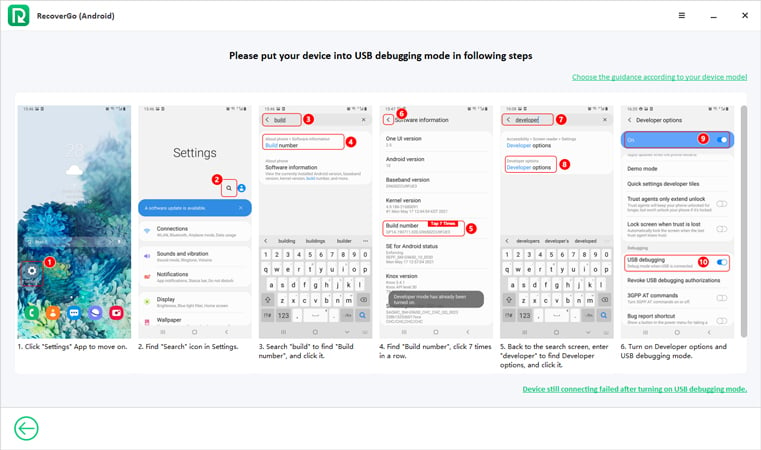 Step 4 Once done, RecoverGo (Android) will scan your Samsung data. All recovered files will then be stored in a folder from where you can select the required files to recover.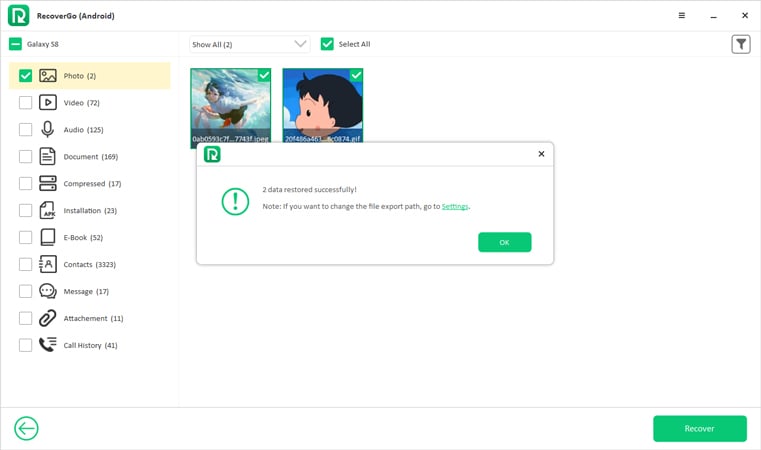 This is one of the best Samsung data recovery software as it has superb recovery rate, no complicated steps and is very secure. Here are the advantages or disadvantages:
Pros:
Support most Android devices, such as Samsung, Google Pixel, OnePlus, Huawei, Xiaomi, etc.
Support the latest Android OS 13, minimum to Android version 2.0.
All file types are supported including WhatsApp and no root requirement.
Price is cheaper than most Samsung data recovery software.
Cons:
Reuqire USB debugging enabled.
2. Samsung Recovery Solution 5
Samsung Recovery Solution 5 is currently one of the most effective and efficient Samsung recovery tool windows available. You can use the tool to perform backup and restore operations as needed. It will assist you in creating a full backup of your Samsung PC, including all OS data and files.
Pros:
One of the easiest tools for backup and restore purposes.
Compatible to use on different operating systems.
It's free.
Cons:
This software can only be used for Samsung data recovery.
3. MiniTool Mobile Recovery for Android
MiniTool Mobile Recovery for Android is prominent Samsung s6 data recovery software with a maximum success rate. Just like other recovery tools, it's best known for recovering deleted data within a few easy steps. The tools support the recovery of almost all file types and documents. Moreover, you can recover your important data from hard drives and SD cards.
Pros:
Suitable to recover data on former windows operating system
A free tool with good features
You can recover data using your backup file too.
Cons:
This tool, often, welcomes new viruses.
4. Jihosoft Android Phone Recovery
The top list of Android data recovery software also includes Jihosoft Android Phone Recovery. The tool is most commonly and widely adopted by android users to recover photos, videos, documents, and other file types. This tool also provides you an opportunity to recover deleted data using your backup file. Jihosoft data recovery tool scans the required device before recovering the preferred data.
Pros:
No trial limit
Compatible to use on different android devices
Easy to use
Cons:
Works for rooted devices
It may not recover your all data.
The tool may sometimes lead to failure.
5. Easeus MobiSaver for Android
Easeus MobieSaver for Android enables users to back up and restore their important lost data. It works even faster than most of the tools available in the market. The interface is quite easy and simple; therefore, you don't need technical knowledge to operate it. Furthermore, you can restore files from any disk drive.
Pros:
Easy transfer of data between phones.
Edit, create, or delete files respectively.
Recovers photos, videos, and audio
Extensive data recovery.
Cons:
Works well with a rooted device.
The paid version has more features to enjoy.
Summary
Samsung recovery software has always helped Android users get back their important files. The goal of this blog is to talk about the best recovery software, such as iToolab RecoverGo (Android). These tools have always been very helpful, especially in cases where data needs to be recovered. You can use any of the above tools to recover your data, whether you have a backup or not.