Skype is used for personal, business, teaching, and many other purposes. You are connected with different people all around the world, and you will never want to lose the messages. But if you have lost messages on Skype, there are ways to recover them.
Like all other messenger applications and platforms, Skype also has options through which you can recover your deleted messages. Skype itself stores the messages on the cloud, but this can be dangerous. Your data can be lost because when you delete the entire file, the data on the cloud also gets deleted.
But do not worry; in this article, we will explain how to recover Skype deleted messages through different methods and tools.
Part 1: How to Recover Deleted Skype Messages via Main.db File
Those who use Skype on computers have a simple method through which they can easily restore their deleted Skype messages. When anyone deletes messages or any other data from Skype, it does not go permanently. There is a database file named Main.db, which contains all the deleted Skype data on the computer. Through this file, you can recover your deleted Skype data easily.
Here are the steps you should follow.
Step 1: Firstly, you will have to download additional software like Skyperious or Skype Log Viewer on your computer. This software will allow you to read the data in the database file.
Step 2: Open the software and go to the location where the Skype database file was located on your computer. In that Main.db folder, you will get all recoverable Skype data.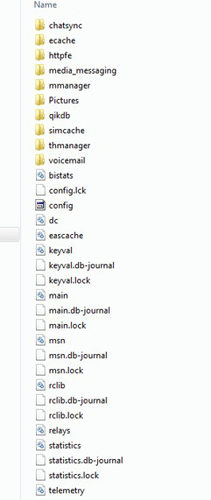 Step 3: Select the deleted messages and restore them at any other location on your computer. This is how you can get your deleted messages in an easy way.
Part 2: How to Recover Deleted Skype Messages via Previous Version
Now, let's dive into another method to recover deleted Skype messages by using Windows built-in backup feature. The feature is called Windows Previous Version. It allows you to go back to any version of the folder to restore your data. Before starting this method, it is important to remember that this method will only work if you have already enabled Windows Backup feature.
Step 1: First of all, follow the below path on your computer.
C:\Users\YourWindowsUsername\AppData\Roaming\Skype\YourSkypeUsername
This will open a window containing all the recoverable folders related to Skype.
Step 2: Now, right-click on the particular folder containing your chat history or messages and select Properties. A pop-up window will appear on the screen. Go to the Previous Versions tab and select the older version from that pop-up window.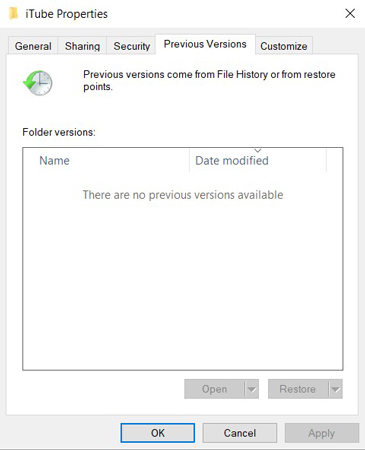 Step 3: In the end, click on the Restore button, and hopefully, your data will be recovered safely on your computer.
Note: This method is very complicated and tough to understand.
Part 3: How to Retrieve Deleted Skype Messages with RecoverGo (Android)
The solutions mentioned earlier are worth trying because these methods have shown satisfactory results to many users. But some people fail to get good results out of these methods.
For those, we have iToolab RecoverGo (Android). It is a data recovery software for Android users. This software has the potential to support 6000+ Android mobiles and tablets for the recovery of almost 11+ different types of data. No matter how you lose your data, it will recover data even without any root. You can recover your lost or deleted WhatsApp, WhatsApp Business, and mobile internal storage data through it.
Here in this part, we are going to show you how to recover Skype deleted messages through iToolab RecoverGo(Android) on an Android device.
Step 1: Launch the software on your computer/PC. It is available for Windows 7/8/10/11 and is totally free to download.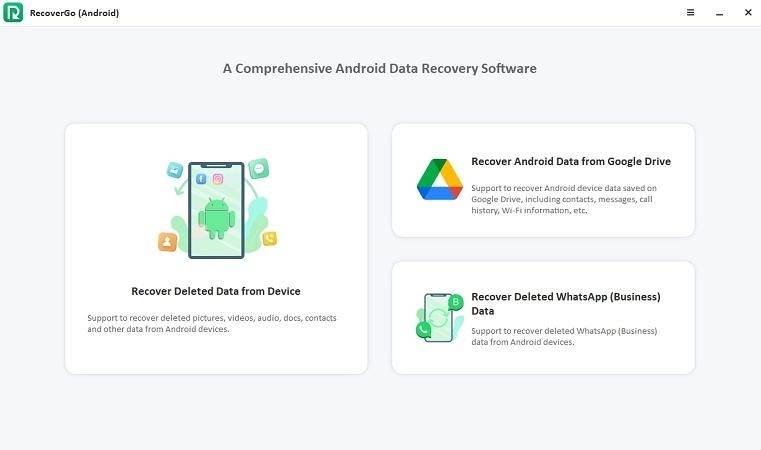 Step 2: We will recover the Skype deleted messages from the internal device storage of your mobile. Now, connect your Android device through a USB cable and open the software. You will see three different options on the screen. Click on the first one Recover Deleted Data from Device.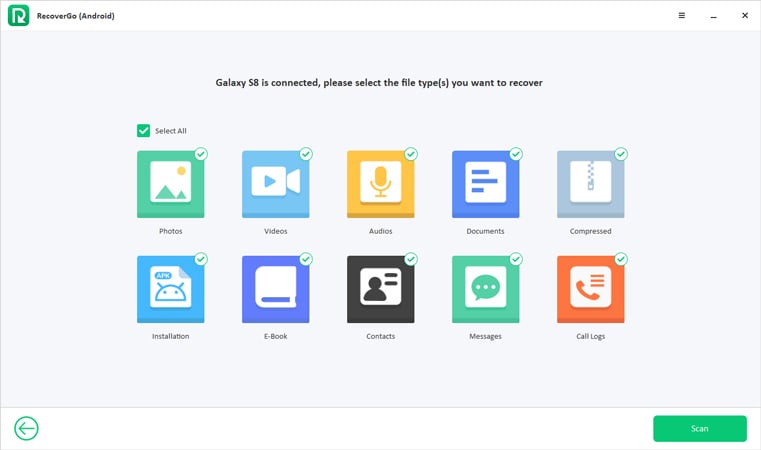 Step 3: This will show all the recoverable data types of your mobile on the computer screen. Select all and click on the Scan button. Now, the software will show all the steps to turn on the USB debugging mode. Turning on the debugging option will also notify you on mobile to allow permission. Tap on the Allow button to proceed further.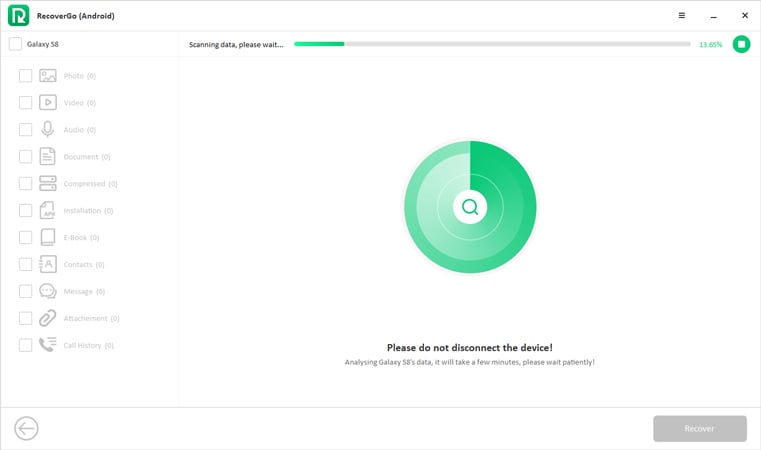 Step 4: Now, the software will again show you all the file types for scanning. Select the file, and the scanning process will start. After successful scanning of files, all the data files will appear on the screen. Select the file containing recoverable deleted chat and click on the Recover button. The software will show you the options to save and restore the data to the desired location on your PC.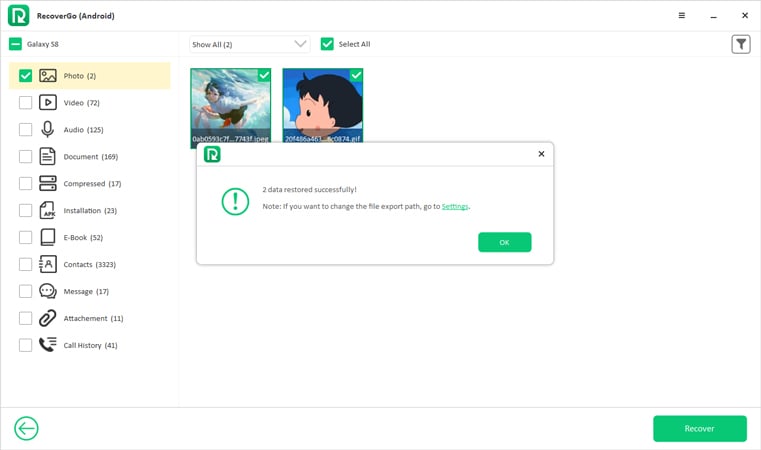 FAQs
Q1: Is There a Need to Export Skype Chat History?
You can view Skype Chat from any contact history, but even then, you should export chat history or chat as a safety measure. You can export chat to Gmail or Google account for future use. There is nothing unsafe or regretful in exporting Skype chat.
Q2: How to Stop Skype from Automatically Backup Data?
To stop Skype from automatically backing data, you will have to stop data backup from Windows background running files. Go to the System Settings > Privacy. From the Background Apps, disable Skype, and your problem will be solved.
Q3: How to View Old Skype Chat History?
There are different methods through which you can view your old Skype chat history. Firstly, you can export your chat history and can view the file. Secondly, you can use the database file to have your old chat history. Thirdly, you can restore the old chat history through backup files. We have shared all these methods in the above sections of this article.
Conclusion
Recovering Skype deleted messages is no longer a problem now. There are many ways to retrieve the lost or removed Skype data free of cost. We have made this article a complete guide and masterpiece to show you different ways of restoring Skype messages. All the methods are excellent, and anyone can go with any of them, but iToolab RecoverGo (Android) works well. It recovers your data without any backup and almost in every scenario.