Forgetting your Excel password at the office can be both frustrating and a waste of time. But the right software can save your day. Straxx excel password remover is used to remove the password protection from Excel that is applied by "Protect sheet" or "Protect workbook" commands of the software. It has free versions for personal use and paid pro version for business use.
But it can only remove excel password in free version, so here also talks about the best alternative: PassWiper for Excel, which can provide better excel password recovery experience with three attack modes instead of only removing it.
So let's take a look about the Straxx excel password remover free and pro versions and then compare it with the new all-in-one technological tool. Then you will find the best suitable excel password tool for yourself.
Part 1: Everything about Straxx Excel Password Remover Full Versions
The Straxx excel password remover is a free and paid Excel protection removing software. The software is a plug-in that must be installed on the Excel sheet. After installing, there are three options available on the Excel sheet: Unprotect sheet, Unprotect workbook, and unprotect all. These are used to remove the password protection from your worksheet. In addition, there is Straxx excel password remover pro, which is an upgraded paid version with more features to enable straxx vba password reset.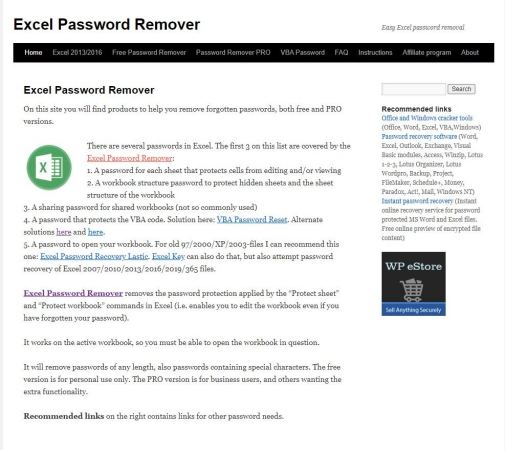 It can't crack vba password or file protection, it recommends other products on its website by sponsors. So it's not recommend to use those tools.
Pros:
You get to use the free version for personal use.
You can remove passwords containing special characters.
You can remove passwords of whatever length it is.
The content in the Excel sheet is not affected.
Cons:
Straxx excel password remover has got different versions depending on your Excel version. (Hard to Choose)
The free trial version is only available for Excel 2007 and Excel 2010.
You might face errors while installing the add-in.
The pro version or the paid version is not value for money.
Straxx excel password remover Pro Free Download
Straxx is an easy to use password remover tool for Excel, but installing it may get tricky. Here is how you need to install and see straxx excel password remover pro full crack.
This program can't remove file protection, i.e. if you are asked for a password when opening your workbook, this program won't help you.
First straxx excel password remover free download from www straxx com in your PC.
Next, open the password-protected Excel sheet or workbook in your system. Open the Straxx software plug-in. A warning message will appear on your screen. Select "Enable Macros" option and then click on "Ok" in the next window that appears.
In the Excel, go to "Tools". Click on the "Unprotect Worksheet" or "Unprotect workbook" options. This will unprotect the worksheet or workbook. If the process is successfully done, a notification window will pop-up on the screen.
It's pretty tricky to use this tool, and now its pro version for bussiness use costs $28, a little bit experience for people, and it also has some limitations, so here comes the best alternative with reasonable price and latest technology to help people get out of this mess.
Part 2: The Best Alternative of Straxx Excel Password in 2022
Both PassWiper and Straxx acts as Excel password remover. But there are some differences between these password removing tools. Given below is a table with the major differences between the two software.
| Straxx Excel Password Remover | PassWiper for Excel |
| --- | --- |
| Remove Worksheet or Workbook Password | Recover/Remove Worksheet or Workbook Password |
| Cannot Remove VBA Project Password | Remove VBA Project Password |
| Cannot Recover Opening Password | Recover Opening Password |
| Free Version is not very easy to success | Success Rate is 100% |
| It will take a long time and can't save the process | Recover/remove password in short time and auto-saving |
| Excel Password Remover PRO works for 2019 2007/2010/2013/2016/2019/Office 365 on Windows 7, 8 and 10 | Compatible on all Excel versions and all Windows OS |
If you are looking for an alternative to Straxx Excel password remover, PassWiper for excel is the best choice with lower price and high quality. PassWiper for Excel is an excellent software that removes your Excel sheet's password easily without damaging or affecting the content of the file. This software works quickly and is entirely safe to use. In addition, this has a unique algorithm that can decode any long, strong, and complicated password even if it includes special characters, symbols, etc.
3 password attack types used by PassWiper:
Dictionary Attack – It finds password instantly from the inbuilt or customized dictionary of the software.
Combination Attack – This is used when the user remembers the Excel password's length and range.
Brute-force Attack – This is used to find all types of combination of the password if the user does not remember anything.
PassWiper includes only 3 steps to unlock your locked Excel worksheet:
Step 1. Install and launch PassWiper for Excel, select "Recover Excel Password" and then import your locked Excel worksheet.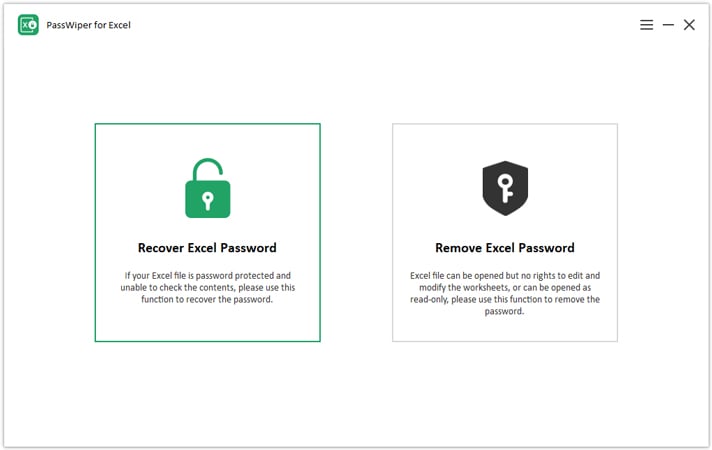 Step 2. As per your requirement, select the password attack type.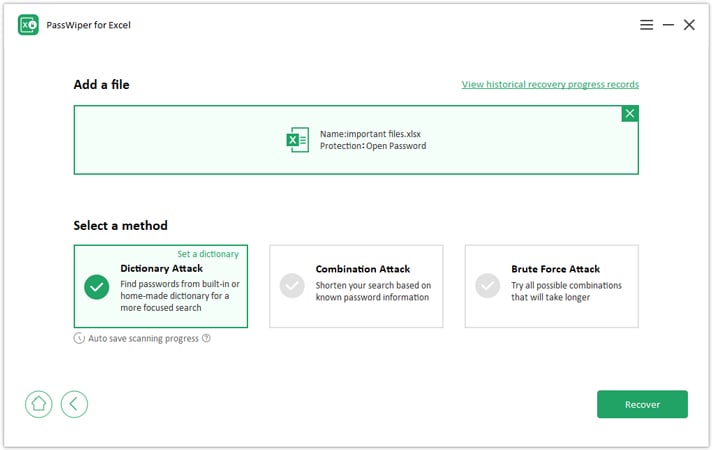 Step 3. You can now recover and unlock your Excel file.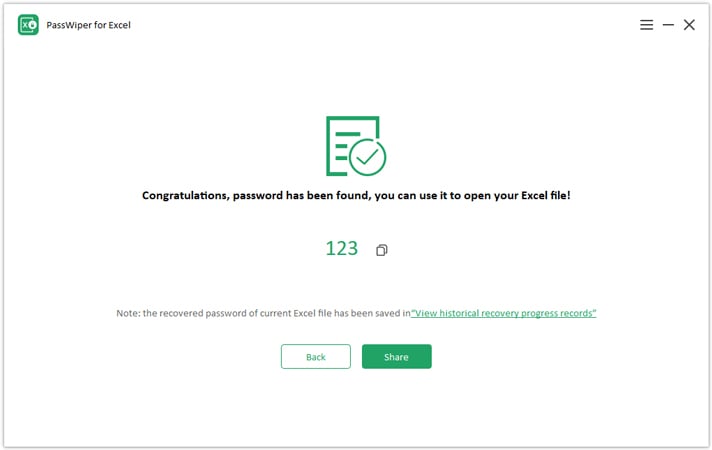 Advantages of PassWiper for Excel
It removes the password from Excel sheet smoothly in an instant. The original content remains intact. It supports the lateset Office 365 and Excel 2021 to 2003, not to mention the previous versions, supports Windows 11/10/8/7/XP/Vista to download this tool, and don't depend on the office environment, which means you can recover or remove excel password without downloading office software if you didn't downloaded.
Notwithstanding the password length, it can recover the Excel password quickly in a short span of time. It supports saving the scanning progress, so the password is very long and cannot be scanned in one day. It can be scanned in different time periods.
The software uses 3 types of password attack that has current decryption algorithm. This makes recovery process easy and quick. The simple and user friendly interface also makes people satisfied when waiting for cracking password.
The current updated version also removes editing restrictions for .xlsm format, which means you can break or bypass VBA project password easily with this tool and can use no add-in tools or online tools any more.
It added Libreoffice document editing permission encryption removal.
Part 3: Does Excel Password Remover Online Trustworthy?
Excel password security is essential. An Excel worksheet and spreadsheet can contain many private work documents that must be kept secured. To avoid unwanted modification and deletion, users often tend to put password protection. But this might become a nightmare if one forgets the password. Thus, the Excel password remover tools have been designed for a long time. They quickly and safely unlock the Excel sheet for you. They prioritize their user's safety.
With the increase in the number of websites usage, it is difficult to remember all the passwords. Thus, using a password removing tool has become a necessity. Excel password removing tools are safe and trustworthy. But it is advisable to go through the reviews and check a company's privacy policy before to ensure they do not store your data.
Conclusion
Excel password removing software is high in demand. There is a high chance of forgetting your security code for the Excel worksheet or workbook. You can opt for Straxx excel password remover for unlocking your Excel sheet. It has made removing passwords very quick and easy. Straxx is a reliable password-removing tool with both free and paid versions. You can choose any at your convenience.
Remove Excel Password & Recover Excel Password
Remove Excel worksheets restrictions, include protected password, structure protection and VBA project password.
Recover Excel password when forgot to read it again.
Support all Excel format from Excel 2003 to 2021, include MS Office 365.
No risk of data damage, 100% success rate, user friendly interface.