iMyFone Fixppo is one application that you can employ if there are some system issues with your iPhone. The software that was previously referred to as iOS system recovery is a utility tool developed by iMyFone technology.
The application can help you solve digital problems being experienced by your iOS device, including but not limited to fixing system issues, unlocking an iOS device, and recovering lost data.
While iMyFone Fixppo is effective in solving iOS problems, it has several limitations. However, the good news is that there is other effective software that can deliver outstanding results where iMyFone Fixppo fails.
We will discuss Fixppo paid alternatives that you can use to restore your iOS to normal with ease.
1. iToolab FixGo
If you own an iOS device, then you understand that its iOS system misbehaves sometimes. This would be in the form of a starting error, a black screen, a white screen, and iTunes error, or even an activation error. Although these errors might be quite frustrating, they are easy to solve. Apple has measures in place that you can employ in solving any issue affecting your iOS device.
For instance, switching your device off and on can help resolve a very frustrating problem. However, some errors may persist even if you follow a laid down procedure. In such a case, third-party recovery software is the solution. With iToolab FixGo, you can fix your iOS issues at home without any challenges. The software has the following features:
It prevents data from being lost on your iOS device when it isn't working properly.
Compatible with latest iPadOS 14.4, iOS 14.4 and iPhone 12.
1-click option to exit or enter recovery mode for free.
Repairs tvOS issues on Apple TV.
Repairs over 200 iOS systems issues, including but not limited to recovery mode loop, black screen, iPhone failed to update.
With this tool, you can repair your iOS device in two modes:
Standard Mode
Standard mode fixes common system issues.
This mode works safely so that your iOS device doesn't lose data.
Judgments are made to improve your repair's success rate by putting into consideration several repair failure scenarios.
Advanced Mode
It erases all data and repairs serious iOS issues.
Compared to other options, it offers a more detailed and clearer direction.
Applies advanced techniques to attempt and wake up your iOS device.
To use iToolab FixGo effectively, follow the following steps:
Select a mode 'either a standard or advanced mode'.
Download the iToolab firmware and install it on your iOS device.
Restore your iOS device to normal.
2. Tenorshare ReiBoot
Tenorshare ReiBoot is also one of the best iOS system recovery for 2021. The software knows how to effectively act on any problem that affects the functioning of your iOS device. It manages this by expertly and quickly analyzing the root cause and taking the necessary measures to fix the problem with simple clicks.
Immediately after connecting your iOS device to a computer through a USB cable and then selecting the repair operating system option, the software will start to solve over 150 issues, including repairing an iPhone that won't update, won't turn on, or won't charge.
The scanning time will vary depending on the problem you are solving. For instance, recovery from a black screen can happen within 30 minutes. More complicated challenges may consume more time.
Although there is a free trial, it only allows you to exit and enter the recovery mode. You will have to pay $29.95 to repair problems such as black screens, stuck Apple logo, and fixing boot loops. If you upgrade to Tenorshare ReiBoot pro, you will get premium features such as:
Over 150 solutions with a single click: The system will locate and fix at least 150 iOS-related issues.
A simple and fast interface: With a single click, you can exit and enter the recovery mode.
Downgrade iOS Beta with no data loss and without iTunes: It downgrades an iOS Beta without deleting data.
Multiple technical features: It is compatible with the latest iOS systems and devices, including iOS 14.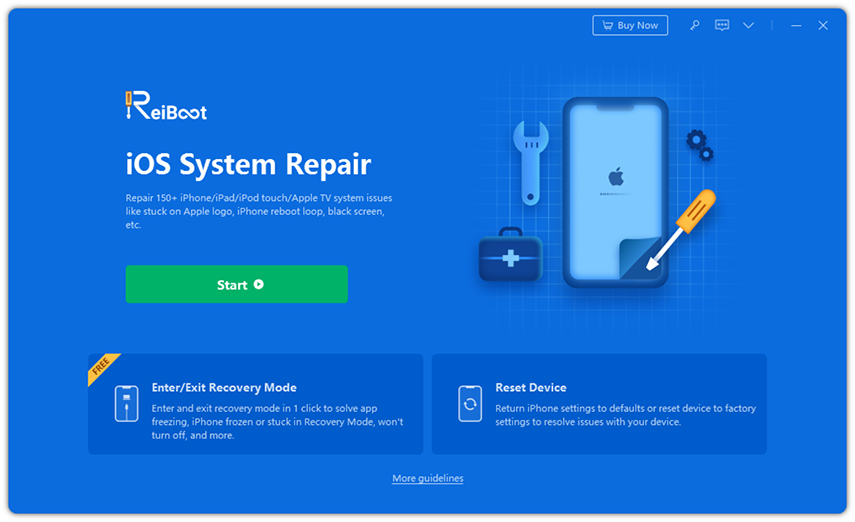 3. Dr.Fone – System Repair
Dr. Fone is popular software that is used to repair several issues on various devices. The Dr. Fone iOS Toolkit can enable you to fix simple iOS issues and errors within 30 minutes.
The Standard Mode is for solving common challenges while the Advanced Mode solves all the others. Although you can easily get some free features, you won't be able to use any unless you pay for them. The features of Dr. Fone Include:
Fixes all iOS scenarios without deleting data. For things that a standard mode can't fix, you can use an advanced mode.
It downgrades the iOS system without iTune. You can use the software to repair your iOS without jailbreaking.
Solves other issues unrelated to iPhone, including backing up and transferring lost chats.
Works for all the latest software specifications.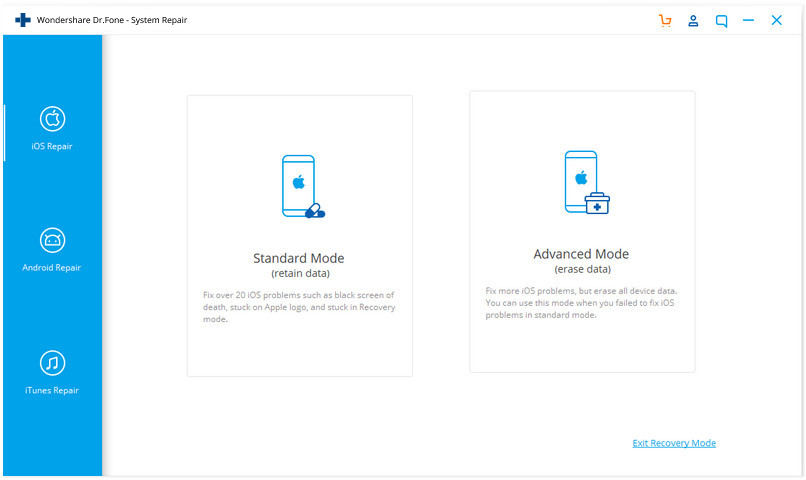 4. Joyoshare UltFix
Joyoshare UltFix is one of the most popular iOS recovery systems on the market that can fix over 30 common challenges with just three simple steps. Whether it is a disabled iTunes or an iOS that won't update or charge, this software will solve all issues with precision.
The JoyoShare UltFix software is very user-friendly. Immediately after you launch the software, it will prompt you to connect your iOS device with a computer. You can choose between the standard mode, which repairs iOS issues without data loss, or advanced mode, which will delete your data.
The standard mode, just like in other software, will fix issues such as black screens and white screens. In case the standard mode can't fix a problem, an Advanced mod will. Although there is a free trial for this software, it offers limited functionality. You can have lifetime access to the software on your device for just $39.95.
The features of this software included:
A user-friendly interface.
Repairs over 30 iOS systems.
It is very fast.
It is compatible with almost all iOS systems.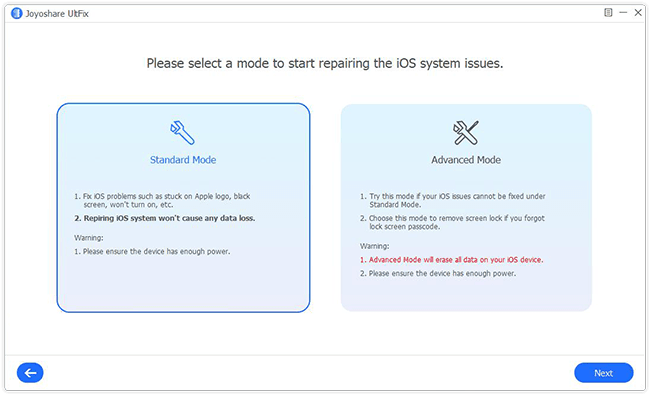 5. iMyFone Fixppo Free Alternatives
If you are looking for some free alternatives to iMyFone Fixppo, you can try the following tips.
1. Perform the Force Restart
Certain issues, such as stuck iPhone screen-related issues, are caused by minor errors and can be corrected by employing a forced restart. A forced restart functions< the same way as a soft reset but differs in execution. It is a simulated battery removal used to forcefully reboot or shut down an unresponsive device.
You can go through the following steps to force restart your iOS device:
Press the volume up button and release it quickly.
Press the volume down option and release it quickly.
Press and hold on the side/power button until you see the Apple logo.
If the issue involves a firmware crash, the Apple logo may take at least 20 seconds to show up. In this case, you will have to press the power options a little longer. If your device works effectively after restarting, try to remove corrupt contents and bad apps.
After rebooting and updating your device, check whether it still experiences black screen problems. If the problem persists, explore other options.
2. Restore iPhone in Recovery Mode
You can also try to restore your iPhone in Recovery Mode using iTunes. Before you get started, install the latest iTunes software on your computer.
Connect your iOS device to a computer through an effective USB cable and back up your data on your iPhone to iTunes before the process starts. After the backup is complete, move ahead to restore your device in recovery mode.
To effectively use this option, follow the steps below:
Press the volume upon button and release it quickly.
Press the volume down button and release it quickly.
When you see the 'Connect to iTunes screen', press the power button and hold onto it. You will need to get into recovery mode.
On the next screen, you will notice the 'restore and update' option.
Choose the 'Update' option to update your device's software to the latest version. In case you don't have a software update, choose to restore.
3. Perform a DFU Restore
The Device Firmware Upgrade (DFU) can be your last resort if the above free solutions won't work. It is employed to handle fatal system errors that lead your device to malfunction. Before performing this procedure, ensure that your iPhone hasn't obtained any liquid damage or physical damage.
If you perform a DFU restore on a physically damaged iOS device, it may end up being dysfunctional. To carry out a DFU restore effectively, ensure that you follow the steps below keenly:
Close running applications on your computer to ensure that DFU restores the process isn't interrupted.
Connect your iOS device to a computer through lightning or Apple-supplied USB cable.
When your device is connected, press the power button for at least 3 seconds.
Press the volume down option for about 10 seconds. If you see an Apple logo at this time, you will have to start over again.
If the logo doesn't appear, release the power option but keep holding onto the volume down option for about 5 seconds.
You will be in DFU mode if the screen remains black afterward. At this point, you receive a message prompt on the computer informing you that iTunes has detected your device. Proceed to follow the on-screen instruction to finish the restore process.
If a 'Plug into iTunes screen' appears, you won't be in DFU mode, and you will have to start the process again.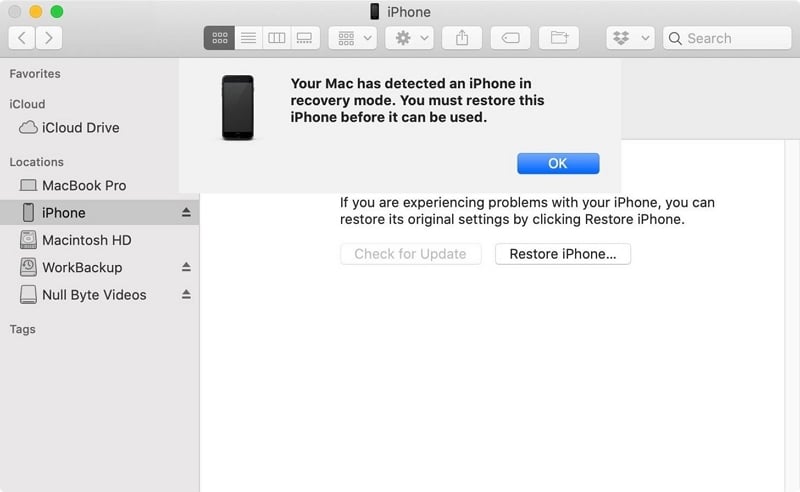 Conclusion
iOS has proven time and again for being an incredible technology and offering quality solutions. However, they are useless if they aren't responsive. If you want an alternative to iMyFone Fixppo to solve failed updates or black screens, consider the options discussed above.
Although some of these options have free trials, you must use a paid version for more features and a better experience. If these options don't work, you can pursue other options, such as contacting Apple directly or applying for a warranty. We hope you find what you are looking for.