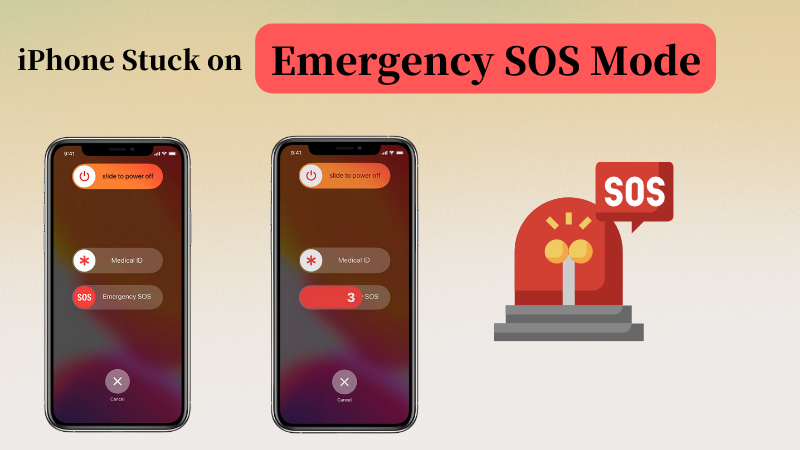 Phones are a great way to stay connected with your loved ones. However, you might get stuck in a situation where you can no longer receive or send calls. In such cases, you will have to switch to the SOS mode on your iPhone. This SOS mode is really helpful in sending out a distress call to emergency services. Although this SOS mode is beneficial, your iPhone can get stuck on it sometimes, thus rendering you unable to send or receive calls.
Part 1. Why Is My Phone Stuck in SOS Mode?
Since iPhones have been launched in different versions, each one can leave a different problem when it comes to their iPhone getting stuck on SOS mode. Some of the reasons why your iPhone can get stuck in SOS mode are:
iOS Software Being Under Development
For iPhones with iOS version 11.4, getting stuck on emergency SOS mode is easier. This is because this version is still under development. Moreover, an iPhone with iOS 11.4 having a beta or a developer installed on it can also become problematic.
iPhone Screen Getting Stuck
Your iPhone may get in emergency SOS mode, and your screen fails to respond to your touch commands. Your iPhone is stuck in the mode until you intervene to correct the situation.
Performing Incorrect Actions
Pressing volume up, power, and volume down buttons together can make your iPhone stuck in emergency SOS mode.
If you jailbreak your iPhone and encounter any error during the process, your iPhone can get stuck on the emergency SOS screen.
Part 2. How to Fix iPhone Stuck on Emergency SOS Mode
In the first part of this guide, you learned about different errors and glitches that can make your iPhone stuck in the emergency SOS mode. Now, the next part of this guide is dedicated to providing you with solutions for them.
Way 1. Quick Fix Stuck on Emergency SOS Can't Shut Down
If you want to get rid of the emergency SOS mode quickly, you should look forward to our premium product iToolab FixGo. FixGo is designed to help your Apple devices with common and uncommon errors they can face. For the sake of this guide, we will look at how FixGo can solve your iPhone's problem of getting stuck in the emergency mode.
Fix 200+ iOS/iPadOS/tvOS Issues
FixGo immediately solves your all iOS-related problems quickly.
It can help you get rid of any common errors, such as black screen, white screen, and screen stuck on the Apple logo, all of which, in turn, can cause your iPhone to be stuck in emergency mode.
FixGo enters the recovery mode and gets rid of your iPhone being stuck in the emergency SOS mode.
The installation process of installing and using FixGo is as easy as ABC! Here's how you can do it:
Step 1: Connect your iPhone stuck on the emergency SOS screen. Click Fix Now on FixGo and begin the recovery process.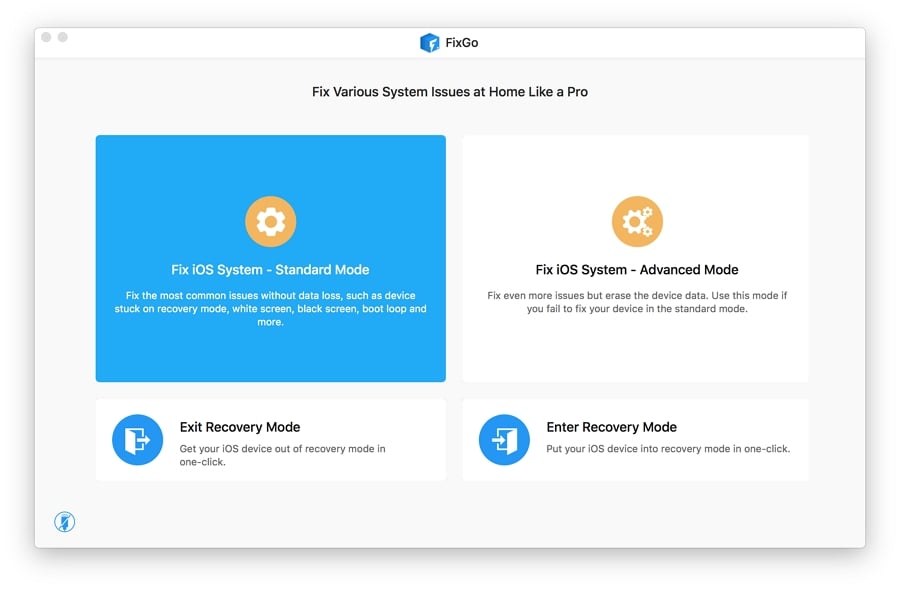 Step 2: Click Browse and download the latest firmware package.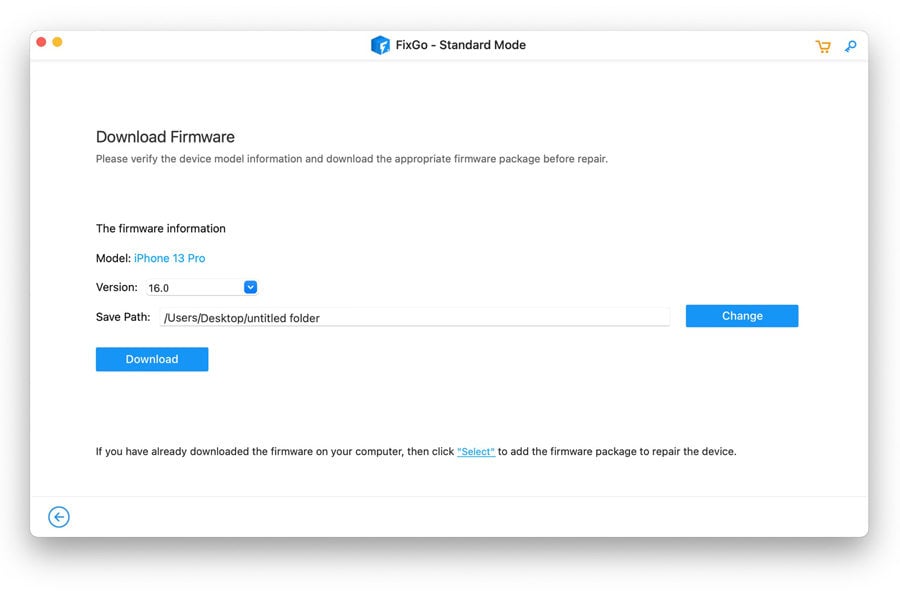 Step 3: After downloading the firmware, click Repair Now on FixGo's interface.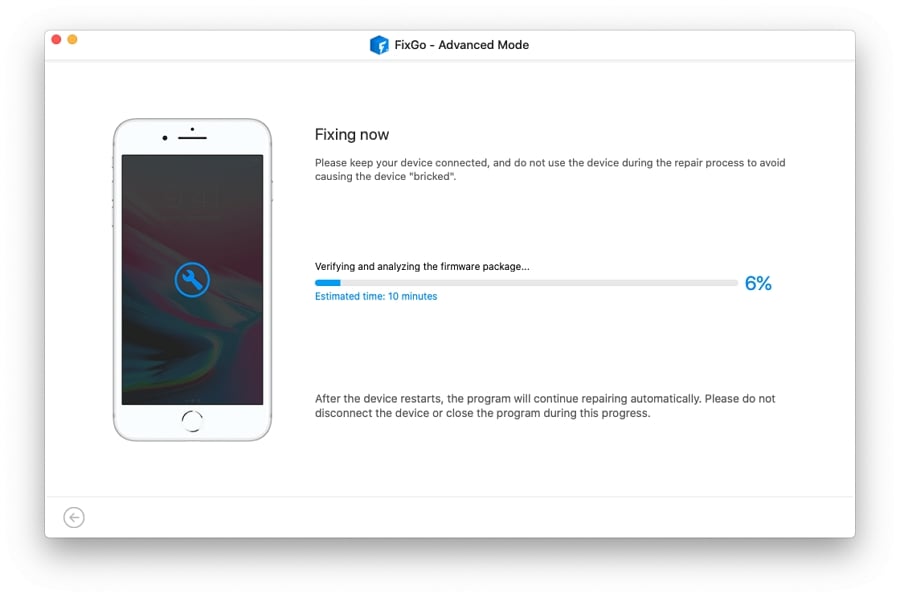 Now, FixGo will begin the recovery process and get your iPhone out of the emergency SOS mode screen.
Way 2. Update iPhone
DFU mode stands for iPhone recovery mode. If your iPhone keeps rebooting for no reason, is stuck on the apple or any such type of iOS crashes, you may be forced to enter DFU mode. When you enable this mode, then iTunes detects "an iPhone in recovery mode".
How to enter the DFU Mode?
Briefly press the volume down button and Sleep/Wake button one after the other.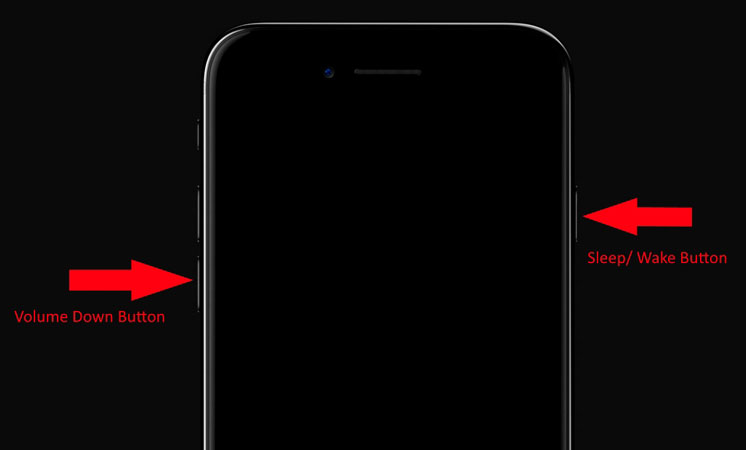 Hold down the power button until you see the iTunes logo on the iPhone screen and the recovery message on the computer.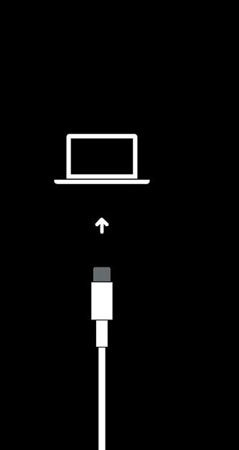 iTunes opens and detects iPhone in recovery mode.
In any case, the screen that opens on iTunes only allows you to say "OK" to restore the iPhone, which will take a few minutes (or more, depending on the amount of data).
Way 3. Force Start iPhone
Force restarting is the first solution to try when your iPhone isn't working properly on stuck in the Emergency SOS mode, no matter whether it's a system bug or a software glitch. This procedure does not cause data loss. The below chart describes how to force restart different models of an iPhone.
| MODELS | iPhone with Face ID, iPhone 8, X, 12,13 | iPhone 7, 7 Plus | iPhone 6, 6s and iPhone Se (1st Generation) |
| --- | --- | --- | --- |
| Volume Up Button | Press the volume up button quickly, and then release it | | |
| Volume Down Button | Press the volume down button and release it | Press the Volume Down button | Press the Volume Down button |
| Sleep Wake Button | | Press the Sleep/Wake button with volume down simultaneously | Press the Sleep/Wake button with volume down simultaneously |
| Side Button | Press the side button until the apple Logo appears | | |
| Apple Logo | iPhone X, 11, 12 are now restarted with Force SOS mode | Release the volume down and Sleep button when the logo appears | When you see the apple logo, now the phone has been restarted |
Way 4. Restore iPhone via iTunes
If it is a problem with your iPhone system, you can fix it by updating your iPhone via iTunes recovery mode. You will need to connect the iPhone or iPad to a computer so that you can restore your device with iTunes. Here are the steps to follow.
Step 1. Connect your iPhone to Mac or PC with a USB cable.
Step 2. Open iTunes on your computer.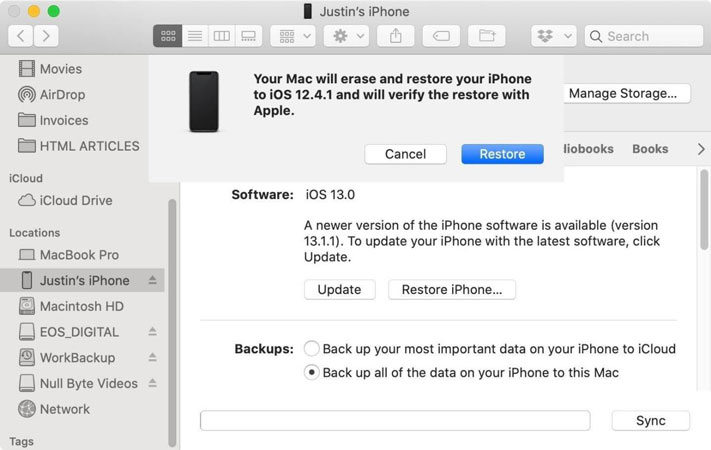 Step 3. Force restart your iPhone. Tap and promptly release the Volume Up button > Quickly press and release the Volume Down button > Press and hold the Power button till the Recovery Mode screen appears.
Step 4. On your computer, click the "Update" button. Then iTunes or Finder will reinstall iOS without erasing your device.
Way 5. Contact Apple Support
If you don't want to install software on your computer, you can contact Apple for help online, or you can take your device to a local store for help. Apple's support team can answer all questions about Apple products, hardware, software, and services. But before that, make sure that live chat is available in your country. Then, here are the steps on how to access Apple's live chat support for solving your query of iphone 11 stuck on emergency SoS or iphone 12 stuck on emergency SOS.
Step 1. Visit Apple's official website.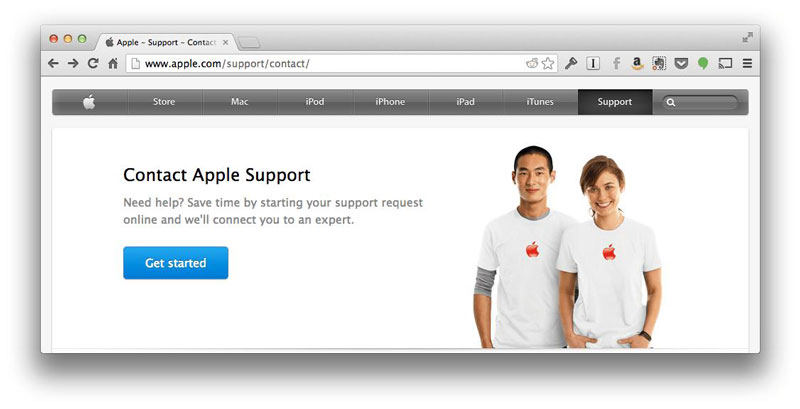 Step 2. Click "Support" > "Get Support" > "Contact Us" (or "Tell Us What's Happening").
Step 3. Choose a product or service.

Step 4. Select the specific query you are looking for or search for topics. If your question is not listed here, you can choose the "subject is not listed" option. Then you will be asked to write down the problem on the next screen.
Step 5. Next, choose how you want to get help and sign in with your Apple ID and password.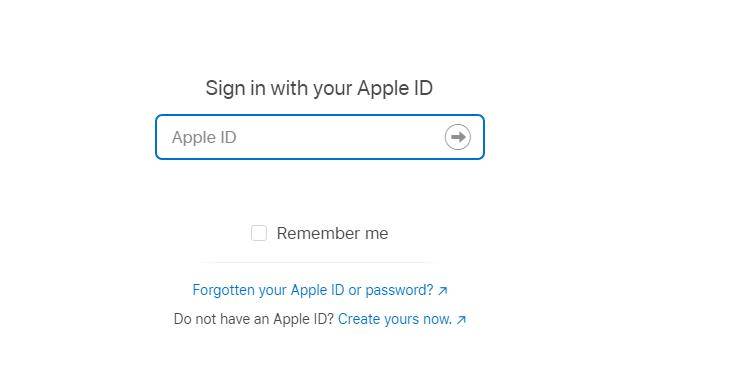 Step 6. Wait for Apple Support to contact you.
Extra Tip: How to Turn Off Emergency SOS on iPhone
So as an extra tip in this article about "iPhone stuck on emergency SOS screen", we will educate you on how to deactivate the emergency call that is made when pressing the side button (On/Off) of your iPhone several times, also called Emergency SOS on iPhone.
Note: The emergency call function with the side button is very interesting but can be annoying if you accidentally press the side button 5 times.
1. To get started, tap the Settings icon.
2. Next, go to Emergency Call.
3. Finally, you must press the on/off button in front of Call with the side button to deactivate the function.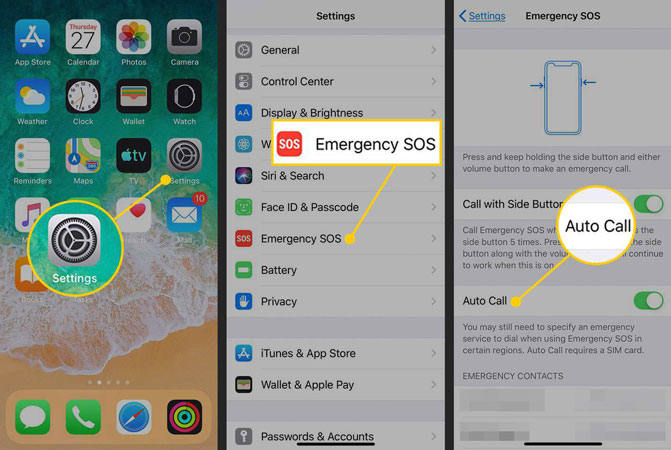 And that's it, now the emergency call using the side button of your iPhone is no longer active.
Conclusion
Force restart and update your iPhone via iTunes could help you unlock your iPhone. However, this method requires relatively complicated handling on your part. For this, iToolab FixGo remains the best choice. It allows you to restore the mobile in a completely automatic way and within a few minutes.