When it comes to turning off iPhone, it's a pretty straightforward two-step. You can turn it off by pressing and holding the Power/Side and Volume Up and Volume Down buttons, and once the slider pops up, you can swipe it to shut down your device.
However, if your iPhone faces a bug reported by millions of iPhone XR users worldwide, it wouldn't work like this. Your iPhone screen might freeze or be unresponsive, so you can no longer turn it off.
Here are the ultimate methods to fix this problem, especially on iPhone XR. Since iPhone XR users especially face the issue, but if you're also facing it on different iPhone models, these troubleshooting methods will also help you fix it on your own.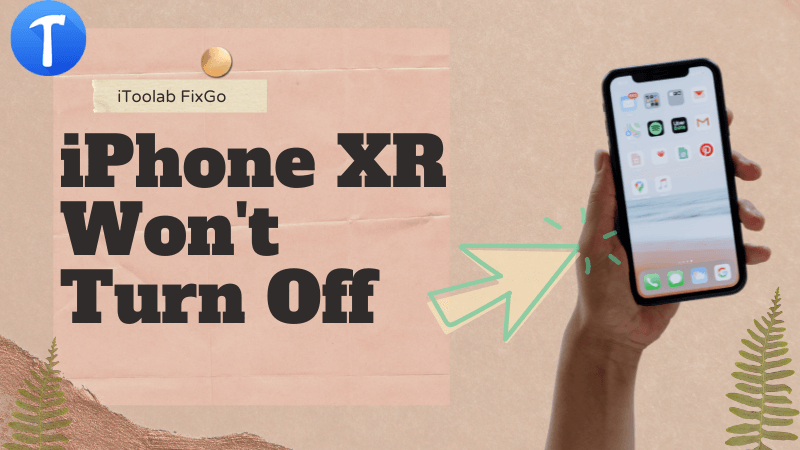 Possible Troubleshooting for iPhone XR Won't Turn Off
If the standard shutdown isn't working, the problem isn't with the power or volume buttons. It lies within the device's OS that responds to the command when the button is pressed. Several ways are using one can fix it. However, we have handpicked the most effective ones and outlined them below. You can go through them one by one and check which one works.
1. Force Restart
A force restart is a potential solution to this issue. It fixes minor system corruption and returns your device to its normal state. This method could be helpful if iPhone XR does not respond to the buttons' commands since it forces your iPhone to patch up with software conflicts. Here are the steps to force restart the iPhone XR.
Press and let go of the Volume Up.
Press and let go of the volume down button.
Press and hold the power button until the device restarts, go black, and finally when the Apple logo appears on the screen.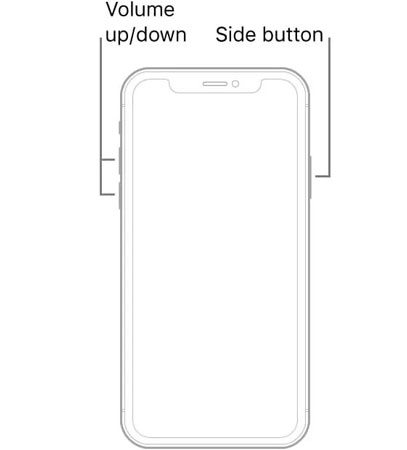 2. Reinstall iOS
If a Force Restart isn't working, you need to reinstall iOS on your iPhone XR. Since a software problem causes this issue, reinstalling the OS on the device can eliminate the bugs and glitches. If the issue occurred after updating the iOS, you could downgrade the iOS version via this method.
You don't need to worry about the "Trust This Computer" prompt, as recovery mode doesn't ask you for this, and you can easily reinstall the iOS. Here's how you can do it on your iPhone XR and other models.
First, you need to put your iPhone XR into recovery mode. You can do so by pressing and letting go of the Volume Up and repeating with the Volume Down button. Then, press the Power/Side button until you see the recovery mode screen.
Launch iTunes on your computer, and connect your iPhone XR using the lightning cable.
Once you connect the iPhone XR to the computer, iTunes should show the message with two options: to Update or Restore.
Choose the Update option if it works; otherwise, choose the restore option, which will wipe off the data.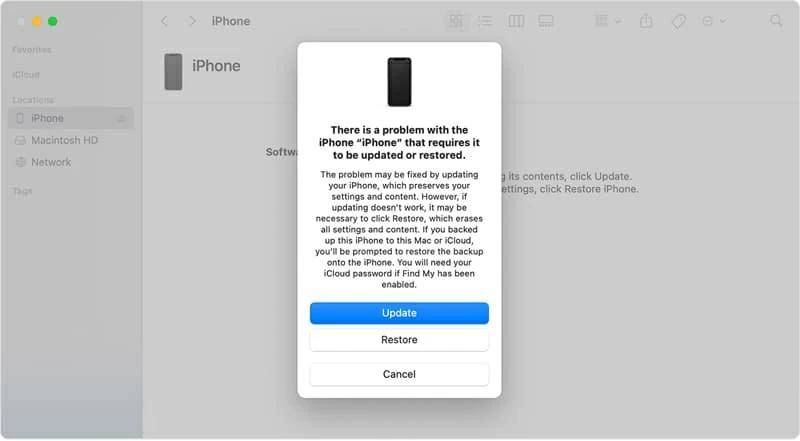 3. Enable AssistiveTouch
AssistiveTouch is a fantastic iPhone feature that allows you to use your iPhone even if the power and volume buttons are not working. It acts as an on-screen home button. You can enable AssistiveTouch from settings. Here's how you can do it:
Go to Settings, select Accessibility > Assistive Touch > and toggle the switch on.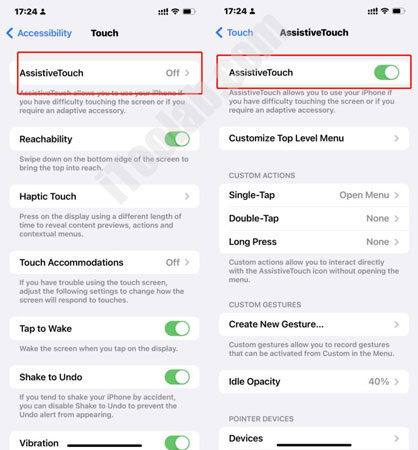 After you've enabled AssistiveTouch, a small circle will appear on your iPhone's display. Tap it to access various iPhone settings and options. Now, you can use this feature to turn off iPhone XR, as shown below:
Tap the AssistiveTouch > Device > tap Restart. It'll ask for confirmation to restart your iPhone. Most of the time, the assistive touch works even when the screen gets frozen. However, it might be suitable if you cannot turn it on. Try the next fix.

4. Restore from Backup
Restoring iPhone XR from iCloud or iTunes backup is the last option to solve how to turn off iPhone XR. First, you must create a full backup using iTunes and restore it to your iPhone. This method will wipe out all the data from the device, but you can sync it again with iPhone XR after the iPhone is restored.
To restore iPhone XR from the backup,
Connect the iPhone to the computer using a lightning cable. If your iPhone is unresponsive, follow this guide's steps in Fix 2 (Reinstall iOS) to put your iPhone into recovery mode.
Launch iTunes on the computer and select iPhone XR from the list of devices.
Click Restore iPhone > select the backup file you've created before > click Restore and wait for the process to be completed.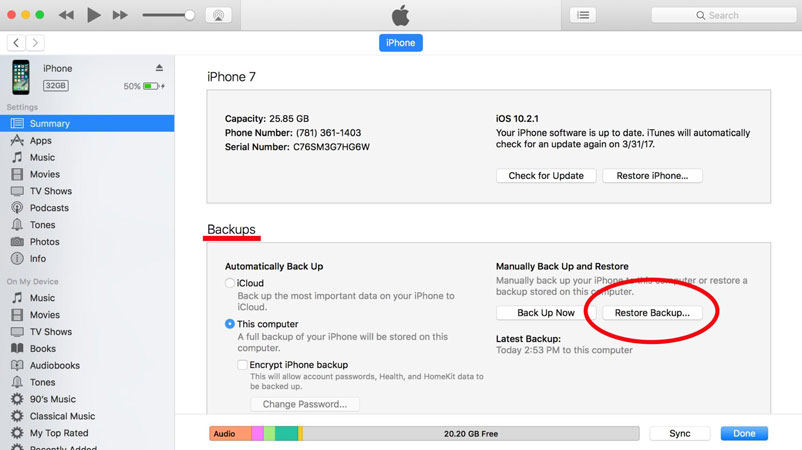 100% Troubleshooting for iPhone XR to Turn Off
If the issue persists after applying all the above-mentioned fixes, there might be a bug or glitch in the device's OS. A professional tool can help eliminate iOS bugs and glitches quickly.
iToolab FixGo is an iPhone repair tool that helps you solve iPhone XR won't turn off issues. It can also fix various iPhone problems like the iPhone stuck on the Apple logo, the iPhone black/blue/red screen of death, and more without data loss.
FixGo – Fix iPhone XR Won't Turn Off
Easy to use, one-click iPhone repair process
Compatible with all iPhone models, including iPhone XR
Fully compatible with all iOS versions
Ability to fix iPhone won't turn off issues without data loss.
Support for both Mac and Windows
iPhone system repair without any technical knowledge
iPhone repair in minutes
24/7 online tech support for iPhone issues.
Here's how you can fix the iPhone XR won't turn off or open apps issue using the FixGo tool.
Download and install FixGo on your computer. Launch it and select the Standard repair option on the program's main screen.

Connect your iPhone XR device to the computer using the lightning cable and click on Fix Now. The program will detect the model of your device and will suggest the firmware package accordingly. Select the firmware package for your device, and select the latest one.

It'll take time to download. Once completed, the program will repair your device to troubleshoot iOS-related issues. It will take minutes, please wait patiently.
Extra: Why Is My iPhone XR Frozen and Won't Turn Off
iPhone XR frozen and won't turn off can happen for various reasons. A software glitch, water damage, or a manufacturing issue most likely causes it. To prevent the iPhone from freezing again in the future, make sure you keep your iPhone updated with the latest version of iOS. Also, avoid getting your iPhone wet.
Turn Off iPhone XR Now
In conclusion, the iPhone XR won't turn off due to a software glitch or a bug. To troubleshoot this issue and get your iPhone running again, try hard resetting the iPhone and re-installing the iOS version. If these solutions don't work for you, then using the iPhone repair tool – iToolab FixGo to fix iPhone XR won't turn off issues without data loss is recommended.