TikTok videos are a popular way to share your life with the world, but they can be just as easily deleted accidentally. If you have ever experienced the frustration of losing a video you thought was gone forever, don't despair. There are a few ways you can try and recover deleted TikTok videos on an iPhone. With the right tools, however, recovering those lost TikTok clips is possible. Today's post will show you how to recover deleted TikTok videos on iPhone quickly and safely. So, let's begin.
Can I restore deleted videos on TikTok?
TikTok is a great platform for creating, sharing, and watching videos. Unfortunately, once you delete a video it cannot be recovered from the app itself. However, there are some other methods that could help you restore deleted videos on TikTok. But you need to make sure that you perform these methods only on that particular device that was used to shoot or upload the TikTok video.
Let's explore what you need to do to recover deleted TikTok videos on an iPhone.
3 Basic Solutions: How to Recover Deleted TikTok Videos on iPhone
Here in this section, we're going to explore 3 official methods for recovering deleted TikTok videos on an iPhone:
Method 1: Recover Deleted Tiktok Videos From Photos Recently Deleted
You can recover the deleted TikTok videos from the recently deleted photos album on your iPhone. But this method works, if you have saved the videos in your photos app and deleted them recently.
1. Navigate through the "Photos" app and click on the "Albums" button.
2. Find the "Recently Deleted" option.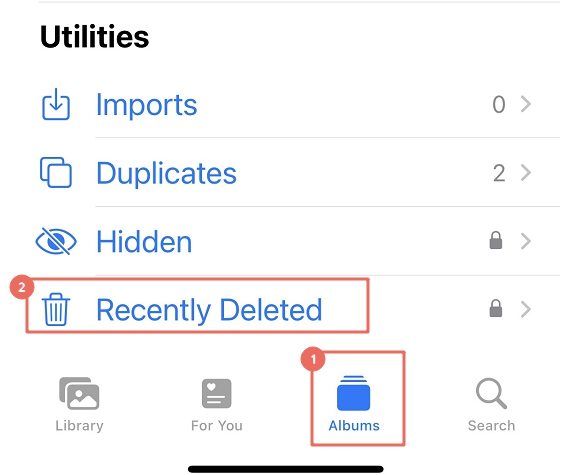 3. Find the video that you want to recover, select it and hit the "Recover" button.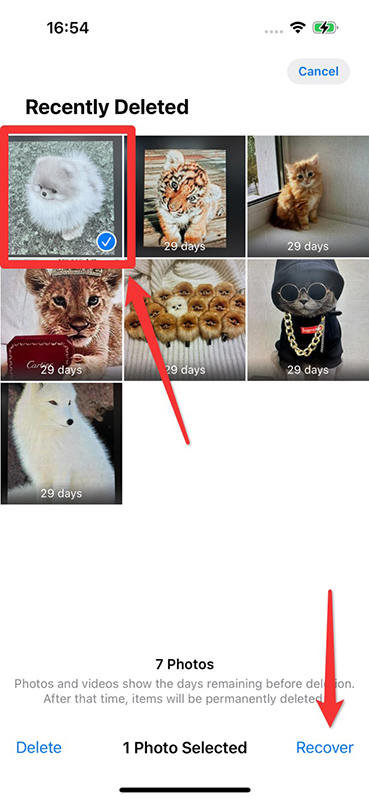 📛Limitation:
This Recently Deleted album holds your deleted photos or videos for 30 days only, after which they are permanently deleted from the device.
Method 2: Restore Deleted Tiktok Videos From iCloud Backup
Keeping an iCloud backup of your iPhone is a great way to protect important data, including photos and videos. To make sure you are set up right, go to Settings > (your name) > iCloud > iCloud Backup, and make sure the Backup option is turned on.
To recover those deleted TikTok videos, follow these steps:
Step 1: First, you need to erase your device. For this, open "Settings", select "General", scroll down to the bottom, and opt for "Transfer or Reset" followed by "Erase all content and settings" option.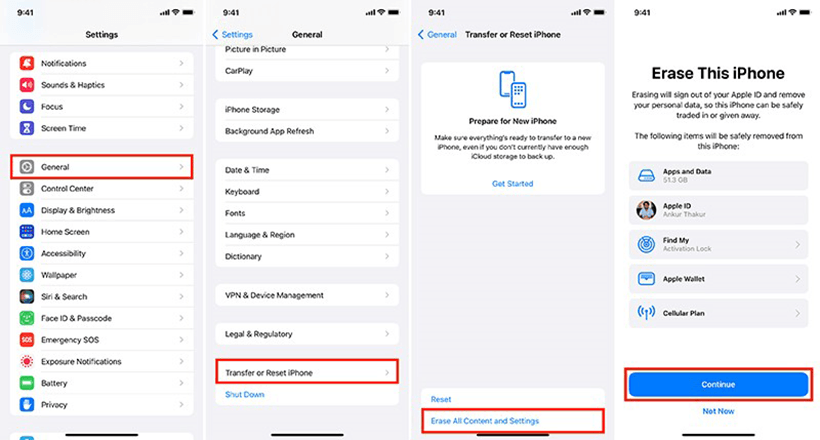 Step 2: Now, set up your device as usual. Then, make sure to sing in to the same Apple account where you have your iCloud backup. Now, opt for "Restore from iCloud backup" option on Apps and data screen.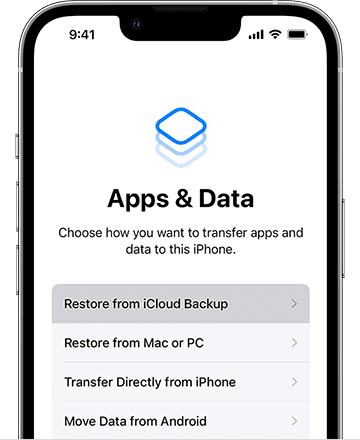 Step 3: Select the backup that you think has the TikTok videos you were looking for and wait for the process to complete.
📛Limitation:
There are certain drawbacks to using this method, such as,
● There is a chance that some or all of the data may not be recovered.
● You should necessarily have an up-to-date iCloud backup to restore.
● Also, you need to erase entire data on your device in order to restore a backup.
Method 3: Retrieve Deleted TikTok Videos from the Liked❤ Videos
Another option to get the deleted TikTok videos back is from the liked videos. Here are the steps for the method:
1. Navigate through the TikTok application and open your profile with the button given in the bottom right corner.
2. Find the "Heart" icon on your TikTok profile. Click and open the option and you will find all your liked videos.
3. After that, tap on the "Deleted videos" option.
4. Navigate through the 3 dots at the top right corner and hit the "Save video" button.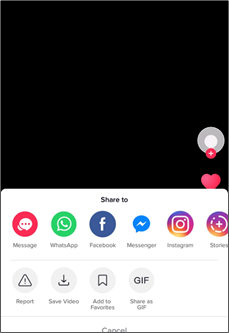 You will be able to find the deleted TikTok videos in the phone's gallery. Choose the images and hit "Save".
📛Limitation:
There are certain drawbacks to using this method, such as,
● You will be able to retrieve the TikTok videos from Liked Videos section only when they are deleted from your device but not from app.
● If the video is deleted from the device and from the app as well, then this method will be of no use.
Advanced Way: Using A Professional iPhone Data Recovery Tool
Well, if none of the aforementioned solutions bring you no result, then you must go for an advanced recovery solution. For this, we would like to introduce iToolab RecoverGo (iOS), a perfect tool for all your data recovery needs. This professional data recovery tool can help you restore any inadvertently deleted videos from your device. With just a few simple steps, you can recover all of the lost data from your iPhone in no time.
Key Features:
✅ iToolab RecoverGo (iOS) supports a wide range of data formats, including text, images, videos, photos, documents etc.
✅ It features selective restoration capabilities, allowing you to choose which files you want to recover.
✅ With advanced scanning technology, it can quickly detect and recover lost data even if your device has suffered damage or corruption.
✅ iToolab RecoverGo (iOS) has been designed with a user-friendly interface and advanced scanning technology making it easier for anyone to use without any hassle.
✅ The software also features a preview option that allows you to view each item before recovering them.
Step by Step Tutorial
Now, if you're wondering how to recover deleted TikTok videos iphone via
iToolab RecoverGo (iOS)
, worry not we've got you covered.
Step 1 Launch iToolab RecoverGo (iOS) on your computer. Then connect the iOS device to the computer.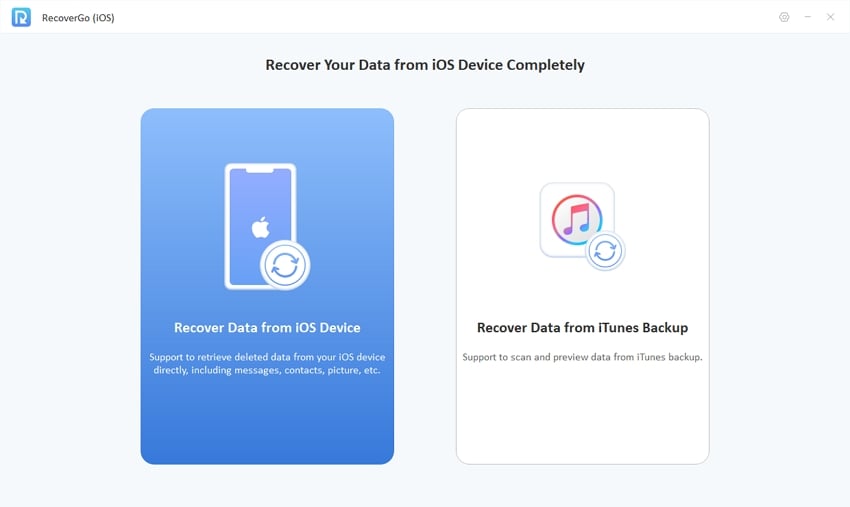 Step 2 Click "Recover Data from iOS Device", and then you will get a window like this.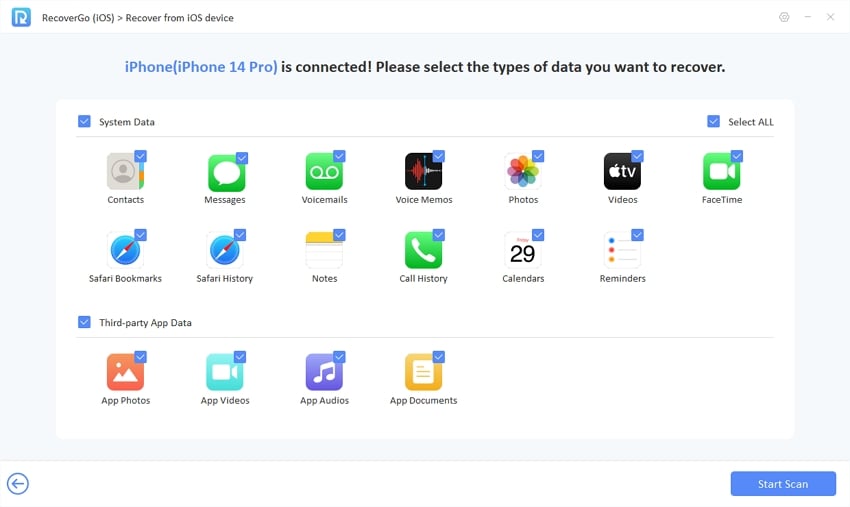 Step 3 Click on the "Start Scan" button to let the device initiate the scanning process for the lost data.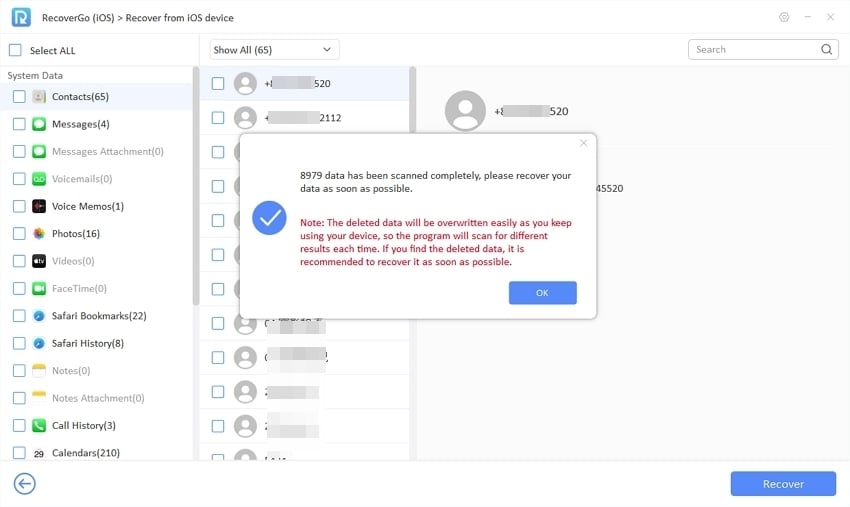 Step 4 Click on the "Restore" button to regain the lost data. You will get the recovered data on the "Videos" app.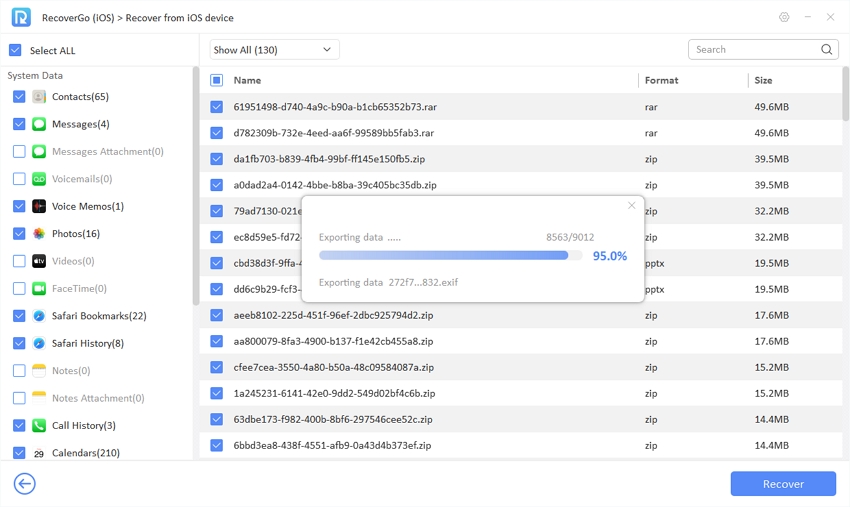 Extended Tip: How to Protect Your TikTok Videos
TikTok videos or any other data can easily get lost if you don't take the proper steps to protect them. Fortunately, there are a few easy ways to ensure your TikTok creations stay safe and secure for you to access anytime you choose.
● Switch on the "Save to Album" option in the settings of your TikTok app, so that any videos you post will be saved automatically.
● Additionally, save copies of your videos before posting them to your account. This way, you'll maintain a copy of your content even if something happens to the video posted on TikTok.
● Enable syncing with iCloud as another measure of protection. Not only will this safeguard your videos against unfortunate mishaps, but it will also make them more accessible across multiple devices.
Taking just a few moments to set up these features can save you countless hours searching for a missing video down the road.
Conclusion
While the process of how to recover deleted TikTok videos on iphone can be tricky, it is not impossible. There are several methods that we have discussed today in this blog. But, using RecoverGo (iOS) by iToolab is one of the easiest and most effective ways to retrieve those precious memories that have been inadvertently lost. With its simple and intuitive user interface, anyone can be an expert in recovering data from their iPhone including TikTok videos.