We realize the importance of call history especially when an unsaved number gets deleted from the iPhone. The number can be of your office colleague, ex-boyfriend, or even a criminal. So it's important to keep a record of the call history to avoid any kind of trouble.
If you will try to retrieve deleted call history iPhone, it will be difficult when cloud backup is not active. In such a case, the only effective way to get back your call history is with a third-party recovery tool. In this article, you will walk through all possible ways to retrieve deleted call history iPhone.
Is It Possible to Recover Deleted Call History?
Yes! You can recover deleted call history easily with iCloud or iTunes backup. Apple allows users to keep a backup of their iOS devices so that they can restore them anytime in need. However, you need to turn them on from the "Settings" option. If they remain inactive then there are no chances of any backup creation. In such a case, getting back call history becomes tough.
Fortunately, deleted files aren't erased permanently until they are overwritten by a new file. So it's still possible to retrieve deleted call history iPhone, but how? You can't do it yourself without the help of a reliable recovery tool. This is where RecoverGo for iOS comes to rescue your deleted files.
| | iToolab RecoverGo (iOS) | iTunes/Finder | iCloud | Contact Carrier |
| --- | --- | --- | --- | --- |
| Recover data directly from iOS devices | ✔ | ❌ | ❌ | ❌ |
| Recover selective data | ✔ | ❌ | ❌ | ✔ |
| Preview files before recovery | ✔ | ❌ | ❌ | ✔ |
| Easy to use | ✔ | ✔ | ✔ | ❌ |
| Fast data recovery | ✔ | ❌ | ❌ | ❌ |
The Most Effective Way to Retrieve Deleted Call History iPhone
Still, wondering how to recover deleted call history on iPhone without backup? Don't panic when iToolab RecoverGo (iOS) is there as a savior. It is well known in the industry for its high data recovery success rate. With compatibility with iOS 14 and iOS 16 devices, the program can recover deleted call logs from your iPhone directly. It can also restore deleted files from your iTunes accounts.
Key Features:
✅ Recovers call history in many scenarios, even from a damaged iPhone
✅ Works for all old and latest iOS device models
✅ Has an intuitive interface
✅ Allows data preview and selective recovery
✅ Quite easy to use
Step-by-Step Tutorial: Recover Lost Data from iOS Device
Step 1 Connect iOS Device to Computer
Download, install, and run iToolab RecoverGo (iOS) program on your computer. After that, connect your iPhone via a USB cable. Hit the "Recover Data from iOS Device" option from the home interface once it connects and gets detected successfully.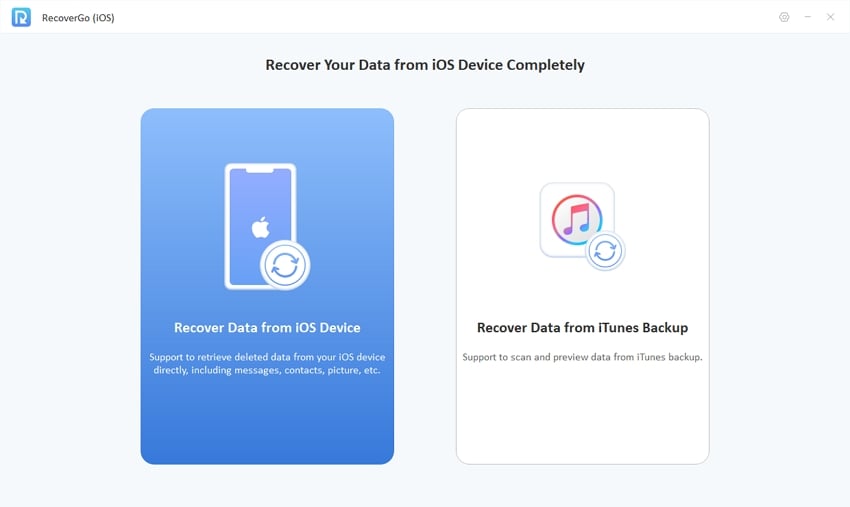 📛Note: Keep the latest version of iTunes on your computer and deactivate the automatic sync feature.
Step 2 Select the Recover Data Type
Select the recover data type and click on the "Start Scan" button present at the bottom to find the deleted call history. Let the scanning process continue to view all deleted data or hit the "Pause" button when you can view the data you were looking for.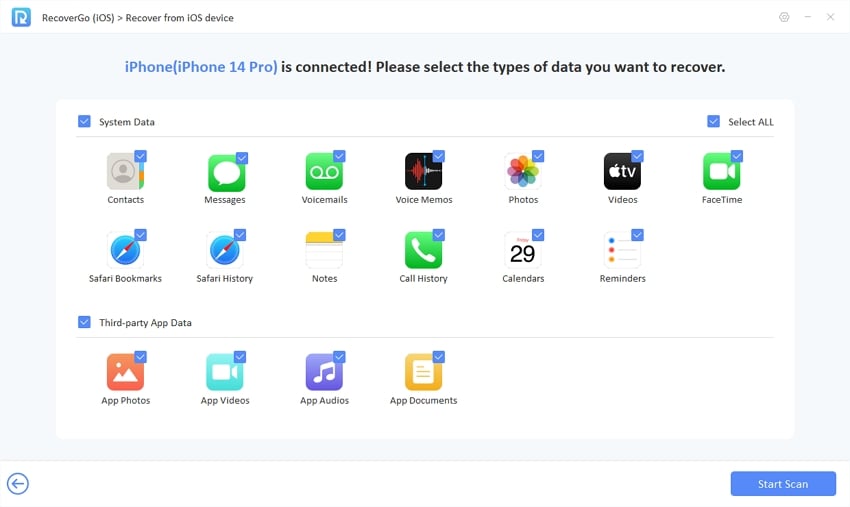 Step 3 Preview and Recover Scanned Data
After the scanning completes, you can view both the existing and deleted data. To filter it, click on the filter icon and go to the "Deleted" option to activate it. Moreover, hit the "Contacts" on the left pane to access the deleted data. Now, select all or the desired ones and click on the recovery button to save them on your computer.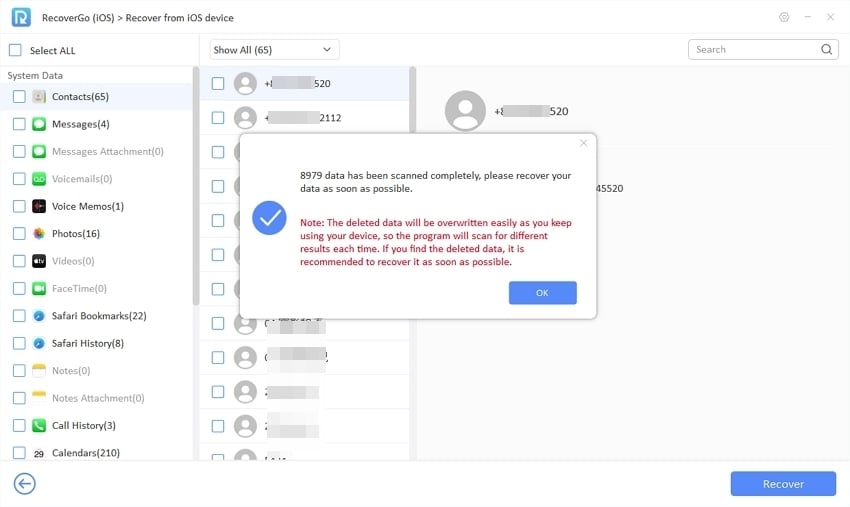 That's it. You've successfully retrieved the call history now. Well, that was fast and effortless, right? Now, let's understand the official was to do this.
4 Official Ways to Retrieve Deleted Call History iPhone
You may now wonder if there is any way how to see deleted calls on iPhone without using third-party software, correct? Here in this section, we're going to explore the official ways to retrieve deleted call history on iPhone. So keep reading.
Method 1: Recover Deleted Call History iPhone through Carrier
The first way you can try is to request deleted call history from your cellular carrier.
Try to contact your service provider and ask them for permission to recover your call history. But please keep in mind that not all mobile phone service providers will have a copy of the contacts on their systems, and you would have to complete the verification process patiently as it may be time-consuming.
Method 2: Retrieve Deleted Calls on iPhone with iCloud Backup
When the iCloud backup is available, you can retrieve deleted call history from your iPhone with the following steps:
1. Open Settings and go to "General"> "Transfer or Reset iPhone" > "Erase all Contents and Settings".
2. Select "Erase Now" and "Enter Your Password".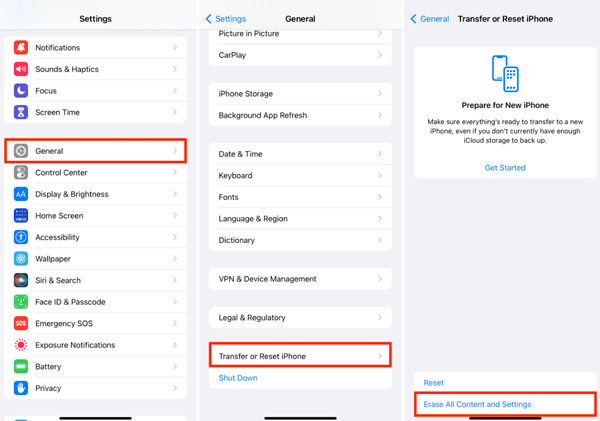 3. Setup your device after removing everything and then sign in to your iCloud account with Apple ID.
4. Click "Restore from iCloud Backup".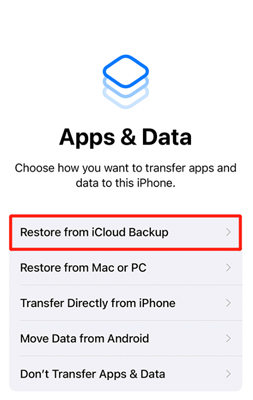 5. Choose the backup file to restore all the deleted call history and other file types.
That was how you can make use of iCloud backup to restore deleted call history on iPhone.
Method 3: Recover Call History iPhone with iTunes Backup
Up next is the well-known method to all iOS users, i.e. to restore your backup via iTunes. Let's understand how to get it done with the following steps.
1. Run iTunes on your PC and then connect your iPhone to it.
2. Next, hit the iPhone icon on top followed by getting into the Summary section of your iPhone from the left pane.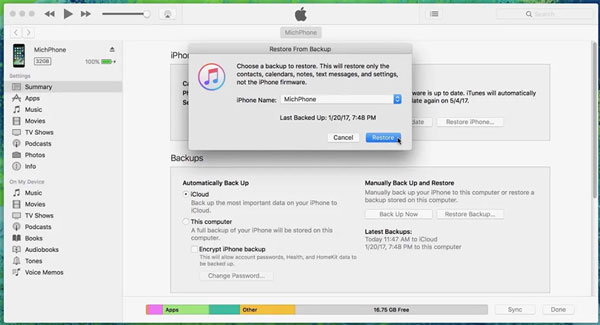 3. Click on "Restore Backup" and opt for the relevant backup file. Hit Restore again.
After the process completes, your data will be restored to your iPhone and you can then access the deleted call history from your Dialer app.
Method 4: Get Back Call History iPhone with Finder
Finder is the gateway to all stored files on your Mac. For retrieving deleted call history with Finder. Follow the given instructions:
1. Run Finder on Mac, connect your iPhone to your Mac and choose "Trust this computer".
2. Select your iPhone once it appears on the left side.
3. Go to the "General" tab and scroll to the backup.
4. Click on "Restore Backup".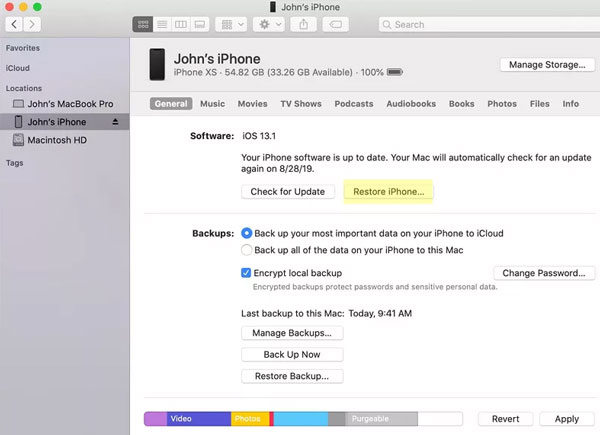 5. Pick the backup containing the deleted call history and hit the "Restore" button. For the encrypted backup, enter the passcode.
So that was all about the official ways with which you can retrieve the deleted call history of your iPhone. Now, it's up to you which one you go for.
Final Words
After retrieving deleted call history iPhone, you can save the numbers that seem important or block the ones you wish. So the next time when you delete any files by chance in your iPhone, just utilize iToolab RecoverGo for iOS to restore them back. In addition, make sure to keep the iCloud or iTunes backup on.