Losing important phone numbers on an iPhone can be distressing, especially when there is no iCloud backup available. Users may feel a sense of frustration and worry about permanently losing vital contact information. However, there's good news!
In this guide, we will explore a reliable and effective method that you can learn how to retrieve deleted phone numbers on iPhone without iCloud. Whether it's an accidental deletion or a device malfunction, this solution will help you learn how to get contacts back on your iPhone without iCloud and regain peace of mind.
Common Questions About Deleted Contacts
When it comes to deleted contacts on your iPhone, you may have a variety of common questions. Here, we address some of the frequently asked queries to help you navigate the process of recovering lost contacts and ease your concerns.
Does iPhone Have a Recycle Bin For Contacts?
No, iPhone does not have a recycle bin specifically for contacts. Unlike other platforms, when you delete a contact from your iPhone, it is permanently removed from your device.
However, don't worry; all hope is not lost! There are alternative methods and solutions available that can help you recover your deleted contacts and learn how to restore iPhone contacts without iCloud. Let's explore some of these options to retrieve your valuable contact information.
Does Deleting Contacts Delete from iCloud?
Indeed, deleting contacts from your iPhone will result in their removal from iCloud as well, as the two are intricately synced. The deletion of a contact from your iPhone is mirrored on the iCloud server, ensuring consistency across your devices.
However, should you wish to delete a contact solely from your iPhone without affecting iCloud, you have the option to disable iCloud contact sync. To accomplish this, adhere to the following professional steps:
• Go to the Settings app on your iPhone.
• Locate and tap on your name situated at the top of the screen.
• Scroll down and tap on iCloud.
• Proceed by selecting Contacts.
• Finally, deactivate the switch adjacent to "Contacts" to disable iCloud sync for your contacts.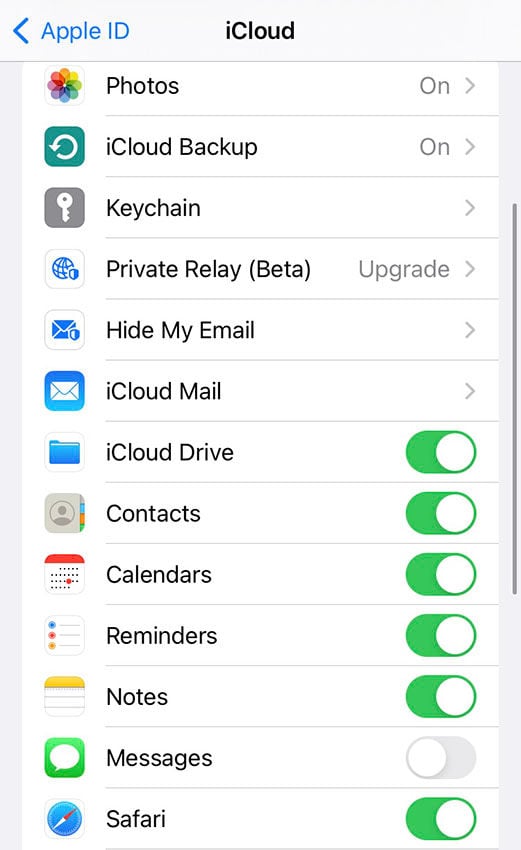 Does iCloud Back Up Contacts?
Certainly, iCloud does provide backup functionality for your contacts. When you configure iCloud on your device, your contacts are automatically and securely backed up to the cloud. Consequently, you can conveniently access your contacts from any device associated with your iCloud account.
To verify whether your contacts are backed up to iCloud, kindly follow these professional steps:
• Visit the official iCloud website and proceed to sign in using your Apple ID and corresponding password.
• Locate and click on the Contacts icon within the interface.
• If you observe a comprehensive list of your contacts, it indicates that they have been successfully backed up to iCloud.
How to Retrieve Deleted Phone Numbers on iPhone without iCloud [Google Contacts]?
You can sync iPhone contacts with a Google account and use them to recover contacts deleted within less than 30 days. Here is how you can sync iPhone contacts with a Google account:
Go to Settings > Contacts > Accounts > Add Account > Google. Complete the Sign in process and turn the sync ON for Contacts. Don't forget to hit Save!
If you have synced your contacts with Google, follow the below guide to recover contacts deleted within less than 30 days.
• Go to your browser and open the Google account you used to sync the contacts.
• Hit the Trash menu in the left bar and select the contacts you wish to recover.
• Hit Recover option to get those contacts back.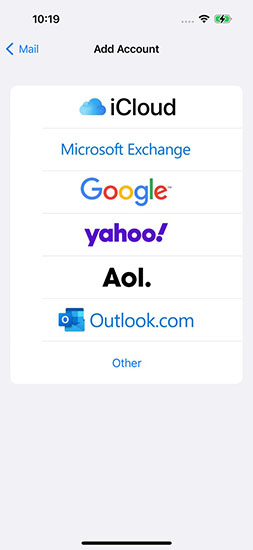 How to Restore Contacts on iPhone without iCloud [iTunes Backup]? 🔥
When you create a backup of your iPhone using iTunes, it automatically includes a backup of your contacts, allowing you to easily recover deleted phone numbers on your iPhone without relying on iCloud. This backup ensures you have a safety net in case of accidental deletion, loss, or damage to your device. To recover from iTunes Backup:
• Connect your iPhone to your computer using a USB cable and launch iTunes.
• Locate and click on the iPhone icon in the top corner of the iTunes window.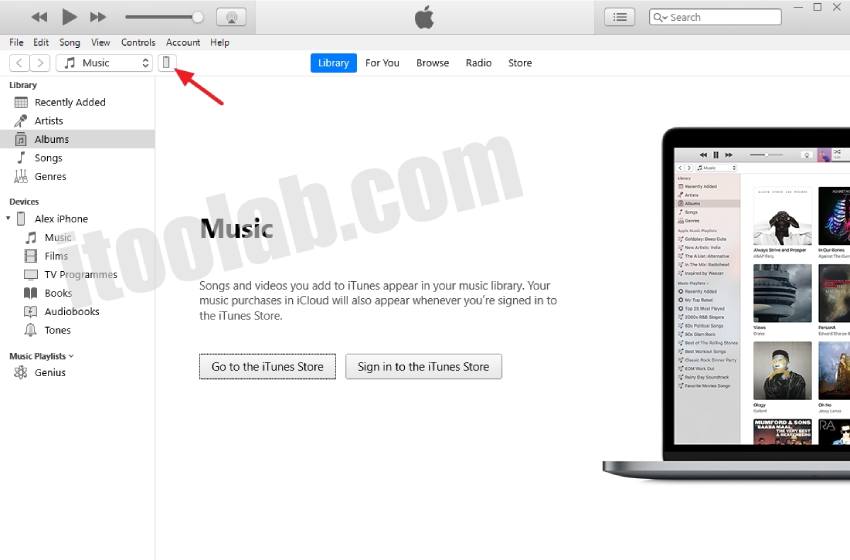 • Go to Summary > Restore Backup.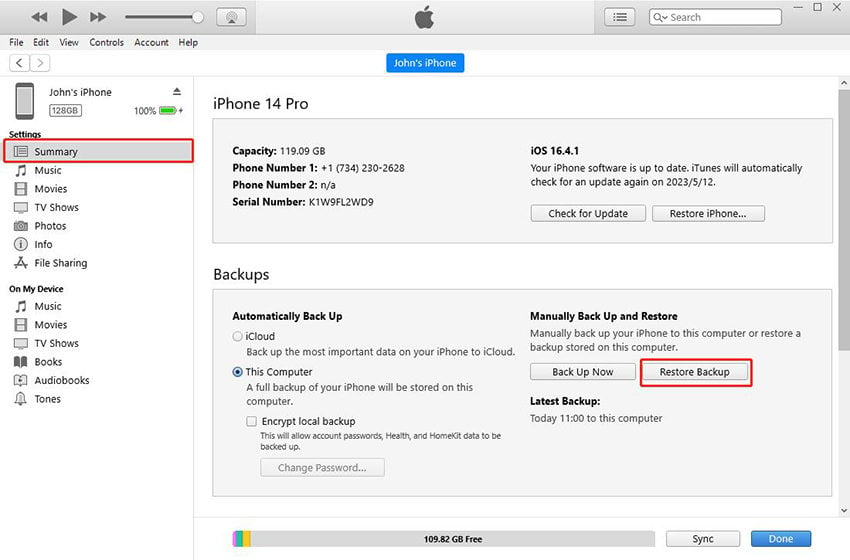 • A list of available iTunes backups will appear. Choose the backup that contains your contacts and click Restore.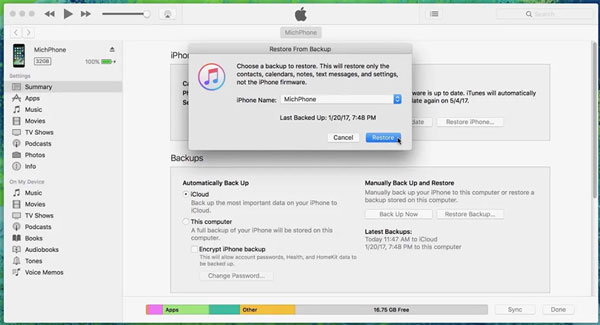 How to Restore iPhone Contacts without Backup [RecoverGo iOS]?
iToolab RecoverGo (iOS) is an exceptional data recovery tool meticulously engineered to empower you in reclaiming lost or deleted contacts from your iPhone. This formidable software encompasses a vast array of features, culminating in a seamless and intuitive experience. Its interface harmoniously blends user-friendliness with state-of-the-art algorithms, ensuring an effortlessly efficient recovery process.
With the remarkable capabilities of RecoverGo (iOS), you gain the ability to recover an extensive spectrum of data types, encompassing not only contacts but also messages, photos, videos, and an assortment of other invaluable content. Leveraging cutting-edge technology, this software orchestrates a meticulous scan of your iPhone, painstakingly identifying any contacts that may have vanished or been inadvertently erased from your device.
✨ Comprehensive Contact Recovery: Effortlessly retrieve lost or deleted contacts from your iPhone, ensuring that no valuable connections are permanently severed.
✨ Wide Data Type Coverage: Experience a comprehensive recovery spectrum as RecoverGo (iOS) adeptly restores not only contacts but also a multitude of other major data types, including messages, photos, etc.
✨ Selective Recovery: RecoverGo (iOS) grants you full control, ensuring that only the most pertinent information is restored.
✨ Preview Functionality: With meticulous attention to detail, this professional tool allows you to preview recovered data before finalizing the restoration process.
✨ Uncompromising Security: Imbued with strict security measures, RecoverGo (iOS) safeguards your data and ensures a worry-free recovery process.
Step-by-Step Guide
Follow these simplified steps to utilize RecoverGo (iOS) for recovering lost iPhone contacts:
Step 1 Download and install RecoverGo (iOS) on your computer.
Step 2 Connect your iPhone to the computer and select "Recover Data from iOS Device".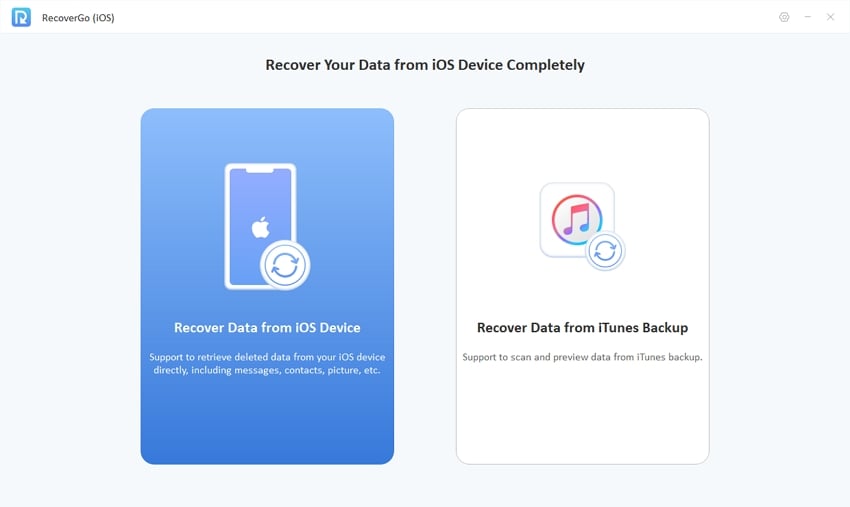 Step 3 In RecoverGo iOS, select the type of data you want to recover from your iPhone, i.e., lost or deleted contacts and select "Start Scan".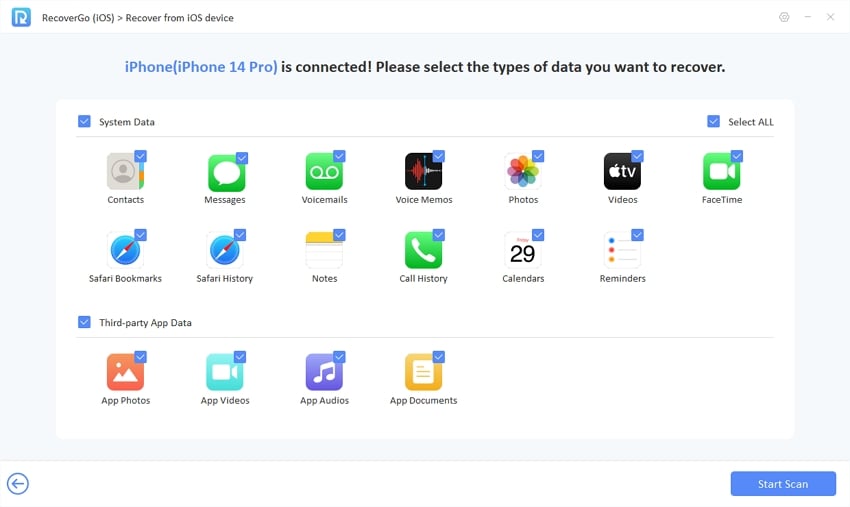 Step 4 Preview the recovered data on your computer and select the items you want to recover.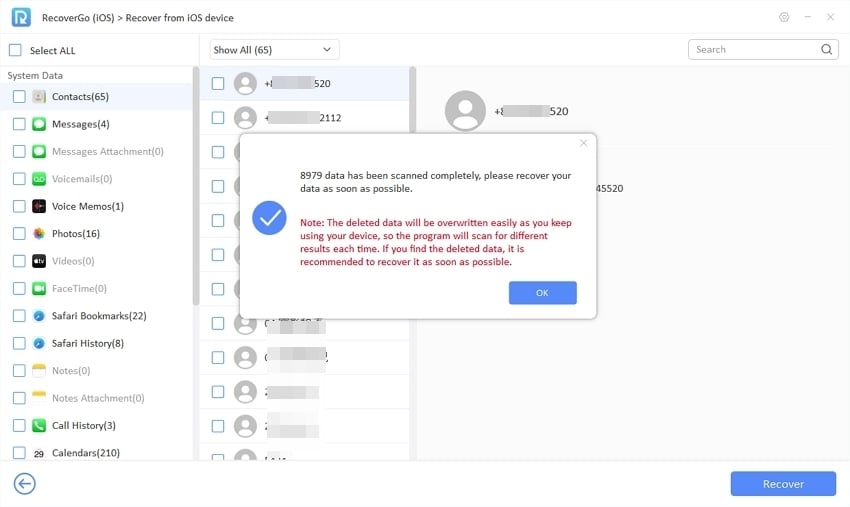 Step 5 Click the "Recover" button and wait for the data export process to complete. Once finished, the recovered files will be accessible for further use.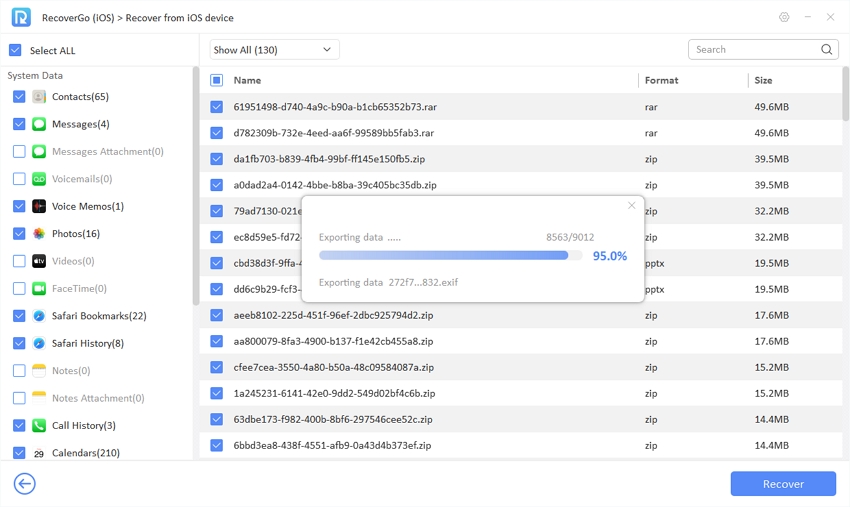 Summary
In this article, we provide three solutions on how to retrieve deleted phone numbers on iPhone without iCloud. With Google Contacts, you link your iPhone to a Google account for contact syncing. iTunes backup allows you to restore your iPhone from a previous backup. Whereas iToolab RecoverGo (iOS) is a dedicated tool for recovering deleted contacts without any backup!
Among these methods, we recommend using RecoverGo (iOS) for a more comprehensive and efficient recovery process. It provides advanced features that lets you preview and selectively recovery deleted contacts, making it an ideal choice for successfully retrieving lost contacts.